Shopping Cart
Your Cart is Empty
There was an error with PayPal
Click here to try again
Thank you for your business!
You should be receiving an order confirmation from Paypal shortly.
Exit Shopping Cart
Calling Scotland's 841,000 Catholics to unite as one voice
| | |
| --- | --- |
| Posted on June 3, 2014 at 7:47 AM | |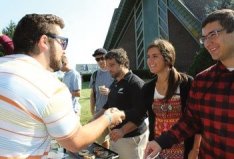 Young Catholic people spreading the Good News
From today's Reading (Acts 20:17-27):
'I have not hesitated to do anything that would be helpful to you.'
I found this little statement of St Paul's contained in today's reading to be incredibly powerful.  St Paul said these words to the elders of the Church in Ephesus and it comes in the context of a short speech in which he ultimately claims to have a clear conscience because he has put before them "the whole of God's purpose".
St Paul here gets to the crux of evangelisation.  He is the ultimate teacher in the ways of evangelisation because at the heart of his evangelisation is God and God's divine plan.  Everything he says, everything he does, has at the centre of it the Will of the Father.  He does not shirk from being honest about the reason behind his teachings and he does not try to water down its meaning or its consequences. 
St Paul, in his mission to evangelise, came up against many barriers.  He was abused, ridiculed, mocked and rejected yet he kept going, not hesitating to do anything that would be helpful to the people he was speaking to.  Neither did he hesitate in encouraging them to do the Will of the Father, just as he himself was doing.  St Paul knew that doing the Father's Will would ultimately save their souls and he knew that this was the only way to receive the gift of eternal life. 
Whether we like it or not, God has a plan for each one of us and He will judge us on the last day.  And, through the grace of the Holy Spirit, St Paul was very aware of this.  He knew that there was no escape from God and His final judgement and so, despite the abuse hurled in his direction, he set about evangelising to try to change the hearts of the people so that they would come to realise who the real ruler of the world was and who they would ultimately have to answer to.  St Paul knew the importance of conversion.  He knew that it really was a matter of life or death for people, which is why he was prepared to put up with so much hatred. 
And that is why we must be prepared to be like St Paul as we set about the evangelisation of our world today.  Whatever our method of evangelisation, we must always keep the Father at the heart of our message because it is He, and He alone, who will make the call on our final destiny.  If we want to be 'helpful' to people then we must be honest about the need to recognise the Father and to surrender to His Will.
Categories: Apologetics, Bible, Catholic, Christian, Christianity, Church, Dwelling on the Word of God, Evangelisation, Faith, God, Heaven, Hell, Jesus, Life, Love, Saints, Scripture, Word of God
/