Shopping Cart
Your Cart is Empty
There was an error with PayPal
Click here to try again
Thank you for your business!
You should be receiving an order confirmation from Paypal shortly.
Exit Shopping Cart
Calling Scotland's 841,000 Catholics to unite as one voice
| | |
| --- | --- |
| Posted on March 19, 2014 at 12:00 PM | |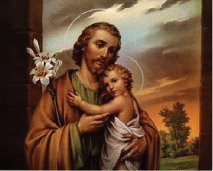 Today's Gospel (Matthew 1:16,18-21,24):
'Jacob was the father of Joseph the husband of Mary; of her was born Jesus who is called Christ.
  This is how Jesus Christ came to be born. His mother Mary was betrothed to Joseph; but before they came to live together she was found to be with child through the Holy Spirit. Her husband Joseph; being a man of honour and wanting to spare her publicity, decided to divorce her informally. He had made up his mind to do this when the angel of the Lord appeared to him in a dream and said, 'Joseph son of David, do not be afraid to take Mary home as your wife, because she has conceived what is in her by the Holy Spirit. She will give birth to a son and you must name him Jesus, because he is the one who is to save his people from their sins.' When Joseph woke up he did what the angel of the Lord had told him to do.'
Isn't Joseph such an inspiration to all?  When Mary was found to be with child Joseph's first thought was to spare Mary the indignity of public outrage about her pregnancy.  He wanted to protect his wife, to make sure she would not be judged and persecuted for being pregnant after having taken a vow of perpetual virginity. 
And then, when the angel appeared to him to tell him that Mary had conceived by the Holy Spirit and that he should still take her as his wife, what then did he do?  He did precisely what the angel told him!  He didn't think I must be going crazy or this is ridiculous; he did exactly what the angel told him.  With his great faith Joseph knew he had been visited by an angel of the Lord and that he must do as the angel says.  He didn't hesitate to do the Will of God.
And that is our challenge; to become less hesitant in doing the Will of God.  Can we be more like Joseph and trust in God, always reacting positively to the little signs He puts before us?  Are we prepared to put our own interests to one side and focus on the needs of others around us, just as Joseph did with Mary and the child Jesus in her womb?  Joseph was a real man!  He put his family first and made sure they were safe.  Yet this wasn't any old family, this was the Holy Family.  This family included Jesus Christ, God made man!  It included Mary, the Mother of God and Mother of all!  What strength in faith must Joseph have had to carry this huge responsibility? 
To all the dads and would-be dads out there: look to St Joseph as you set about the task of raising and looking after your family.  He had a very simple way of looking at life.  He put God first, others second, and himself third.  That way he gave his family the best chance of surrendering to God's plan for their lives.  Our job is to help our families recognise God's plan for us and to submit ourselves to that plan.  Dads, your family needs you to be strong in faith; your family needs you to lead them to holiness here on earth so that your eternal home will be in Heaven with the Father of all.
Categories: Angels, Bible, Dwelling on the Word of God, Faith, Family, God, Gospel, Gospel Reflection, Heaven, Jesus, Marriage, Mary, Miracle, Mother of God, Nativity, Our Lady, Saints, Scripture, Virgin Mary, Word of God
/