Shopping Cart
Your Cart is Empty
There was an error with PayPal
Click here to try again
Thank you for your business!
You should be receiving an order confirmation from Paypal shortly.
Exit Shopping Cart
Calling Scotland's 841,000 Catholics to unite as one voice
| | |
| --- | --- |
| Posted on February 6, 2014 at 7:43 AM | |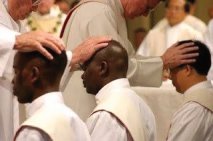 Today's Gospel (Mark 6:7-13):
'Jesus summoned the Twelve and began to send them out in pairs giving them authority over the unclean spirits. And he instructed them to take nothing for the journey except a staff – no bread, no haversack, no coppers for their purses. They were to wear sandals but, he added, 'Do not take a spare tunic.' And he said to them, 'If you enter a house anywhere, stay there until you leave the district. And if any place does not welcome you and people refuse to listen to you, as you walk away shake off the dust from under your feet as a sign to them.' So they set off to preach repentance; and they cast out many devils, and anointed many sick people with oil and cured them.'
Jesus sends out his disciples to bring God's forgiveness to the world and to cure people of their ills.  What an honour; to be chosen by God to serve Him in this way; to be the face of Jesus to people and to bring the Good News to the world. 
For most young men in our world today the priesthood is not a vocation that is often considered.  And with all of the tragedy and turmoil surrounding abusive clergy it is little wonder young men are finding it increasingly difficult to see themselves as serving God in this way.  Yet we cannot lose sight of this crucial aspect of the priesthood.  That is, to put oneself at the service of God and at the service of God's people.  It is putting God first, others second, and you third.  For those who have sinned in the most horrific manner through the abuse of vulnerable children and adults they have failed this fundamental principle of priestly vocation.  They have put themselves first at the expense of those people they are called to serve and, ultimately, at the expense of God. 
Yet we are blessed to have so many wonderful priests, doing the work of God on a daily basis.  Priests serve us in saying the Mass, they constantly strive to bring people closer to God, they facilitate the forgiveness of God through the sacrament of Reconciliation, they visit the sick and vulnerable, they put themselves on the front line when death comes, providing crucial emotional and spiritual support at a difficult time.  They put in unimaginable hours of prayer and devotion to God in order to boost their reserves, giving them the spirit and energy to guide and serve their flock.  They put God first, others second, and themselves third.  They heed the call of God and they sacrifice their lives to serve Him and serve His people.
Yes, the call to celibacy is undoubtedly difficult.  Yet it is a difficulty God knows can be overcome by those He has chosen. 
What is important is that we are open to God's call.  Here in Scotland we are blessed to have an opportunity for discernment thanks to our priests.  This is an opportunity for young men to consider whether or not the priesthood is something that they may be interested in.  They may well have heard God's call already or they may just be interested to know more about the priesthood.  One way or the other, it is a fantastic opportunity to simply find out more without any obligation to commit. There are evenings of discernment on the second Friday of each month in Glasgow and full details can be found at the
Archdiocese of Glasgow website
(the details are two thirds the way down the page).
Categories: Bible, Catholic, Church, Dwelling on the Word of God, Gospel, Gospel Reflection, Jesus, Priesthood, Scripture, Vocations, Word of God
/