Shopping Cart
Your Cart is Empty
There was an error with PayPal
Click here to try again
Thank you for your business!
You should be receiving an order confirmation from Paypal shortly.
Exit Shopping Cart
Calling Scotland's 841,000 Catholics to unite as one voice
| | |
| --- | --- |
| Posted on January 28, 2014 at 2:38 AM | |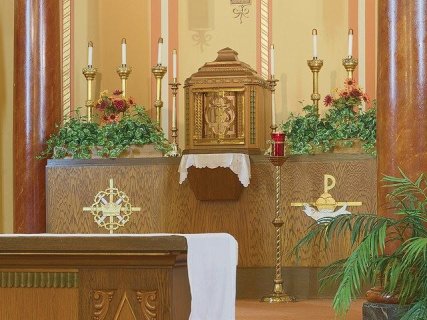 Jesus is present in the tabernacle
Today's Gospel (Mark 3:31-35):
'The mother and brothers of Jesus arrived and, standing outside, sent in a message asking for him. A crowd was sitting round him at the time the message was passed to him, 'Your mother and brothers and sisters are outside asking for you.' He replied, 'Who are my mother and my brothers?' And looking round at those sitting in a circle about him, he said, 'Here are my mother and my brothers. Anyone who does the will of God, that person is my brother and sister and mother.''
Jesus is quite explicit in this passage.  He states quite clearly that his family are those who do the will of God. 
But what is the will of God?  And how do I do the will of God so as to become part of Christ's family?
We simply need to look at the scripture passage.  What are the the 'family' of Jesus doing?  Firstly, they are following him. They have followed him and they have formed a circle around him.  Secondly, they are listening to what he has to say.  Their ears are open to his voice; they are hearing the Word of God.
And we must do the same if we want to be part of Christ's family.  We must do the will of God by following Jesus, by gathering around him and by listening to what he says.  Where can we do this?  There is no better place than at Holy Mass.  That is where we gather around the Blessed Sacrament in the tabernacle, and that is where we hear God speak to us through Sacred Scripture.
Jesus is waiting in every Catholic Church around the world.  He is waiting for us to gather around him and to listen to his voice.
Categories: Apologetics, Bible, Catholic, Church, Dwelling on the Word of God, Eucharist, Faith, God, Gospel, Gospel Reflection, Holy Communion, Jesus, Mass, Sacrament, Scripture, Word of God
/