Shopping Cart
Your Cart is Empty
There was an error with PayPal
Click here to try again
Thank you for your business!
You should be receiving an order confirmation from Paypal shortly.
Exit Shopping Cart
Calling Scotland's 841,000 Catholics to unite as one voice
| | |
| --- | --- |
| Posted on January 6, 2014 at 2:26 AM | |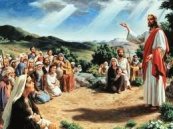 From today's Gospel (Matthew 4:12-17, 23-25):
'He went round the whole of Galilee teaching in their synagogues, proclaiming the Good News of the kingdom and curing all kinds of diseases and sickness among the people. His fame spread throughout Syria, and those who were suffering from diseases and painful complaints of one kind or another, the possessed, epileptics, the paralysed, were all brought to him, and he cured them. Large crowds followed him, coming from Galilee, the Decapolis, Jerusalem, Judaea and Transjordania.'
I really don't need to tell you that the 'he' referred to in this passage is Jesus. 
Isn't it beautiful that he cures people of diseases and possessions?  Isn't it beautiful that he cures people of paralysis?  And this makes him famous! 
It's actually a bit like our world today isn't it?  People want hard evidence of something special - like a miracle - before they will believe and before fame can be attributed to someone.  They want to see it with their own eyes. 
So, not being around in Jesus' time we might well feel a little hard done by.  Why were we not afforded the opportunity to see Jesus work his miracles?  Why can't he just come to earth now and perform some miracles using the technology that is television to show himself and his miraculous power to the whole world?
These are all valid questions.  However, there are also perfectly valid answers.  The truth is...we have been afforded the opportunity to witness these miracles.  Our faith makes us witnesses.  We believe in the Good News of the Gospel and we believe every last word of it.  As Christians we have been blessed with the joy of faith and we must let other people know the Good News.  That is why we must be missionaries of the Gospel, as suggested by Pope Francis in his recent exhortation Evangelii Gaudium.  We must go out into the world and spread this joy; the joy of miracles which occured right here on earth.  The joy that these miracles continue to occur each and every day in the birth of children, the healing of a sick person, and, of course, in the Mass when we receive the body and blood of our Saviour; the miraculous gift that Jesus continues to give each and every day.
Tell people of this great joy!  Go, make yourself famous by spreading the Good News of the Gospel in the way you live your life and in what you say.  Allow the Holy Spirit to work miracles through you and let the light of faith shine brightly as you go about your daily life.  Never be afraid to talk about the Good News and never be afraid to tell people of the miracle that awaits them in the Holy Mass. 
Categories: Apologetics, Bible, Catholic, Church, Dwelling on the Word of God, Eucharist, Faith, Gospel, Gospel Reflection, Holy Communion, Holy Spirit, Jesus, Mass, Miracle, Sacrament, Scripture
/