Shopping Cart
Your Cart is Empty
There was an error with PayPal
Click here to try again
Thank you for your business!
You should be receiving an order confirmation from Paypal shortly.
Exit Shopping Cart
Calling Scotland's 841,000 Catholics to unite as one voice
| | |
| --- | --- |
| Posted on December 24, 2013 at 7:24 AM | |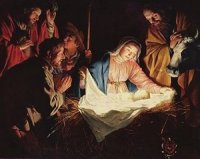 From today's Psalm (Psalm 88):
'I will sing forever of your love, O Lord'
Sing!  Rejoice!  Dance!  Because the Lord our Saviour, our hope and our light, is coming! 
Sin had made its way in the world, and people were becoming desperate.  Poverty and disease were rife.  Inequality spanned the globe and hatred stretched to the four corners of the earth.  Where honour was bestowed on one man, jealousy rose in another.  Where riches were left to one family, poverty was inevitably passed down to another.  The devil had been working hard in the world and humanity was not at one.
Yet, a star rises in the East.  A star to herald the coming of a little child; a child that is to be born to change the world!  Foretold by the prophets for hundreds of years, he comes to give hope to all. 
This is the story of the Nativity.  The coming of the Saviour, the Messiah!  Yet here he was, coming into the world like any other child.  Not many people expected this and they certainly didn't expect him to be born into such poverty!  Yet he was.  With no suitable accommodation available, the Saviour was born among animals in a stable.  And over two thousand years on we still celebrate this momentous occasion, the birth of a little baby boy in a stable. 
Sadly, however, not everyone feels the need to celebrate.  Yet this event was for everyone.  At that very moment Jesus was born, he was born for each and every person who has ever lived and who is yet to live.  Mary, in giving birth to Jesus, not only gave birth to the one who would save the world; she gave birth to the whole world.  The whole of humanity was already secure in the heart of that little child as it lay in the manger, wrapped in cloth, surrounded by animals and hay.  Not one person was forgotten. 
You see, this child was born to save.  He wasn't born to lead the kind of life many of us are blessed to have.  He, unlike us, was born to die.  This beautiful, innocent, little child cradled in his loving mother's arms and gazed upon by his doting step-father, will still have each and every one of us secure in his heart many years later when he is nailed to a cross on Calvary.  And on the third day, when he rises to Heaven, he takes each and every one of us with him in his heart to the Father.  This is no ordinary child.  This child was born for you, and this child died for you.  This child wants you to follow him to the Father; he wants you to follow him to the Kingdom of Heaven.  So, rejoice!  Join in the celebrations and let us praise Jesus and delight in his great gift of true freedom and eternal life for all! 
Categories: Apologetics, Bible, Catholic, Christian, Christianity, Christmas, Church, Dwelling on the Word of God, Evangelisation, Faith, God, Heaven, Jesus, Life, Love, Mary, Mother of God, Nativity, Our Lady, Peace, Poverty, Salvation, Scripture, Virgin Mary, Word of God
/