Shopping Cart
Your Cart is Empty
There was an error with PayPal
Click here to try again
Thank you for your business!
You should be receiving an order confirmation from Paypal shortly.
Exit Shopping Cart
Calling Scotland's 841,000 Catholics to unite as one voice
| | |
| --- | --- |
| Posted on December 18, 2013 at 7:40 AM | |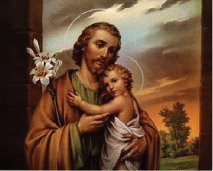 Today's Gospel (Matthew 1:18-24):
'This is how Jesus Christ came to be born. His mother Mary was betrothed to Joseph; but before they came to live together she was found to be with child through the Holy Spirit. Her husband Joseph; being a man of honour and wanting to spare her publicity, decided to divorce her informally. He had made up his mind to do this when the angel of the Lord appeared to him in a dream and said, 'Joseph son of David, do not be afraid to take Mary home as your wife, because she has conceived what is in her by the Holy Spirit. She will give birth to a son and you must name him Jesus, because he is the one who is to save his people from their sins.' Now all this took place to fulfil the words spoken by the Lord through the prophet:
The virgin will conceive and give birth to a son, and they will call him Emmanuel, a name which means 'God-is-with-us.'
When Joseph woke up he did what the angel of the Lord had told him to do: he took his wife to his home.'
To all the men out there: would you have acted as Joseph did in these circumstances?  Would you have trusted the angel in your dream?  Mary had taken a vow of perpetual virginity and here she was, pregnant.  It would have brought disgrace upon both Mary and Joseph for her to be with child given this vow.  And Joseph was aware of this; hence his decision to divorce Mary.
But, trusting completely in God, he listens to the angel in his dream and takes Mary home.  He does this despite the threat of public disgrace.  But Joseph has God on his side so there is no reason to fear!  He trusted the angel and knew that this was God's Will. 
So, what does this mean for us?  Well, are we open to messages from God, in whatever form they may come?  Are we prepared, like Joseph, to submit to the Will of God, knowing that whatever might happen to us He is on our side? 
In today's society the idea of knowing God is on your side is an important one.  We have been encouraged over the last year or so, first with Pope Benedict's Year of Faith and now Pope Francis' Evangelii Gaudium exhortation, to evangelise.  Are we doing this?  Are we living our faith openly so that others can see and hear the Good News?  If you aren't or if you struggle with the idea of evangelisation, remember, God is on your side and there is nothing that you and He together cannot face.
Categories: Apologetics, Bible, Catholic, Christian, Christianity, Christmas, Church, Dwelling on the Word of God, Evangelisation, Faith, God, Gospel, Gospel Reflection, Jesus, Marriage, Mary, Mother of God, Nativity, Our Lady, Saints, Scripture, Virgin Mary
/