Shopping Cart
Your Cart is Empty
There was an error with PayPal
Click here to try again
Thank you for your business!
You should be receiving an order confirmation from Paypal shortly.
Exit Shopping Cart
Calling Scotland's 841,000 Catholics to unite as one voice
| | |
| --- | --- |
| Posted on December 13, 2013 at 6:40 AM | |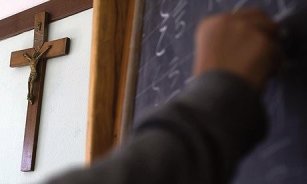 It's what so many of us have been saying for years.  With a distinct lack of evidence to support the view of a vociferous minority, the government is on the verge of committing itself to the view that denominational (or faith) schools do not cause sectarianism.
While other countries with faith schools have known this all along we in Scotland have, for some reason, fumbled our way to this conclusion over a great many years.
The Advisory Group on Tackling Sectarianism in Scotland, set up by the Scottish Government, was tasked with debating the issue of sectarianism in Scotland with a view to tackling the problem in the most effective manner.  It focused primarily on the specific form of sectarianism arising from Catholic-Protestant tensions which, as the report states, 'are part of the historic legacy of Scotland'.  
There are a number of issues tackled in the report, including marches and parades, and also sectarianism at football matches.  But perhaps the most interesting statement comes at section 28 and under the banner of education. It states: 'We do not believe that sectarianism stems from, or is the responsibility of, denominational schooling, or, specifically, Catholic schools, nor that sectarianism would be eradicated by closing such institutions.'
For many, many years I have wondered why so many people are obsessed with the idea that Catholic schools cause sectarianism.  As a kid who attended a Catholic school I never had any difficulty mixing and playing with friends from different schools and different backgrounds.  I know of many other people who had the same experience.  And in my adult life I continue to mix with people from a different background to my own. 
Thankfully, the government has now recognised that denominational schools are not the problem.  And why would they be?  Sectarianism in Scotland existed BEFORE denominational schooling was introduced.  Logically speaking, sectarianism will continue to exist AFTER denomination schools are removed.  Thankfully, however, this is not something we need to worry about given the content of this report.
We should be delighted at the way our children are educated in Scotland.  We have produced many, many talented people over the years for such a small country and both our denominational and non-denomination schools have contributed to this great achievement.
Categories: Catholic, Catholic Education, Children, Christian, Christianity, Church, Edinburgh, Education, Faith, Glasgow, Law, News, Politics, Scotland, Scottish Parliament, Sectarianism, Secularism
/