Shopping Cart
Your Cart is Empty
There was an error with PayPal
Click here to try again
Thank you for your business!
You should be receiving an order confirmation from Paypal shortly.
Exit Shopping Cart
Calling Scotland's 841,000 Catholics to unite as one voice
| | |
| --- | --- |
| Posted on December 10, 2013 at 7:05 AM | |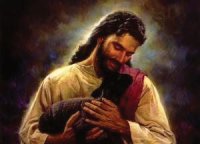 From today's Gospel (Matthew 18:12-14):    
'Jesus said to his disciples, 'Tell me. Suppose a man has a hundred sheep and one of them strays; will he not leave the ninety-nine on the hillside and go in search of the stray? I tell you solemnly, if he finds it, it gives him more joy than do the ninety-nine that did not stray at all. Similarly, it is never the will of your Father in heaven that one of these little ones should be lost.''
'It is never the will of your Father in heaven that one of these little ones should be lost'. 
In this statement Jesus reveals that the Father's will is for all men and women to be united with him forever.  God does not want anyone to be lost.  Not one.  Yet, through free will, many stray and are sadly lost. 
Is there anything we can do to help Jesus find those lost sheep?  We can start by praying for them, especially before the Blessed Sacrament and at Holy Mass.  We can also spread the Good News of the Gospel and live our lives as Jesus lived his; giving ourselves completely to God and trusting in His love and mercy.  By example we can change the world and we can find those lost sheep and return them to God.  But this example must be loving, compassionate, humble and merciful.  And it must be joyful!  As Pope Francis said in his recent exhortation Evangelii Gaudium, evangelisers should not look like they have just returned from a funeral! 
So let us be joyful about the Gospel (the GOOD news!) and let us take it out there to the lost sheep.  Let us wear the joy, beauty and splendour of Christ's love for us on our faces and let us never be afraid to throw the seed of faith in someone's direction.  From that single little seed the Holy Spirit has the power to work miracles. 
Categories: Apologetics, Bible, Catholic, Christian, Christianity, Dwelling on the Word of God, Evangelisation, God, Gospel, Holy Spirit, Jesus, Life, Love, Prayer, Scripture, Word of God
/