Shopping Cart
Your Cart is Empty
There was an error with PayPal
Click here to try again
Thank you for your business!
You should be receiving an order confirmation from Paypal shortly.
Exit Shopping Cart
Calling Scotland's 841,000 Catholics to unite as one voice
| | |
| --- | --- |
| Posted on December 5, 2013 at 7:23 AM | |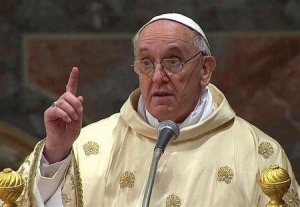 'It is impossible to think that a genuine evangelizing thrust could emerge from these adulterated forms of Christianity.'
Pope Francis
Here is what the Pope says:
'This worldliness can be fuelled in two deeply interrelated ways. One is the attraction of gnosticism, a purely subjective faith whose only interest is a certain experience or a set of ideas and bits of information which are meant to console and enlighten, but which ultimately keep one imprisoned in his or her own thoughts and feelings. The other is the self-absorbed promethean neopelagianism of those who ultimately trust only in their own powers and feel superior to others because they observe certain rules or remain intransigently faithful to a particular Catholic style from the past. A supposed soundness of doctrine or discipline leads instead to a narcissistic and authoritarian elitism, whereby instead of evangelizing, one analyzes and classifies others, and instead of opening the door to grace, one exhausts his or her energies in inspecting and verifying.
It is impossible to think that a genuine evangelizing thrust could emerge from these adulterated forms of Christianity.
In some people we see an ostentatious preoccupation for the liturgy, for doctrine and for the Church's prestige, but without any concern that the Gospel have a real impact on God's faithful people and the concrete needs of the present time.
In this way, the life of the Church turns into a museum piece or something which is the property of a select few.
It can also translate into a concern to be seen, into a social life full of appearances, meetings, dinners and receptions. It can also lead to a business mentality, caught up with management, statistics, plans and evaluations whose principal beneficiary is not God's people but the Church as an institution. The mark of Christ, incarnate, crucified and risen, is not present; closed and elite groups are formed, and no effort is made to go forth and seek out those who are distant or the immense multitudes who thirst for Christ. Evangelical fervour is replaced by the empty pleasure of complacency and self-indulgence.
Those who have fallen into this worldliness look on from above and afar, they reject the prophecy of their brothers and sisters, they discredit those who raise questions, they constantly point out the mistakes of others and they are obsessed by appearances. Their hearts are open only to the limited horizon of their own immanence and interests, and as a consequence they neither learn from their sins nor are they genuinely open to forgiveness. This is a tremendous corruption disguised as a good. We need to avoid it by making the Church constantly go out from herself, keeping her mission focused on Jesus Christ, and her commitment to the poor.
God save us from a worldly Church with superficial spiritual and pastoral trappings!'
Categories: Catholic, Christian, Christianity, Church, Evangelii Gaudium, Faith, Pope Francis
/