Shopping Cart
Your Cart is Empty
There was an error with PayPal
Click here to try again
Thank you for your business!
You should be receiving an order confirmation from Paypal shortly.
Exit Shopping Cart
Calling Scotland's 841,000 Catholics to unite as one voice
| | |
| --- | --- |
| Posted on November 26, 2013 at 7:33 AM | |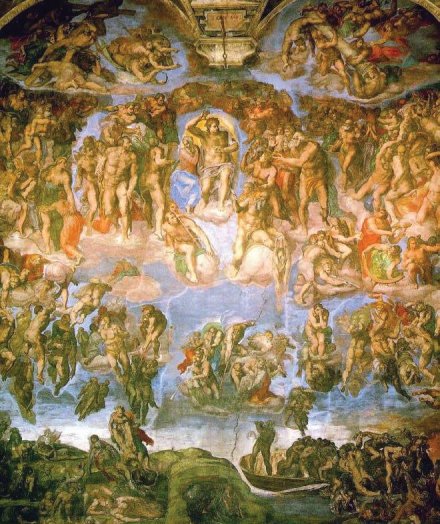 Michelangelo's Last Judgement in the Sistine Chapel
From today's Gospel (Luke 21:5-11):
'And when you hear of wars and revolutions, do not be frightened, for this is something that must happen but the end is not so soon.' Then he said to them, 'Nation will fight against nation, and kingdom against kingdom. There will be great earthquakes and plagues and famines here and there; there will be fearful sights and great signs from heaven.''
The end of the world….it's a frightening thought isn't it??  Yet it is not a day to fear.  In fact it's a day to rejoice because it is on that day that, God willing, we will be at one with the Father. 
The fear we have when we think about the end of the world is a fear of pain, of suffering, and of loss.  What pain will I have to endure when it comes?  What will I have to suffer before it all ends?  Am I going to lose all of my family and friends? 
These are all earthly fears, yet, we are not of this world.  We are made in the image of God, for God.  We belong elsewhere.  It doesn't mean our time on this earth is invaluable; far from it!  Our time on earth is absolutely precious.  Why else would God put us here?? 
Our time here on earth is an opportunity to grown in faith, to develop our knowledge of God, and to take as many people as we can on that journey of faith with us.  As we do this, we grow in love of God and we grow in love of our neighbour. 
Ultimately, we are trying to be as holy as we can be!!  Be holy, that is our task and it is something we must never lose sight of. 
If we aim to be holy then everything else will just slot into place. 
If we aim to be holy then Jesus will find us and take us home on that last day.
Categories: Bible, Catholic, Christian, Christianity, Church, Dwelling on the Word of God, Evangelisation, Faith, God, Gospel, Gospel Reflection, Heaven, Hell, Jesus, Life, Peace, Salvation, Scripture, Suffering, Word of God
/