Shopping Cart
Your Cart is Empty
There was an error with PayPal
Click here to try again
Thank you for your business!
You should be receiving an order confirmation from Paypal shortly.
Exit Shopping Cart
Calling Scotland's 841,000 Catholics to unite as one voice
| | |
| --- | --- |
| Posted on November 11, 2013 at 5:24 PM | |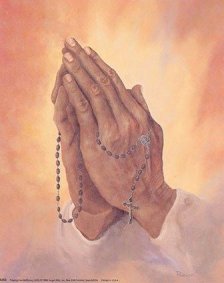 What if prayer doesn't help?
Prayer does not seek superficial success but rather the will of God and intimacy with Him.
God's apparent silence is itself an invitation to take a step farther in total devotion, boundless faith, endless expectation.  Anyone who prays must allow God the complete freedom to speak whenever He wants, to grant whatever He wants, and to give Himself however He wants.
Often we say: I have prayed, but it did not help at all.  Maybe we are not praying intensely enough.  The saintly Cure of Ars once asked a brother priest who was complaining about his lack of success, "You have prayed,  you have sighed....but have you fasted too?  Have you kept vigil?"
It could also be that we are asking God for the wrong things.  St Teresa of Avila once said, "Do not pray for lighter burdens; pray for a stronger back."
(From Youth Catechism question 507)
What if I don't feel anything when praying?
Distractions during prayer, the feeling of interior emptiness and dryness, indeed, even an aversion to prayer are experienced by everyone who prays.  Then to persevere faithfully is itself already a prayer.
Even St Therese of Lisieux for a long time could not sense God's love at all.  Shortly before her death she was visited one night by her sister Celine.  She noticed that Therese's hands were clasped together.  "What are you doing?  You should try to sleep", Celine said.
"I cannot.  I am suffering too much.  But I am praying", Therese replied.
"And what do you say to Jesus?" asked Celine.
Therese replied, "I do not say anything to him.  I love him."
(From Youth Catechism question 508)
Categories: Apologetics, Catechism, Catholic, Catholic Education, Devotion, Evangelisation, Faith, Learn the Catholic Faith, Prayer, Rosary
/