Shopping Cart
Your Cart is Empty
There was an error with PayPal
Click here to try again
Thank you for your business!
You should be receiving an order confirmation from Paypal shortly.
Exit Shopping Cart
Calling Scotland's 841,000 Catholics to unite as one voice
| | |
| --- | --- |
| Posted on October 31, 2013 at 8:45 AM | |

The host turned to flesh
For those who seek evidence for the existence of God look no further than the small Italian town of Lanciano and the miracle which took place there in the 8 century.
One day while saying Mass, a Basilian monk who had been having serious doubts about the real presence of Jesus in the Eucharist, witnessed an incredible miracle along with his 100-strong congregation.  During the prayer of consecration, while he held up the host, he started to visibly shake and turning to face the congregation he said, "O fortunate witnesses to whom the Blessed God, to confound my disbelief, has wished to reveal Himself in this Most Blessed Sacrament and to render Himself visible to our eyes.  Come, brethren, and marvel at our God so close to us.  Behold the Flesh and Blood of our most beloved Christ."
As he turned, it became apparent to the people that the host had become human flesh.  And upon inspection, the wine contained in the chalice had become human blood.  Many of the congregation are reported to have started wailing, some crying, others beating their breasts and begging for forgiveness.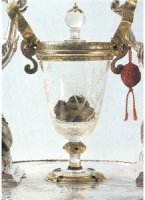 The wine turned to hman blood 

 

Following the miracle it was decided that the flesh would be pinned to a wooden board to prevent it from curling once it dried.  So here we have Jesus crucified yet again, pinned to a piece of wood with nails. 

 

The flesh and blood was kept and is still present to this day in the Church in Lanciano.  Crucially, it has been retained to this day without the presence of any preservatives.  This is crucial because it proves the blood could not have been taken from a corpse, otherwise it would have been rapidly altered; something which did not occur.

 

Dr Edoardo Linoli, a professor of anatomy and pathological histology, and of chemistry and clinical microscopy, examined the remains in 1970 and published his findings the following year and among those findings he discovered that the blood is the relatively rare type AB and from a human of middle-eastern origin, the same as the blood type taken from the Shroud of Turin.  He also confirmed that the flesh tissue was cardiac; that is, heart tissue. 

 

Another miracle is that the blood, which following coagulation has naturally divided into 5 pellets of differing sizes and shapes, always comes to the same total weight whatever the combination of pellets! 

 

To this day the flesh and blood can be seen in Lanciano and the Church attracts pilgrims from all over the world; people wanting to get close to the flesh and blood of Jesus Christ.  Yet, as a priest in Lanciano once said, "Remember, this miracle that you are witnessing now, and that you have travelled so far to witness, happens every day in every church in the world, at the consecration of the Mass."  How true!! 

 

But perhaps we should leave the final word on this to another priest who travelled to Lanciano in 1983 to see the miracle.  He came away from the Church and said, "I can never raise the host or wine in Consecration again, without seeing my Lord's very Heart between my fingers, His Blood alive in the Chalice before me."

 

 

To read more about this great miracle please check out the links, below. 

 

 

 

Categories: Apologetics, Catholic, Catholic Education, Christian, Christianity, Church, Consecration, Eucharist, Evangelisation, Faith, God, Holy Communion, Jesus, Love, Miracle, Sacrament

0

/