Shopping Cart
Your Cart is Empty
There was an error with PayPal
Click here to try again
Thank you for your business!
You should be receiving an order confirmation from Paypal shortly.
Exit Shopping Cart
Calling Scotland's 841,000 Catholics to unite as one voice
| | |
| --- | --- |
| Posted on October 14, 2013 at 7:31 AM | |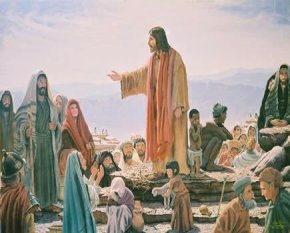 From today's Gospel (Luke 11:29-32)
'The crowds got even bigger and Jesus addressed them, 'This is a wicked generation; it is asking for a sign. The only sign it will be given is the sign of Jonah.''
Why is our generation so desperate for a sign?  You see, our generation is no different from the one Jesus refers to in this Gospel passage.  Why is it that something which directly touches our senses will bring us closer to having complete faith in God? 
True, a positive sign of God's existence would help our faith.  But do we need it?  Don't we have enough already?  Let me suggest some of the evidence we already have to date. 
We have the lives of the prophets, as described in the Old Testament in great detail.  We even have the very beginning of time described in quite amazing detail through Genesis, including God's very first commandment to mankind....go forth and multiply.  We have the life of Jesus Christ and his disciples through the New Testament.  We also have written evidence from non-Christian/non-religious scholars and writers who wrote about the life of Christ thus ensuring he is not some manifestation of Christianity.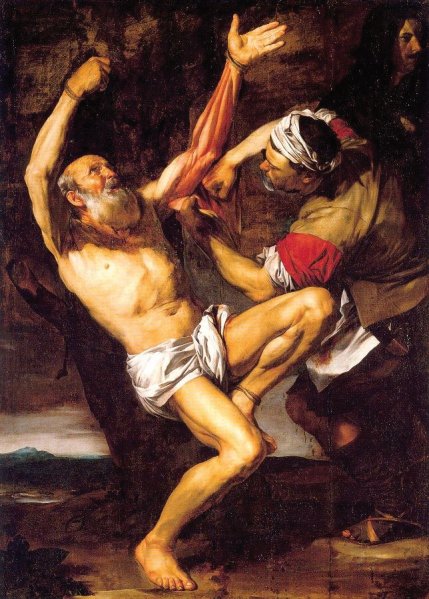 St Bartholomew was skinned alive for refusing to denounce Jesus 
Further, we have the lives of the disciples, who were martyred for their faith.  They died for Jesus.  They had the choice not to die, to live; but they were so certain of Jesus' life, death and resurrection that they simply could not deny it!  This included St Bartholomew who was skinned alive for refusing to denounce Christ as the Son of God. 
We have the Acts of the Apostles in the New Testament which provides evidence of life after death when Christ appeared to the Apostles over a period of 40 days.
We also have the succession of Peter, evidenced today by Pope Francis.  This line of papal succession not only goes all the way back to Peter, but to Christ himself.  It is unbroken for over 2,000 years.
What about the apparitions, particularly those of Our Blessed Mother Mary at Fatima, Lourdes and Guadalupe?  At Fatima, three little children gave up their entire lives to serve God after Our Lady appeared to them in 1917.  She foretold that two of them would die very soon and that the other would live on for some time longer.  A prediction that would, of course, become truth.  Three children giving up their entire lives to say the Rosary every day, to give away their lunch to the poor every day, to pray endlessly for the poor souls in purgatory after Our Lady showed them a vision of hell.  There is of course more.  Our Lady, on 13th October 1917, during her last apparition to the children, showed the thousands who had gathered there, a miracle of the sun.  The sun moved round and round in a circular motion and danced, finally hurtling towards earth at the end of the miracle.  However, before it struck the earth, it stopped and was returned to its normal position.  Thousands witnessed this miracle.  And thousands also witnessed the fact that the ground beneath them which was soggy after prolonged rain had suddenly become completely dry after the miracle.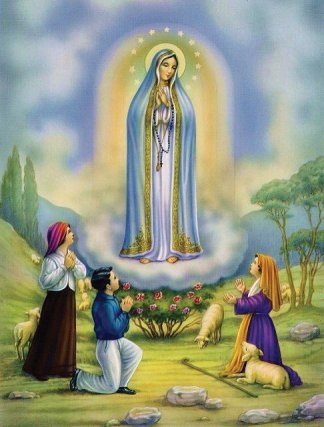 Our Lady appearing to three little children at Fatima

 

Of course, the miracle at Fatima was not only witnessed in one small area; rather, it was witnessed over an area of some 600sq miles.  It is also interesting to note that, should this be a hoax of grand proportions by either all of these witnesses or the Church, why didn't the people say they saw Our Lady like the children did?  That is, after all, what they had hoped to see. 

 

Further at Fatima, we have the incredible evidence that Jacinta Marto (the youngest of the Fatima children), when her body was exhumed to move it to different locations some 15 and then 30 years after her death, her body was found to be incorrupt.  It hadn't decayed like a body should.  This, of course, has happened to many saints over the years, including St Anthony and St Catherine.

 

All of this evidence, along with the countless billions of believers through the years, is our sign.  This is not to mention the numerous Eucharistic miracles, and numerous healings and intercessions. 

 

At the end of the day, we have more than enough signs to satiate our need.  This is why Jesus appears to be frustrated at the crowd asking for a sign!  Perhaps it was especially frustrating back then when they had the Son of Man right there in front of them performing miracle after miracle, yet they still wanted more!

 

The bottom line is this; we do not NEED a sign.  We have enough.  The evidence is stacking up with each and every passing day and each and every prayer and Mass.  If we are struggling with our faith and feel we need a sign, why not read about some of the evidence considered in this text?  Why not look deeply at the miracle of Fatima or the Acts of the Apostles?  Look at the lives of the martyrs who sacrificed their lives because they trusted so much in Jesus and knew He would save them.  Or go into your local Catholic Church and contemplate the Tabernacle, wherein rests Christ himself. 

 

It is still the Year of Faith, still the New Evangelisation.  Let's learn about our Faith and see the evidence before us, and let's dispense with the notion that we need a sign to believe.                 

 

 

 

Categories: Apologetics, Atheism, Bible, Catholic, Christian, Christianity, Dwelling on the Word of God, Evangelisation, Faith, God, Gospel, Gospel Reflection, Heaven, Jesus, Learn the Catholic Faith, Life, Love, Mary, Mother of God, Our Lady, Peace, Reconciliation, Rosary, Saints, Scripture, Virgin Mary, Word of God, Year of Faith

0

/