Shopping Cart
Your Cart is Empty
There was an error with PayPal
Click here to try again
Thank you for your business!
You should be receiving an order confirmation from Paypal shortly.
Exit Shopping Cart
Calling Scotland's 841,000 Catholics to unite as one voice
| | |
| --- | --- |
| Posted on October 9, 2013 at 7:20 AM | |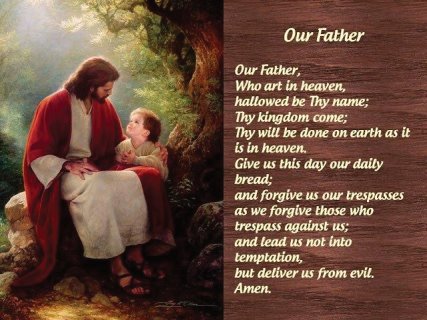 Today's Gospel (Luke 11:1-4)
Once Jesus was in a certain place praying, and when he had finished, one of his disciples said, 'Lord, teach us to pray, just as John taught his disciples.'
He said to them, 'Say this when you pray:
"Father, may your name be held holy,
your kingdom come;
give us each day our daily bread,
and forgive us our sins,
for we ourselves forgive each other who is in debt to us.
And do not put us to the test."'
So there it is.  The Lord's prayer!  Clearly taught by Jesus Christ, direct from God. 
Note the first word in this prayer....'Father'.  This isn't a prayer to anyone.  This is a prayer to our Father!  Our Dad!
It is a truly beautiful prayer and encapsulates our faith.  It talks about the holiness of God; it talks about accepting and trusting in His Will and taking each day as it comes to us; it talks about the forgiveness of our own sins and the forgiveness of those who sin against us; and it talks about not putting us to the test; that is, not allowing evil to tempt us.
It just doesn't get any better than this!  What a prayer!! 
We can never tire of saying this prayer.  We can never tire of speaking to our Father in this way.  It's simply beautiful and it is also absolutely necessary when you consider that we should recognise our Father each and every day of our lives.  He did give us that life after all!
Perhaps we should consider, if we don't already, saying hello to God when we wake up in the morning.  It can be a simple 'Morning Dad, how are you today?' 
Isn't that nice?  Kicking off your day by saying hello to the very One whose grace afforded you the opportunity to wake up that day!
Maybe we can say 'goodnight' to Him before we go to bed and we can say the Our Father at morning and night time. 
There is never a time in our day when we can't speak to God.  Never!  He is always there for us.  That much we do know.  Yet very few people actually speak to Him and tell him how they feel.  He's our Dad!  We should be sharing our lives with Him just like we do with our fathers here on earth.
True, nothing is hidden from God and, yes, He knows everything that goes on in our lives, and yeah, He knows our innermost thoughts.  But that doesn't mean He doesn't want to have a relationship with His own children!  He wants to share in our lives, and by share that means He wants us to chat to Him and for us to work at developing our relationship with Him. 
As a father or mother, how would you feel if your child never spoke to you and never shared their life with you....?
Categories: Apologetics, Bible, Catholic, Christian, Christianity, Dwelling on the Word of God, Evangelisation, Faith, God, Gospel, Gospel Reflection, Jesus, Life, Love, Peace, Prayer, Reconciliation, Scripture, Word of God, Year of Faith
/