Shopping Cart
Your Cart is Empty
There was an error with PayPal
Click here to try again
Thank you for your business!
You should be receiving an order confirmation from Paypal shortly.
Exit Shopping Cart
Calling Scotland's 841,000 Catholics to unite as one voice
| | |
| --- | --- |
| Posted on October 8, 2013 at 6:48 AM | |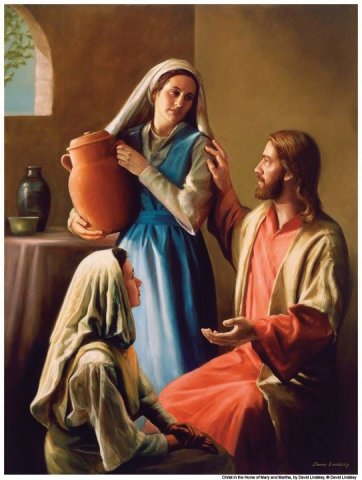 From today's Gospel (Luke 10:38-42)
Jesus came to a village and a woman named Martha welcomed him into her house.  She had a sister called Mary, who sat down at the Lord's feet and listened to him speaking.  Now Martha who was distracted with all the serving said, 'Lord, do you not care that my sister is leaving me to do the serving all by myself?  Please tell her to help me.' 
But the Lord answered: 'Martha, Martha', he said, 'you worry and fret about so many things, and yet few are needed, indeed only one.  It is Mary who has chosen the better part; it is not to be taken from her.'
While our Lord quite clearly states that Mary has chosen the better part; that is, sitting and listening to Jesus speak, we cannot forget that Martha played her part too.  Martha welcomed Jesus into her house.  Both women have great faith but perhaps have different ways of exercising and expressing that faith.
I think it is interesting to hear Jesus almost tell Martha off for worrying and fretting about so many things.  He tells her that 'few are needed'.  I think this is true in our world today.  Very few of what we perceive to be worries are really needed.  All we need is God.  Perhaps this is why Jesus suggests Mary has 'chosen the better part', because she is sitting listening to the Word of God.  It is all Mary needs.  It is all Martha needs.  It is all we need. 
God has a plan for each and every one of us; and His plan for us is perfect in every way.  Our problem is that we constantly fail to trust in that plan and we persistently fail to let ourselves go; to fall into the arms of God and let Him take us on that perfect journey he has planned for us.  Sometimes something happens that we didn't plan for, or sometimes we try to change things and get ourselves in a mess.  That mess comes about because we have failed to trust in God's plan for us.  If we just let ourselves go and enjoy that journey with God we will find all kinds of graces coming our way and that is what will sustain us in our lives….grace.  The grace of God is our lifeblood; it's what wakes us up each morning, it's what will cause us to live for all eternity.  The only question for us is this….are we willing to strap ourselves in, sit back and enjoy the ride?
Categories: Bible, Catholic, Christian, Christianity, Dwelling on the Word of God, Evangelisation, Faith, God, Gospel, Gospel Reflection, Jesus, Life, Love, Scripture, Word of God, Year of Faith
/