Shopping Cart
Your Cart is Empty
There was an error with PayPal
Click here to try again
Thank you for your business!
You should be receiving an order confirmation from Paypal shortly.
Exit Shopping Cart
Calling Scotland's 841,000 Catholics to unite as one voice
| | |
| --- | --- |
| Posted on July 29, 2013 at 7:37 AM | |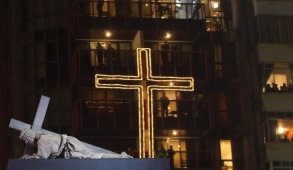 Picture: Catholic Herald
To say Friday evening's Way of the Cross (or Via Crucis) in Rio was moving would be an understatement of the very highest order.
To watch thousands of young people follow in the footsteps of Christ's Passion, solemnly joined by their Holy Father, Pope Francis, was a most humbling experience.
The World Youth Day Cross (the same one given to the youth in St Peter's Square in 1984 by John Paul II) was reverently carried down the street alongside Copacabana Beach, stopping at thoughtful sets, each posing as one of the fourteen stations.  Each set was designed in such a way as to convey a message about the specific station it represented and each one was full of life, with the young people stamping their artistic mark on the set.  One of the youth would introduce the meaning of the station and then another would tell a personal story; aligning their own life experience to the message of that station. 
If I can perhaps focus briefly on two of these stations worthy of note.  At the seventh station a young couple spoke of how they were dating and asked for Jesus to be with them on their journey, wherever it may take them.  They asked for the courage to never let their passions stray from the ultimate aim of procreation and, in a request evidently borne from society's increasing indifference towards marriage and family life they said: "teach us to start building from the foundations Lord, and not from the roof."
Finally, they said a most beautiful thing that all couples would do well to consider; they said: "If we fall Lord, let us never be far from you."
Then, at the twelfth station (Jesus dies on the Cross) another incredible moment of faith from a young person.  A young man with terminal cancer told the millions gathered and those watching on television about his own suffering at this time.  He said that this sickness "was his cross now" and admits that "as it takes me, I prepare to meet you Lord." 
There is a lot you could say about this young man's incredible act of faith.  Going in front of all those people in a world where secularism and atheism often should the loudest, and speaking of his personal illness and deepest faith.  This is courage!  This is faith!  This is love for God and trust in His mercy and compassion!
After the stations Pope Francis addressed the estimated 2 million crowd and spoke about how "Jesus, with his Cross, walks with us and takes upon himself our fears, our problems, and our sufferings, even those which are deepest and most painful.  With the Cross, Jesus unites himself to the silence of the victims of violence, those who can no longer cry out, especially the innocent and the defenceless."
He continued: "On the Cross, he is united with every person who suffers from hunger in a world where tons of food are thrown out each day; on the Cross, Jesus is united with those who are persecuted for their religion, for their beliefs or simply for the colour of their skin; on the Cross, Jesus is united with so many young people who have lost faith in political institutions, because they see in them only selfishness and corruption; he unites himself with these young people who have lost faith in the Church, or even in God because of the counter-witness of Christians and ministers of the Gospel."
But Jesus, the Pope says, tells us to "have courage!  You do not have to carry your cross alone! I carry it with you."
How true are these words!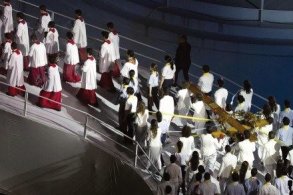 Youth carry the Cross by which the world has been redeemed
Picture: Catholic Herald
The Pope then described how the Cross of Christ contains "all the love of God" and that this is a love in which we can "place all our trust, in which we can believe."
He continued with an invitation to the young people to entrust themselves to Jesus; to give themselves entirely to him where we can all find salvation and redemption.  Jesus, the Pope said, has "transformed the Cross from an instrument of hate, defeat and death into a sign of love, victory and life."
The Cross, he says, "teaches us always to always look upon others with mercy and tenderness, especially those who suffer, who are in need of help, who need a word or a concrete action which requires us to step outside ourselves to meet them and to extend a hand to them."
In referring to Jesus' Passion, Pope Francis said "sometimes we can be like Pilate, who did not have the courage to go against the tide to save Jesus' life, and instead washed his hands.  Dear friends, the Cross of Christ teaches us to be like Simon of Cyrene, who helped Jesus carry that heavy wood; it teaches us to be like Mary and the other women, who were not afraid to accompany Jesus all the way to the end, with love and tenderness."
"And you?" he asked.
"Who are you like?  Like Pilate?  Like Simon?  Like Mary?"

"Dear friends, let us bring to Christ's Cross our joys, our sufferings and our failures.  There we will find a Heart that is open to us and understands us, forgives us, loves us and calls us to bear this love in our lives, to love each person, each brother and sister, with the same love. Amen!"
Categories: Evangelisation, Events, God, Gospel, Jesus, Life, Love, Peace, Pope Francis, Poverty, Scripture, Stations of the Cross, Via Crucis, Way of the Cross, Word of God, World Youth Day, Year of Faith, Youth
/