Shopping Cart
Your Cart is Empty
There was an error with PayPal
Click here to try again
Thank you for your business!
You should be receiving an order confirmation from Paypal shortly.
Exit Shopping Cart
Calling Scotland's 841,000 Catholics to unite as one voice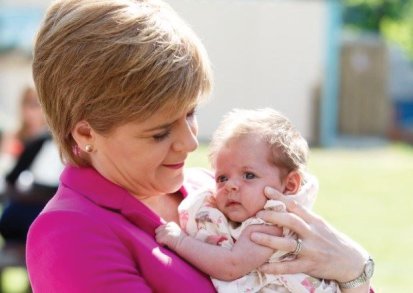 Nicola Sturgeon appreciating the beauty of new life
It is wonderful to hear Scotland's First Minister Nicola Sturgeon announce that, from Spring 2017, all pregnant women will receive free vitamins in order to help give their children the best possible start in life.
In addition to making vitamins freely available the Scottish Government will also be introducing the following initiatives:
Every newborn baby to receive a 'baby box' of essential items
500 more health visitors will be recruited to improve child health and wellbeing
The Family Nurse Partnership to be extended to support teenage mothers
Childcare will be doubled to 30 hours per week for all three and four year olds and vulnerable two year olds






Ms Sturgeon said that "every child deserves a fair and equal chance and offering all pregnant women vitamins sends a strong signal that, right from the very start of life, we are doing all we can to help.  There is strong evidence that taking vitamins in pregnancy improves both the mother and baby's health and providing free vitamins, to all pregnant women, has the widespread support of healthcare professionals."







Any government policy which seeks to assist women in pregnancy to look after both themselves and their baby must be welcomed.  It is a positive step by the Scottish government and it is hoped that many people will benefit from the new initiatives.







The introduction of free vitamins for all pregnant women is real and positive recognition by the Scottish Government of the importance of the unborn child.  The unborn child should be entitled to the same rights as any born child and this must include the right to the best possible health care and treatment.  While the rights of the unborn child are not yet fully protected in our country, primarily because of the availability of abortion, this type of initiative is a step in the right direction; a small but important step towards equality of rights for all children, irrespective of whether they happen to be inside or outside of the womb.




 







0

/