Shopping Cart
Your Cart is Empty
There was an error with PayPal
Click here to try again
Thank you for your business!
You should be receiving an order confirmation from Paypal shortly.
Exit Shopping Cart
Calling Scotland's 841,000 Catholics to unite as one voice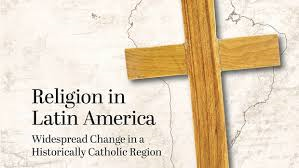 A Pew Research study into Christianity in Latin America has revealed some worrying differences between Catholics and Protestants in the way that they practice and live out their Christian faith.  Latin America is a significantly Christian region with 69% of the population identifying as Catholic, 19% as Protestant, and 9% as unaffiliated.  The region has, however, witnessed a fairly large number of conversions from Catholicism to Protestantism in recent years.
A link to the study can be found at the bottom of this page.  In the meantime, here are some interesting excerpts from the study:
"The new survey finds that
Protestants in Latin America tend to be more religiously observant than Catholics.
In nearly every country surveyed, Protestants say they go to church more frequently and pray more often than do Catholics; a regional median of 83% of Protestants report attending church at least once a month, compared with a median of 62% of Catholics. Protestants also are more likely than Catholics to read scripture outside of religious services, to approach the Bible literally and to believe that Jesus will return during their lifetime."
"For example, Protestants who participate in religious services at least once a week are somewhat more likely to oppose abortion and divorce – and considerably more likely to oppose homosexuality, sex outside of marriage and drinking alcohol – than are Catholics who attend Mass at least weekly.  These differing views on social issues may help explain why many former Catholics who have become Protestants say they were looking for a church that "places greater importance on living a moral life" (a median of 60%)."
"When asked what is the most important way Christians can help the poor and needy, Protestants are more likely than Catholics to point toward bringing the poor to Christ, while Catholics are more inclined to say that performing charity work for the poor is most important….Yet across the countries surveyed, a considerably higher share of Protestants than Catholics say that they themselves or the church they attend engage in charity work – helping people find jobs, providing food and clothing for those in need or organizing other community initiatives to help the poor."
"In every country surveyed, Protestants are more likely than Catholics to exhibit high levels of religious commitment – that is, to say they pray daily, attend worship services at least once a week and consider religion very important in their lives."
"Protestants generally display higher levels of religious commitment than Catholics in comparable demographic categories. For example, Protestant men report attending church more frequently than do Catholic men, and young Protestants report attending religious services more frequently than do young Catholics."
"In most Latin American countries, opposition to same-sex marriage is more pronounced among Protestants than among Catholics."
"Across Latin America, Protestants generally are more likely than Catholics and the unaffiliated to say that abortion should be illegal in all or most cases, that sex outside marriage and divorce are morally wrong and that a wife is always obligated to obey her husband."
 "In addition, among those who attend church, higher percentages of Protestants than Catholics say their house of worship helps people find jobs or provides food and clothing for those in need."
/