Shopping Cart
Your Cart is Empty
There was an error with PayPal
Click here to try again
Thank you for your business!
You should be receiving an order confirmation from Paypal shortly.
Exit Shopping Cart
Calling Scotland's 841,000 Catholics to unite as one voice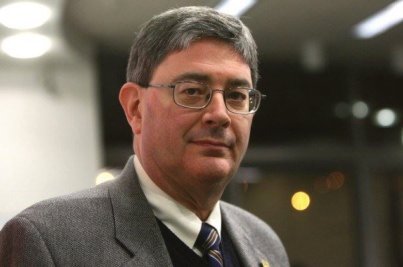 George Weigel, the Distinguished Senior Fellow of the Ethics and Public Policy Center, has claimed that democracy is likely to become brittle, crack and fail unless society consists of "men and women committed to the dignity of the human person as the first principle of just governance and dedicated to the pursuit of the common good." 
Weigel, in response to the assertion that those who believe that truths about the human person and human community are essential to democracy are actually on an authoritarian mission, says: "it is the radical moral relativists for whom there is no "truth," but only expressions of personal preference and will, who are busily enforcing their judgments on society in the name of "tolerance"."
At 7pm on Tuesday October 4th, George Weigel is speaking at St Mary's Metropolitan Cathedral in Edinburgh on the topic of "Converting the Culture: The New Evangelisation and the Future of the West". 
Read the full article in The Scotsman here: http://www.scotsman.com/news/opinion/is-faith-the-missing-ingredient-that-can-make-western-democracy-work-1-4240413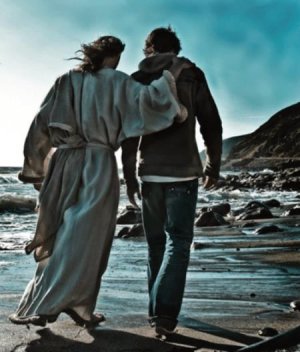 Accompaniment.  Could this be one of the most important words in the life of the Church today? 
One thing above all else struck me in reading Pope Francis' recent exhortation Amoris Laetitia.  It is the call to accompaniment.  While we are well aware of our call to love and to be merciful towards all people, do we know how to achieve this?  Think about those who live in ways or relationships that do not entirely accord with God's divine plan, such as same-sex unions, cohabitation and the divorced and remarried.  Pope Francis refers to these ways/relationships as 'irregular' and he suggests a need for accompaniment for people in such situations.  Not just the need to love and be merciful; but the need to commit to actual one-to-one accompaniment. 
I don't intend going into the fine detail of Amoris Laetitia as there have been numerous commentaries on the document and many different views expressed.  For me, I would sum up the document as being insightful in many ways, but especially when it comes to the love we are expected to show our spouse and our children.  I found it incredibly helpful, directing me towards being more patient and understanding in family life.  It is in many ways a challenge to live a holy and wholesome home life. 
But like a fine thread running through the document, there is this call to accompaniment.  The Pope isn't advocating anything that is contrary to the teaching of the Church.  There is no call to change doctrine and this is confirmed in the Pope's own words: ""To show understanding in the face of exceptional circumstances never implies dimming the light of the fuller ideal, or proposing less than what Jesus offers to the human being."  Quite simply, Church doctrine continues to stand strong and will always do so.  But perhaps the Pope's call to "show understanding" is something we should dwell on for a moment.
The Church has always called its people to be loving, compassionate and merciful; to understand the difficulties experienced by others.  It is after all a hospital for sinners.  So, in that sense, there is nothing new here.  The truth is, we should already be accompanying people in their difficulties and bringing them to Christ. 
Sadly, however, the reality is somewhat different.  Too often the Church (that is, the Catholic people) is seen as being judgmental, lacking compassion with a tendency to take the moral high ground.  We are often quick to go on the defensive, preferring to argue rather than listen.  Whether these accusations are justified is not something we should waste our time arguing about.  The important thing is to focus our minds on accompanying all people, whatever their circumstances, and to show them the loving face of Jesus.  We need to stop being defensive and, instead, be positive.  If we come across someone in an irregular situation; be it a same-sex union, or perhaps someone who is divorced and remarried, we are first and foremost called to show that person what it is like to meet the loving Christ, to feel the closeness of his endless love and his unfailing mercy.  We must accompany them.
Only by imitating the love of Christ and accompanying our brothers and sisters can we hope to bring them ever closer to Christ and his teaching.  In essence we are offering them an alternative to what the world offers them.  The world, with all its riches and ill-thought-out 'freedoms' offers people what they want, whenever they want it, seemingly satisfying every desire they could ever wish for.  Yet this is never the case.  People always want more.  Always.  The truth is this: people are never satisfied with what the world can give them.
Our patient, loving accompaniment may offer an alternative to the world's failure to satisfy.  By understanding the difficulties experienced by people and walking with them as Christ would we can bring them closer to the One who can satisfy the longings of each and every heart.
Our mission as Disciples of Christ is to bring people to know him and to know his Truth.  If we want to succeed in this we must first and foremost accept and act on our call to accompaniment.  That must be our first step.  Only then, once we have established a loving, trusting relationship, can we hope to change hearts to acknowledge and perhaps even accept the Truth; a truth that brings real love, real mercy, and ultimately, real freedom. 
If we want to build God's Kingdom in our world today, we must take people by the hand and walk with them.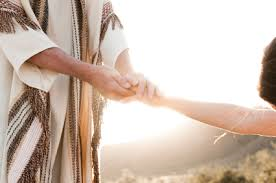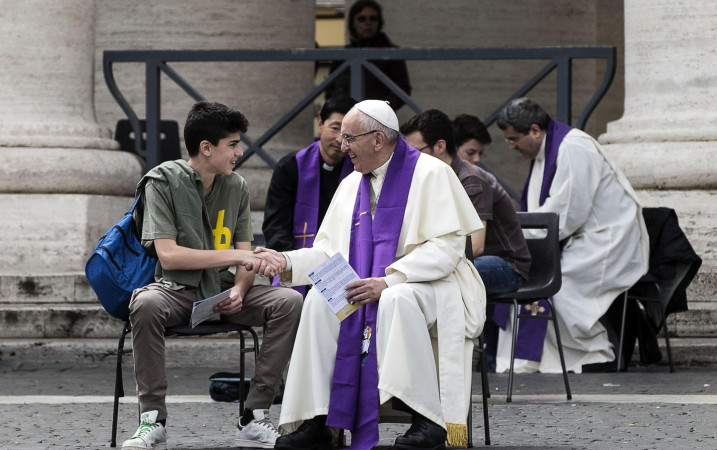 Pope Francis heard Confessions in the days leading up to the Mass
Pope Francis has given a lesson in love and freedom during his homily at the Jubilee Mass for Young People in Rome.
The Pope, speaking to thousands of youth in St Peter's Square, said that Jesus himself declared that Christians would be known "by the way they love one another."  The Pope continued saying, "love, in other words, is the Christian's identity card."
The Pope then tackled the meaning of love, stating that love is something you give.  He also added: "it [love] is caring for others, respecting them, protecting them, and waiting for them."
Francis then challenged the young people on the true meaning of freedom, stating that "freedom is not the ability to simply do what I want.  This makes us self-centred and aloof."
"Freedom" he said "is the gift of being able to choose the good: this is true freedom. The free person is the one who chooses what is good, what is pleasing to God, even if it requires effort, even if it is not easy."
He then called on the young people to grow in love and told them how they could do this: "the secret, once again, is the Lord: Jesus gives us himself in the Mass, he offers us forgiveness and peace in Confession."
The Pope's call to the young people can be summed up nicely in the term 'free love'.  He wants Christians to give themselves freely to others in love, and he wants us to choose to do this as it is pleasing to God.  He then tells us that the nourishment we need for this task can be found in the Holy Mass and in the Sacrament of Confession. 
Let us be under no illusions.  Our mission as Christians is to spread the love of Christ throughout the world.  We must let his Truth be known to all people and we must deliver this Truth in a spirit of love; a love that is freely given and that always has the other person's best interests at its core.  This message is not just for our young, but for all Christian people. 
The Christian message is one of great hope, mercy and peace for all people.  But, above all, it is a message of love.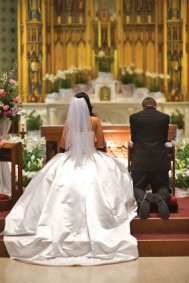 In this time of persistent and often radical sexual revolution it is hard to know where to look for some semblance of normality and a more authentic love.  In her latest Catholic Answers article, Jennifer Roback Morse encourages all people to look to the Catholic Church in these difficult times, even those who don't identify as Catholic.
As Jennifer says: "What the Catholic Church does is important to everyone, no matter their faith. The Catholic Church is the largest institution still standing against the ideological fraud known as the sexual revolution. Everyone who is trying to deal with the fallout from this massive social upheaval has a stake in what the Catholic Church says and does."
Pope Francis, through his recent Exhortation
Amoris Laetitia
, is asking the whole of humanity to trust in the teaching of Christ and his Church for our future.  He wants all people to experience an authentic love, particularly through the Sacrament of Marriage, and to find out for themselves that the sexual revolution does not satisfy our longings.  Rather, it inhibits us and restricts our freedom; enslaving us in an endless cycle of pain, misery and hurt. 
But the Church offers us hope, and by writing this Exhortation Pope Francis is building the foundations of a solid response to the sexual revolution.  It is a response that invites all people to an encounter with Christ and his Church in order to experience the true meaning of a real, authentic and free love. 
The Church has the answer, we just need to believe in it.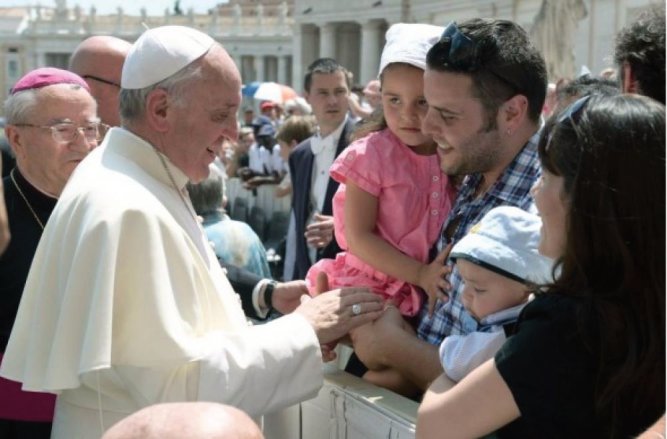 Tim Stanley, in his latest blog post, gets to the heart of post-Synod exhortation Amoris Laetitia, bypassing all the drama and criticism, and appreciating the document for what it truly is: 'a wise lecture on the meaning of love that is built entirely on Catholic teaching'.
He sums it up saying: 'there's an ideal family, there's a broken reality and the bridge between the two must be the Catholic Church'.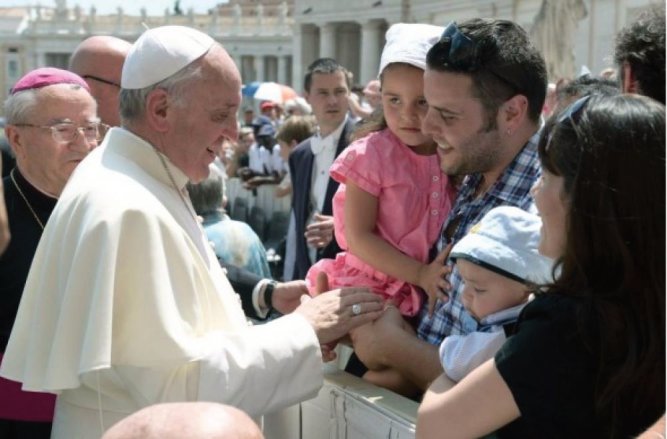 In his new exhortation,
Amoris Laetitia (The Joy of Love),
 Pope Francis has expressed the need to view the family unit as an opportunity rather than a problem, and has encouraged the Church to be more understanding and compassionate towards those who experience difficulties in family life.  There is a real sense of challenge in the document; a challenge to a deeper, less self-centred love towards all people, coupled with a deeper sense of humility.
The document, which runs to 264 pages, also speaks highly of the value of children and the need for married couples to be open to the prospect of new life.  It emphasises the need to see the family unit as a church and provides insight into the various reasons that have contributed to the breakdown of the family in our world today.  He was also critical of those who are narcissistic and irresponsible in relationships saying: "We treat affective relationships the way we treat material objects and the environment: everything is disposable; everyone uses and throws away, takes and breaks, exploits and squeezes to the last drop. Then, goodbye. Narcissism makes people incapable of looking beyond themselves, beyond their own desires and needs. Yet sooner or later, those who use others end up being used themselves, manipulated and discarded by that same mind-set."
As expected, the pope has not made any moves to change Church teaching and matters such as contraception, same-sex marriage, abortion and holy communion for the divorced and remarried have not been given the liberal treatment that many media outlets had hoped for.  This, of course, was never in doubt. 
However, Francis has encouraged the Church to give consideration to how it can best serve those who do not live in accordance with Church teaching, especially when it comes to reconciling them to God.  Bishops, priests and Catholic lay people are all being challenged to be the merciful face of Christ to those in difficult situations, while ensuring that the beautiful teaching of the Church is preserved.  There is also a challenge to be more positive about Church doctrine, to present it in a way that reveals its true beauty and goodness.
While we are not yet in a position to go into detail on the exhortation we will be posting a number of related content on our Facebook and Twitter feeds over the coming days.  We also expect to publish more posts here on our blog so please do check it regularly.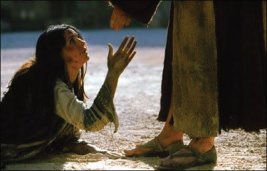 Sunday's Gospel (John 8:1-11):
'Jesus went to the Mount of Olives. At daybreak he appeared in the Temple again; and as all the people came to him, he sat down and began to teach them.
The scribes and Pharisees brought a woman along who had been caught committing adultery; and making her stand there in full view of everybody, they said to Jesus, 'Master, this woman was caught in the very act of committing adultery, and Moses has ordered us in the Law to condemn women like this to death by stoning. What have you to say?' They asked him this as a test, looking for something to use against him. But Jesus bent down and started writing on the ground with his finger. As they persisted with their question, he looked up and said, 'If there is one of you who has not sinned, let him be the first to throw a stone at her.' Then he bent down and wrote on the ground again. When they heard this they went away one by one, beginning with the eldest, until Jesus was left alone with the woman, who remained standing there. He looked up and said, 'Woman, where are they? Has no one condemned you?' 'No one, sir' she replied. 'Neither do I condemn you,' said Jesus 'go away, and do not sin any more.''
In the Jubilee Year of Mercy this particular passage of scripture stands out more than most.  It is a perfect example of the new world order that Jesus seeks to achieve.  It is a world of mercy, where no sin is incapable of forgiveness.  It is a world where hate, grudges, complaints and criticism reign no more. 
What Jesus wrote in the sand is a mystery.  But his message is abundantly clear.  We must be careful not to judge and condemn the goodness or otherwise of people when we ourselves are in a sinful state.  If we are aware of someone acting contrary to the Gospel we are called to be like Jesus and do two things.  First, we are called to show kindness, mercy and compassion and to put our arm around the person to show them that they are loved.  Second, we are called to encourage them to seek the forgiveness of God, to live in accordance with the Gospel, and to refrain from committing sin again. 
This is precisely how things are played out when we go to Confession.  Jesus welcomes us, puts his loving arms around us and forgives our sins.  He then asks us to go and sin no more.  And while we must take Jesus' call to refrain from further sin very seriously, he understands our weaknesses and the difficulties and struggles we experience in our world.  That is why he welcomes us again and again in Confession.  He never tires of pouring out his forgiveness.  He just needs us to be willing to make the effort to go to him.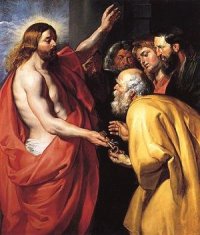 Today's Gospel (Matthew 16:13-19):
'When Jesus came to the region of Caesarea Philippi he put this question to his disciples, 'Who do people say the Son of Man is?' And they said, 'Some say he is John the Baptist, some Elijah, and others Jeremiah or one of the prophets.' 'But you,' he said 'who do you say I am?' Then Simon Peter spoke up, 'You are the Christ,' he said 'the Son of the living God.' Jesus replied, 'Simon son of Jonah, you are a happy man! Because it was not flesh and blood that revealed this to you but my Father in heaven. So I now say to you: You are Peter and on this rock I will build my Church. And the gates of the underworld can never hold out against it. I will give you the keys of the kingdom of heaven: whatever you bind on earth shall be considered bound in heaven; whatever you loose on earth shall be considered loosed in heaven.''
In 1870, Vatican I declared that this Gospel passage was clear biblical support for the primacy of Peter and successive popes.  The Council's interpretation touches on the following five points of doctrine:
The Magisterium built upon Peter is instituted by Jesus Christ;
Peter is given a unique role as chief teacher and ruler over the Church;
Peter is the visible head of the Church;
Peter's authority is passed on through successors; and
through Peter, Christ himself assures the infallible preservation of the gospel in the Church.
While it may sometimes be tough to be Catholic, especially in today's secular relativist world which seeks to discredit the Church at every turn, we still have every reason to be joyful.  Why?  Because this is a Church that was established by the saviour of the world, Jesus Christ!  Indeed, it is the only church established by Jesus Christ. 
But Jesus didn't leave it at that.  In addition to establishing a church he knew that the Church needed help from above to protect it from evil and to ensure its ongoing safety and wellbeing in protecting the gospel with which it is entrusted.  So he promised the Church that he will always be with it, ensuring that the gates of death, deception and destruction will never overcome it.  He then proceeds to give his close disciple Simon Peter the authority to make binding decisions with respect to the Church and gives him the keys to the kingdom of heaven.
Jesus, in just a few short sentences, establishes the Catholic Church, promises to sustain it, and even gives a mere mortal being the authority to be its chief teacher and chief administrator on earth.  So we can say with confidence that through the authority of Peter (often referred to as the 'Chair of Peter') and his successors, heaven governs the Church on earth. 
So be confident and joyful in your Church, and trust her authority always, for she is being guided by Christ who ensures her safe passage through time to that moment when he will come again on the clouds to be fully united with her.  And it is at that moment that our Lord will gather in his chosen people to take them to Paradise to be with him forever. 
The keys to Heaven are in the hands of the Church where they have been for the last 2000 years, from the moment Jesus entrusted them to Peter.  No matter how tough or testing it may sometimes feel to be part of the Catholic Church there is no denying that she is the surest way to Heaven and to Jesus.    

Following a recent discussion on our Facebook page I thought it might be useful to draft up a short note on our Catholic faith and homosexuality.  It is intentionally brief.  For a more in-depth article on the matter please
click this link
.
Our Catholic faith tells us that homosexual acts are wrong. I think it's hard for us to hear this in such an abrupt way in today's world but this is what we are taught by faith. The reason such acts are wrong is that God has ordered us male and female for the authentic union that is marriage between man and woman and to be completely open to the precious gift of new life. Homosexual acts are not ordered in this way and are thus sinful. There are many sinful acts so this isn't necessarily a singling out of homosexual people. Consider sex outside marriage between a man and a woman, which is also wrong, as is the use of contraception.
It's absolutely critical to also bear in mind that having same-sex attraction is different to homosexual acts. Mere attraction is not of itself sinful. It is only when these feelings are acted upon where it is deemed to be wrong.  This is something that many people get confused about.
I think it's also important to see the positive side of the Church's teaching on homosexuality. It seeks to protect humanity by promoting the love between a man and a woman for the sake of giving new life to the world and raising this new life in marriage, which throughout history has been the best place for kids to thrive. The Church doesn't say a man can't love a man or a woman can't love a woman. Indeed, such a notion is completely contrary to Church teaching. It simply states that it is wrong to interfere with God's clear and natural plan for humanity.
It's not about hating homosexuals as many people wrongly think. It's actually about loving everyone and calling them all to live in accordance with God's plan. That too is a form of love though it is often hard for this society to see it in this modern age of relativism.  In my time running the Scots Catholic website and social media accounts I have often been corrected for straying out of line with respect to Church teaching.  I have learned so much in terms of my faith and I am grateful to those who have offered their generous help.  For me, they are simply doing God's work.  They are doing what Jesus did and are challenging me, and I shouldn't be afraid to be challenged.  
In fairness to anyone who abides by the teaching of Christ and his Church on this matter, they are simply trying to live out their lives as God intended and they are well within their rights to stay true to God no matter what the world may tell them.  Jesus and the Apostles were ridiculed and even put to death for going against the tide and remaining faithful to God's teaching. But they remained faithful. And we are called to do the same.
It is also very important to note that there are many, many gay people living out their Catholic faith chastely in the Church. Their call to chastity is no different to the call to chastity of single people in the Church.
And we must remember, the Church is open to all people and she loves all people, especially those of us who sin. That's why I'm a member.
Many people query whether the Church might change its stance with respect to homosexual acts. This is highly unlikely given the wrongs of homosexual acts is contained in scripture, the Word of God. It's also entrenched in nature itself and the ability of man and woman to procreate (something the Church wants to protect for the sake of the family). I appreciate this is a difficult teaching for some, especially in today's society, but the Church can't fit around the whims of society. First and foremost, the Church can't stray from the Truth it has protected for 2000 years. And secondly, it would be impossible to satisfy everyone all of the time.  The Church, like Jesus, is here to challenge us with the Truth.  It is not here so that we can abuse it for our own ends.
The Church is also here to bring God's mercy to us through the
Sacrament of Reconciliation
.  There is no sin we can commit that is too great that we can't reconcile ourselves to God.  He loves us like no other.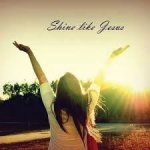 Surrender and let Jesus shine out of you
Sunday's (alternative) Second Reading (1 Corinthians 12:12-14,27):
'Just as a human body, though it is made up of many parts, is a single unit because all these parts, though many, make one body, so it is with Christ. In the one Spirit we were all baptised, Jews as well as Greeks, slaves as well as citizens, and one Spirit was given to us all to drink.
Nor is the body to be identified with any one of its many parts. Now you together are Christ's body; but each of you is a different part of it.'
Do you ever think of yourself being inextricably linked to Jesus?  We often talk about the ability of Jesus to be with us at every moment of the day, wherever we are, whatever we are doing.  We often imagine him by our side, walking with us through the trials and tribulations of life.  But today's reading gives us a slightly different perspective on our relationship with Jesus.
Today's reading tells us that we are actually a part of Jesus.  We are one with him.  Christ is often described as the head of the Church, and this reading confirms that truth.  Jesus is the head of the Church, and always will be.  And it is us, the people, who make up that Church.  Together, as the people of God, we are one with Christ.  It is the most beautiful union between the Creator and the created.  It is a link of unconditional pure and perfect love flowing from the one who was prepared to go through the agony of the Cross so that we would turn from sin and recognise and appreciate this powerful bond.
As we start another week perhaps we should consider taking some time out to contemplate this great bond with Jesus, remembering that each time we do wrong we are doing so in his presence.  But also remembering that each time we do good we are allowing him to take control.  There is a classic saying 'let go and let God'.  Maybe we should bear that in mind as we think about being one with Jesus. 
Perhaps it's time to let Jesus do a bit more in our lives.  Make it your goal this week to surrender to him and let him take over.  Let him take on your worries, troubles and daily difficulties.  What use being part of Jesus if you aren't prepared to use his perfect heart for love, his awesome mind for wisdom, and his most beautiful face to show how much you care?  What benefit is to be gained from receiving Christ in the Eucharist at Mass if we simply ignore the truth and goodness he brings to our very being?  You have the power to let Christ shine out of you, for you are one in him and he is one in you.  Be the loving Jesus.  Be the merciful Jesus.  Be the compassionate Jesus.  Be the Jesus who led others to the Truth.  Be the joyful Jesus!  Let it be.  Let Christ be.    
/