Shopping Cart
Your Cart is Empty
There was an error with PayPal
Click here to try again
Thank you for your business!
You should be receiving an order confirmation from Paypal shortly.
Exit Shopping Cart
Calling Scotland's 841,000 Catholics to unite as one voice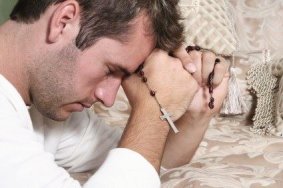 A call to Catholic men to right the wrongs of a broken society
Here's a question for Catholic men: did you know that you have the power to mend our broken society?  All the sadness and despair, the lies and deceit, the selfishness and infidelity; you have the answer to all of these problems.  The future of our world; a future of beauty, goodness and truth is in your hands! 
Confused?  Don't be.  Consider for a moment when the perfect world God created changed.  It was in the Garden of Eden, when Eve was tempted by the serpent to eat the fruit from the tree of the knowledge of good and evil, and both she and Adam ate the fruit.  This is the moment everything started to go wrong.  This is the moment sin and death entered into our world.  But what if you could help to right the wrong? 
Jesus, through his passion and Resurrection, redeemed that fatal mistake made by our forefathers in Eden, yet too many in the world reject the redemption Jesus offers them; preferring to ignore it and to continue buying into the relativist culture that tells them anything goes.  A culture that encourages selfishness for the sake of one's own wants and desires.
So is there something we Catholic men can do to bring people to accept Christ's redemption on the Cross?  How can we play a part in helping to heal the wounds of the single biggest mistake made by humanity?  A good starting point is to identify Adam's first mistake.  If we take ourselves back to the Garden of Eden, at the very moment the serpent persuades Eve to eat the fruit and she obliges.  Where is Adam at this point?  Why is he not protecting his wife from the cunning serpent and telling her to do as God instructed and not eat the fruit from the tree? 
This example of Adam failing to protect and care for his wife is all too prevalent in our world today.  And such a failure has serious repercussions.  Adam, after eating the fruit, suddenly realised that he and his wife were naked and he no longer saw her as God intended him to see her.  Rather, it was her body alone that he could see.  His eyes could no longer appreciate Eve's purity in her soul, that part of her which is the very core of her being.  Instead he looked upon her as an object for pleasure and gratification.  Does this ring any bells?  Is this not an accurate reflection of how many men view women in our world today?  Adam, created to have dominion over all the animals of the world and to be protector-in-chief of God's creation, including his wife, had gone from a soldier for God to a man of weakness; a wretch with no backbone.
And so it is with us men today.  Instead of protecting our wives and ensuring their safety and security in this world of sin, we have let them become the object of our own selfish desires and gratification.  We, like Adam, have taken our eye off the ball and have failed our women.  We have failed them badly.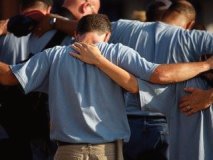 Catholic men can rebuild our broken society
Everywhere we turn there is infidelity, adultery, divorce, pornography, selfishness, violence, hate and intolerance.  The world is in ruins because of relativist ideals, especially those borne out of the sexual revolution.  But we Catholic men have been charged with making something out of those ruins; to take them and to build a pillar of love for the whole world to see.  We are called to succeed where Adam failed.  We have a duty to carry out God's original plan for His Creation; that is to serve, protect and defend all that God has entrusted to our care, especially our wives and children.
We must see our wives as God intended; with a perfect love.  That is, the same perfect love we witness when we see Christ hanging from the Cross.  This, brothers, is the love we are called to show our wives.  It is not lustful, it is not selfish.  It is pure sacrifice.  We, like Christ, must be prepared to lay down our lives for our wives and our children, putting their needs before our own.  Only in living out this kind of love will we be able to repair the wounds in our society; a society that is broken, having lost all sense of what it really means to be in love. 
Our world today is full of love built on sand.  We have love built on lies, we have love built on selfish desires, we have love built on one night stands, and we have love built on adultery.  The result of this is broken relationships, broken families, and ultimately broken children who have never experienced the love they need in order to thrive.  Society needs strong leaders in love.  It needs an authentic, unselfish and unconditional love that is free from the horrid pain of selfishness and lies.  The sexual revolution encourages people to dip in and out of relationships as and when they please.  There is no attempt to encourage staying power, no attempt to encourage true fidelity.  It is every man and woman for themselves.  Yet as Catholic men we are called to be much better than this, much better!  We are called to be soldiers for God, bringing His perfect love to the world by living it out in our homes and in our everyday lives, setting an example for our broken society.  God is looking down at the earth and asking "Where have all my Catholic men gone?  Where are my soldiers?  Where are the men my Son died for?"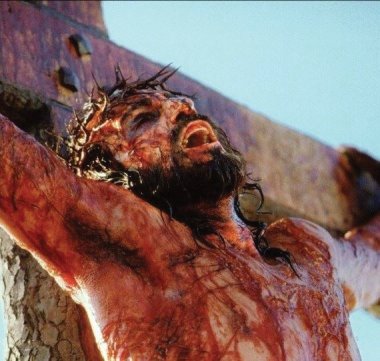 Christ's broken body is the example we are called to follow 
Brothers, let us be true.  True to God, true to our wives, true to our children, and true to our world.  Let us use our call to greatness, our call to be saints, to make a real difference to our world.  Let us never tire of striving to show the kind of love that Christ showed on the Cross, when he gave everything he had, shedding every last drop of blood for his people.  We too are called to give everything we have.  So, with a deep sense of prayer and trust in the Holy Spirit, let us go forth and be true protectors of God's creation.  Let us be sure to love our wives and families with that perfect love so unselfishly evidenced by the broken body of Jesus Christ hanging on the Cross.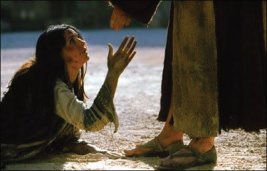 Sunday's Gospel (John 8:1-11):
'Jesus went to the Mount of Olives. At daybreak he appeared in the Temple again; and as all the people came to him, he sat down and began to teach them.
The scribes and Pharisees brought a woman along who had been caught committing adultery; and making her stand there in full view of everybody, they said to Jesus, 'Master, this woman was caught in the very act of committing adultery, and Moses has ordered us in the Law to condemn women like this to death by stoning. What have you to say?' They asked him this as a test, looking for something to use against him. But Jesus bent down and started writing on the ground with his finger. As they persisted with their question, he looked up and said, 'If there is one of you who has not sinned, let him be the first to throw a stone at her.' Then he bent down and wrote on the ground again. When they heard this they went away one by one, beginning with the eldest, until Jesus was left alone with the woman, who remained standing there. He looked up and said, 'Woman, where are they? Has no one condemned you?' 'No one, sir' she replied. 'Neither do I condemn you,' said Jesus 'go away, and do not sin any more.''
In the Jubilee Year of Mercy this particular passage of scripture stands out more than most.  It is a perfect example of the new world order that Jesus seeks to achieve.  It is a world of mercy, where no sin is incapable of forgiveness.  It is a world where hate, grudges, complaints and criticism reign no more. 
What Jesus wrote in the sand is a mystery.  But his message is abundantly clear.  We must be careful not to judge and condemn the goodness or otherwise of people when we ourselves are in a sinful state.  If we are aware of someone acting contrary to the Gospel we are called to be like Jesus and do two things.  First, we are called to show kindness, mercy and compassion and to put our arm around the person to show them that they are loved.  Second, we are called to encourage them to seek the forgiveness of God, to live in accordance with the Gospel, and to refrain from committing sin again. 
This is precisely how things are played out when we go to Confession.  Jesus welcomes us, puts his loving arms around us and forgives our sins.  He then asks us to go and sin no more.  And while we must take Jesus' call to refrain from further sin very seriously, he understands our weaknesses and the difficulties and struggles we experience in our world.  That is why he welcomes us again and again in Confession.  He never tires of pouring out his forgiveness.  He just needs us to be willing to make the effort to go to him.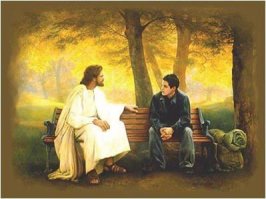 We need to listen to Jesus
From Sunday's Gospel (Mark 10:17-30):
'Jesus was setting out on a journey when a man ran up, knelt before him and put this question to him, 'Good master, what must I do to inherit eternal life?' Jesus said to him, 'Why do you call me good? No one is good but God alone. You know the commandments: You must not kill; You must not commit adultery; You must not steal; You must not bring false witness; You must not defraud; Honour your father and mother.''
It's always difficult to listen to someone telling you what to do and to do so with an open mind and an open heart.  Goodness knows I have struggled with it many times in my life!  But what if that person was Jesus?  Would it change your attitude?  
In this Gospel Jesus reminds us of some of the Commandments as he tries to steer a man towards the Kingdom of Heaven and eternal life.  He speaks with great clarity and no little authority as he tells us not to kill, not to commit adultery, not to steal, not to lie, not to deceive, and to honour our parents.
As the Synod on the Family in Rome closes its first week of meetings and discussions, we are called to remind ourselves of these words of Christ, especially when we think about hot topics like abortion, contraception, marriage and, of course, the family.  While people may surmise the potential for change or reform in the Church, the Church fathers will always turn to the one who knows best….Jesus.
There is a need for all of us to get back to basics on issues such as abortion, contraception and marriage.  That's why we need to listen to Jesus and take in what he is telling us.  Only then, with the Truth embedded in our hearts and minds, can we build a better world.

Ashley Madison proudly enourages people to 'have an affair'
Poor Ashley Madison. There they are just trying to make a few quid out of the adulterous behaviour of millions of people and some smart whiz kids come along to spoil the fun by releasing the details of millions of willing adulterers. 
"Some journalists have turned the focus of the criminal act against Ashley Madison inside out, attacking us instead of the hackers" the company says.
Cut the sob story guys. Do you really think you deserve the sympathy of joe public for being targeted in this way?  If you do perhaps we need to consider the countless families put at risk because of this online adultery platform you operate.  Do you stop to think of the little child innocently sleeping in their bed and cuddling their teddy while daddy is out having sex with someone other than their mummy?  Doesn't that bother you?  Doesn't it matter to you?
We as a society have a duty to roundly criticise the type of behaviour encouraged by Ashley Madison. It doesn't just cause 'issues' or 'difficulties' in families.  It completely destroys them.  It says that this husband, that wife, those children, they don't matter.  All that matters is me.  All that matters is what I want.
For Christians it is the complete opposite of Christ's teaching to love one another.  We simply cannot subscribe or condone the type of service Ashley Madison provides and the type of behaviour it so proudly encourages. Yet you don't need to be Christian to appreciate the horrible nature of Ashley Madison's business.  It's disgusting.  It makes you feel sick to the pit of your stomach that people could facilitate the cheating and lying, the deceit and dishonesty, and of course the complete disregard for the wellbeing of children.
The behaviour of the adulterers is disgusting enough, but to actually encourage it and make money from it is frankly incomprehensible.
Don't be fooled by Ashley Madison and their bleating about being the 'victim'.  Don't be taken in by many of the mainstream media outlets who have conveniently disregarded the adulterous behaviour encouraged by Ashley Madison only to focus on the actions of the hackers.  Ashley Madison and others involved in the facilitation of adultery are disgusting organisations.  They do not deserve sympathy.  At best they deserve our prayers, so that they may be open to seeing the damage they are doing to society.  The only victims in this scandal are those poor men and women at home alone while their other halves please themselves in the arms of a stranger. The only victims are the poor innocent children whose mummy or daddy couldn't care less for their wellbeing or the wellbeing of their family unit.
Shame on you Ashley Madison, you wretched excuse for a company.

The first details of subscribers to the adultery website Ashley Madison have been released following a successful hacking of the website at the weekend.  The hackers, referred to as the Impact Team, claim to have obtained details of all 37million members of the site and have threatened to release more members' details, including their so called 'fantasies'.
Some have claimed the reason for the hacking is to do with a claim by Ashley Madison that members' details will be permanently deleted if they pay a $19 fee.  The hackers apparently claim that this is not the case and that details are not permanently deleted, hence the attack and the Impact Team's desire to shut down the site.  But, whatever the reason for the hack, it is incredibly sad to hear that there are at least 37million willing adulterers out there in the western world.  Of course this is only a small portion of the total number of people inclined to infidelity in our world, but it is a huge number, and it shows the lengths people will go to look after their own self-interests and make sure it is kept secret from their nearest and dearest.
What has the world come to when we have a legitimate website claiming that 'life is too short, have an affair'?  What has the world come to with legitimate TV adverts advertising and encouraging adultery, such as the one containing photographs of a newlywed couple enjoying their wedding day only for little captions to appear on screen suggesting that the bride is about to sleep with her new husband's best friend?  This is the world of Ashley Madison.  This is our world.
Western society is often praised for being a pillar of democracy, freedom and tolerance.  Yet it is a society that believes in the right to kill the most vulnerable; a society that believes in greed at the expense of the poorest; and now, a society that believes in the right to adultery.  But hey, why not?  This is the new relativist world, right?  This is a world where 'live and let live' and 'who am I to judge' are phrases which are endlessly spewed out to prove our tolerance in this great new free and easy society.  The age of objective morality has passed.  That was then, this is now.  We don't need objective morality anymore.  We don't need to be told that 'thou shall not kill', 'thou shall not commit adultery' and so on.  That's the kind of stuff that belongs to the dark ages, to the religious people.  Our society is free from all that and we can do what we want. 
Well I say to hell with this new, free, tolerant society based on relativism.  Relativism is a dirty, selfish, thoughtless scam which destroys society and destroys lives.  We don't deserve it.  We, as human beings, deserve better than this.  We deserve a moral code which protects people from untimely death.  We deserve a moral code which looks after the poorest and encourages people to look after the needy.  We deserve a moral code which says adultery is wrong.
There are 37million lost souls out there seeking the fulfilment of some misguided fantasy and what are we doing about it?  Are we sitting on our hands doing nothing?  Have we really bought into this society of 'live and let live' so that we simply say nothing and let others get on with whatever they want to get on with?  Why?  What use is that to our world?  Our world needs witnesses to a true moral code; a code that stands the test of time and which encourages love, honesty and integrity between all people.  So let's get out there and be witnesses to this beautiful truth!  Let's speak out against the scandalous business of the likes of Ashley Madison and their profiting from infidelity.  Let's speak the truth about the wrong of adultery.  And let's speak openly about the genuine alternative to this disgusting behaviour; an alternative which encourages people to be open with each other and to help one another resolve difficulties in relationships. 
Relativism is not the answer.  All it does is encourage people to go and do their own thing, to be selfish and not give a second thought to those closest to them; their wife, husband, kids.  Relativism encourages a quick fix, a lustful encounter, a lie.  It reduces love to a simple feeling or emotion, removing any concept of self-giving and sacrifice.  That's why businesses like Ashley Madison make so much money. It encourages people to be selfish, to reject any notion of an objective moral code and to please themselves how they want, when they want.
And very often this catches up with people.  Indeed, 37million people are very much in panic mode right now as they wonder whether their details will ever be released, uncovering their deceit and infidelity.  And it's all because they bought into relativism.
/