Shopping Cart
Your Cart is Empty
There was an error with PayPal
Click here to try again
Thank you for your business!
You should be receiving an order confirmation from Paypal shortly.
Exit Shopping Cart
Calling Scotland's 841,000 Catholics to unite as one voice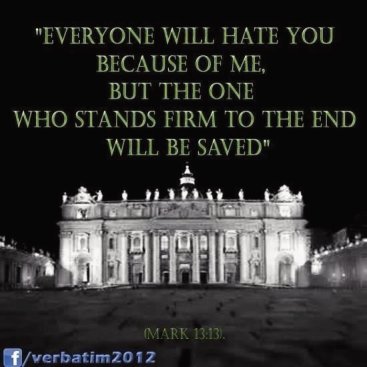 Sunday's Gospel (John 6:60-69)
'After hearing his doctrine many of the followers of Jesus said, 'This is intolerable language. How could anyone accept it?' Jesus was aware that his followers were complaining about it and said, 'Does this upset you? What if you should see the Son of Man ascend to where he was before?
'It is the spirit that gives life,
the flesh has nothing to offer.
The words I have spoken to you are spirit
and they are life.
'But there are some of you who do not believe.' For Jesus knew from the outset those who did not believe, and who it was that would betray him. He went on, 'This is why I told you that no one could come to me unless the Father allows him.' After this, many of his disciples left him and stopped going with him.
Then Jesus said to the Twelve, 'What about you, do you want to go away too?' Simon Peter answered, 'Lord, who shall we go to? You have the message of eternal life, and we believe; we know that you are the Holy One of God.''
In today's Gospel we hear of how a number of Jesus' followers began to leave him because of his teaching.  The teaching was, in essence, too challenging for them to come to terms with and would have taken them out of their comfort zone.  As a result they claimed that his language was intolerable and questioned whether anyone could accept it.  Jesus' response was to ask them if what he says is upsetting to them which, judging by their sudden departure appears to be the case.  And is Jesus ready to offer them comfort and consolation in their lack of faith? Not at all!  Jesus' reaction is to simply tell them what's what, to tell them the plain and simple truth.  He then turns away from them and challenges the twelve disciples on whether they are prepared to stick with him.
And Simon Peter's response to this challenge is crucial.  Crucial because it is a response we should all have in our hearts when it comes to Christ's teaching, be it through the Word or through the Tradition of His Church.  Peter says, "Lord, who shall we go to?  You have the message of eternal life, and we believe; we know that you are the Holy One of God."
There is no one to go to but Christ.  Jesus Christ is the only way to God.  He is the only one who has the message of eternal life.  His words are spirit and they are life itself (his own words). Our challenge is to utter those words of Peter and admit that Christ is the Holy One of God.  Our challenge is to admit that Christ's teaching, entrusted to the Church he himself founded, is truth itself and free from defect and it is held and protected by the Church until the end of time.  Our challenge is to join the Church and to follow Christ through thick and thin, even if we are hated for doing so.  As Christ himself said: 'Blessed are you when men revile you and persecute you and utter all kinds of evil against you falsely on my account. Rejoice and be glad, for your reward is great in heaven.'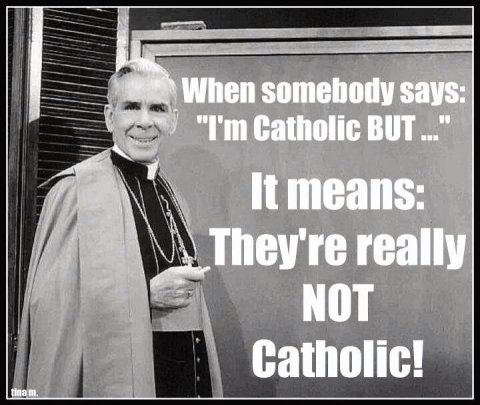 Venerable Fulton Sheen
Isn't it fair to say that our Catholic faith is under attack from many angles in our world today?  The growth of relativism, aggressive secularism, and even attacks from within our own ranks, by people who suggest that Church teaching is wrong on certain matters.
In my own experience it is becoming abundantly clear that more and more self-proclaimed Christians (especially Catholics) are attaching less and less importance to the role of faith, and ultimately Christ, in their lives.  It brings to mind a quote of Venerable Fulton Sheen when he said "When somebody says: 'I'm Catholic but…' it means: they're really not Catholic!"  There are so many examples of people saying 'I'm Catholic but…' in our world today.  Indeed it is a daily occurrence on social media forums.  'I'm Catholic but I don't go to Mass'; 'I'm Catholic but I don't go to Confession, I just go direct to God'; 'I'm Catholic but I don't think we should interfere with a woman's choice when it comes to abortion'; 'I'm Catholic but I believe that same-sex marriage is okay because two people love each other'.
And while those who propagate the view 'I'm Catholic but…' don't seem to care much for the effect it has on the more traditional, conservative Catholic lay people around them; they don't seem to appreciate the effect this has on the one who really matters….Jesus Christ.
It is often difficult to comprehend certain Truths taught by the Catholic Church; the Church's stance on homosexual acts perhaps being the most relevant example.  Nothing seems to stoke the flames as much as this issue. And even when the natural law, Sacred Scripture or the Catechism of the Catholic Church is quoted in defence of the Church's position, it still isn't enough to eradicate the view that the Church is out of touch and living in the past.
Yet what is the Church? Is it really a bunch of decrepit old men as is often argued?  Certainly not.  The Church is an assembly brought together by the Word of God, forming the People of God; a people nourished and sustained by the Eucharist.  And by receiving this nourishment from Christ's Body we too become the Body of Christ.  The Church is the community of believers in Christ and his Truth.  It is a people, stemming from Peter and the apostles through the ages to the present day.  It is a people charged with the task of not only proclaiming the Truth but protecting it so that it may continue to live on through time, penetrating the hearts of countless peoples through the ages.  And perhaps the most important component of the Church is its head; for it is Jesus Christ who is head of the Church.  Not the pope, not the Bishops nor her priests.  No, it is Christ; for it is Christ who formed the Church and it is Christ who promised to be with the Church until the end of time so that the gates of hell would never prevail against her.
When he formed the Church Jesus promised to be with her forever; and he remains with her to this day. And his Truth continues to exist to this very day because it has been protected by his Church.  Just think of the apostles and how they, as a relatively small number, carried that Truth with them, taking it to everyone they met so that they might come to know Christ as they knew him.  Think of how they changed hearts and minds with this Truth and how they were even prepared to take it to their excruciatingly painful deaths.  Yet despite this, the Truth continued to penetrate time, through the early Church Fathers, the Saints, and through converts to the faith.  And so it continued on and two thousand years later it remains with us today; that same Truth proclaimed by Jesus Christ and his apostles.  And it is here because he promised it would be here. Jesus promised to be with his Church, and so his Truth lives on; protected and preserved by a people who love him and who trust completely in him.
While it can be incredibly difficult to live a life of faith in today's world, especially a life of faith in a Catholic sense, we must remember that we are preserving the Truth of Christ, the one who created us and who loves us more than any other.
Another beautiful way to look at the Church is to see her as Christ's bride.  She waits for him to return to earth so that they, the bride and groom, can be completely united as one.  If we let go of the Truth there will be no bride waiting for Jesus at the end of time. That is why it is so important for us to be true to our faith, every last bit of it.  I have heard it said that the rib taken from Adam to create Eve was symbolic of Christ and the Church.  That is how close Christ is to his Church!  And when Christ died on the Cross on Calvary and his side was pierced by the roman soldier, the significance of Adam's rib became even more apparent.  For in the blood and water which poured forth from Christ's side came his forgiveness; a forgiveness that he would soon thereafter charge to his disciples and to his Church.  And the first person to fully appreciate the significance of the blood and water pouring from Christ's side and who proclaimed him to be the 'Son of God'?  The Roman soldier Longinus (now St Longinus) who pierced his side.  Many claim that he was the first convert to the Christian faith.  So, the Church, the creation of which was foretold by the removal of Adam's (Jesus) rib to create Eve (the Church), can now be seen pouring out of Christ's side and reaching out to his created people, calling them to conversion and to come to know the Truth.
St Longinus would never dream of saying 'I'm Catholic but….'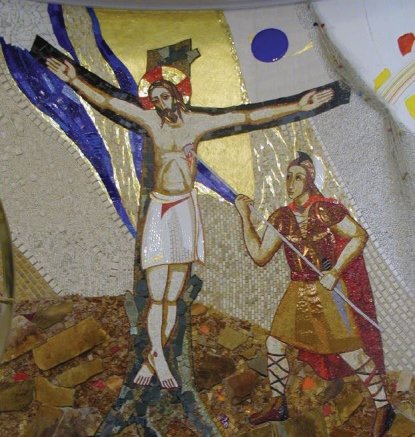 Longinus pierces Christ's side
Catholic Answers' director of apologetics Tim Staples considers the question of women priests in the Catholic Church and reveals seven reasons why this is not possible.
The seven reasons are:
1. The Church has definitively declared it
2. The Church's constant Tradition for 2,000 years cannot err
3. The attitude of Christ
4. The practice of the Apostles
5. The permanent value of the attitude of Jesus Christ and the Apostles
6. The ministerial priesthood in the light of the mystery of Christ
7. The ministerial priesthood as illustrated by the mystery of the Church
/