Shopping Cart
Your Cart is Empty
There was an error with PayPal
Click here to try again
Thank you for your business!
You should be receiving an order confirmation from Paypal shortly.
Exit Shopping Cart
Calling Scotland's 841,000 Catholics to unite as one voice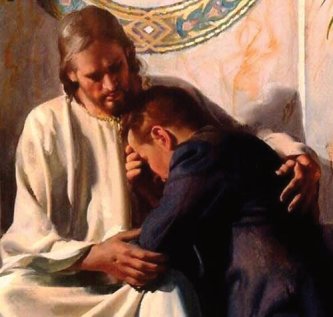 Jesus is waiting to embrace each and every one of us
"Come to me, all you who labour and are burdened, and I will give you rest" (Matthew 11:28).
It's often hard as human beings to admit we are tired or weary.  We have an in-built pride that means we often brush aside any notion of weakness and soldier on.  But sometimes we have to stop and appreciate that we do have limitations and that we do need help.
In the scripture passage above Jesus is giving us the option of going to him for that help.  You see, we all have the choice to go to the very top when we are feeling tired, weary, sad, upset, or lonely.  And it's an option that is free of judgement or hate, and full of love, mercy and compassion.  Nobody loves us like Jesus loves us.  And he is always there, waiting for us.
That's why we are so incredibly blessed this Christmas to have recently witnessed the start of the Jubilee Year of Mercy in the Catholic Church.  It presents an excellent opportunity for us to seek that offer of help from Jesus.  The Church doors are open and the Saviour is home.  He is waiting to spend time with each one of us, to hear our concerns, worries, anxieties and to pour out his mercy upon those who seek it.
This Christmas and beyond be sure to think about that invitation from Jesus.  Give it some consideration and decide if you want to take up his offer.  Unlike your new ipad, his love and mercy will never run dry.  It is eternal.  And it is completely free!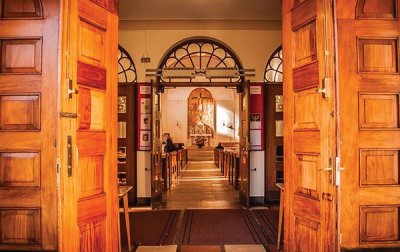 The door to God's house is open
For those of us who haven't entertained our faith for a while or who maybe aren't Christian perhaps this Christmas time is an opportunity to do something radical.  Maybe it's time to break free from the shackles of modern living, even just for an hour or so, and enter God's house where Jesus waits for us with open arms.  What have we to lose?  The truth is: we have absolutely nothing to lose and everything to gain.  And by everything we mean to feel valued, to feel special, to feel loved, and to feel part of something big.  Jesus can give us everything.  There is nothing he cannot do for us.  He can even give us eternal life!
This Christmas let's open ourselves up to the greatest present imaginable.  Let us receive the gift of the loving arms of Christ and the comfort of knowing that in him we will find our true home.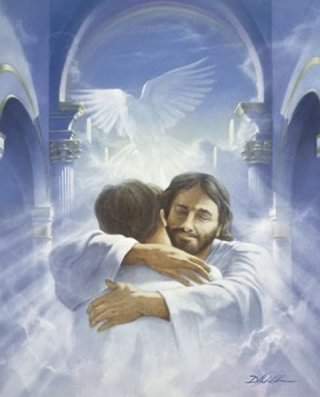 This guy really, really loves you!
Sunday's Second Reading (Hebrews 4:14-16):
'Since in Jesus, the Son of God, we have the supreme high priest who has gone through to the highest heaven, we must never let go of the faith that we have professed. For it is not as if we had a high priest who was incapable of feeling our weaknesses with us; but we have one who has been tempted in every way that we are, though he is without sin.
Let us be confident, then, in approaching the throne of grace, that we shall have mercy from him and find grace when we are in need of help.'
It's hard to admit that we did wrong and to apologise to the person we have wronged.  It's also hard to ask other people for help.  But while this may be the case in our day-to-day dealings with the average joe on the street, this needn't be the case when it comes to Jesus.  St Paul, in this letter to the Hebrews, is urging us to be confident when we approach Christ for forgiveness and help.
You see, we aren't dealing with your run-of-the-mill human being when it comes to Jesus.  We are dealing with a God brimming with infinite mercy and compassion. He is the Creator of all things and He loves you like nobody else does.  There is no hidden agenda, no points to be scored, and no harsh judgements.  He desires and wants to forgive you and help you in every which way possible. He is a God who has experienced the temptations, trials and troubles of every day life just like us, so He knows how difficult life can be. 
He is the ultimate best friend and he will always be there for us when we need him. Can you spare five minutes today to let him show you just how much he loves you and how much you matter to him?  Call out to him and he will respond.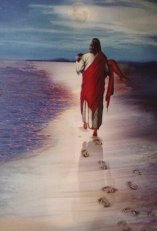 Following Jesus will satisfy the longings of our heart
First Reading (Daniel 7:9-10,13-14):
'As I watched:
Thrones were set in place
and one of great age took his seat.
His robe was white as snow,
the hair of his head as pure as wool.
His throne was a blaze of flames,
its wheels were a burning fire.
A stream of fire poured out,
issuing from his presence.
A thousand thousand waited on him,
ten thousand times ten thousand stood before him.
A court was held
and the books were opened.
And I saw, coming on the clouds of heaven,
one like a son of man.
He came to the one of great age
and was led into his presence.
On him was conferred sovereignty,
glory and kingship,
and men of all peoples, nations and languages became his servants.
His sovereignty is an eternal sovereignty
which shall never pass away,
nor will his empire ever be destroyed.'
There have been many interpretations of this passage through the years and two of the most common are that the passage relates to either Christ's Ascension to Heaven or to his Second Coming. The Church, through the Catechism, believes that the latter part of the passage is referring to Christ's Ascension.
But whatever way this passage is interpreted there can be absolutely no doubt about the incredible power and majesty of that which it reveals. It simply never fails to knock me sideways! It is a glimpse of the reality of Heaven and it is a further glimpse of the reality of God beyond that which we have already learned in the person of Jesus Christ. I suppose the big question for us is: are we ready to be a part of it all?
I always think that this passage clears some of the mist which comes from cynical views of the Church, especially when it comes to the Sacrament of Reconciliation and the reality of Purgatory. Many people don't see a need for the forgiveness of sins, yet when we read this passage we can see that it makes complete sense to be completely clean and free of all sin before we are graced with the presence of God. The enormity of being in the presence of God is something we will only appreciate if we are granted the grace to experience it. But, at the end of the day, we have an inherent need to experience it because it is that moment, and that moment alone, which will satisfy all the desires and longings of our heart.
We roam around the world endlessly seeking that which will completely satisfy our hearts; be it in relationships, through material goods, or perhaps in traveling to other parts of the globe. But we are never truly satisfied. Our hearts always seem to be longing for something else, no matter what we may achieve or accomplish in life. And the truth is, we will never be completely satisfied, not until we are face to face with God. For God, who created each one of us, has etched in our hearts a desire to return to Him.
Our challenge, should we accept it, is to acknowledge God's desire for us to return to Him and to follow that path laid down by Jesus Christ. For it is the way of Christ that will lead us home.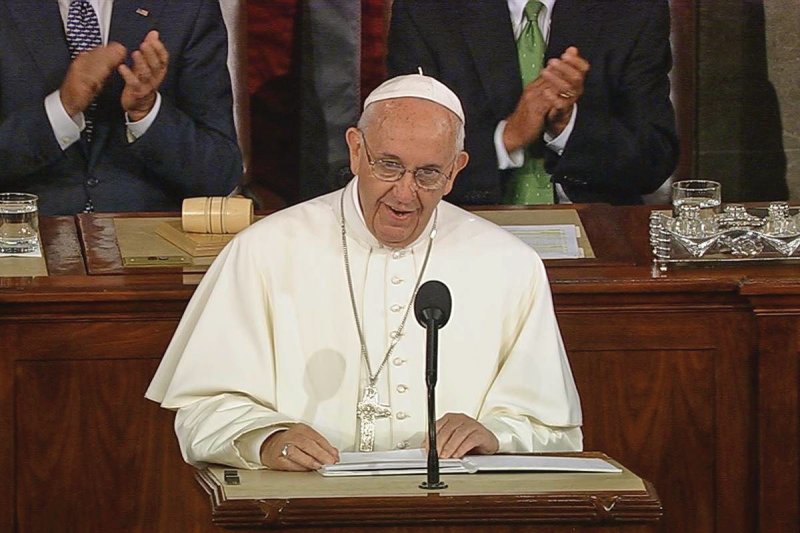 The pope received several standing ovations in Congress
Pope Francis, in his historic address to US Congress, has urged the world to follow Christ's Commandment of love.  The pope used the opportunity to tackle critical issues such as the dignity of human life, the death penalty and the refugee crisis.  He also addressed recent attacks on marriage and family life, and his concerns that the very basis of the family and marriage is being called into question. 
Here are the main quotes from the pope's address to USC ongress this afternoon:
Pope Francis on the golden rule:
"Let us remember the golden rule: do unto others as you would have them do unto you."
On the dignity of human life:
We must "protect by means of the law, the image and likeness fashioned by God in every human life."
We must recognise the "transcendent dignity of the human being".
"The golden rule [to do unto others as you would have done unto you] also reminds us of our responsibility to protect and defend human life at every stage of its development."
On the family:
"The family should be a recurrent theme….how essential the family has been to the building of this country.  I cannot hide my concern for the family which is threatened, perhaps as never before from within and without.  The very basis of the family and marriage is being called into question."
"I can only reiterate the importance and, above all, the richness and the beauty of family life."
"I would like to call attention to those family members who are most vulnerable, the young.  Their problems are our problems.  Our young people are precious."
"We live in a culture that threatens young people not to start a family."
On the death penalty:
"Let's abolish the death penalty here and everywhere. No punishment should exclude hope or the possibility of conversion."
On politics and society:
"Preserve and defend the dignity of your fellow citizens in pursuit of the common good."
"We are all worried by the disturbing social and political situation of the world today."
"It can be no more us vs them. We must confront every kind of polarisation. Our response must be hope and healing, peace and justice."
"Safeguard religious freedom, intellectual freedom, and individual freedom.  We must be specially attentive to every type of fundamentalism."
"Politics must be used to build the common good."
"It's my duty to build bridges and help all men and women to do the same."
"We have to ask ourselves: why are deadly weapons being sold to those who plan to inflict untold suffering on individuals and society?"
"It is our duty to confront the problem and stop the arms trade."
On the elderly:
The elderly are the "storehouse of wisdom".
On the refugee crisis:
"We must view them as persons, seeing their faces, listening to their stories, and try to respond as best we can."
On poverty:
"The fight against poverty and hunger must be fought constantly and on many fronts, especially in its causes."
On business:
"Business is a noble vocation, especially in its creation of jobs to the common good."
On the environment:
"I'm convinced that we can make a difference, I'm sure."
"We have an obligation to our future generations. The time is now."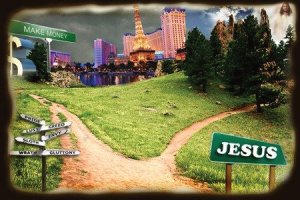 We must take the narrow path to Christ
Today's First Reading (1 Timothy 6:2-12):
'This is what you are to teach the brothers to believe and persuade them to do. Anyone who teaches anything different, and does not keep to the sound teaching which is that of our Lord Jesus Christ, the doctrine which is in accordance with true religion, is simply ignorant and must be full of self-conceit – with a craze for questioning everything and arguing about words. All that can come of this is jealousy, contention, abuse and wicked mistrust of one another; and unending disputes by people who are neither rational nor informed and imagine that religion is a way of making a profit. Religion, of course, does bring large profits, but only to those who are content with what they have. We brought nothing into the world, and we can take nothing out of it; but as long as we have food and clothing, let us be content with that. People who long to be rich are a prey to temptation; they get trapped into all sorts of foolish and dangerous ambitions which eventually plunge them into ruin and destruction. 'The love of money is the root of all evils' and there are some who, pursuing it, have wandered away from the faith, and so given their souls any number of fatal wounds.
But, as a man dedicated to God, you must avoid all that. You must aim to be saintly and religious, filled with faith and love, patient and gentle. Fight the good fight of the faith and win for yourself the eternal life to which you were called when you made your profession and spoke up for the truth in front of many witnesses.'
It's hard for Catholic people to remain true to Jesus Christ and the Traditions of the Catholic Church, especially in this day and age when religion is often frowned upon for one reason or another.  Yet that doesn't make it any less true or relevant.
St Paul's letter to Timothy encourages us to remain true to Christ and his teaching and to remain true to the teaching of the Church he himself founded; the Roman Catholic Church which continues to exist to this very day.
St Paul warns us about those who stray from this teaching, and in true St Paul style, he doesn't mince his words!  He says that those who do things differently to that taught by Christ and his Church are "simply ignorant and must be full of self-conceit – with a craze for questioning everything and arguing about words."  Isn't it interesting that St Paul should specifically refer to arguments about words?  Consider the abortion debate and how pro-choice activists often try to use words and phrases to argue that abortion is okay. They use (albeit wrongly) terms such as 'embryo', 'foetus', 'collection of cells' and 'personhood' to try to make their point. Consider how Pope Francis' words are so often used against him by those who misinterpret him or those who fail to understand his bigger message.  Other examples of this can be found in debates around contraception and the redefinition of marriage.
The tragedy of all this is that Catholic people, including myself, continually stray from Christ's teaching and the teaching of his Church.  I fall into the traps of the secular relativist society and I become that ignorant person full of self-conceit that St Paul is referring to. But thankfully Christ and his Church give me the Sacrament of Reconciliation where I can go and be forgiven for straying from the Truth.
At the end of the day, there will be many times in our lives when we will stray from the right path. But the key is to turn back, as the prodigal son did, into the loving arms of the Father.  While we may turn our back on Him there will never be a time when He turns His back on us.  He is always standing there, watching and waiting for us to return; to return to the path of Truth which He himself created when He gave us His only Son and gave us His Church.
Brother and sisters, we must do as St Paul says and "Fight the good fight of the faith" by speaking up for the truth with love, patience and gentleness before all people, even when it makes us feel a little uncomfortable.  Remember, it is unlikely we will ever be made to feel as uncomfortable as the early disciples who suffered immeasurable pain, including death, in standing up for the Truth.   
And even though we may well feel a little uncomfortable we must remember that we were not made for this world; that our destiny is in Heaven to be one with the Father, with Christ our Saviour, our Blessed Mother Mary, and with all the Saints and Angels.  Surely that is worth fighting for?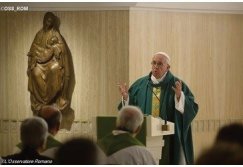 It's a pretty basic point: you can't be Christian unless you are prepared to forgive.  It's something that is abundantly clear in Christ's teaching and we can be left in no doubt that we are all expected to forgive one another if we are to be true to Jesus.
Yet this call is seemingly never put into practice.  We are often prepared to talk the talk when it comes to forgiveness, but we are rarely prepared to walk the walk.  It is in this sense that the Pope's words are timely.  As Christians we undoubtedly need to be reminded of Christ's call to forgive all people, even when they have committed the worst crimes and atrocities against us.  This is, of course, very hard for us.  That is not in doubt.  But then Christian living is a challenge!  Living as a Christian goes against the grain of modern society and modern living.  It requires us to protect life from conception until natural death, it requires us to love all people without exception, and it requires us to forgive no matter what.
As the pope says: "If you can't forgive, you are not a Christian.  You may be a good man, a good woman….but you are not doing what our Lord did. What's more, if you can't forgive, you cannot receive the peace of the Lord.  And every day when we pray the 'Our Father': forgive us as we have forgiven those….it is a condition." 
The pope also urged priests to make sure they are merciful otherwise they shouldn't be hearing Confession. He said: "If you are a priest and you can't manage to be merciful, tell your bishop who will give you a job in administration, but please don't go into the confessional box!  A priest who is not merciful does a lot of harm in the confessional box!"
He then encouraged more humility among Christians saying: "Which of us can say this, that the other person is more of a sinner than me?  None of us can say this!  Only our Lord knows this."
Put bluntly, there should be nothing that is incapable of forgiveness, and there should be no person who is not entitled to receive our forgiveness.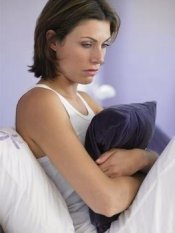 The Church recognises the tragedy of abortion
Pope Francis has asked priests not to withhold God's mercy to women who have had abortions and who seek forgiveness for it during the Church's upcoming Year of Mercy.
The pope, in a letter addressed to Archbishop Rino Fisichella, Archbishop of the Pontifical Council for the Promotion of the New Evangelisation, said that: "I have decided, notwithstanding anything to the contrary, to concede to all priests for the Jubilee Year the discretion to absolve of the sin of abortion those who have procured it and who, with contrite heart, seek forgiveness for it."
The pope also said: "May priests fulfil this great task by expressing words of genuine welcome combined with a reflection that explains the gravity of the sin committed, besides indicating a path of authentic conversion by which to obtain the true and generous forgiveness of the Father who renews all with his presence."
But is this really the headline grabbing story some are suggesting it is?  Not quite.  So what has changed, if anything?  Well, the big (and only!) change comes in the shape of who can forgive a woman who has procured an abortion.  Normally this is a matter for the local Bishop but the pope, in his letter, is allowing priests to do this.  That's the change heralded in the pope's letter.  Nothing more.  Indeed it's an even more insignificant change when you consider that Bishops already have the power to delegate such a power to priests in their diocese.  The net effect of the change is that absolution may be given on the spot in the confessional without the need for the priest to approach the Bishop about the matter.
Church teaching on abortion has not, and will not, change.  The Church believes that all human life, from the moment of conception until natural death, must be protected.  Since the very beginning the Church has denounced abortion as a moral evil, a teaching it states in the Catechism is 'unchangeable'. The Church teaches that abortion willed either as an end or a means is gravely contrary to the moral law.  It also states that formal cooperation in an abortion 'constitutes a grave offence'. 
In terms of the consequences of procuring abortion the Church is clear that such an offence 'incurs excommunication latae sententiae' (immediately on commission of the offence), yet it is the text that follows which is of most interest.  The Catechism states that 'the Church does not thereby intend to restrict the scope of mercy.  Rather, she makes clear the gravity of the crime committed, the irreparable harm done to the innocent who is put to death, as well as to the parents and the whole of society'.
In essence, the Church is open to the possibility of forgiveness for someone who has procured abortion, subject always to the Code of Canon Law which sets out the circumstances when a person cannot be guilty of a grave offence or who is guilty but with diminished responsibility for their actions.  An example of this would be a person who is unaware (through no fault of their own) of the Code of Canon Law or who was forced to commit the grave offence through fear. 
This actually fits in perfectly with something else the pope said in his letter to Archbishop Fisichella (the bit the mainstream media are leaving out): "The tragedy of abortion is experienced by some with a superficial awareness, as if not realizing the extreme harm that such an act entails. Many others, on the other hand, although experiencing this moment as a defeat, believe they have no other option. I think in particular of all the women who have resorted to abortion. I am well aware of the pressure that has led them to this decision. I know that it is an existential and moral ordeal. I have met so many women who bear in their heart the scar of this agonizing and painful decision. What has happened is profoundly unjust; yet only understanding the truth of it can enable one not to lose hope. The forgiveness of God cannot be denied to one who has repented, especially when that person approaches the Sacrament of Confession with a sincere heart in order to obtain reconciliation with the Father."
The Church has, and always will, provide those involved in abortion with the opportunity to confess their sins and have those sins forgiven.  This will always be the case and it is not true that the Church is suddenly offering women the chance of forgiveness for abortion during a one year 'window of opportunity', as has been reported by some media outlets.  The Church's doors are always open to those seeking God's forgiveness.  In that sense what the pope is doing is nothing radical.  However, his timing is interesting, getting the world talking about abortion at the same time as the Planned Parenthood scandal.  
It is also worth noting that, contrary to popular misconception, excommunication is, along with the other two censures of the Church (suspension and interdict), not so much a punishment but a medicine for the wellbeing of the soul.  It is ordered to help the person, not punish them.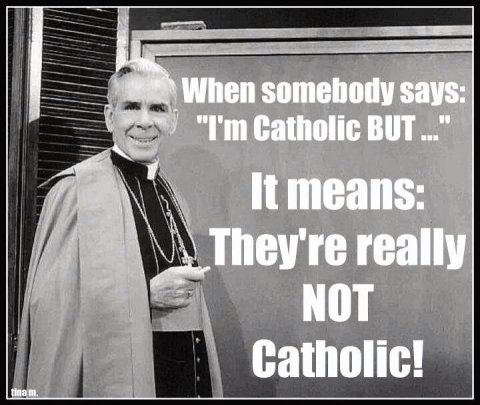 Venerable Fulton Sheen
Isn't it fair to say that our Catholic faith is under attack from many angles in our world today?  The growth of relativism, aggressive secularism, and even attacks from within our own ranks, by people who suggest that Church teaching is wrong on certain matters.
In my own experience it is becoming abundantly clear that more and more self-proclaimed Christians (especially Catholics) are attaching less and less importance to the role of faith, and ultimately Christ, in their lives.  It brings to mind a quote of Venerable Fulton Sheen when he said "When somebody says: 'I'm Catholic but…' it means: they're really not Catholic!"  There are so many examples of people saying 'I'm Catholic but…' in our world today.  Indeed it is a daily occurrence on social media forums.  'I'm Catholic but I don't go to Mass'; 'I'm Catholic but I don't go to Confession, I just go direct to God'; 'I'm Catholic but I don't think we should interfere with a woman's choice when it comes to abortion'; 'I'm Catholic but I believe that same-sex marriage is okay because two people love each other'.
And while those who propagate the view 'I'm Catholic but…' don't seem to care much for the effect it has on the more traditional, conservative Catholic lay people around them; they don't seem to appreciate the effect this has on the one who really matters….Jesus Christ.
It is often difficult to comprehend certain Truths taught by the Catholic Church; the Church's stance on homosexual acts perhaps being the most relevant example.  Nothing seems to stoke the flames as much as this issue. And even when the natural law, Sacred Scripture or the Catechism of the Catholic Church is quoted in defence of the Church's position, it still isn't enough to eradicate the view that the Church is out of touch and living in the past.
Yet what is the Church? Is it really a bunch of decrepit old men as is often argued?  Certainly not.  The Church is an assembly brought together by the Word of God, forming the People of God; a people nourished and sustained by the Eucharist.  And by receiving this nourishment from Christ's Body we too become the Body of Christ.  The Church is the community of believers in Christ and his Truth.  It is a people, stemming from Peter and the apostles through the ages to the present day.  It is a people charged with the task of not only proclaiming the Truth but protecting it so that it may continue to live on through time, penetrating the hearts of countless peoples through the ages.  And perhaps the most important component of the Church is its head; for it is Jesus Christ who is head of the Church.  Not the pope, not the Bishops nor her priests.  No, it is Christ; for it is Christ who formed the Church and it is Christ who promised to be with the Church until the end of time so that the gates of hell would never prevail against her.
When he formed the Church Jesus promised to be with her forever; and he remains with her to this day. And his Truth continues to exist to this very day because it has been protected by his Church.  Just think of the apostles and how they, as a relatively small number, carried that Truth with them, taking it to everyone they met so that they might come to know Christ as they knew him.  Think of how they changed hearts and minds with this Truth and how they were even prepared to take it to their excruciatingly painful deaths.  Yet despite this, the Truth continued to penetrate time, through the early Church Fathers, the Saints, and through converts to the faith.  And so it continued on and two thousand years later it remains with us today; that same Truth proclaimed by Jesus Christ and his apostles.  And it is here because he promised it would be here. Jesus promised to be with his Church, and so his Truth lives on; protected and preserved by a people who love him and who trust completely in him.
While it can be incredibly difficult to live a life of faith in today's world, especially a life of faith in a Catholic sense, we must remember that we are preserving the Truth of Christ, the one who created us and who loves us more than any other.
Another beautiful way to look at the Church is to see her as Christ's bride.  She waits for him to return to earth so that they, the bride and groom, can be completely united as one.  If we let go of the Truth there will be no bride waiting for Jesus at the end of time. That is why it is so important for us to be true to our faith, every last bit of it.  I have heard it said that the rib taken from Adam to create Eve was symbolic of Christ and the Church.  That is how close Christ is to his Church!  And when Christ died on the Cross on Calvary and his side was pierced by the roman soldier, the significance of Adam's rib became even more apparent.  For in the blood and water which poured forth from Christ's side came his forgiveness; a forgiveness that he would soon thereafter charge to his disciples and to his Church.  And the first person to fully appreciate the significance of the blood and water pouring from Christ's side and who proclaimed him to be the 'Son of God'?  The Roman soldier Longinus (now St Longinus) who pierced his side.  Many claim that he was the first convert to the Christian faith.  So, the Church, the creation of which was foretold by the removal of Adam's (Jesus) rib to create Eve (the Church), can now be seen pouring out of Christ's side and reaching out to his created people, calling them to conversion and to come to know the Truth.
St Longinus would never dream of saying 'I'm Catholic but….'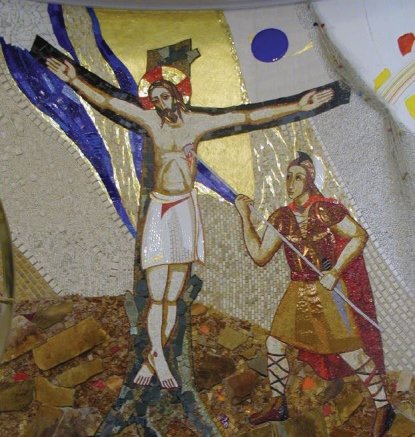 Longinus pierces Christ's side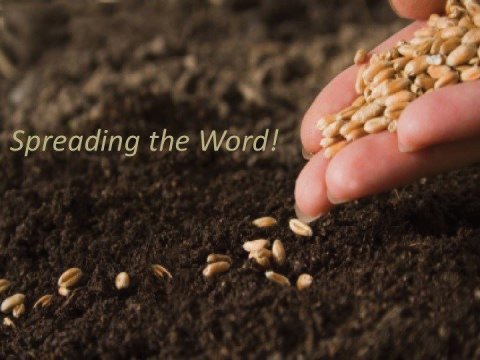 We are all obliged to spread the Word of God
Isn't it true that you often hear people saying things like 'Jesus would do this' and 'Jesus would do that'?  Indeed, such statements are often used by secularists to backup their argument that religion is intolerant, or by liberal Catholics who claim that a loving Jesus would allow for a departure from the Truth of Church teaching.
Yet isn't it rare to hear someone say 'Jesus would do this' or 'Jesus would do that' when it comes to spreading the Gospel or proclaiming the Truth of the Kingdom of God? 
For many people, including many Catholic people, the perception of Jesus has become relativised to the point that we pick and choose the Jesus who happens to suit our argument at any given point in time.  We forget that Jesus is not only this all-loving, all-forgiving God; but that he is also a God who expects something from us.
Jesus expects us to follow him.  And to follow Jesus means we put everything else to the side.  He expects us to put him first, others second, and ourselves third.  And he expects us to take his name to all people; to proclaim the truth and beauty of the Gospel everywhere we go.
These days there are too many 'fans' of Jesus and not enough 'disciples'.  There are not enough people working in the trenches trying to bring other souls to Christ.  Instead they satisfy themselves that they do enough and that anything else is either the job of someone else or that their failures will not be harshly judged by the Creator.  
We have lost our sense of true discipleship and our obligation to bring people to Jesus, putting our own souls in danger in the process.  Perhaps we think that discipleship is the job of our parish priest, that they are the real disciples of Jesus in today's world.  But this is simply not true.  Each and every one of us is called to be disciples and to take Christ and his message of love and mercy to the four corners of the earth.  We are all missionaries, called to sow the seed of Truth.
Let us spend a few moments today thinking about what we do to bring other people closer to Jesus.  Do we do enough?  Or are we often guilty of ignoring this obligation, focusing only on the qualities of Jesus that suit our own needs?  If we do then perhaps it's time for us to take some responsibility and be a bit more disciple like. 
/