Shopping Cart
Your Cart is Empty
There was an error with PayPal
Click here to try again
Thank you for your business!
You should be receiving an order confirmation from Paypal shortly.
Exit Shopping Cart
Calling Scotland's 841,000 Catholics to unite as one voice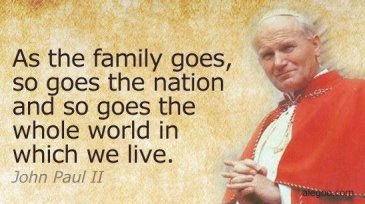 The prophetic words of John Paul II
It's a real wake up call. Jesus is losing his influence in Europe. Christianity is dying out.
We've known for some time now that Christianity is on the decline in Europe, but recent data released by the
Pew Research Center
reveals just how stark that decline is.
Indeed, it is the only decline in any religion in any part of the world between 2010 and 2015. But for Christianity's decline in Europe, every religion across all continents witnessed an increase in numbers, including Christianity itself, which is growing rapidly in Sub-Saharan Africa and Latin America. Islam is also growing rapidly in Sub-Saharan Africa as well as Asia Pacific.
But it is in Europe where the real story lies. An astonishing drop of 5.6 million Christian births to deaths has seen the religion plummet across the continent. There are many reasons for this, not least a much greater prevalence of lukewarm Christianity and an increasingly secular culture.
Across the world Islam will continue to grow in greater numbers than Christianity, with a fertility rate of 2.9 compared to 2.6 for Christians. Islam also has the youngest median age in terms of adherents to the faith, at just 24. Hindus are at 27 with Christians at 30.
We have known for some time that Islam would eventually catch up with Christianity in terms of numbers, and within twenty years births to women of Islamic faith will outnumber Christian births. But it is in Europe where there must be deep concern for Christians. Why is the faith struggling so much in that continent?
For European Christians there is undoubtedly a crisis when it comes to the family. Europe's secular influence, with its liberal laws around contraception, abortion and marriage, has chipped away at the hearts and minds of the faithful, giving them an excuse to focus on the self and to set aside the call of Christ to first and foremost love God and neighbour. Families now come in all different shapes and sizes; their constitution often based on the ideological whim of selfish individuals. The idea that a young man and a young woman can look lovingly into one another's eyes, establish a firm and beautiful friendship that leads to the great sacrament of marriage and the bearing of fruit through the birth of new life is dumbed down by the culture of want. And we have all bought into it. It is a sad reflection on our lack of faith.
As Pope John Paul II said, "As the family goes, so goes the nation and so goes the whole world in which we live."
We Christians have let down the family, and Europe is the nation Pope John Paul refers to. It is going and if we don't reclaim it the world will eventually go with it.

Europe, to coin a famous song, is most definitely losing its religion and losing Christ. If it is to recover, radical change in attitude is required. Starting with the family.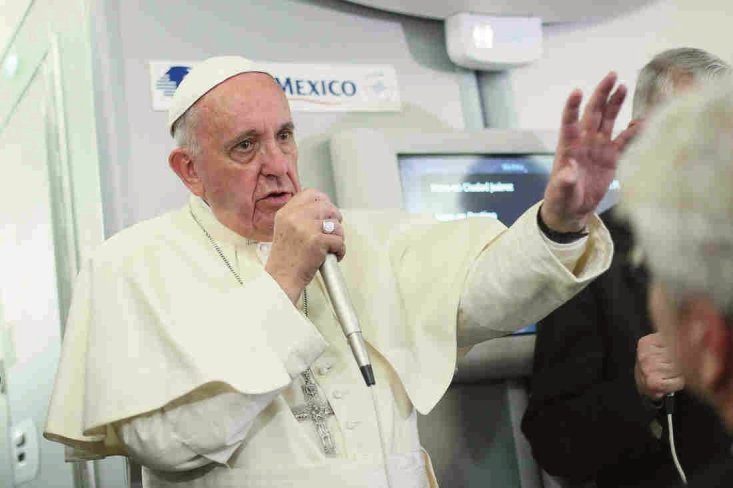 Pope Francis didn't just talk about Donald Trump's value as a Christian and contraception on his latest flight home to Rome.  There is so much more that the mainstream media has failed to cover.  So here it is....the stuff you probably haven't yet heard about:
Pope Francis on paedophilia in the Church and the part played by Pope Benedict XVI to eradicate it:
"First, a bishop who moves a priest to another parish when a case of pedophilia is discovered is a reckless [inconsciente] man and the best thing he can do is to present his resignation. Is that clear?
Cardinal Ratzinger deserves an applause. Yes, an applause for him. He had all of the documentation. He's a man who as the prefect of the Congregation for the Doctrine of the Faith had everything in his hands. He conducted all the investigations, and went on, went on, went on, until he couldn't go any further. But, if you remember, 10 days before the death of St. John Paul II, in that Via Crucis of Holy Friday, he said to the whole Church that it needed to clean up the dirt of the Church. And in the Pro-Eligendo Pontefice Mass, despite knowing that he was a candidate, he wasn't stupid, he didn't care to "make-up" his answer, he said exactly the same thing. He was the brave one who helped so many open this door. So, I want to remember him because sometimes we forget about this hidden works that were the foundations for "taking the lid off the pot."
And, the final thing I would like to say that it's a monstrosity, because a priest is consecrated to lead a child to God, and he eats him in a diabolical sacrifice. He destroys him."


Pope Francis on same-sex unions and adoption by same-sex couples:
"I think what the Church has always said about this. "
"On people of the same sex, I repeat what I said on the trip to Rio di Janeiro. It's in the Catechism of the Catholic Church."


Pope Francis on abortion:

"Abortion is not the lesser of two evils. It is a crime. It is to throw someone out in order to save another. That's what the Mafia does. It is a crime, an absolute evil.
Abortion is not a theological problem, it is a human problem, it is a medical problem. You kill one person to save another, in the best-case scenario. Or to live comfortably, no?  It's against the Hippocratic oaths doctors must take. It is an evil in and of itself, but it is not a religious evil in the beginning, no, it's a human evil. Then obviously, as with every human evil, each killing is condemned."


Pope Francis on the European Union:
"I like this idea of the re-foundation of the European Union, maybe it can be done, because Europe — I do not say is unique, but it has a force, a culture, a history that cannot be wasted, and we must do everything so that the European Union has the strength and also the inspiration to make it go forward. That's what I think."


Pope Francis on the reintegration into the Church of re-married persons:
"Integrating in the Church doesn't mean receiving Communion. I know married Catholics in a second union who go to church, who go to church once or twice a year and say I want communion, as if joining in Communion were an award. It's a work towards integration, all doors are open, but we cannot say, "from here on they can have Communion." This would be an injury also to marriage, to the couple, because it wouldn't allow them to proceed on this path of integration. And those two were happy. They used a very beautiful expression: we don't receive Eucharistic Communion, but we receive communion when we visit hospitals and in this and this and this. Their integration is that. If there is something more, the Lord will tell them, but it's a path, a road."

On Pope John Paull II's friendship with Ana Teresa Tymieniecka:
"In my own experience, including when I ask for advice, I would ask a collaborator, a friend, I also like to hear the opinion of a woman because they have such wealth. They look at things in a different way. I like to say that women are those who form life in their wombs — and this is a comparison I make — they have this charism of giving you things you can build with. A friendship with a woman is not a sin. [It's] a friendship. A romantic relationship with a woman who is not your wife, that is a sin. Understand?
But the Pope is a man. The Pope needs the input of women, too. And the Pope, too, has a heart that can have a healthy, holy friendship with a woman. There are saint-friends — Francis and Clare, Teresa and John of the Cross — don't be frightened. But women are still not considered so well; we have not understood the good that a woman do for the life of a priest and of the church in the sense of counsel, help of a healthy friendship."

And finally, what did the pope ask for in Guadalupe?
"I asked for the world, for peace, so many things. The poor thing ended up with her head like this (raises arms around head). I asked forgiveness, I asked that the Church grows healthy, I asked for the Mexican people. And another thing I asked a lot for: that priests to be true priests, and sisters true sisters, and bishops true bishops. As the Lord wants. This I asked a lot for, but then, the things a child tells his mother are a bit of a secret."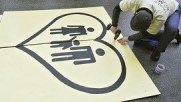 Slovenia voted to protect the family
Slovenia has rejected same-sex marriage following a referendum.  Around two thirds of those who voted rejected a bill which proposed to redefine marriage as being between two consenting adults.

Ales Primc, from the group Children at Stake, said that "this result presents a victory for our children".  The country's conservative groups were also reportedly backed by Pope Francis who urged Slovenians to "back the family as the structural reference point for the life of society".
While the more liberal, secular nations across Europe have had no difficulty in redefining marriage, it is clear that there are still a number of nations resistant to any change.  Indeed the vast majority of countries across the globe continue to embrace marriage as being between one man and woman.
It's important that marriage (between one man and one woman) be protected for the sake of the family.  Marriage is a critical public interest structure for the common good of society.  It is the only structure capable of procreating and bringing about new life.  Without it, none of us would exist.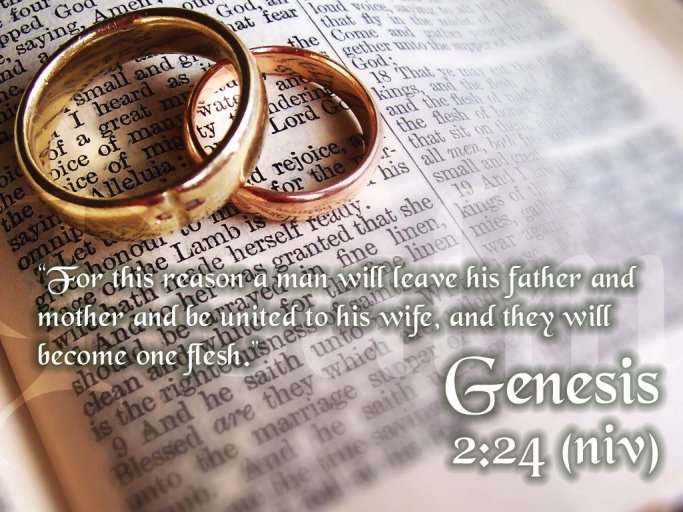 The plenary assembly of the Council of European Episcopal Conferences which recently met in the Holy land has reinforced the Church's view that marriage is between one man and woman.
The official text from the Bishops states: "The Church strongly believes in the family founded on marriage between a man and a woman: it is the basic cell of society and of the Christian community itself. It is difficult to see why different situations of coexistence should be treated in the same way."
The Bishops' statement is timely when you consider the second part of the Synod on Marriage and Family Life is just weeks away.  The statement is also most welcome in a society which is becoming increasingly confused on matters related to marriage.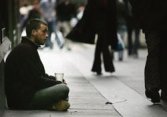 It's a fabulous thing that a number of people have decided to commit to helping the thousands of refugees seeking safety and security in the UK.  Some people have even agreed to house some of the refugees until they get themselves on their feet and secure their own accommodation.  It is a truly remarkable gesture and together with David Cameron's promise to bring thousands more refugees to the UK, heralds a shift in both the perception of refugees and the way we are willing to treat them.
But I think it is also important not to lose sight of the impoverished of our own country as we seek to help those from overseas.  As well as helping them we might also consider what more we can do for the countless homeless living on the dirty streets of our towns and cities. Can we make more space in both our hearts and homes for them?
A migrant crawls along a Spanish beach in front of holidaymakers
The most senior Catholic in England and Wales has urged the UK to be more "generous" in the way it deals with the current refugee crisis in Europe. Cardinal Vincent Nichols, speaking to ITV News said that the British public had told him "it was a disgrace that we were letting people die and seeing bodies on the beaches when together Europe is such a wealthy place." 
The Cardinal continued: "It's people who are desperate for the sake of their families, their elderly, their youngsters, their children, and the more we see that the more the opportunity for a political response that's a bit more generous is growing.  What is screaming out is the human tragedy of this problem."
The Cardinal's comments are most welcome and I completely agree with him that our response to this must be more generous.  We are, in many respects, a wealthy country, and we are blessed by not having to cope with the fear of wars and widespread violence. 
Our parish was blessed recently with the presence of a Nigerian priest who covered our parish while our own priest was on pilgrimage and on holiday.  I recall that in one of his homilies he spoke about the great joy he and his people would feel when they woke up in the morning, simply because they were still alive. Their country is beset by violent clashes and the threat of Boko Haram is an ongoing fear for all, especially Christians.
In Syria and in North Africa there is the threat of ISIS who are persecuting Christians and driving people from their homes.  And now, in Europe, we are starting to see the sad consequences of these wars as people arrive on our shores desperate for safety and to give their children a chance. And this, I feel, is the nub of it. Can we really deny people a place of safety?  Can we really deny little children a chance to live?
The horrific reality of this crisis
Our own resources are finite and we must try to ensure our country remains financially stable.  We get this.  But greater than this, much greater than this, is our call to love our neighbour. Our brothers and sisters are in dire need of our comfort and love.  They beg us to give them a place of safety.  They are on their knees, in the frozen waters of our shores, desperately pleading to each and every one of us to give them even just a little of what we have.
I sincerely hope the words of Cardinal Nichols will be heard and taken seriously by our governors (both in the UK and across all of Europe) and indeed by each one of us.  I hope we all find it in our hearts to be more generous and to give more people a chance. We have the power and we have the resources.  Now all we need is the will.
Here are four ways we can help:
And of course, pray. Please pray for all refugees, perhaps by saying one Hail Mary and asking Our Blessed Mother to intercede with the Father on their behalf.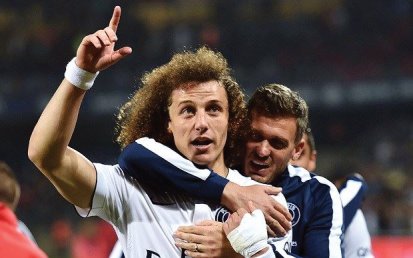 Paris St Germain and Brazil player David Luiz, aged 28, has gone against the popular tide and vowed to remain a virgin until he marries his girlfriend Sara Madeira.
The former Chelsea defender was recently baptized into a Pentecostal congregation and, similar to his Brazilian countryman Kaka, has decided to go public about the value of abstaining from sex until marriage.
Such witness to the value of marriage and indeed the sexual encounter is so vital in this world where sex is to be obtained at any cost, even when it means sacrificing the lives of innocent children.
Well done David for your powerful and courageous witness.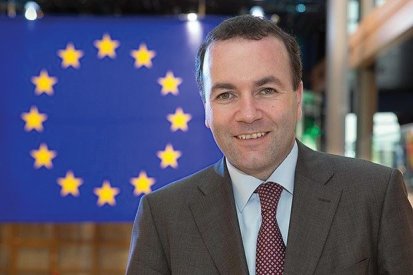 Manfred Weber

 

Manfred Weber, a German MEP and Chairman of the European People's Party, has stated that Europe needs to do more to welcome asylum seekers to its shores; and he cites the continent's Christian roots as being a critical element.

 

 

Mr Weber, a Roman Catholic from Bavaria, said: "Europe must be open...nobody can say close the borders, don't accept them".  He then went on to say that "we have to be helpful as a Christian based continent".

 

 

Mr Weber's words should resonate with most people, but especially with Christians across Europe.  This call is entirely in keeping with Christ's call to brotherly love.  As we have said often enough on this site, Jesus offers no exceptions to his call to love one another.  It applies to everyone, including those seeking asylum.

 

 

Mr Weber is no stranger to speaking up for Christian values as evidenced by comments he made when Pope Francis visited the European Parliament last year.  Mr Weber said: "Pope Francis reminded us that European values are rooted in Christianity - it's our global responsibility to keep these values alive and make sure they're respected." 

 

 

Let us pray for all people seeking asylum that they will find the peace and justice that they, as sons and daughters of God, deserve.  And let us pray for our governors, that they will come to the aid of those most in need and provide for them a place of safety for their families.

0

/