Shopping Cart
Your Cart is Empty
There was an error with PayPal
Click here to try again
Thank you for your business!
You should be receiving an order confirmation from Paypal shortly.
Exit Shopping Cart
Calling Scotland's 841,000 Catholics to unite as one voice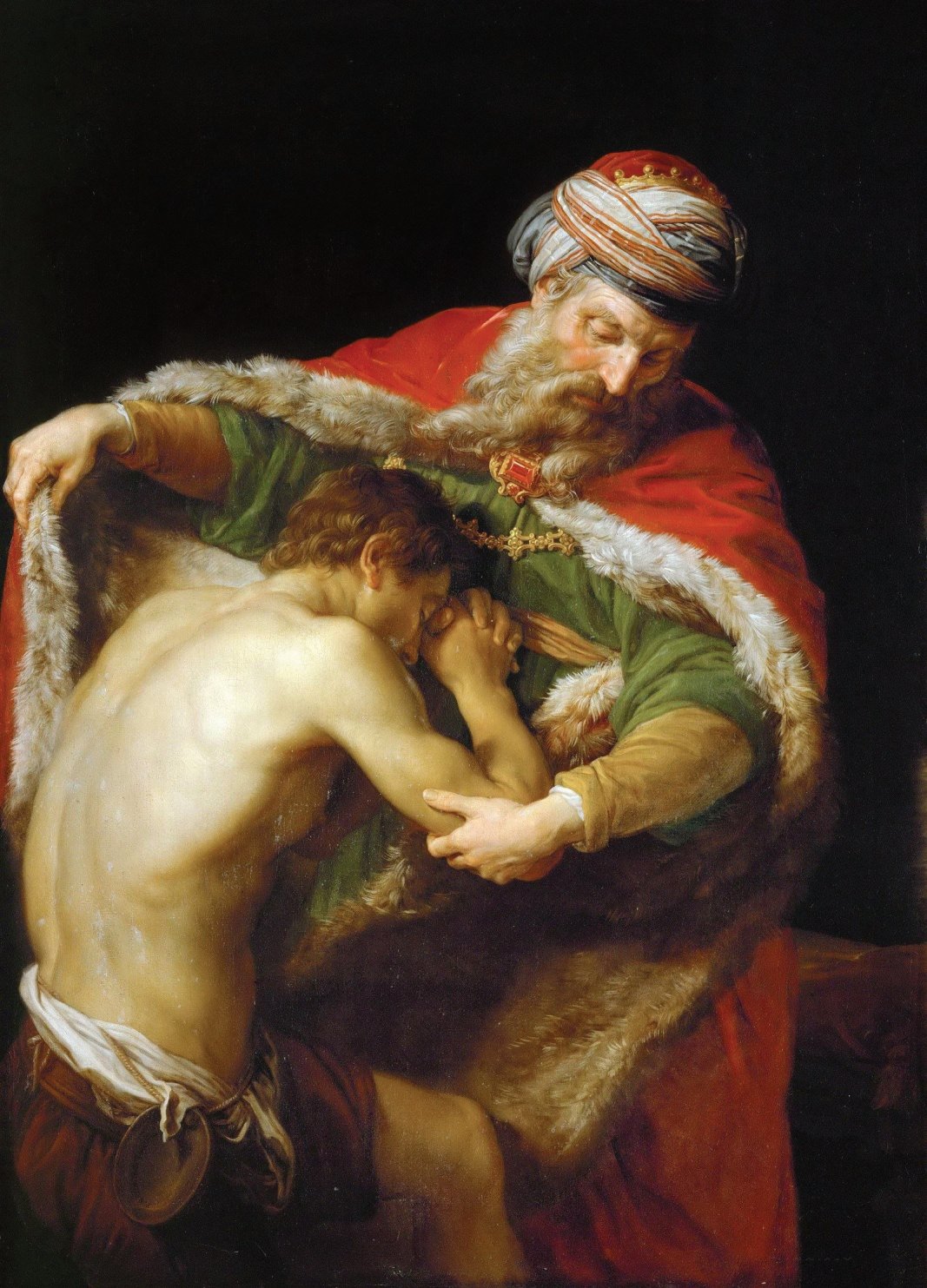 The Gospel you will hear at Mass this Sunday is perhaps one of the most well-known passages of sacred scripture.  It is often referred to as the parable of the prodigal son (though I personally prefer to refer to it as the parable of the merciful father).
It is an astounding parable and it brings home the reality of God's mercy.  No matter the sin, your Father is waiting for you to return to Him and seek his forgiveness.  Whatever you may have done or failed to do in terms of keeping God's commandments and living a good, holy life, never forget that forgiveness is just around the corner.
There is no doubting the availability of God's mercy.  But perhaps the biggest problem is within us, and our failure to acknowledge God as our Father and our failure to accept that He really does forgive us.  In order to reconcile ourselves to God we need to seek Him in the sacrament of reconciliation and it is in that sacrament that God really does pour out His forgiveness.  We need to accept this and then approach him, just as the son did in the parable.  The father couldn't forgive the son unless the son first sought the father's forgiveness.
That must be our challenge this Lent and thereafter.  We must be willing, like the son, to search out the Father and ask Him to forgive our failures, our sin.  God will never deny us His forgiveness.  But we must be prepared to ask for it.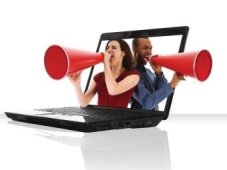 Do you speak openly about your faith to others?  Are you not afraid to be frank about how your religion shapes your moral code?  Do you even go as far as to try to bring others round to your way of thinking on social media sites such as Facebook and Twitter?
In the New Evangelisation just a few years back, Pope Benedict XVI encouraged us to get out into the world to preach the Good News of Jesus Christ.  And he wanted us to use every available platform at our disposal in order to do this.  He used the humble but powerful image of a mustard seed from the Gospel, suggesting that if used effectively a small seed of faith has the potential to bring people to God.  His words were: "I have a mustard seed, and I'm not afraid to use it".  In today's age we are blessed to have social media forums like Facebook to speak more openly about our faith and to tap into a seemingly infinite knowledge base.  While social media can often be a curse there is no doubt it has opened up new avenues of opportunity for spreading the Gospel.
Yet, while some people seem content to do this, many more are not.  In today's secular relativist world it is undoubtedly a big challenge for people to spread their faith by means of social media.  There is fear of criticism and mocking.  There is also fear of offending people or of compromising long-held friendships.  It is a significant problem for our faith and our Church.  And it is an even bigger problem for Jesus. 
While new age beliefs are thrust onto social media at an astounding rate, somehow managing to gather almost unanimous support in the process, Jesus is left to feed off the few scraps that are left.  People would rather post and read quotes about being true to oneself and looking after number one rather than the horrific thought of making love of God and neighbour our priority.  Quotes from famous authors or even the Dalai Lama have the potential to be of untold worth, but their value often pales in comparison to the Word of God or quotes from the Saints.
The Christian message is a tough one because it asks us to put ourselves in third place, behind God and all those around us.  It also asks us to take up our cross on a daily basis and follow Jesus, accepting the suffering that this will inevitably bring.  It also expects us to toe the line on controversial issues such as abortion and same-sex marriage.  It is, in all respects, a challenge of great proportions.  But it is not without its rewards.
And as if this challenge wasn't difficult enough we are also expected to take Jesus' message of love and mercy to all people.  Not just one or two, but to everyone.  Had Jesus not called the Disciples to his side and taught them his message, what hope would there be?  Had the Disciples not then taken that message of Jesus to others, what hope would we have today? 
You see our faith is a faith of action, full of energy and enthusiasm, drenched in positivity and hope.  We can't just settle for our own evangelisation or the evangelisation of those closest to us.  This is not the Christian way.  We must be prepared to carry Jesus and his Gospel message to as many people as we possibly can through our life.  We need to put Christ at the centre and be his voice to all nations, all peoples.  To be truly Christian we must do as the disciples did and carry Jesus and his message to all people, be it on social media, the internet, on the phone, or in person.  Had the disciples failed to do this we would have no Jesus in our lives.  Imagine how empty that life would be? 
Remember, your duty to spread the message of Jesus Christ is not just limited to the people close to you.  In fact, it isn't just limited to the entire human population of our world in your lifetime.  Like the disciples, your witness will hopefully carry the message of Christ well into the future so that another 2000 years from now people are talking about the great disciples of this time and how without their powerful witness the faith would be dead. 
Jesus told the apostles to "Go into the whole world and proclaim the Gospel to every creature".  We need to be disciples for Christ in today's world.  Let the future generations rave about your willingness to speak up for Jesus and how you never shied away from openness and honesty about his loving and merciful message.  Let your children and grandchildren see you stand up for something that will bring eternal life to millions and millions of people!  And remember, you don't need to be a great orator or writer to evangelise.  As Pope Francis has said:  "We evangelise not with grand words, or complicated concepts, but with the joy of the Gospel, which fills the hearts and lives of all who encounter Jesus".  So don't worry, let the joy of the Gospel speak for itself!
The phrase 'do not be afraid' appears often scripture.  It is a strong, powerful message from God about how we must feel when it comes to our faith.  In doing Christ's work and spreading his message we have no need to be afraid.  He is on our side!
Here's the challenge: let your life be a life of evangelisation.  Don't be afraid to share Christ's message with other people.  Let your work reverberate down through the generations where it has the potential to bring millions of lives to eternity with God.  Don't keep good news to yourself.  Use your mustard seed.  Evangelise.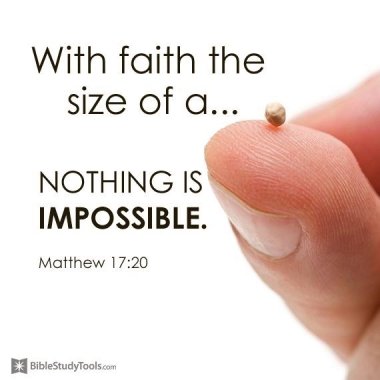 Following a recent discussion on our Facebook page I thought it might be useful to draft up a short note on our Catholic faith and homosexuality.  It is intentionally brief.  For a more in-depth article on the matter please
click this link
.
Our Catholic faith tells us that homosexual acts are wrong. I think it's hard for us to hear this in such an abrupt way in today's world but this is what we are taught by faith. The reason such acts are wrong is that God has ordered us male and female for the authentic union that is marriage between man and woman and to be completely open to the precious gift of new life. Homosexual acts are not ordered in this way and are thus sinful. There are many sinful acts so this isn't necessarily a singling out of homosexual people. Consider sex outside marriage between a man and a woman, which is also wrong, as is the use of contraception.
It's absolutely critical to also bear in mind that having same-sex attraction is different to homosexual acts. Mere attraction is not of itself sinful. It is only when these feelings are acted upon where it is deemed to be wrong.  This is something that many people get confused about.
I think it's also important to see the positive side of the Church's teaching on homosexuality. It seeks to protect humanity by promoting the love between a man and a woman for the sake of giving new life to the world and raising this new life in marriage, which throughout history has been the best place for kids to thrive. The Church doesn't say a man can't love a man or a woman can't love a woman. Indeed, such a notion is completely contrary to Church teaching. It simply states that it is wrong to interfere with God's clear and natural plan for humanity.
It's not about hating homosexuals as many people wrongly think. It's actually about loving everyone and calling them all to live in accordance with God's plan. That too is a form of love though it is often hard for this society to see it in this modern age of relativism.  In my time running the Scots Catholic website and social media accounts I have often been corrected for straying out of line with respect to Church teaching.  I have learned so much in terms of my faith and I am grateful to those who have offered their generous help.  For me, they are simply doing God's work.  They are doing what Jesus did and are challenging me, and I shouldn't be afraid to be challenged.  
In fairness to anyone who abides by the teaching of Christ and his Church on this matter, they are simply trying to live out their lives as God intended and they are well within their rights to stay true to God no matter what the world may tell them.  Jesus and the Apostles were ridiculed and even put to death for going against the tide and remaining faithful to God's teaching. But they remained faithful. And we are called to do the same.
It is also very important to note that there are many, many gay people living out their Catholic faith chastely in the Church. Their call to chastity is no different to the call to chastity of single people in the Church.
And we must remember, the Church is open to all people and she loves all people, especially those of us who sin. That's why I'm a member.
Many people query whether the Church might change its stance with respect to homosexual acts. This is highly unlikely given the wrongs of homosexual acts is contained in scripture, the Word of God. It's also entrenched in nature itself and the ability of man and woman to procreate (something the Church wants to protect for the sake of the family). I appreciate this is a difficult teaching for some, especially in today's society, but the Church can't fit around the whims of society. First and foremost, the Church can't stray from the Truth it has protected for 2000 years. And secondly, it would be impossible to satisfy everyone all of the time.  The Church, like Jesus, is here to challenge us with the Truth.  It is not here so that we can abuse it for our own ends.
The Church is also here to bring God's mercy to us through the
Sacrament of Reconciliation
.  There is no sin we can commit that is too great that we can't reconcile ourselves to God.  He loves us like no other.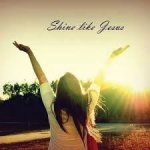 Surrender and let Jesus shine out of you
Sunday's (alternative) Second Reading (1 Corinthians 12:12-14,27):
'Just as a human body, though it is made up of many parts, is a single unit because all these parts, though many, make one body, so it is with Christ. In the one Spirit we were all baptised, Jews as well as Greeks, slaves as well as citizens, and one Spirit was given to us all to drink.
Nor is the body to be identified with any one of its many parts. Now you together are Christ's body; but each of you is a different part of it.'
Do you ever think of yourself being inextricably linked to Jesus?  We often talk about the ability of Jesus to be with us at every moment of the day, wherever we are, whatever we are doing.  We often imagine him by our side, walking with us through the trials and tribulations of life.  But today's reading gives us a slightly different perspective on our relationship with Jesus.
Today's reading tells us that we are actually a part of Jesus.  We are one with him.  Christ is often described as the head of the Church, and this reading confirms that truth.  Jesus is the head of the Church, and always will be.  And it is us, the people, who make up that Church.  Together, as the people of God, we are one with Christ.  It is the most beautiful union between the Creator and the created.  It is a link of unconditional pure and perfect love flowing from the one who was prepared to go through the agony of the Cross so that we would turn from sin and recognise and appreciate this powerful bond.
As we start another week perhaps we should consider taking some time out to contemplate this great bond with Jesus, remembering that each time we do wrong we are doing so in his presence.  But also remembering that each time we do good we are allowing him to take control.  There is a classic saying 'let go and let God'.  Maybe we should bear that in mind as we think about being one with Jesus. 
Perhaps it's time to let Jesus do a bit more in our lives.  Make it your goal this week to surrender to him and let him take over.  Let him take on your worries, troubles and daily difficulties.  What use being part of Jesus if you aren't prepared to use his perfect heart for love, his awesome mind for wisdom, and his most beautiful face to show how much you care?  What benefit is to be gained from receiving Christ in the Eucharist at Mass if we simply ignore the truth and goodness he brings to our very being?  You have the power to let Christ shine out of you, for you are one in him and he is one in you.  Be the loving Jesus.  Be the merciful Jesus.  Be the compassionate Jesus.  Be the Jesus who led others to the Truth.  Be the joyful Jesus!  Let it be.  Let Christ be.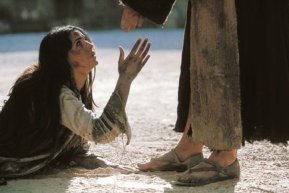 Jesus was compassionate but firm in the Truth
Pope Francis, during his Sunday Angelus, has spoken about the importance of Baptism and the role it plays in our lives.  Having earlier baptised 26 baby girls and boys at morning Mass, the pope was keen to impress upon the gathered faithful the critical nature of this sacrament.
The pope said that in Baptism the Holy Spirit "burns and destroys original sin, returning to baptism the beauty of divine grace."
The pope then stressed the importance of following Jesus and being obedient to the Truth whilst remaining true to Christ's qualities of tenderness and humility.  And here, I think, is the critical issue for us Christians today.  While we must speak the Truth we must do it in a spirit of tenderness and humility.  But similarly, while we must be tender and humble in our approach, we can never stray from the Truth.  It's not a balancing act because that would suggest compromising one or both aspects.  Instead we are called to deliver the Truth in its fullness and to do this in a fully humble and completely tender way.
In my experience people tend to be more inclined to do one more than the other.  For example, some people may reject certain elements of Christ's teaching with the aim of showing more compassion and tenderness to people.  This is because some elements of teaching are difficult to accept, especially set against the backdrop of an increasingly liberal and relativist society.  Others may be more determined to stick rigidly to the Truth but seem to lack that tenderness and humility, especially when they see a threat to Christ's teaching.
Ultimately we need to be firm in both elements.  We need to be firm in our faith, in the same way that Christ was and in the way that God calls us to be.  Jesus' disciples died unimaginable deaths because they were firm in their faith and didn't go along with the popular views of society.  They stuck to their beliefs even though everybody mocked them and thought they were talking nonsense.  They refused to reject the truth of Christ and the Church he established, preferring to invest their lives in being the men Jesus called them to be with the sure and certain hope of an eternal reward.  Similarly, we need to be firm in our tenderness and humility.  Jesus had an uncanny knack of being firm but also loving, gentle and kind.  When he prevented the prostitute from being stoned by the scribes and the Pharisees he was careful to tell her to "go and sin no more".  But he did this while telling her that he didn't condemn her.  He wanted her to stop sinning, to stick to the Truth.  But he also wanted her to know that she was loved and that mercy would be shown to her.
It's important for us to remain true to both aspects when it comes to our faith.  We must be true to Christ and his teaching and we must be tender and humble in remaining faithful to that teaching.  The Truth is what it is and it doesn't change.  It can be found in your copy of the
Catechism of the Catholic Church
.  And the tenderness and humility we need in order to take that Truth to others can be found in the loving person of Jesus Christ.
So, is it possible to be both faithful to the Truth and be tender and humble?  Yes.  Just look to the example of Jesus and in him you will find the perfection of fulfilling both aspects.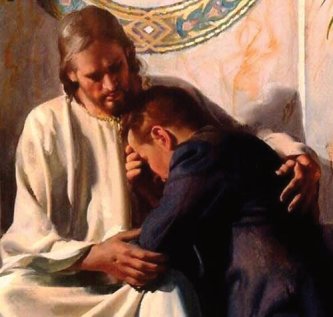 Jesus is waiting to embrace each and every one of us
"Come to me, all you who labour and are burdened, and I will give you rest" (Matthew 11:28).
It's often hard as human beings to admit we are tired or weary.  We have an in-built pride that means we often brush aside any notion of weakness and soldier on.  But sometimes we have to stop and appreciate that we do have limitations and that we do need help.
In the scripture passage above Jesus is giving us the option of going to him for that help.  You see, we all have the choice to go to the very top when we are feeling tired, weary, sad, upset, or lonely.  And it's an option that is free of judgement or hate, and full of love, mercy and compassion.  Nobody loves us like Jesus loves us.  And he is always there, waiting for us.
That's why we are so incredibly blessed this Christmas to have recently witnessed the start of the Jubilee Year of Mercy in the Catholic Church.  It presents an excellent opportunity for us to seek that offer of help from Jesus.  The Church doors are open and the Saviour is home.  He is waiting to spend time with each one of us, to hear our concerns, worries, anxieties and to pour out his mercy upon those who seek it.
This Christmas and beyond be sure to think about that invitation from Jesus.  Give it some consideration and decide if you want to take up his offer.  Unlike your new ipad, his love and mercy will never run dry.  It is eternal.  And it is completely free!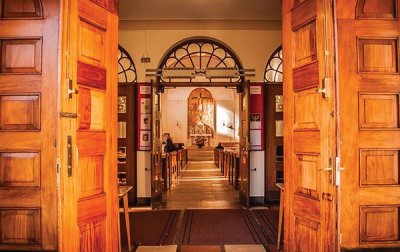 The door to God's house is open
For those of us who haven't entertained our faith for a while or who maybe aren't Christian perhaps this Christmas time is an opportunity to do something radical.  Maybe it's time to break free from the shackles of modern living, even just for an hour or so, and enter God's house where Jesus waits for us with open arms.  What have we to lose?  The truth is: we have absolutely nothing to lose and everything to gain.  And by everything we mean to feel valued, to feel special, to feel loved, and to feel part of something big.  Jesus can give us everything.  There is nothing he cannot do for us.  He can even give us eternal life!
This Christmas let's open ourselves up to the greatest present imaginable.  Let us receive the gift of the loving arms of Christ and the comfort of knowing that in him we will find our true home.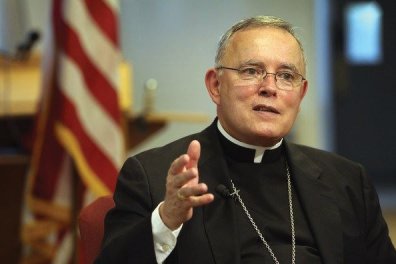 Archbishop Charles J Chaput
Archbishop Charles J Chaput speaking about the Synod on the Family:
"Truth without love is bitter and can drive the wounded away; and love without truth isn't love at all, but a comfortable form of lying.
"There can be no real mercy, since mercy is an expression of love, without first grounding it in the truth about God's will for humanity.  His will includes marriage and the family.  And the source for understanding his truth in God's own Word and the Chuch his Son founded."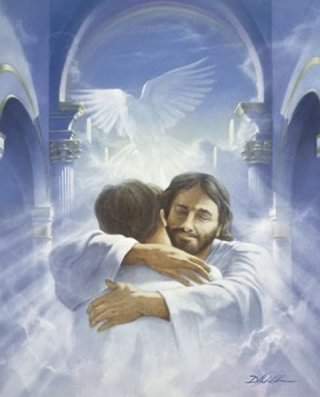 This guy really, really loves you!
Sunday's Second Reading (Hebrews 4:14-16):
'Since in Jesus, the Son of God, we have the supreme high priest who has gone through to the highest heaven, we must never let go of the faith that we have professed. For it is not as if we had a high priest who was incapable of feeling our weaknesses with us; but we have one who has been tempted in every way that we are, though he is without sin.
Let us be confident, then, in approaching the throne of grace, that we shall have mercy from him and find grace when we are in need of help.'
It's hard to admit that we did wrong and to apologise to the person we have wronged.  It's also hard to ask other people for help.  But while this may be the case in our day-to-day dealings with the average joe on the street, this needn't be the case when it comes to Jesus.  St Paul, in this letter to the Hebrews, is urging us to be confident when we approach Christ for forgiveness and help.
You see, we aren't dealing with your run-of-the-mill human being when it comes to Jesus.  We are dealing with a God brimming with infinite mercy and compassion. He is the Creator of all things and He loves you like nobody else does.  There is no hidden agenda, no points to be scored, and no harsh judgements.  He desires and wants to forgive you and help you in every which way possible. He is a God who has experienced the temptations, trials and troubles of every day life just like us, so He knows how difficult life can be. 
He is the ultimate best friend and he will always be there for us when we need him. Can you spare five minutes today to let him show you just how much he loves you and how much you matter to him?  Call out to him and he will respond.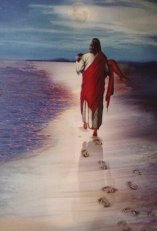 Following Jesus will satisfy the longings of our heart
First Reading (Daniel 7:9-10,13-14):
'As I watched:
Thrones were set in place
and one of great age took his seat.
His robe was white as snow,
the hair of his head as pure as wool.
His throne was a blaze of flames,
its wheels were a burning fire.
A stream of fire poured out,
issuing from his presence.
A thousand thousand waited on him,
ten thousand times ten thousand stood before him.
A court was held
and the books were opened.
And I saw, coming on the clouds of heaven,
one like a son of man.
He came to the one of great age
and was led into his presence.
On him was conferred sovereignty,
glory and kingship,
and men of all peoples, nations and languages became his servants.
His sovereignty is an eternal sovereignty
which shall never pass away,
nor will his empire ever be destroyed.'
There have been many interpretations of this passage through the years and two of the most common are that the passage relates to either Christ's Ascension to Heaven or to his Second Coming. The Church, through the Catechism, believes that the latter part of the passage is referring to Christ's Ascension.
But whatever way this passage is interpreted there can be absolutely no doubt about the incredible power and majesty of that which it reveals. It simply never fails to knock me sideways! It is a glimpse of the reality of Heaven and it is a further glimpse of the reality of God beyond that which we have already learned in the person of Jesus Christ. I suppose the big question for us is: are we ready to be a part of it all?
I always think that this passage clears some of the mist which comes from cynical views of the Church, especially when it comes to the Sacrament of Reconciliation and the reality of Purgatory. Many people don't see a need for the forgiveness of sins, yet when we read this passage we can see that it makes complete sense to be completely clean and free of all sin before we are graced with the presence of God. The enormity of being in the presence of God is something we will only appreciate if we are granted the grace to experience it. But, at the end of the day, we have an inherent need to experience it because it is that moment, and that moment alone, which will satisfy all the desires and longings of our heart.
We roam around the world endlessly seeking that which will completely satisfy our hearts; be it in relationships, through material goods, or perhaps in traveling to other parts of the globe. But we are never truly satisfied. Our hearts always seem to be longing for something else, no matter what we may achieve or accomplish in life. And the truth is, we will never be completely satisfied, not until we are face to face with God. For God, who created each one of us, has etched in our hearts a desire to return to Him.
Our challenge, should we accept it, is to acknowledge God's desire for us to return to Him and to follow that path laid down by Jesus Christ. For it is the way of Christ that will lead us home.
/