Shopping Cart
Your Cart is Empty
There was an error with PayPal
Click here to try again
Thank you for your business!
You should be receiving an order confirmation from Paypal shortly.
Exit Shopping Cart
Calling Scotland's 841,000 Catholics to unite as one voice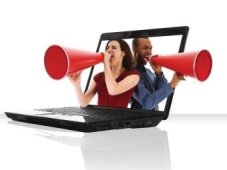 Do you speak openly about your faith to others?  Are you not afraid to be frank about how your religion shapes your moral code?  Do you even go as far as to try to bring others round to your way of thinking on social media sites such as Facebook and Twitter?
In the New Evangelisation just a few years back, Pope Benedict XVI encouraged us to get out into the world to preach the Good News of Jesus Christ.  And he wanted us to use every available platform at our disposal in order to do this.  He used the humble but powerful image of a mustard seed from the Gospel, suggesting that if used effectively a small seed of faith has the potential to bring people to God.  His words were: "I have a mustard seed, and I'm not afraid to use it".  In today's age we are blessed to have social media forums like Facebook to speak more openly about our faith and to tap into a seemingly infinite knowledge base.  While social media can often be a curse there is no doubt it has opened up new avenues of opportunity for spreading the Gospel.
Yet, while some people seem content to do this, many more are not.  In today's secular relativist world it is undoubtedly a big challenge for people to spread their faith by means of social media.  There is fear of criticism and mocking.  There is also fear of offending people or of compromising long-held friendships.  It is a significant problem for our faith and our Church.  And it is an even bigger problem for Jesus. 
While new age beliefs are thrust onto social media at an astounding rate, somehow managing to gather almost unanimous support in the process, Jesus is left to feed off the few scraps that are left.  People would rather post and read quotes about being true to oneself and looking after number one rather than the horrific thought of making love of God and neighbour our priority.  Quotes from famous authors or even the Dalai Lama have the potential to be of untold worth, but their value often pales in comparison to the Word of God or quotes from the Saints.
The Christian message is a tough one because it asks us to put ourselves in third place, behind God and all those around us.  It also asks us to take up our cross on a daily basis and follow Jesus, accepting the suffering that this will inevitably bring.  It also expects us to toe the line on controversial issues such as abortion and same-sex marriage.  It is, in all respects, a challenge of great proportions.  But it is not without its rewards.
And as if this challenge wasn't difficult enough we are also expected to take Jesus' message of love and mercy to all people.  Not just one or two, but to everyone.  Had Jesus not called the Disciples to his side and taught them his message, what hope would there be?  Had the Disciples not then taken that message of Jesus to others, what hope would we have today? 
You see our faith is a faith of action, full of energy and enthusiasm, drenched in positivity and hope.  We can't just settle for our own evangelisation or the evangelisation of those closest to us.  This is not the Christian way.  We must be prepared to carry Jesus and his Gospel message to as many people as we possibly can through our life.  We need to put Christ at the centre and be his voice to all nations, all peoples.  To be truly Christian we must do as the disciples did and carry Jesus and his message to all people, be it on social media, the internet, on the phone, or in person.  Had the disciples failed to do this we would have no Jesus in our lives.  Imagine how empty that life would be? 
Remember, your duty to spread the message of Jesus Christ is not just limited to the people close to you.  In fact, it isn't just limited to the entire human population of our world in your lifetime.  Like the disciples, your witness will hopefully carry the message of Christ well into the future so that another 2000 years from now people are talking about the great disciples of this time and how without their powerful witness the faith would be dead. 
Jesus told the apostles to "Go into the whole world and proclaim the Gospel to every creature".  We need to be disciples for Christ in today's world.  Let the future generations rave about your willingness to speak up for Jesus and how you never shied away from openness and honesty about his loving and merciful message.  Let your children and grandchildren see you stand up for something that will bring eternal life to millions and millions of people!  And remember, you don't need to be a great orator or writer to evangelise.  As Pope Francis has said:  "We evangelise not with grand words, or complicated concepts, but with the joy of the Gospel, which fills the hearts and lives of all who encounter Jesus".  So don't worry, let the joy of the Gospel speak for itself!
The phrase 'do not be afraid' appears often scripture.  It is a strong, powerful message from God about how we must feel when it comes to our faith.  In doing Christ's work and spreading his message we have no need to be afraid.  He is on our side!
Here's the challenge: let your life be a life of evangelisation.  Don't be afraid to share Christ's message with other people.  Let your work reverberate down through the generations where it has the potential to bring millions of lives to eternity with God.  Don't keep good news to yourself.  Use your mustard seed.  Evangelise.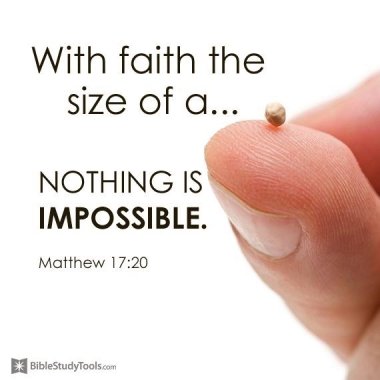 The first details of subscribers to the adultery website Ashley Madison have been released following a successful hacking of the website at the weekend.  The hackers, referred to as the Impact Team, claim to have obtained details of all 37million members of the site and have threatened to release more members' details, including their so called 'fantasies'.
Some have claimed the reason for the hacking is to do with a claim by Ashley Madison that members' details will be permanently deleted if they pay a $19 fee.  The hackers apparently claim that this is not the case and that details are not permanently deleted, hence the attack and the Impact Team's desire to shut down the site.  But, whatever the reason for the hack, it is incredibly sad to hear that there are at least 37million willing adulterers out there in the western world.  Of course this is only a small portion of the total number of people inclined to infidelity in our world, but it is a huge number, and it shows the lengths people will go to look after their own self-interests and make sure it is kept secret from their nearest and dearest.
What has the world come to when we have a legitimate website claiming that 'life is too short, have an affair'?  What has the world come to with legitimate TV adverts advertising and encouraging adultery, such as the one containing photographs of a newlywed couple enjoying their wedding day only for little captions to appear on screen suggesting that the bride is about to sleep with her new husband's best friend?  This is the world of Ashley Madison.  This is our world.
Western society is often praised for being a pillar of democracy, freedom and tolerance.  Yet it is a society that believes in the right to kill the most vulnerable; a society that believes in greed at the expense of the poorest; and now, a society that believes in the right to adultery.  But hey, why not?  This is the new relativist world, right?  This is a world where 'live and let live' and 'who am I to judge' are phrases which are endlessly spewed out to prove our tolerance in this great new free and easy society.  The age of objective morality has passed.  That was then, this is now.  We don't need objective morality anymore.  We don't need to be told that 'thou shall not kill', 'thou shall not commit adultery' and so on.  That's the kind of stuff that belongs to the dark ages, to the religious people.  Our society is free from all that and we can do what we want. 
Well I say to hell with this new, free, tolerant society based on relativism.  Relativism is a dirty, selfish, thoughtless scam which destroys society and destroys lives.  We don't deserve it.  We, as human beings, deserve better than this.  We deserve a moral code which protects people from untimely death.  We deserve a moral code which looks after the poorest and encourages people to look after the needy.  We deserve a moral code which says adultery is wrong.
There are 37million lost souls out there seeking the fulfilment of some misguided fantasy and what are we doing about it?  Are we sitting on our hands doing nothing?  Have we really bought into this society of 'live and let live' so that we simply say nothing and let others get on with whatever they want to get on with?  Why?  What use is that to our world?  Our world needs witnesses to a true moral code; a code that stands the test of time and which encourages love, honesty and integrity between all people.  So let's get out there and be witnesses to this beautiful truth!  Let's speak out against the scandalous business of the likes of Ashley Madison and their profiting from infidelity.  Let's speak the truth about the wrong of adultery.  And let's speak openly about the genuine alternative to this disgusting behaviour; an alternative which encourages people to be open with each other and to help one another resolve difficulties in relationships. 
Relativism is not the answer.  All it does is encourage people to go and do their own thing, to be selfish and not give a second thought to those closest to them; their wife, husband, kids.  Relativism encourages a quick fix, a lustful encounter, a lie.  It reduces love to a simple feeling or emotion, removing any concept of self-giving and sacrifice.  That's why businesses like Ashley Madison make so much money. It encourages people to be selfish, to reject any notion of an objective moral code and to please themselves how they want, when they want.
And very often this catches up with people.  Indeed, 37million people are very much in panic mode right now as they wonder whether their details will ever be released, uncovering their deceit and infidelity.  And it's all because they bought into relativism.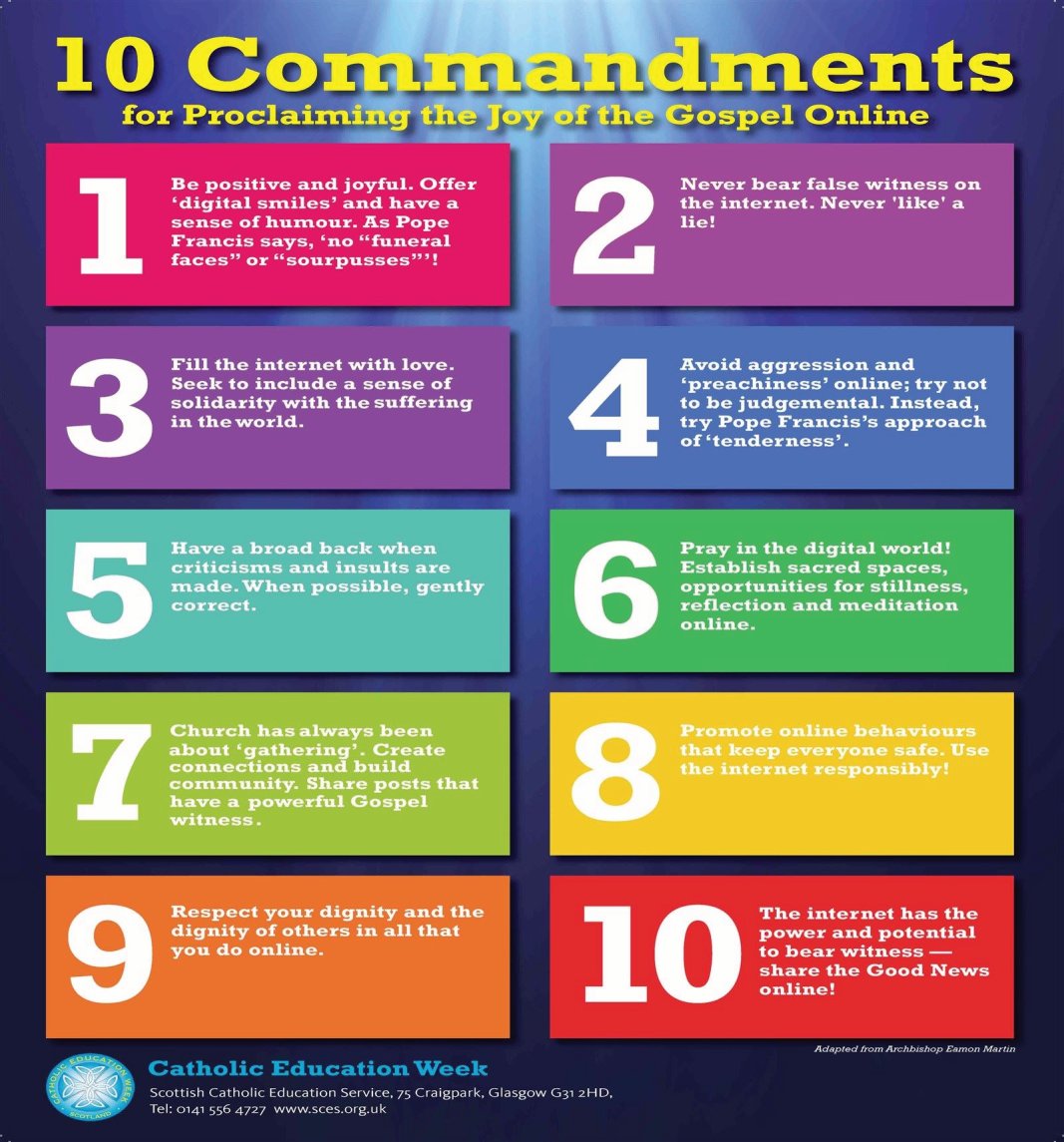 The Scottish Catholic Education Service (SCES) has produced a new poster detailing the "10 Commandments for Proclaiming theJoy of the Gospel on-line".  In what appears to be a spin-off from Pope Francis encyclical letter, Evangelii Gaudium (the Joy of the Gospel),SCES is encouraging young people to behave responsibly, and in a manner befitting of their Catholic faith, whilst they use the internet and social media. The poster will be officially launched during Catholic Education Week in February.

 

The SCES website states: 'To encourage responsible and respectful use of the Internet for "Proclaiming the Joy of the Gospel", the Scottish Catholic Education Service (SCES) has produced a poster to illustrate the "10 Commandments for Proclaiming the Joy of the Gospel on-line". It is hoped that these will encourage both young people and adults to use the opportunity provided by social media to tell the 'Good News' of Christ.''

 

The commandments, produced by Martin McMahon of Taylor High School in Motherwell, are as follows:

 

1.      Be positive and joyful.  Offer 'digital smiles' and have a sense of humour.  As Pope Francis says, no funeral faces or sourpusses.

 

2.      Never bear false witness on the internet. Never 'like' a lie.

 

3.      Fill the internet with love.  Seek to include a sense of solidarity with others in the world.

 

4.      Avoid aggression and 'preachiness' online.  Try not to be judgmental.  Instead try Pope Francis's approach of tenderness.

 

5.      Have a broad back when criticisms and insults are made.  When possible, gently correct.

 

6.      Pray in the digital world!  Establish sacred spaces, opportunities for stillness, reflection and meditation online.

 

7.      The Church has always been about gathering.  Create connections and build community.  Share posts that have a powerful Gospel witness.

 

8.      Promote online behaviours that keep everyone safe.  Use the internet responsibly.

 

9.      Respect your dignity and the dignity of others in all that you do online.

 

10.  The internet has the power and the potential to bear witness – share the Good News online.

 

While the Ten Commandments given to us by God can never be replaced nor replicated, these commandments for appropriate online behaviour should definitely be encouraged among our young people.  And while SCES should be applauded for their efforts to promote these online commandments, it will ultimately be down to parents and families of young people to make sure that these commandments are followed. 

 

Perhaps it would be useful for us to all consider having a copy of these commandments alongside the Ten Commandments of God somewhere in our home to remind our children, and indeed ourselves, of how we should behave on the internet and social media as well as how we should make best use of it.

0

/