Shopping Cart
Your Cart is Empty
There was an error with PayPal
Click here to try again
Thank you for your business!
You should be receiving an order confirmation from Paypal shortly.
Exit Shopping Cart
Calling Scotland's 841,000 Catholics to unite as one voice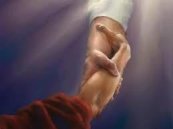 The next few days are simply fascinating!  The future of every human being has already been affected by what is about to unfold as our Lenten journey comes to an end and we find ourselves immersed in the incredible reality of Christ's Passion, death and Resurrection. 
With the exception of reading this article, stop whatever you are doing right now.  Take a moment to ponder the reality of what you are about to read and let it really sink in....
Around two thousand years ago a man was brutally beaten and killed.  He died before numerous witnesses, including his own mother and friends.  He was taken from the cross on which he limply hung and buried.  It was just another death followed by just another burial.  Except that several hours later this man woke up and walked out of his burial place.  That's right, he simply got up and he walked.  
Just think about that for a moment....
My dear friends, Jesus is the man who can give us eternal life.  He even said himself that he was "the way, the truth and the life".  And how can we argue with him?  We can't!  We just can't argue with a man who gets up and walks out of his own burial place!  
When all seemed to be lost and when a dark shadow hung over the reality of yet another poor soul lost to the ground this man did the impossible and got up!  Not only that, he went on to live forever!  
And if you think that's special it ain't half as special as him wanting us to join him!  He wants you and me to rise again just as he did!  Isn't that really something?  Isn't that the greatest piece of news you could ever wish to hear?  
Of course it is!  So let's rejoice in it!  Let's delight in this reality and follow Christ and his Commandments!  And let's tell others about this wonderful story of our salvation!  This is the kind of good news you won't find in the newspapers or on the news bulletins.  No, this is the kind of good news you hear on the streets; from people who are willing to share the news of our salvation with others so that they too may find joy in it.  It's not something we should keep to ourselves.  That's what secular society tells us to do.  But Jesus challenges us to share the reality of his Resurrection with everyone!    
Jesus died and rose again so that we too may rise after we die.  My brothers and sisters, death is not the end.  Jesus is offering us his outstretched hand of love with a promise of eternal life.  We just need to accept it and then be prepared to go out and encourage others to do the same.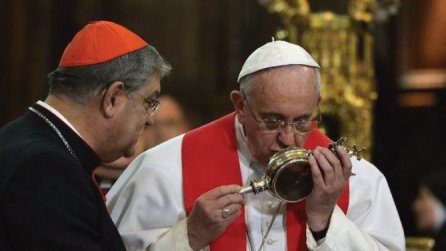 Pope Francis reacts to the miracle
Isn't it intriguing that the world pays little attention to supernatural miracles?  For example, if you were to put a no-hoper with the voice of a sick frog on the 'The Voice' and they ended up winning the coveted reality TV show's top prize, the world would proudly announce it to be a "miracle".  However, witnessing the sudden liquefying of the blood of a near 2,000 year old man or the sudden transformation of a communion wafer to real flesh is something that is given little attention.
Perhaps the most disappointing thing is that it is not only mainstream media and sceptics outside Catholicism who are guilty of ignoring such miracles.  Indeed the number of Catholic people who pay little heed to these miracles is quite voluminous.  It sadly means that God's visible intervention in our daily lives here on earth simply goes unnoticed.  Didn't that happen before, around 2,000 years ago?  You know, with the one they called Christ? 
Indeed, aren't those sceptics among us, especially the ones of a Catholic persuasion, simply following in the footsteps of the Sanhedrin in Jesus' time; rejecting any notion of God coming to earth and influencing our world.  They might ask: Why should I believe it?  God coming to earth to reveal Himself?  God making the scientifically impossible happen?  Are you mad?  But then, who would have thought a woman could conceive a child without sexual relations?  Who would have thought water could be turned to wine in an instant?  Who would have thought bread could be turned to flesh, and wine to blood?  Who would have thought a man could rise from the dead? 
God has been performing miracles for thousands of years, and He continues to perform them to this very day. In fact, you are a miracle!  You are a gift from God to this world. Without His intervention you wouldn't be here.  And without His intervention you wouldn't have the chance to take your place in Heaven for all eternity.  The Eucharist is another daily miracle given to us by God.  Indeed it is Jesus Christ truly present in all the tabernacles of the world; body, blood, soul and divinity! 
The reported miracle of St Januarius in Naples at the weekend is just one in a long list of God coming to earth to reveal His true power.  The fact that Pope Francis was present for the miracle has perhaps nudged it slightly more into the spotlight than would normally be the case (after all, this miracle of St Januarius has been taking place for years!).  But it gives us an opportunity to stop and consider how we feel about such miraculous events.  Why aren't we shouting from the rooftops and telling people about these great happenings? Why don't we tell the world that God has revealed Himself yet again and encourage them to believe?  Are we perhaps sceptical?  Does it just seem a bit too far-fetched?  If so, why?  Do we outright reject the supernatural?  Will we simply not be satisfied until we hear of authentic scientific evidence confirming that no scientific explanation can be given for the 'miracle'?
There are a lot of questions for us to consider when it comes to miracles such as this.  But consider this….what if the children of Fatima had simply rejected their vision of Our Lady as nonsense?  What if St Bernadette did the same at Lourdes?  And St Juan Diego in Guadalupe?  And what about the disciples when Jesus rose from the dead?  What if they simply considered it all to be scientifically impossible and thus false? 
Our role as Catholic people is to spread the Good News throughout the world.  This means taking the Gospel out into our daily lives and living out our faith in love for God and neighbour.  But it also means being full of joy, and what better excuse to be full of joy than to know that God still interacts with His people by performing miracles before our very eyes?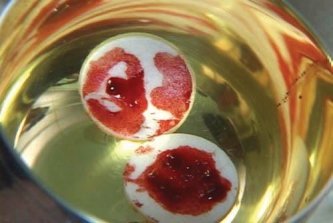 The Eucharistic miracle of Buenos Aires
Don't let the doubts creep into your mind.  Those doubts come from a sinister source; a source that does not want you to believe in God and His work.  Instead, be open to God's great power and just enjoy knowing that His presence is near!  Bask in the wonder of God's glory and His unbroken covenant with His people, with you!  He wants you to know that He is there for you!  Not one person is forgotten by God.  We are all His children and He wants us to experience His presence, His love.  It is for this reason that miracles happen.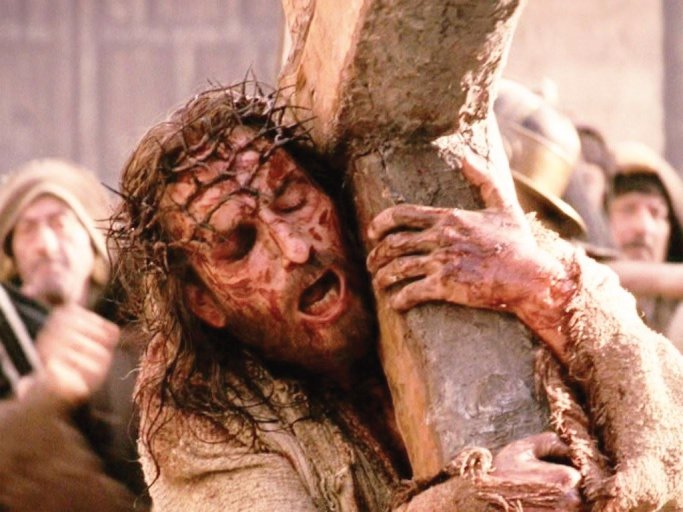 The ultimate act of love
Sunday's Second Reading (1 Corinthians 10: 31-11:1):
'Whatever you eat, whatever you drink, whatever you do at all, do it for the glory of God. Never do anything offensive to anyone – to Jews or Greeks or to the Church of God; just as I try to be helpful to everyone at all times, not anxious for my own advantage but for the advantage of everybody else, so that they may be saved. Take me for your model, as I take Christ.'
This text from St Paul's first letter to the Corinthians is a real affirmation of Christ's call to love God and to love our neighbour.
If we do everything for the glory of God then we are showing Him that we love Him above all else.  And if we never do anything to offend and always try to be helpful to others, not because we want to derive some advantage from it but because we want the other person to benefit, then we will be loving our neighbour.
And while it might sometimes be hard to love God and to love our neighbour, these requirements are not negotiable. 
Yet, even though they are non-negotiable they should not be seen as a hindrance.  In fact, they are anything but a hindrance!  They are a joy because they seek the glorifying and praising of Almighty God and they elevate Him to top spot in our lives; where He belongs.  Further, they are a joy because they are a call to love others and to treat them with great respect, kindness and mercy.
Too often we see these calls to love as a cross to bear and too often we begrudge putting in the effort to love, opting instead to make life easy on ourselves and slot into society's ways of idle gossip and cynicism.  And in our self-centredness we fail to see that the cross of love is something that Christ has already carried on his shoulders and he did it so that we could love freely.
Brothers and sisters, we have been given a great gift; the gift to love God and to love one another without condition and without asking for anything in return.  Christ has already borne the cross of unimaginable pain and has purchased for us the gift of a pure and spotless love.  All we need to do is enjoy giving it to others.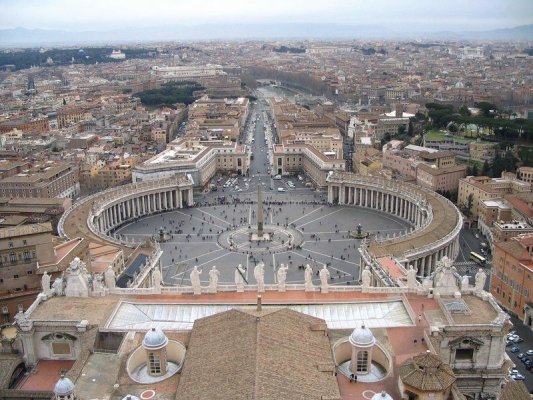 Even the design of St Peter's Square tells us to evangelise
Sunday's Second Reading (1 Corinthians 9:16-19,22-23):
'I do not boast of preaching the gospel, since it is a duty which has been laid on me; I should be punished if I did not preach it! If I had chosen this work myself, I might have been paid for it, but as I have not, it is a responsibility which has been put into my hands.  Do you know what my reward is?  It is this in my preaching, to be able to offer the Good News free, and not insist on the rights which the gospel gives me.
So though I am not a slave of any man I have made myself the slave of everyone so as to win as many as I could.  For the weak I made myself weak.  I made myself all things to all men in order to save some at any cost; and I still do this, for the sake of the gospel, to have a share in its blessings.'
Do you think that it is only priests who are duty bound to proclaim the Word of God?  What about you? 
In order to find an answer to this question we need to consider the role of the Church and the role of its members; people like you and me.  What is it we are called to do as Catholic people?  Well, praising Goda nd surrendering to His Holy Will would certainly be a good start.  Abiding by His Commandments and following the example of Christ is also fundamental.  But we are also called to be in the business of saving souls for Christ.  The Church is a church of mission which means it needs to always be reaching out to people. That's why St Peter's Square is designed the way it is; with open arms stretching out to the world, inviting all people to come to know and to love God!  And a critical part of our mission to save souls is to evangelise.  But how do we evangelise, you might ask?  Simple….by speaking the Word of God and revealing its unrivalled beauty! 
Do you ever wonder why the Church grew so quickly in the years after Jesus' death and resurrection? It was because people like Paul preached the Word of God.  Today is no different.  We are still called to preach the Good News of God's Word to all people in order to bring them closer to God and into a real and personal relationship with Him. And this doesn't just apply to strangers and people who we know to be non-believers.  This evangelising also needs to take place in our own homes, in our families and among our friends.
And, of course, it won't be easy.  It certainly wasn't easy for St Paul when you consider the kind of barriers he faced two thousand years ago; being mocked, abused, tortured and ultimately put to death for his faith.  But if we fall in love with the Word of God, as Paul clearly did, we too can bring people to God.  We too can evangelise the world so that others may come to know the beauty of living a life in the Catholic faith.  We are members of the Church founded by Jesus Christ two thousand years ago!  It is, to this very day, the very same Church, and it is still preaching that same Word of God proclaimed by St Paul in his letter to the Corinthians.
Don't ever be afraid to proclaim God's Word as you go about your daily life.  You are part of a huge family of God which spans the whole of time and has among its number a multitude of saints enjoying the glory and splendour of the Father's Kingdom.  It is a family which, at this very moment, numbers 1.2 billion on planet Earth. Your family is huge!  Why are you afraid?  Remember, God is on your side.  Go out and win people over to Him and find joy in being a true disciple of Christ.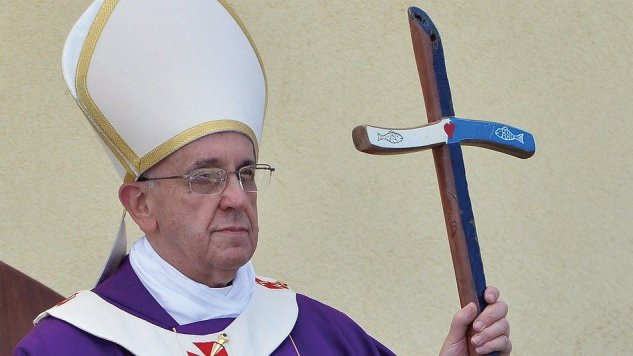 Pope Francis, in his 2015 Lenten message, has warned people to avoid indifference to God and indifference to the plight of our neighbour.
The Pope said: "God is not indifferent to our world; he so loves it that he gave his Son for our salvation. In the Incarnation, in the earthly life, death, and resurrection of the Son of God, the gate between God and man, between heaven and earth, opens once for all. The Church is like the hand holding open this gate, thanks to her proclamation of God's word, her celebration of the sacraments and her witness of the faith which works through love (cf. Gal5:6). But the world tends to withdraw into itself and shut that door through which God comes into the world and the world comes to him. Hence the hand, which is the Church, must never be surprised if it is rejected, crushed and wounded. God's people, then, need this interior renewal, lest we become indifferent and withdraw into ourselves. To further this renewal, I would like to propose for our reflection three biblical texts."
The Pope then outlines three biblical texts for reflection, each relating to an aspect of Christian living; the Church, parishes and communities, and individual Christians.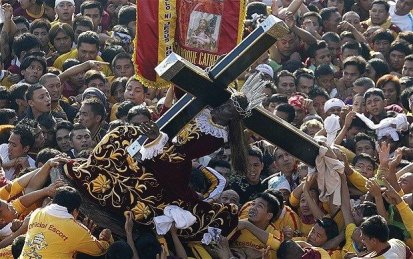 Filipinos just love being Catholic!
Pope Francis is on record as saying that "The Philippines bear witness to the youthfulness and vitality of the Church."
How true!  The Philippines is one of those nations where Catholicism is thriving because of an unconditional love and complete trust in the Catholic faith.
Unliek our own western and increasingly secular culture, the Filipinos rarely question their faith.  They are less inclined to be negative about the Church.  Quite the opposite!  They love it!  They adore it!  They cherish it and value it!  And best of all, they stand up for it!
And why wouldn't they?  It is Christ's Church after all!
They are also not afraid to hand it down, word for word, to their children.
A real example of faith and love for Christ.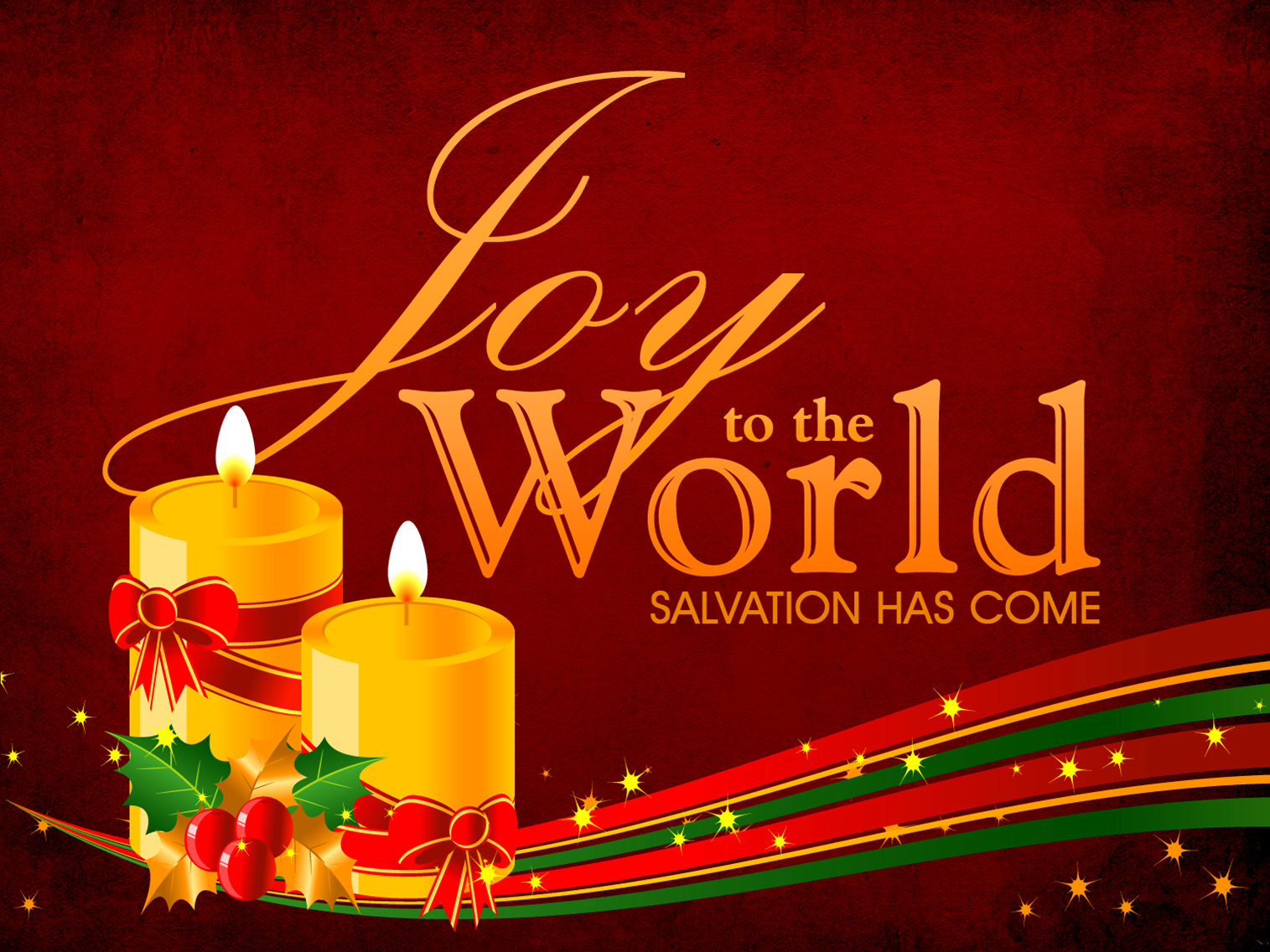 Midnight Mass Gospel (Luke 2:1-14):
'Caesar Augustus issued a decree for a census of the whole world to be taken. This census – the first – took place while Quirinius was governor of Syria, and everyone went to his own town to be registered. So Joseph set out from the town of Nazareth in Galilee and travelled up to Judaea, to the town of David called Bethlehem, since he was of David's House and line, in order to be registered together with Mary, his betrothed, who was with child. While they were there the time came for her to have her child, and she gave birth to a son, her first born. She wrapped him in swaddling clothes, and laid him in a manger because there was no room for them at the inn.
In the countryside close by there were shepherds who lived in the fields and took it in turns to watch their flocks during the night. The angel of the Lord appeared to them and the glory of the Lord shone round them. They were terrified, but the angel said, 'Do not be afraid. Listen, I bring you news of great joy, a joy to be shared by the whole people. Today in the town of David a saviour has been born to you; he is Christ the Lord. And here is a sign for you: you will find a baby wrapped in swaddling clothes and lying in a manger.' And suddenly with the angel there was a great throng of the heavenly host, praising God and singing:
'Glory to God in the highest heaven,
and peace to men who enjoy his favour.''
As humans we often find it difficult to accept a very simple message.  We naturally want to dig deeper to not only figure out the answer but also figure out why the answer is what it is!  We have a longing for knowledge and that is not a bad thing.  But sometimes just discovering the simple answer is all we need. 
At Christmas we celebrate the birth of Christ.  It is God incarnate, God made man.  It is the time when God became man to save the world.  An event that would change the world forever.  So, to suggest we simplify the meaning of such a significant event seems a bit harsh. 
But simplify it we will!  Because Christmas can be wrapped up in one word that encapsulates everything that this earth shattering event means for us.  That word?  Joy. 
It is joy that God wanted to bring to the world when He came to earth as a tiny baby, born of Mary.  What is the one thing every parent wants for their child?  It is happiness.  They want their child to experience joy throughout their whole life.  And this parental wish can be stretched right back through time and through all parents to the Father of Creation. 
God wants His children to be happy!  He wants us to be full of joy!  This is why He came to us.  He came to save us from sin so that we could live a life of perfect joy and ultimately unite with Him in Heaven at the end of time. 
This Christmas, think simply about what this event truly means for us.  Think joyful thoughts, say joyful words, do joyful things.  Your Father wants you to be happy. 
/