Shopping Cart
Your Cart is Empty
There was an error with PayPal
Click here to try again
Thank you for your business!
You should be receiving an order confirmation from Paypal shortly.
Exit Shopping Cart
Calling Scotland's 841,000 Catholics to unite as one voice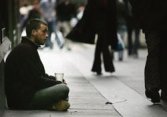 It's a fabulous thing that a number of people have decided to commit to helping the thousands of refugees seeking safety and security in the UK.  Some people have even agreed to house some of the refugees until they get themselves on their feet and secure their own accommodation.  It is a truly remarkable gesture and together with David Cameron's promise to bring thousands more refugees to the UK, heralds a shift in both the perception of refugees and the way we are willing to treat them.
But I think it is also important not to lose sight of the impoverished of our own country as we seek to help those from overseas.  As well as helping them we might also consider what more we can do for the countless homeless living on the dirty streets of our towns and cities. Can we make more space in both our hearts and homes for them?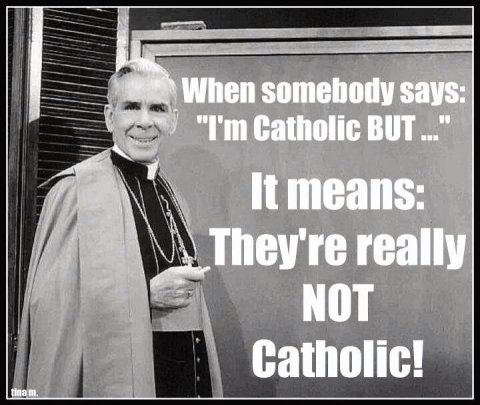 Venerable Fulton Sheen
Isn't it fair to say that our Catholic faith is under attack from many angles in our world today?  The growth of relativism, aggressive secularism, and even attacks from within our own ranks, by people who suggest that Church teaching is wrong on certain matters.
In my own experience it is becoming abundantly clear that more and more self-proclaimed Christians (especially Catholics) are attaching less and less importance to the role of faith, and ultimately Christ, in their lives.  It brings to mind a quote of Venerable Fulton Sheen when he said "When somebody says: 'I'm Catholic but…' it means: they're really not Catholic!"  There are so many examples of people saying 'I'm Catholic but…' in our world today.  Indeed it is a daily occurrence on social media forums.  'I'm Catholic but I don't go to Mass'; 'I'm Catholic but I don't go to Confession, I just go direct to God'; 'I'm Catholic but I don't think we should interfere with a woman's choice when it comes to abortion'; 'I'm Catholic but I believe that same-sex marriage is okay because two people love each other'.
And while those who propagate the view 'I'm Catholic but…' don't seem to care much for the effect it has on the more traditional, conservative Catholic lay people around them; they don't seem to appreciate the effect this has on the one who really matters….Jesus Christ.
It is often difficult to comprehend certain Truths taught by the Catholic Church; the Church's stance on homosexual acts perhaps being the most relevant example.  Nothing seems to stoke the flames as much as this issue. And even when the natural law, Sacred Scripture or the Catechism of the Catholic Church is quoted in defence of the Church's position, it still isn't enough to eradicate the view that the Church is out of touch and living in the past.
Yet what is the Church? Is it really a bunch of decrepit old men as is often argued?  Certainly not.  The Church is an assembly brought together by the Word of God, forming the People of God; a people nourished and sustained by the Eucharist.  And by receiving this nourishment from Christ's Body we too become the Body of Christ.  The Church is the community of believers in Christ and his Truth.  It is a people, stemming from Peter and the apostles through the ages to the present day.  It is a people charged with the task of not only proclaiming the Truth but protecting it so that it may continue to live on through time, penetrating the hearts of countless peoples through the ages.  And perhaps the most important component of the Church is its head; for it is Jesus Christ who is head of the Church.  Not the pope, not the Bishops nor her priests.  No, it is Christ; for it is Christ who formed the Church and it is Christ who promised to be with the Church until the end of time so that the gates of hell would never prevail against her.
When he formed the Church Jesus promised to be with her forever; and he remains with her to this day. And his Truth continues to exist to this very day because it has been protected by his Church.  Just think of the apostles and how they, as a relatively small number, carried that Truth with them, taking it to everyone they met so that they might come to know Christ as they knew him.  Think of how they changed hearts and minds with this Truth and how they were even prepared to take it to their excruciatingly painful deaths.  Yet despite this, the Truth continued to penetrate time, through the early Church Fathers, the Saints, and through converts to the faith.  And so it continued on and two thousand years later it remains with us today; that same Truth proclaimed by Jesus Christ and his apostles.  And it is here because he promised it would be here. Jesus promised to be with his Church, and so his Truth lives on; protected and preserved by a people who love him and who trust completely in him.
While it can be incredibly difficult to live a life of faith in today's world, especially a life of faith in a Catholic sense, we must remember that we are preserving the Truth of Christ, the one who created us and who loves us more than any other.
Another beautiful way to look at the Church is to see her as Christ's bride.  She waits for him to return to earth so that they, the bride and groom, can be completely united as one.  If we let go of the Truth there will be no bride waiting for Jesus at the end of time. That is why it is so important for us to be true to our faith, every last bit of it.  I have heard it said that the rib taken from Adam to create Eve was symbolic of Christ and the Church.  That is how close Christ is to his Church!  And when Christ died on the Cross on Calvary and his side was pierced by the roman soldier, the significance of Adam's rib became even more apparent.  For in the blood and water which poured forth from Christ's side came his forgiveness; a forgiveness that he would soon thereafter charge to his disciples and to his Church.  And the first person to fully appreciate the significance of the blood and water pouring from Christ's side and who proclaimed him to be the 'Son of God'?  The Roman soldier Longinus (now St Longinus) who pierced his side.  Many claim that he was the first convert to the Christian faith.  So, the Church, the creation of which was foretold by the removal of Adam's (Jesus) rib to create Eve (the Church), can now be seen pouring out of Christ's side and reaching out to his created people, calling them to conversion and to come to know the Truth.
St Longinus would never dream of saying 'I'm Catholic but….'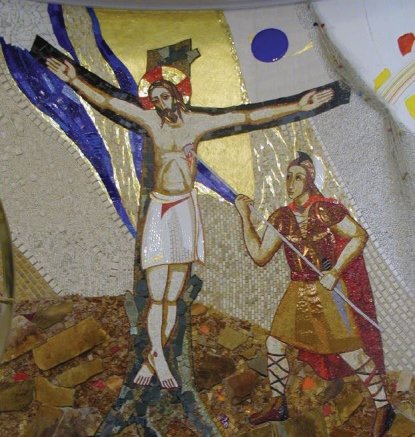 Longinus pierces Christ's side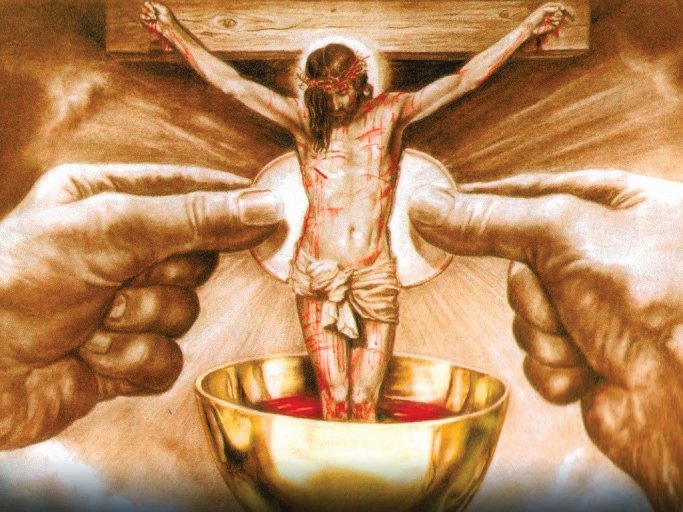 From Sunday's Gospel (John 6:24-35):
'Jesus answered:
'I tell you most solemnly,
it was not Moses who gave you bread from heaven,
it is my Father who gives you the bread from heaven,
the true bread;
for the bread of God
is that which comes down from heaven
and gives life to the world.'
'Sir,' they said 'give us that bread always.'
Jesus answered:
'I am the bread of life.
He who comes to me will never be hungry;
he who believes in me will never thirst.''
Reading this Gospel passage and, in particular, the words of Jesus leave us in no doubt.  He is the bread of life.  He is the way, the truth, and the life.  He is the only way to God.  Yes it is true!  In the Eucharist we receive Jesus Christ body, blood, soul and divinity!  Just as the bread came from Heaven in order to feed the Israelites so Jesus comes to us in the form of bread to feed, nourish and sustain us.
Jesus is offering himself to all of us.  He is offering us the chance of eternal life with him in Heaven.  Will we be like the disciples and say to Jesus: 'Sir, give us that bread always'?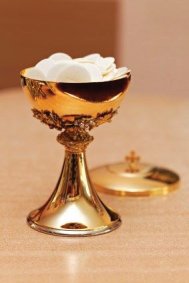 Sunday's Gospel (John 6: 1-15):
'Jesus went off to the other side of the Sea of Galilee – or of Tiberias – and a large crowd followed him, impressed by the signs he gave by curing the sick. Jesus climbed the hillside, and sat down there with his disciples. It was shortly before the Jewish feast of Passover.
Looking up, Jesus saw the crowds approaching and said to Philip, 'Where can we buy some bread for these people to eat?' He only said this to test Philip; he himself knew exactly what he was going to do. Philip answered, 'Two hundred denarii would only buy enough to give them a small piece each.' One of his disciples, Andrew, Simon Peter's brother, said, 'There is a small boy here with five barley loaves and two fish; but what is that between so many?' Jesus said to them, 'Make the people sit down.' There was plenty of grass there, and as many as five thousand men sat down. Then Jesus took the loaves, gave thanks, and gave them out to all who were sitting ready; he then did the same with the fish, giving out as much as was wanted. When they had eaten enough he said to the disciples, 'Pick up the pieces left over, so that nothing gets wasted.' So they picked them up, and filled twelve hampers with scraps left over from the meal of five barley loaves. The people, seeing this sign that he had given, said, 'This really is the prophet who is to come into the world.' Jesus, who could see they were about to come and take him by force and make him king, escaped back to the hills by himself.'
Did you know that a barley loaf was considered to be the bread of the poor?  God chose the food of the poor in order to satisfy the hunger of His created people.  He could have chosen to feed them with a grand banquet fit for a king but no, he chose a simple loaf of bread.
Yet this simple loaf represents something truly great; something more satisfying than a grand banquet.  It is the means by which God has chosen to come to us and to develop His relationship with us. 
Through a simple piece of bread God shows His great love for us and showers us with graces.  Why He decided to do this is a great mystery and it is a mystery that may well be revealed to us one day.  But the intricacies of this mystery is not something we need concern ourselves with right now.  Our concern must be the bread with which He feeds us….the Eucharist.  It is through the Eucharist, given to us in Holy Mass, that we are truly satisfied.  It is through the Eucharist that we receive the graces we need to live our daily lives. It is through the Eucharist that God comes to us in love, inviting us to an ever deeper relationship with Him, and encouraging us to never tire of trusting in Him.  And it is through the Eucharist that we will be saved; saved by the blood of Christ who sacrificed himself on a Cross so that we may live forever.
Yet even though we receive this great gift from God, there are still many basketfulls left over.  Our job, brothers and sisters, is to go out to the world and find a home for this bread.  God doesn't just want a few willing participants to come to Him and receive Him in the Eucharist.  He wants all of His created people to take part!  There are so many basketfulls of bread left over after we receive the Eucharist!  Let us find more homes for God to shine His great light in our world.  Let us be open to speaking highly of this great gift of God so that others may come to share in it.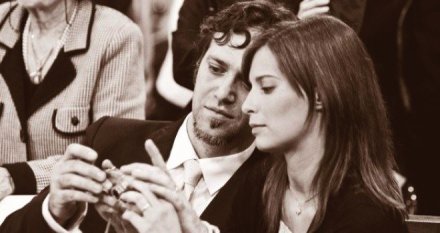 Enrico and Chiara Petrillo
If you haven't yet read the story of Chiara Corbella Petrillo and her husband Enrico then now is perhaps a good time for you to compose yourself and prepare to be blown away.  Because what this couple had to endure is perhaps the most difficult, most tragic situation anyone could imagine.  Yet, in spite of this, they found great joy, peace and hope.  Why?  Because of their unconditional faith in God; because of their trust in His infinite love for every single human being He created; and because of their eternal perspective on all matters of life. 
So, rather than give the entire story away, I will leave you to read it and digest it, and perhaps spend a little time meditating on the faith exhibited by these two extraordinary people and consider if you too could exhibit such strength of faith.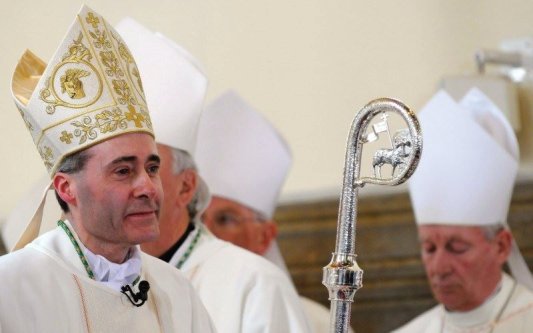 Bishop Mark Davies of Shrewsbury has spoken out against the disregard for human life we often witness in today's western society, comparing it to the human sacrifices offered up by the Aztec people.
Bishop Davies said that "We can see a resemblance with the declining civilisation of the western world which in similar ways sacrifices and discards the lives of millions of human beings in abortion; in embryo experimentation and fertility treatments; and now threatens the lives of those who pose the greatest financial burden – the sick and the aged in assisted suicides and euthanasia."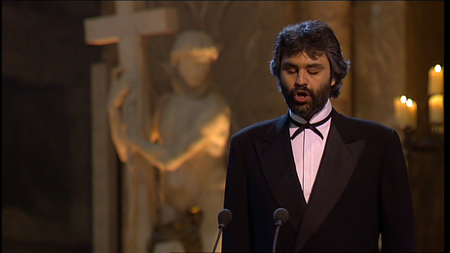 Andrea Bocelli is a man of great faith
Famed for having one of the most incredible voices on the planet, Andrea Bocelli is also well known for being a man of great faith and devotion to God.
Bocelli, who was born with congenital glaucoma and has been blind since a young age, is only alive because his mother rejected the advice of doctors that he be terminated.  This decision not only brought about a beautiful son, grandson, nephew and so on for their family, but it also brought about a genius musician with a voice to rival all others.  A voice the world could enjoy.
It is no surprise then, given his mother's sacrificial love, that Bocelli is a real family man.  With a wife and three children of his own he openly states that "family is such an important thing".  So much so that he is in the process of finalising his latest work titled 'The Great Mystery: The Gospel of the Family, School of Humanity for Our Times'.  The work will be performed at various venues throughout the world, most notably in the Basilica of the Holy Family in Barcelona on 28 May and then in Philadelphia during the World Congress of the Families on September 26.  It is part of a Vatican initiative leading up to the second phase of the Synod on the Family in October.
The Vatican has confirmed that the initiative contains two aspects, singing in the cathedrals and in the squares.  And Bocelli has confirmed that, whenever he is in Church, the music will be exclusively sacred music. This, he said, was very important to him.
While we shall all look forward to hearing Andrea's wonderful and powerful voice once more, his message about the importance of the family should bring into focus once again the need for us to play our part in protecting the sacred institution of the family and the parts which make it; father, mother and child.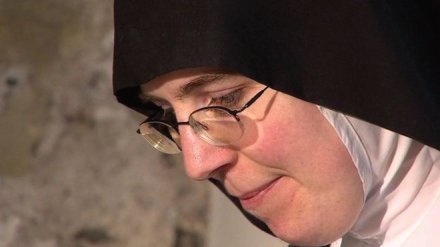 Picture: bbc.co.uk
This insteresting BBC article explores the recent increase in vocations to the religious life in England and Wales and considers why more and more women are becoming nuns.
A number of women who have recently joined various religious orders speak openly about their experiences in the article, though none more frankly than 29 year old Theodora Hawksley who recently joined the Congregation of Jesus in North London.
Theodora says: "If our society is obsessed with money, sex and power and the games people play with them, then vows of poverty, chastity and obedience represent a profound freedom.
That's what has drawn me to religious life.
It's not a fleeing from the world - it's a finding your place in it."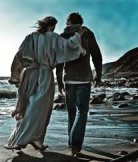 Sunday's Gospel (John 17:11-19):

'Jesus raised his eyes to heaven and said:

'Holy Father,
keep those you have given me true to your name,
so that they may be one like us.
While I was with them,
I kept those you had given me true to your name.
I have watched over them
and not one is lost
except the one who chose to be lost,
and this was to fulfil the scriptures.
But now I am coming to you
and while still in the world I say these things
to share my joy with them to the full.
I passed your word on to them,
and the world hated them,
because they belong to the world
no more than I belong to the world.
I am not asking you to remove them from the world,
but to protect them from the evil one.
They do not belong to the world
any more than I belong to the world.
Consecrate them in the truth;
your word is truth.
As you sent me into the world,
I have sent them into the world,
and for their sake I consecrate myself
so that they too may be consecrated in truth.''



Do you feel lost?  Do you sometimes feel that Jesus isn't there?
These are common feelings experienced by all human beings, even those who have a deep and vibrant faith.


Yet Jesus tells us that we needn't feel lost.  As Jesus says in this Gospel - by using the example of Judas - the only reason we become lost is because we choose to be lost.  Being lost is turning our backs on Jesus; being lost is denying him; being lost is not trusting in him and his love.  It is our decision to be lost.  It is not Jesus' decision.  It is our own. 
And sometimes the reasons for feeling lost are completely genuine.  We may have lost a close relative to a horrific disease or illness.  We may have lost our best friend in a car accident.  We may even have suffered the loss of a little child at the very beginning of their life.


Yet whatever troubles we may have, Jesus tells us that we need not be lost.  He encourages us to seek him out and to put all of our troubles on him.  Remember, Jesus has already carried all of your troubles on his back.  Every anxiety, every tear, every ounce of pain you feel in your life was borne two thousand years ago by Jesus as he carried the Cross through the streets of Jerusalem.  He then took that suffering of yours and mine with him as he was nailed to the Cross and offered it up to the Father.  And what happened next?  Our suffering died with Jesus on the Cross.  And while Jesus rose again, our suffering did not. 
Brothers and Sisters, Jesus has personally felt our pain and suffering.  He acknowledges our anguish because it was he who carried it and it was he who banished it.
As human beings we will continue to shed tears, feel pain, anxiety, distress and anguish.  It's in our nature.  But never forget that Jesus is there for you.  He completely understands your suffering because he has already suffered it for you.  If you do one thing this day, try to surrender a little more to Jesus.  Keep close to him by talking to him and letting him know your thoughts.  Pray to him and become more and more obsessed with him.  That way you will never stray from his side.  That way you will never be lost.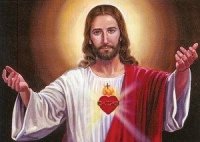 Only this man has the power to save us
Sunday's First Reading (Acts 4:8-12):
Filled with the Holy Spirit, Peter said: 'Rulers of the people, and elders! If you are questioning us today about an act of kindness to a cripple, and asking us how he was healed, then I am glad to tell you all, and would indeed be glad to tell the whole people of Israel, that it was by the name of Jesus Christ the Nazarene, the one you crucified, whom God raised from the dead, by this name and by no other that this man is able to stand up perfectly healthy, here in your presence, today. This is the stone rejected by you the builders, but which has proved to be the keystone. For of all the names in the world given to men, this is the only one by which we can be saved.'
Only Jesus Christ can save us.  Only Jesus Christ can save us. Only Jesus Christ can save us. Only Jesus Christ can save us…. 
Has it sunk in yet?? It's quite incredible to think that each one of us can be saved from sin and death and brought to eternal life.  It's even more incredible to think that all this is achieved through one man!  Can you imagine being that one man?  Can you imagine if you were the key to Heaven; the key to eternal life?  Wouldn't it be quite a responsibility?  It certainly would; but it would be worth all of that responsibility to see wave after wave of people coming back to you because they trust in you and because they believe in you and believe in the Church you founded. Yet conversely, wouldn't it be so sad to know that not all of your created people are coming back to you?  Wouldn't it be sad to be rejected by your very own creation?  Rejected despite coming to earth to spread the message of a perfect love; rejected despite performing miracle after miracle to help the poor and the needy; rejected despite suffering greatly at the hands of your oppressors who humiliated you and abused you before nailing you to a cross; rejected despite rising from the dead and revealing yourself to those close to you who then took that great news to the ends of the earth.  After all of that and still you are rejected!  How breathtakingly sad must that be for Jesus? 
It would seem that no matter how often we are told Christ is the only way to God and the only way to salvation, we still don't quite take it in.  Even Jesus himself told us that he was the way, the truth and the life and that nobody can get to the Father except through him; yet many still doubt.  So here is St Peter, the rock upon which Christ's Church is built, telling us once more that Christ is the only one who can save us. 
So, are we prepared to really let this sink in?  And even more importantly, are we prepared to take this message to the ends of the earth no matter what?  You see, we can't possibly just keep this to ourselves or within the confines of our families and close friends.  An increasingly aggressive secularism tells you to keep it to yourself, but Jesus tells you to take it to the ends of the earth!  So let's get out there and tell the world that Jesus is the only way!  It is Jesus Christ, the most perfect, most beautiful, most glorious, most incredible man who ever walked this earth who can give us the gift of eternal life.  It is the most precious Jesus, that man who took on unbearable pain on our behalf, who is the key to our salvation.  Trust him, love him and surrender to him.  And encourage others to do the same.
/