Shopping Cart
Your Cart is Empty
There was an error with PayPal
Click here to try again
Thank you for your business!
You should be receiving an order confirmation from Paypal shortly.
Exit Shopping Cart
Calling Scotland's 841,000 Catholics to unite as one voice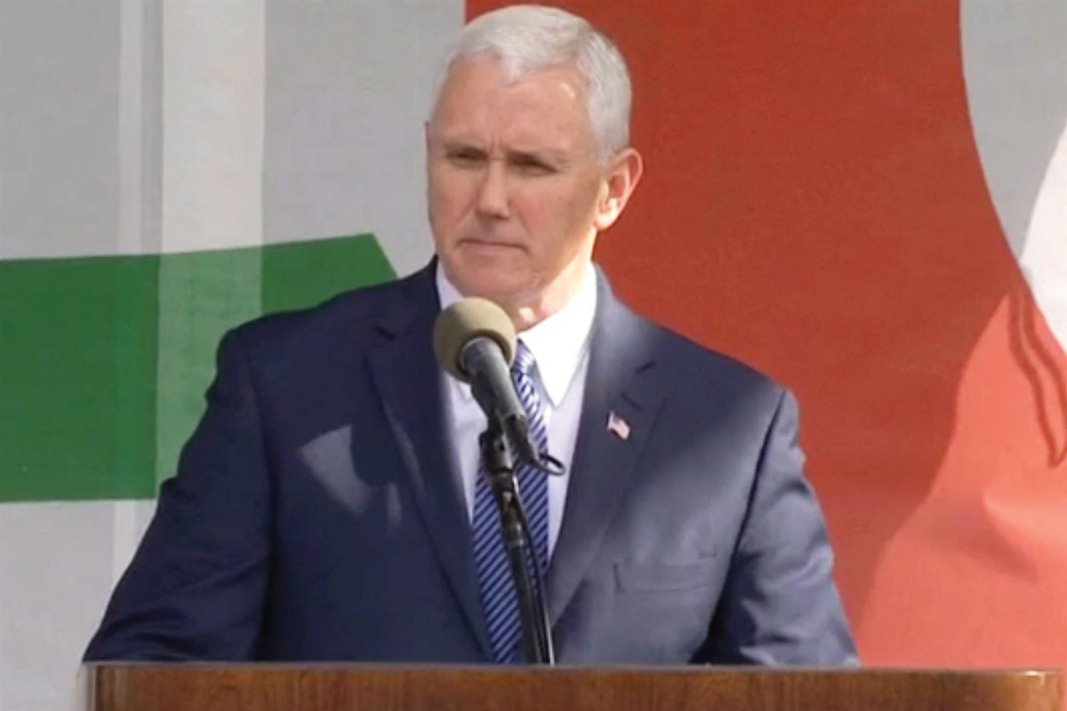 Mike Pence at March for Life
Today Vice President Mike Pence spoke to hundreds of thousands of pro-life advocates gathered for the annual March for Life on the National Mall. He is the first Vice President to address the March in person. Counselor to the President Kellyanne Conway also spoke at today's March.
Vice President Pence's remarks reflected his deep roots in the pro-life movement and the Trump-Pence Administration's commitments to the right to life cause:
"Today, because of all of you and the many thousands who stand with us in marches like this all across the nation, life is winning again in America. That is evident in the election of pro-life majorities in the Congress of the United States of America. But it is no more evident in any way than in the historic election of a president who stands for a stronger America, a more prosperous America, and a president who I proudly say stands for the right to life, President Donald Trump. "President Trump actually asked me to be here with you today. He asked me to thank you for your support – to thank you for your stand for life and for your compassion for the women and children of America.

…

"At 1600 Pennsylvania Avenue we are in the promise-keeping business. That's why on Monday President Trump reinstated the Mexico City Policy to prevent foreign aid from funding organizations that promote abortion worldwide. That's why this administration will work with the Congress to end taxpayer funding of abortion and abortion providers, and we will devote those resources to health care services for women across America. And that's why next week, President Donald Trump will announce a Supreme Court nominee who will uphold the God-given liberties enshrined in our Constitution.

…

"I have long believed a society can be judged by how we care for our most vulnerable: the aged, the infirm, the disabled and the unborn.

…

"Life is winning through the steady advance of science that illuminates when life begins more and more every day. Life is winning through the generosity of millions of adopted families who open their hearts and homes to children in need. Life is winning through the compassion of caregivers and volunteers at crisis pregnancy centers and faith-based organization who minister to women in the cities and towns across this country. And life is winning through the quiet councils between mothers and daughters, grandmothers and granddaughters, between friends across kitchen tables and over coffee at college campuses. The truth is being told. Compassion is overcoming convenience and hope is defeating despair. In a word: life is winning in America because of all of you."



Kellyanne Conway said:
"It is such an honor to stand with the Vice President of the United States and with so many leaders, families, and students from places near and far to defend the unborn. Your courage, your conviction, your resolve and your faith are impressive and consequential. . . . It is no coincidence that the first right stated in the Declaration of Independence is the right to life. It is not a privilege. It is not a choice. It is God-given. . . . This is a new day, a new dawn for life. . . . To the March for Life 2017, allow me to make it very clear: we hear you, we see you, we respect you, and we look forward to working with you. And, yes, we walk, we march, we run, and we endeavor forward with you."



Susan B. Anthony List President Marjorie Dannenfelser, onsite at the March for Life, offered the following comment in response:
"Today's pro-life march is a very clear and unified call to protect unborn children and mothers. It comes from a diverse group: conservative, liberal, young, old, believers, non-believers. It grew organically over decades out of frustration with the Roe v Wade and Doe v Bolton mandate of abortion on-demand, up until birth. The March for Life is not a singular burst of energy. It is a consistent and persistent insistence that our government live up to our nation's promises to the vulnerable and those who live in the shadows.




"We are so proud of our friends and longtime allies Vice President Pence and presidential adviser Kellyanne Conway. Being pro-life and speaking out for the voiceless is part of their core beings. Their leadership in the White House is an outward sign of the strength of the pro-life movement. It is why pro-life grassroots nationwide worked so hard to elect this administration. Together, we are in position to make great gains, but only if we see the mission through. President Trump has made four

commitments

 to the pro-life movement but all require the continued involvement of activists across the country, calling on their representatives and Senators, to make it happen. The mandate laid out at the election must continually be repeated."




(from Susan B Anthony List)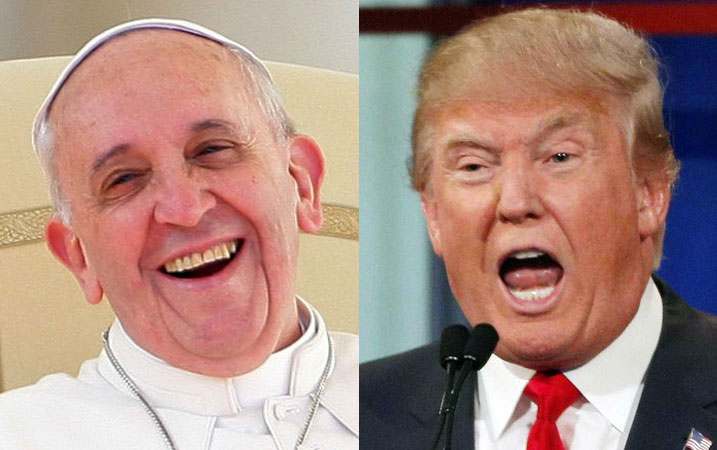 Some people may well believe that there is some sort of war of words brewing between Pope Francis and the outspoken Republican Presidential hopeful Donald Trump.  Trump hasn't shied away from criticising the pope's recent visit to Mexico, suggesting that the pope doesn't appreciate the problems of an open border between the United States and Mexico.  He has also claimed that the pontiff is becoming a "political person".
What Trump doesn't appreciate is that, while the pope may not appreciate the perceived difficulties Trump has with the lack of a concrete wall between Mexico and the US, he does appreciate the need for unity over division, even when this means we may lose a little as a result.  Pope Francis has already expressed caution about division when asked about the potential
independence of Catalonia, La Padania and Scotland in 2014
, stating that: "You have to study each case individually. There will be cases that are just and others that are unjust, but the secession of a nation without a history of forced unity has to be handled with tweezers and analysed case by case."  At the end of the day, as a man of Christ, Pope Francis wants unity.  He is not stupid enough to think that unity can be achieved in all cases.  He admits that much.  But in most cases unity will be the sensible option and I believe that this is the case with Mexico and the United States.  And while they may be two distinct countries, the building of some kind of grand concrete monstrosity between them seems archaic and almost childlike.  It's the type of kingdom building you expect to see in an X-box game, not in real life.
In terms of the pope as a "political person".  The pope must be politically astute as must the Church, especially in an increasingly secular relativist world where God is being increasingly pushed to the sidelines and beyond.  The pope must also have an opinion on political matters where the ideologies of our politicians threaten the good of humanity and our world.  Abortion is an example of this, as is unnecessary division between peoples, as is the case here.
While the pope hasn't to my knowledge directly referred to Donald Trump there is no doubt he has ruffled the businessman's feathers.  But then who hasn't?  Trump may well become the most powerful man in world politics and he may even fulfil his dream of building a wall between Mexico and his own land of the free (ironic isn't it?).  But so long as the Church established by the master of unity himself, Jesus Christ, is still in existence Mr Trump's divisive playground tactics will always be scrutinised and put firmly in their place.  As the pope said: ""a person who thinks only about building walls... and not of building bridges, is not Christian".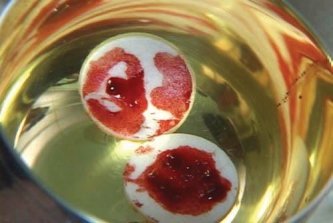 The Eucharistic Miracle of Buenos Aires
The National Catholic Register has reported a possible Eucharistic miracle in the Diocese of Salt Lake City, USA. 
It is reported that a host started to bleed at St Francis Xavier Church in Kearns, Utah during November.
As is standard in such situations, the substance will be subjected to a simple blood test to establish whether the blood is human.  The Church, which adopts a cautious reverence in the case of possible miracles, will then proceed to instruct further tests to ensure that there are no other explanations.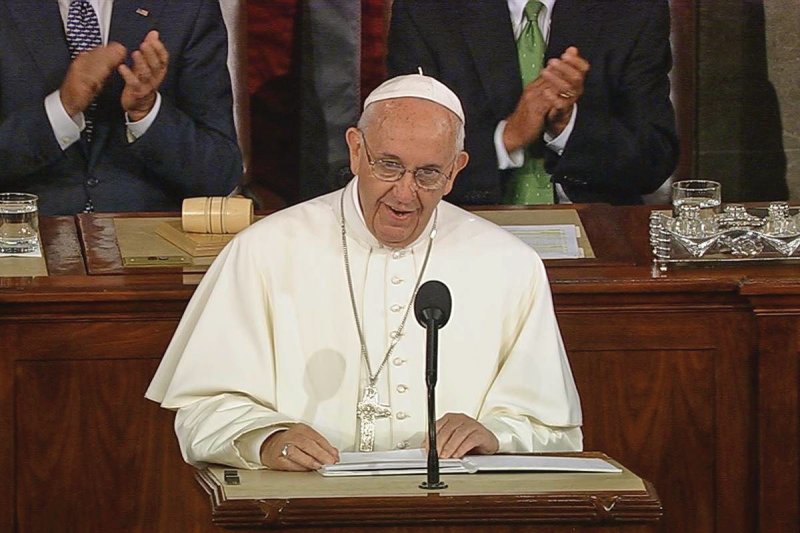 The pope received several standing ovations in Congress
Pope Francis, in his historic address to US Congress, has urged the world to follow Christ's Commandment of love.  The pope used the opportunity to tackle critical issues such as the dignity of human life, the death penalty and the refugee crisis.  He also addressed recent attacks on marriage and family life, and his concerns that the very basis of the family and marriage is being called into question. 
Here are the main quotes from the pope's address to USC ongress this afternoon:
Pope Francis on the golden rule:
"Let us remember the golden rule: do unto others as you would have them do unto you."
On the dignity of human life:
We must "protect by means of the law, the image and likeness fashioned by God in every human life."
We must recognise the "transcendent dignity of the human being".
"The golden rule [to do unto others as you would have done unto you] also reminds us of our responsibility to protect and defend human life at every stage of its development."
On the family:
"The family should be a recurrent theme….how essential the family has been to the building of this country.  I cannot hide my concern for the family which is threatened, perhaps as never before from within and without.  The very basis of the family and marriage is being called into question."
"I can only reiterate the importance and, above all, the richness and the beauty of family life."
"I would like to call attention to those family members who are most vulnerable, the young.  Their problems are our problems.  Our young people are precious."
"We live in a culture that threatens young people not to start a family."
On the death penalty:
"Let's abolish the death penalty here and everywhere. No punishment should exclude hope or the possibility of conversion."
On politics and society:
"Preserve and defend the dignity of your fellow citizens in pursuit of the common good."
"We are all worried by the disturbing social and political situation of the world today."
"It can be no more us vs them. We must confront every kind of polarisation. Our response must be hope and healing, peace and justice."
"Safeguard religious freedom, intellectual freedom, and individual freedom.  We must be specially attentive to every type of fundamentalism."
"Politics must be used to build the common good."
"It's my duty to build bridges and help all men and women to do the same."
"We have to ask ourselves: why are deadly weapons being sold to those who plan to inflict untold suffering on individuals and society?"
"It is our duty to confront the problem and stop the arms trade."
On the elderly:
The elderly are the "storehouse of wisdom".
On the refugee crisis:
"We must view them as persons, seeing their faces, listening to their stories, and try to respond as best we can."
On poverty:
"The fight against poverty and hunger must be fought constantly and on many fronts, especially in its causes."
On business:
"Business is a noble vocation, especially in its creation of jobs to the common good."
On the environment:
"I'm convinced that we can make a difference, I'm sure."
"We have an obligation to our future generations. The time is now."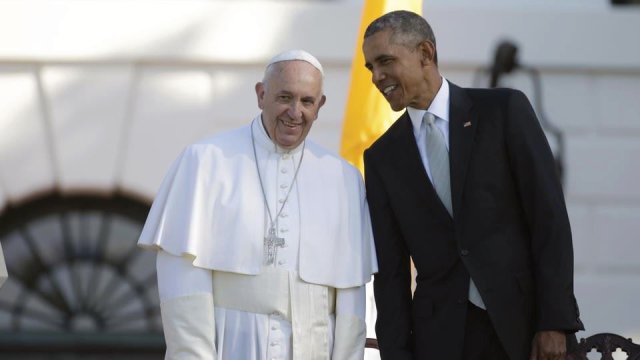 The first few days of Pope Francis' visit to the United States have been fascinating, not least because of his clever tactics in putting US President Barack Obama firmly, yet politely, in his place.
The depth of Obama's hypocrisy on religious freedom simply cannot be underestimated following his welcome speech to the pope on the south lawn of the White House. Obama, ever the impressive statesman, spoke of how "here in the United States, we cherish religious liberty" and promised the pope that "we stand with you in defence of religious freedom and interfaith dialogue, knowing that people everywhere must be able to live out their faith free from fear and intimidation."
It does actually sound very good, but the reality is this man is head of perhaps the most anti-religious administration ever seen in the United States; a fact not lost on the Holy Father.  Consider the pope's response to the president: "Mr President, together with their fellow citizens, American Catholics are committed to building a society which is truly tolerant and inclusive, to safeguarding the rights of individuals and communities, and to rejecting every form of unjust discrimination. With countless other people of goodwill, they are likewise concerned that efforts to build a just and wisely ordered society respect their deepest concerns and their right to religious liberty. That freedom remains one of America's most precious possessions. And, as my brothers, the United States Bishops, have reminded us, all are called to be vigilant, precisely as good citizens, to preserve and defend that freedom from everything that would threaten or compromise it."
The pope's final words suggest that while President Obama is confident that his country respects the rights of religious people, the pope doesn't necessarily share his view. 
But here is the best part. Shortly after meeting Mr Obama, the pope decided to make an unscheduled stop to the convent of the Little Sisters of the Poor.  The significance of this? The Little Sisters are currently pursuing an action against the Obama administration for forcing them to comply with the HHS Mandate (also knows as 'Obamacare'), a Mandate which forces companies and groups (including the Little Sisters) to provide contraception through employee insurance plans. And let's not forget that President Obama and the wider Democratic community recently vowed not to make it a crime for a person to kill a baby born following a failed abortion  This, brothers and sisters, is Obama's idea of a country that cherishes "religious liberty."
The pope, who told Bishops yesterday that nobody can turn away from the evil of abortion, is already making some shrewd moves in the States. But then, we shouldn't be surprised, even when we are faced with the quiet exterior of this humble little man from Argentina. He is a man who burns with the fire of his Catholic faith, and he is undoubtedly a man with a plan.  Perhaps it hasn't yet dawned on President Obama that he is up against the successor to Peter and Vicar of Christ.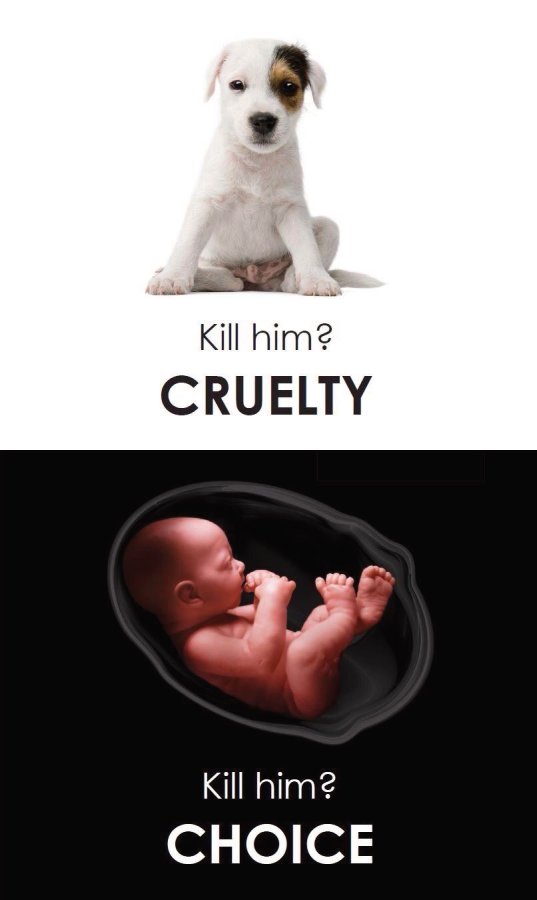 I have become quite intrigued by the significant increase in news stories about animals in recent times, particularly in mainstream media outlets.  I might be forgiven for thinking it stems from the furore over Cecil the Lion but I'm fairly certain it was all happening before the story of the now famous Cecil broke.
And although it would be fair to say that these stories are indeed of some interest it is quite disturbing that they seem to rank ahead of the wellbeing of human beings in the headline pecking order.  Consider one of the main stories over in the United States right now, that of Planned Parenthood and the serious allegations against them that they are selling aborted baby body parts for profit.  Not only that but there is now evidence that they are tearing apart foetuses and removing their brains whilst they are still alive.  
But alas this simple little tale of human woe is not deemed to be in the interests of the British public. Well not as far as the mainstream media is concerned.  The BBC it seems only has interests in the non-human variety of creature, preferring to focus on the plight of African lions, dogs left at the side of the street or the horror of a Fife man allegedly selling leopard parts.  The plight of the tiniest, most vulnerable human beings is supposedly not worthy of our attention.  Do you see how ludicrous that is?
For some reason the UK media does not want to tackle the issue of abortion.  They do not want to reveal the brutality of the abortion industry and what it really does to people.  Whether this is down to money or fear of pro-choice activists I really don't know. But whatever the reason, the lack of coverage is deeply disturbing.
And while the media must take its fair share of the blame it only dishes out what it thinks the people want to hear.  So please, express your concern with the mainstream media outlets and encourage them to cover atrocities against humanity such as the Planned Parenthood scandal. Social media has made this all the easier!  There is no way on this earth that this story should not be covered by the main media outlets in the UK.  There is simply no excuse for its lack of coverage, especially in the face of a surge in animal welfare stories.  It is up to us to make our voices heard so that the media wake up to the clear inhumanity of the abortion procedure.
I ask you this....what on earth is this damned world coming to when the welfare of a lion or a dog is deemed more important than a human being?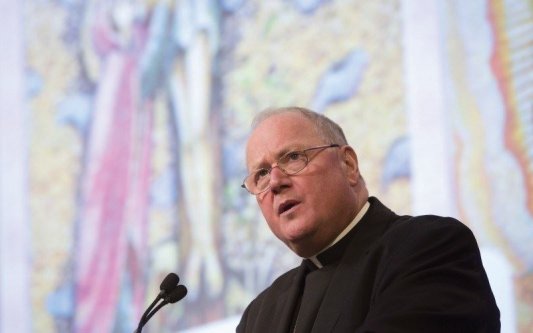 Cardinal TImothy Dolan
A number of distinguished speakers including Cardinal Timothy Dolan descended on the Steubenville youth conference in New York earlier this month to speak to 2,000 young people about the Catholic faith.
The youth were encouraged to live their faith openly and to be prepared to make more difficult decisions as they get older, including whether or not to have a relationship with God. They were also warned against cherry-picking their faith in order to try and justify their behaviour.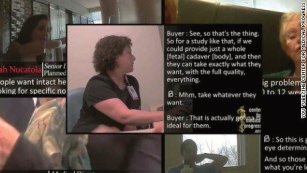 The CMD videos are causing quite a stir, and rightly so
American journalist Ruben Navarrette Jr has been a supporter of abortion rights for the last 30 years. 
But even he admits that his pro-choice values are being severely tested by the release of undercover videos showing the reality of the abortion process within the four walls of Planned Parenthood.
The videos, recorded and released by the Center for Medical Progress, has caused a storm across the United States and Navarrette Jr admits he has some thinking to do.  "For those of us who are pro-choice, the Planned Parenthood videos are a game changer" admits Navarrette.  He admitted to being scolded by his wife, who is pro-life, and that she read out the riot act to him on the back of the videos.  "You can't stand on the sidelines, not now that you've seen these videos" she said.  "These are babies that are being killed.  Millions of them.  And you need to use your voice to protect them.  That's what a man does.  He protects children - his own children, and other children.  That's what it means to be a man."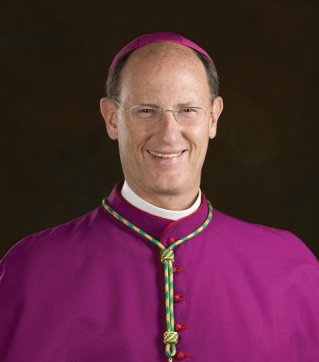 Bishop James Conley
Five American Bishops have responded to the recent Planned Parenthood videos which show the company dealing in the body parts of aborted babies.
Cardinal O'Malley and Bishops Paprocki, Vasa, Tobin and Conley all express their own personal view on the tragedy.
Perhaps my favourite quote is from Bishop Conley.  He said: "Anyone who can casually discuss tearing children to shreds while having lunch and a good cabernet is a victim of the father of lies."
/