Shopping Cart
Your Cart is Empty
There was an error with PayPal
Click here to try again
Thank you for your business!
You should be receiving an order confirmation from Paypal shortly.
Exit Shopping Cart
Calling Scotland's 841,000 Catholics to unite as one voice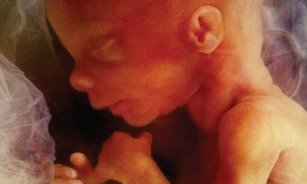 Why should we be afraid to speak up for this little one?
It was no surprise to see US President Barack Obama hogging the headlines yesterday in order to make his big pitch for a greener United States. This was, after all, the day on which the true evil of his great friend Planned Parenthood was debated in the Senate.
It was extremely sad, but at the same time fascinating, to watch the heated exchanges around the sale of baby body parts and the wider issue of abortion so passionately debated at this level for around three and a half hours.  The Republican side very much in favour of defunding Planned Parenthood; the Democrats preferring to retain the existing arrangement.  It made me a tad jealous when I think of the lack of passionate debate on the matter here in the UK.  While I firmly believe there are a number of pro-life politicians here in the UK, they appear too unwilling to stick their head above the parapet and speak up for the unborn.  Our country has become so secularised and so entrenched in a misplaced and misguided view of so called 'equality' that people are afraid to say even the slightest thing out of turn.  Not so in the US.  Their elected members are quite comfortable expressing their pro-life views and the views of the people they represent, even if it means speaking out against abortion in no-nonsense terms. 
Last year I wrote to former Scottish Labour leader Jim Murphy to express my deep disappointment at his claim to be a man of the Catholic faith yet also a man who believes in a woman's right to have an abortion.  The two don't go.  You cannot square being true to the ways of Jesus Christ and his Church at the same time as agreeing that another person should be entitled to make the decision that an unborn child should die.  Mr Murphy never responded to my letter.  But then, is this a surprise?  Of course it isn't.  Mr Murphy is just like so many others.  He simply doesn't have the guts to stand up for what is right. 
We have been fooled into thinking that it is not appropriate to tell people that we believe that human life begins from the moment of conception and that we believe all human life, including the unborn, should be protected.  We have also been fooled into thinking that being pro-life is simply a far right, conservative religious stance and is, therefore, of little worth to society at large. But this simply is not true. Consider the growing number of secular and atheist pro-life groups appearing on Twitter and Facebook. Indeed the entire pro-life case can be argued to great effect without any reference whatsoever to religion (consider Trent Horn's book Persuasive Pro-Life for proof of this).  So, should we be afraid to be open about our pro-life views?  Certainly not!  Consider this….is it really weird and unreasonable to hold the view that we believe all human life is deserving of the same protection, no matter how big or small that human life may be?  That is the basic argument we are putting forward.  Isn't it an incredibly reasonable proposition?
Yes, it would be fair to say that there are various ancillary arguments around the abortion debate such as an individual's right to choose and the consequences of bringing children into social deprivation, but the end game is always the same.  It boils down to 'what is the unborn'?  If the unborn is a human being then society is obliged to protect it as much as it protects born people.  If it isn't a human being (and presumably just a blob of tissue) then aborting it is no more serious than cutting off a toenail.  As Greg Koukl once wrote: "If the unborn is not a human person, no justification for abortion is necessary.  However, if the unborn is a human person, no justification for abortion is adequate."
In trying to figure out the answer to the question 'what is the unborn?' consider Steve Wagner's '10 second pro-life apologist' argument: if it's growing, isn't it alive?  If it has human parents, isn't it human?  And human beings like you and me are valuable, aren't we?.  It's very simple, but it does make a very important point.
Perhaps it's time for all of us, politicians included, to really think about the unborn and what they really are.  If they are human beings then surely we all have an obligation to protect them from day one and to stand up for them and their most fundamental right to life.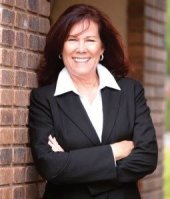 Kathleen Eaton Bravo is herself a post-abortive mother
Obria medical clinics.  Never heard of them?  That's understandable, because they only exist in the United States.  But these clinics are fast becoming abortion giant Planned Parenthood's worst nightmare as they fight against the anti-life tide to offer people an alternative to abortion.
Kathleen Eaton Bravo, who founded Birth Choice more than thirty years ago and who is credited with kickstarting the Obria model, says that Obria has gone from saving around four babies in 2006 to almost 1,000 in 2014; and this appears to be having a negative impact on the number of abortions performed at Planned Parenthood.  Bravo says: "As I started doing research and talking to the young people coming into our clinics, they said, 'I went to Planned Parenthood. I'm just a number. But I come over here, and you sit down with me and don't have an agenda. I'm telling all my friends about you.  And before we knew it, we were seeing over 13,000 patients in those three little clinics."
The clinics offer a number of professional services for both women and men when it comes to pregnancy, including pregnancy tests, ultrasounds, and advice on natural family planning.  The inclusion of the father is critical in the Obria model and is very much at odds with Planned Parenthood and the general secular view that pregnancy is nothing to do with men.
Obria professionals are prepared to discuss the topic of abortion with those who attend their clinics but the focus is very much on alternatives to abortion and no Obria clinic offers abortion services.  Neither do they provide any form of contraceptive.
In this sense Obria is very much a beacon of hope for the pro-life movement as it lines up against the abortion conveyor belt that is Planned Parenthood.  Bravo has plans to take the model throughout the United States and encourages existing pregnancy centres to consider Obria's franchise option.  We can only hope Obria decides to make the leap across the Atlantic to bring hope to the United Kingdom.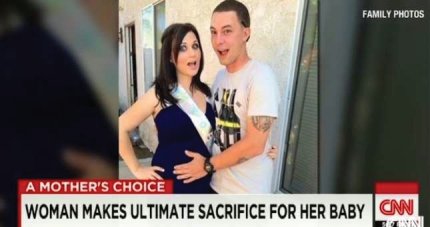 Ashley Caughey and partner Jonathan
A young pregnant American woman has shown incredible courage in the face of pain and adversity by continuing with her pregnancy and eventually giving birth to her baby daughter, despite being diagnosed with cancer.  For many, the potential for chemotherapy causing damage to the child would be enough for them to abort, but Ashley Caughey had different ideas.  Indeed Ashley decided that, rather than risk damage to her baby, she would delay cancer treatment until the baby was born.
Ashley says: 'It wasn't a choice to me. It was like this is what needs to be done. She's first. I'm not going to kill a healthy baby because I'm sick. There's nothing wrong with her. Her life is just as important as mine if not more important. I mean as a mother my job is to protect my kids.'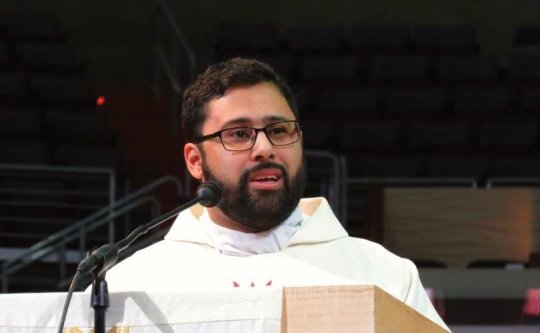 Father Mario Majano
Father Mario Majano, a 28 year old Catholic priest from Washington DC, recently brought a 15,000 strong crowd to its feet during the Verizon Centre Mass for Life event in the capital.  The Mass was a follow-on from last week's March for Life which attracted hundreds of thousands of people.
Father Majano's story is one which brought tears to many people in the huge audience, but it was the tears of one woman in particular which made the headlines.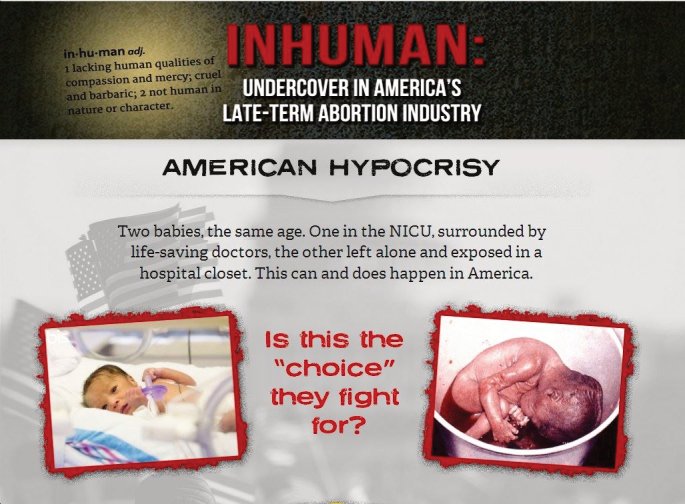 The reality of late-term abortion in the United States has been exposed in this undercover video by Live Action.
Their production, titled 'Inhuman', has gone viral and is changing hearts and minds across the world as it brings home the reality of abortion.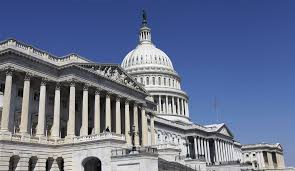 The religious composition of the 114th United States Congress (House of Senate and House of Representatives) has been revealed and it confirms once again that Christianity is the dominant faith in US politics.
Congress, which will have a Republican majority in both chambers of the legislative body for the first time since 2006, is 92% Christian (including 57% Protestant and 31% Catholic). 
Interestingly, those members who claim to be religiously unaffiliated is 0.2% (just one member).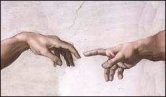 A recent YouGov poll has unearthed an astonishing difference in attitudes between British people and American people when it comes to the origins of life. 
In answer to the question 'How do you personally think life on Earth began originally?' a paltry 15% of Brits polled said that life was created by God.  This is compared to a much more respectable 53% of Americans.
In another interesting statistic, 19% of the Britons polled said that life was brought to earth by an older, alien civilisation from elsewhere in the universe.  10% of Americans polled believed in this explanation.   
The results are a damning indictment on the state of religion in the UK today, especially Christianity which is believed to be the most prominent religion on our shores.  However, it undoubtedly ties in with a significant downward trend in faith in the UK in recent years, with more and more people turning away from God and dipping into new age and relativist cultural movements.
Yet while this is the case in the UK, it is clearly not the case in the United States.  Why?  I would hazard a guess that people are more comfortable speaking about their faith in the US.  They tend to be more inclined to be open about God and have infinitely more Christian influence on their TV sets, radio and local web pages because people are more willing to take on such valuable ministries.  They are also not afraid to have public conversations about faith; to tackle the big issues head on.  All of this reinforces confidence in faith. 
Here in the UK the Christian influence is not so widespread and people do appear to be less comfortable talking about God; often preferring to speak in more relativist tones, encouraging people to be at peace with the self first and foremost, and to then try to roll it out to all people in a seeming spirit of inclusiveness and equality.  And while inclusiveness and equality are positives, we can never use it as a cover to exclude God.
This is a serious wake-up call for the United Kingdom.  It appears that we can no longer speak about a 'general' Christian culture in the western world.  Rather, we have a two-tier culture of western Christianity, with countries like the United States striding ahead with a clearly stronger belief in God and His Creation, where faith is built on rock.  And then we have places like the United Kingdom, an island cocoon of relativist self-absorption where faith is increasingly built on sand, lagging way behind.
/