Shopping Cart
Your Cart is Empty
There was an error with PayPal
Click here to try again
Thank you for your business!
You should be receiving an order confirmation from Paypal shortly.
Exit Shopping Cart
Calling Scotland's 841,000 Catholics to unite as one voice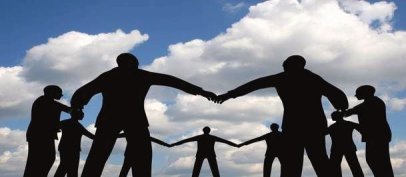 Sunday's Second Reading (Galatians 3:26-29):
'You are, all of you, sons of God through faith in Christ Jesus. All baptised in Christ, you have all clothed yourselves in Christ, and there are no more distinctions between Jew and Greek, slave and free, male and female, but all of you are one in Christ Jesus. Merely by belonging to Christ you are the posterity of Abraham, the heirs he was promised.'
This Sunday's second reading reveals a teaching that is fundamental to the Christian life, that of unity.  Jesus Christ unites.  He doesn't desire to separate or divide.  Rather, his intention is to bring all people together in his name so that he can one day bring them to share in the glory of the Kingdom of God.
Do we unify people?  Do we seek to be at one with others as we go about our daily lives?  Or do we create divisions through pride, selfishness and cynicism? 
Christ's love demands unity, not division.  If we love as Christ loves, we will unite.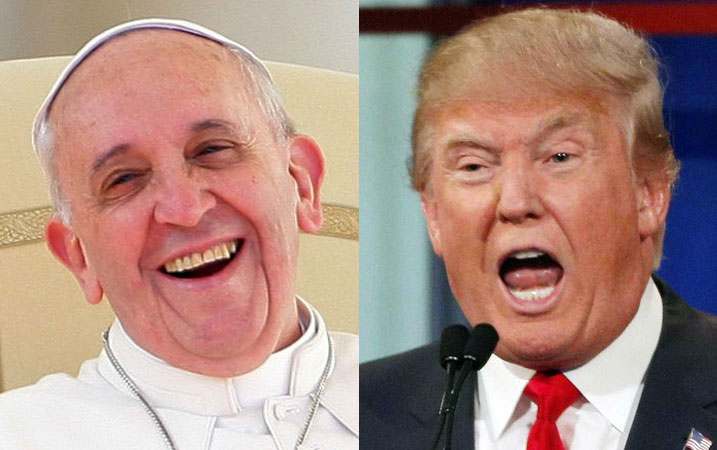 Some people may well believe that there is some sort of war of words brewing between Pope Francis and the outspoken Republican Presidential hopeful Donald Trump.  Trump hasn't shied away from criticising the pope's recent visit to Mexico, suggesting that the pope doesn't appreciate the problems of an open border between the United States and Mexico.  He has also claimed that the pontiff is becoming a "political person".
What Trump doesn't appreciate is that, while the pope may not appreciate the perceived difficulties Trump has with the lack of a concrete wall between Mexico and the US, he does appreciate the need for unity over division, even when this means we may lose a little as a result.  Pope Francis has already expressed caution about division when asked about the potential
independence of Catalonia, La Padania and Scotland in 2014
, stating that: "You have to study each case individually. There will be cases that are just and others that are unjust, but the secession of a nation without a history of forced unity has to be handled with tweezers and analysed case by case."  At the end of the day, as a man of Christ, Pope Francis wants unity.  He is not stupid enough to think that unity can be achieved in all cases.  He admits that much.  But in most cases unity will be the sensible option and I believe that this is the case with Mexico and the United States.  And while they may be two distinct countries, the building of some kind of grand concrete monstrosity between them seems archaic and almost childlike.  It's the type of kingdom building you expect to see in an X-box game, not in real life.
In terms of the pope as a "political person".  The pope must be politically astute as must the Church, especially in an increasingly secular relativist world where God is being increasingly pushed to the sidelines and beyond.  The pope must also have an opinion on political matters where the ideologies of our politicians threaten the good of humanity and our world.  Abortion is an example of this, as is unnecessary division between peoples, as is the case here.
While the pope hasn't to my knowledge directly referred to Donald Trump there is no doubt he has ruffled the businessman's feathers.  But then who hasn't?  Trump may well become the most powerful man in world politics and he may even fulfil his dream of building a wall between Mexico and his own land of the free (ironic isn't it?).  But so long as the Church established by the master of unity himself, Jesus Christ, is still in existence Mr Trump's divisive playground tactics will always be scrutinised and put firmly in their place.  As the pope said: ""a person who thinks only about building walls... and not of building bridges, is not Christian".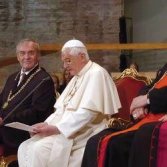 Pope Benedict at the University of Regensburg
When Pope Benedict started speaking at the University of Regensburg in 2006 there was little clue as to the controversy that was about to unfold.  The pope would use the lecture to respond sternly to increasing instances of violence by Islamic extremists across the globe, a move that many westerners felt most uncomfortable with.
While I would not wish to delve into the intricacies of Pope Benedict's lecture, his fundamental message with regard to Islam is that, unlike Christianity, Islam (or at least some of its members) does not appear to link God to reason.  This, Pope Benedict suggested, could lead to fundamentalism. He was quick to state that he was not saying the Muslim God is insane or irrational but, rather, that he is not bound by a reason accessible to human beings.
The pope, in an attempt to make sense of what he was teaching, used a late 14th century quotation from the Byzantine Emperor Manuel II Paleologus: "Show me just what Mohammed brought that was new, and there you will find things only evil and inhuman, such as his command to spread by the sword the faith he preached."
It's quite a quote!  But fast forward to this very day, in the wake of the horrific attacks in the city of Paris, and you begin to see what Pope Benedict was getting at.  Like so many popes before him, including Paul VI, John XXIII and John Paul II, Pope Benedict was not afraid to tackle the big issues head on and ultimately get it right. 
Of course, this isn't the whole story.  While the mainstream media were frantically thinking up headlines to make the pope look like some kind of anti-Islamic barbarian, he gave some crucial context to his use of the quote when he added more words of the Emperor Manuel.  He said: "The emperor goes on to explain in detail the reasons why spreading the faith through violence is something unreasonable….violence is incompatible with the nature of God and the nature of the soul." He then added: "God is not pleased by blood, and not acting reasonably is contrary to God's nature. Faith is born of the soul, not the body. Whoever would lead someone to faith needs the ability to speak well and to reason properly, without violence and threats. ... To convince a reasonable soul, one does not need a strong arm or weapons of any kind or any other means of threatening a person with death ..."
It is important to clarify, as Pope Benedict did, that the roots of such extremist violence come from a perversion of the Islamic faith and not from Islam's authentic theology.
And while so many in the western world cringed at the words of Pope Benedict, more than 100 Muslim scholars from around the world signed an open letter wherein they respectfully took on board the comments made in the pope's Regensburg lecture.  Perhaps even more remarkable is that King Abdullah of Saudi Arabia would visit Pope Benedict in Rome a year later and he would, in 2008, organise an interfaith conference to which he invited Christians, Muslims, Jews, Buddhists and Hindus in an effort to tackle religious extremism.
As Pope Benedict suggested in his lecture, the first victims of Islamic extremism are Muslim people themselves.  It then spreads to other peoples, other religions and other countries, and before we know it, every part of the world is on edge fearing the next attack.
No religion can justify the use of such violence as that being wrought by Islamic State at present, be it in Paris, Syria or Africa, where so much damage is done on a daily basis with little coverage from the western mainstream media.  We need strong leadership from religious leaders as well as from political leaders. We also need strong religion from those who profess their faith in a peaceful way, be they Muslim, Christian, Jewish, Buddhist, and also those of no faith who live by peaceful means. 
As Christians, we need to show the world what living a life of faith is really about.  For us, it is about praising God by loving Him and by loving all of our brothers and sisters with whom we share our planet.  And while we may often fail in that regard, we must never forget that this is what Christianity teaches us and that is the message we must take to the ends of the earth.  There is no place for violence in our religion.  Pope Benedict, despite being ridiculed and derided by many in the western world, wasn't afraid to stand up for peace by speaking out against violence. We should be similarly brave in our approach.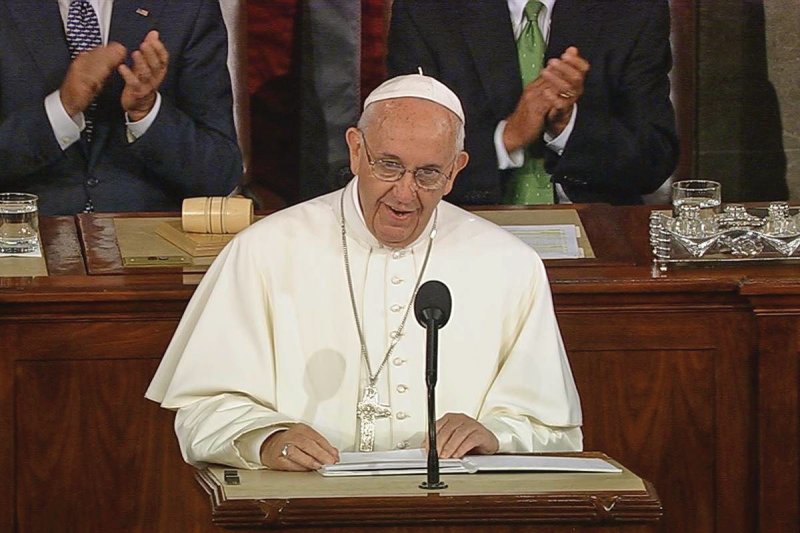 The pope received several standing ovations in Congress
Pope Francis, in his historic address to US Congress, has urged the world to follow Christ's Commandment of love.  The pope used the opportunity to tackle critical issues such as the dignity of human life, the death penalty and the refugee crisis.  He also addressed recent attacks on marriage and family life, and his concerns that the very basis of the family and marriage is being called into question. 
Here are the main quotes from the pope's address to USC ongress this afternoon:
Pope Francis on the golden rule:
"Let us remember the golden rule: do unto others as you would have them do unto you."
On the dignity of human life:
We must "protect by means of the law, the image and likeness fashioned by God in every human life."
We must recognise the "transcendent dignity of the human being".
"The golden rule [to do unto others as you would have done unto you] also reminds us of our responsibility to protect and defend human life at every stage of its development."
On the family:
"The family should be a recurrent theme….how essential the family has been to the building of this country.  I cannot hide my concern for the family which is threatened, perhaps as never before from within and without.  The very basis of the family and marriage is being called into question."
"I can only reiterate the importance and, above all, the richness and the beauty of family life."
"I would like to call attention to those family members who are most vulnerable, the young.  Their problems are our problems.  Our young people are precious."
"We live in a culture that threatens young people not to start a family."
On the death penalty:
"Let's abolish the death penalty here and everywhere. No punishment should exclude hope or the possibility of conversion."
On politics and society:
"Preserve and defend the dignity of your fellow citizens in pursuit of the common good."
"We are all worried by the disturbing social and political situation of the world today."
"It can be no more us vs them. We must confront every kind of polarisation. Our response must be hope and healing, peace and justice."
"Safeguard religious freedom, intellectual freedom, and individual freedom.  We must be specially attentive to every type of fundamentalism."
"Politics must be used to build the common good."
"It's my duty to build bridges and help all men and women to do the same."
"We have to ask ourselves: why are deadly weapons being sold to those who plan to inflict untold suffering on individuals and society?"
"It is our duty to confront the problem and stop the arms trade."
On the elderly:
The elderly are the "storehouse of wisdom".
On the refugee crisis:
"We must view them as persons, seeing their faces, listening to their stories, and try to respond as best we can."
On poverty:
"The fight against poverty and hunger must be fought constantly and on many fronts, especially in its causes."
On business:
"Business is a noble vocation, especially in its creation of jobs to the common good."
On the environment:
"I'm convinced that we can make a difference, I'm sure."
"We have an obligation to our future generations. The time is now."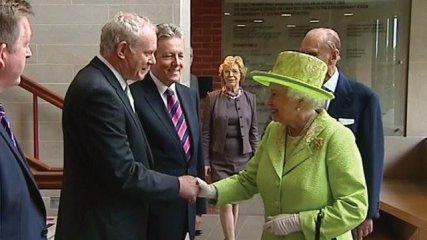 Martin McGuinness greets Queen Elizabeth II
There have been incredible images coming from Galway, Ireland today as Queen Elizabeth II and her son Prince Charles met with Gerry Adams and Martin McGuinness.
The parties shook hands and exchanged words in a unique and groundbreaking encounter that would have been unimaginable just a few years ago.
This is what can happen when we allow Christ's love to reign in our hearts.  We suddenly embrace the ability to forgive, to break down barriers and overcome division.  We become one people.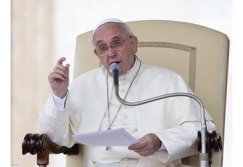 Pope Francis has condemned gossip on numerous occasions
"I tell you, on the day of judgement you will have to give an account for every careless word you utter; for by your words you will be justified and by your words you will be condemned"
Matthew 12: 36
More than any other Pope in the past, Pope Francis warns us frequently to guard against gossip.  He has talked of how gossip is a powerful tool of the devil and has even admitted to being tempted to gossip himself.  He states: "It begins this way, discreetly, like a trickle of water.  It grows by infecting others and in the end it justifies itself."
So what exactly is gossip?  And why does the Holy Father have such an issue with it?  Surely it is just harmless talk and can even strengthen bonds between us and those we are talking to?  It is important that we are clear on what we mean by 'gossip' so we can easily spot it discreetly working its way into our hearts.  And it is also important to be sure of what it is lest we become overscrupulous and falsely accuse ourselves of being a gossip.
As always, it serves us well to turn to the Catechism of the Catholic Church for answers and, regarding conversation, it states:
Respect for the reputation of persons forbids every attitude and word likely to cause them unjust injury. He becomes guilty:
· of rash judgement who, even tacitly, assumes as true, without sufficient foundation, the moral fault of a neighbour;
· of detraction who, without objectively valid reasons, discloses another's faults and failings to persons who did not know them;
· of calumny who, by remarks contrary to the truth, harms the reputation of others and gives occasion for false judgements concerning them.
Gossip therefore can be harmless if it does not disrespect another's reputation and if it does not keep you from attending to your other responsibilities.  But it can become harmful when it leads you to rashly judge your neighbour, or damage their reputation among people who don't know them (even if what you are saying is true), or when you spread lies about them.  It places us on the seat of judgement, causing us to overlook the plank in our own eye and does other untold damage that we might never fully realise.
Our culture is bathed in gossip.  We need only to look at a gossip magazine or tabloid newspaper to appreciate how prevalent it is in society.  We should remember that celebrities are people too.  And I would suggest soap operas and other television programmes, although not technically gossip as of course the characters aren't real, may predispose us and lead us into the habit of this particular sin.
So perhaps in our examination of conscience we could consider the following points when thinking of a time we talked about someone; What was my reason for talking about them?  Was what I said true or was I rashly judging them?  Did I negatively colour the opinion of that person when talking about them to other people?  How would the person feel if they overheard what I said?  How would my comments reflect upon me if they were somehow recorded or published?  Did what I say bring me to a better understanding of the person and call me and others to love them more, or did it bring division?
May we pray for God's mercy for the times we have failed to uphold our neighbour's reputation and for His strength to resist all forms of gossip, as we say the words of St Francis of Assisi:
O Divine Master grant that I may not so much seek to be consoled as to console; to be understood as to understand; to be loved as to love.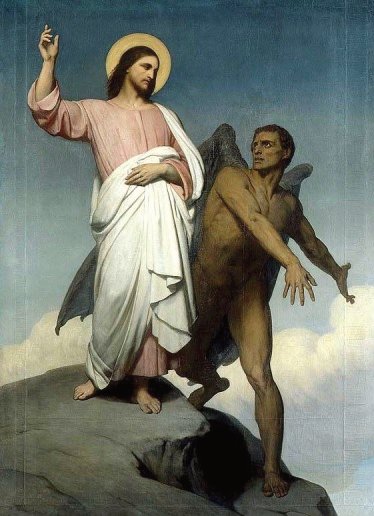 Sunday's Gospel (Mark 1:21-28):
'Jesus and his followers went as far as Capernaum, and as soon as the sabbath came he went to the synagogue and began to teach. And his teaching made a deep impression on them because, unlike the scribes, he taught them with authority.
In their synagogue just then there was a man possessed by an unclean spirit and it shouted, 'What do you want with us, Jesus of Nazareth? Have you come to destroy us? I know who you are: the Holy One of God.' But Jesus said sharply, 'Be quiet! Come out of him!' And the unclean spirit threw the man into convulsions and with a loud cry went out of him. The people were so astonished that they started asking each other what it all meant. 'Here is a teaching that is new' they said 'and with authority behind it: he gives orders even to unclean spirits and they obey him.' And his reputation rapidly spread everywhere, through all the surrounding Galilean countryside.'
It's not difficult to imagine evil in our world. It's all around us; wars, murder, violence, destruction.  Evil has enveloped our world and it can be experienced at almost every turn.  Yet,while it is easy to see evil and to experience it, do we really appreciate who is behind it?
While a willing human mind is perhaps necessary to carry out evil, it is the devil that is the source of evil; and he uses his power to force others to carry out his evil deeds in many different ways.  In today's Gospel passage he uses possession as a means to wreak havoc and to attack God.  In today's world possession by unclean spirits is still a reality and exorcisms occur throughout the world.  But the devil makes his presence felt in numerous other ways.  He destroys our love of life from the moment of conception until natural death by willing abortions and assisted suicide.  He chips away at the family by breaking it up and removing those critical elements of fatherhood and motherhood for every child.  He encourages gossip, cynicism, complaining and negativity among people.
The devil also comes to us in the most simple and innocent situations.  He encourages our laziness as we prepare for Mass on a Sunday; making us feel like the weekly trip to church is a chore rather than a joy.  He visits us in the evening just before we go to sleep and gently invites us to read another few pages of the latest thriller at the expense of our prayers.  He is not always forceful.  Indeed, his ways are often subtle and gentle; wooing us with a seeming beauty and elegance designed to capture our hearts and designed to thrill and excite.
The devil's intention is ultimately to come between us and God.  He is a fallen angel because he wanted to be God.  And given he cannot possibly be God he now wants to bring as much destruction to God's creation as he possibly can and the best way to do this is to turn God's own children against Him. 
However, he will never win as Christ has won the victory on the Cross.  Good has triumphed over evil and God can never be defeated.  But our hearts can still be won over by the devil and he is doing his very best to ensure that this happens to as many people as possible. As we prepare for our Lenten journey this year perhaps it would beuseful to try to discern the ways the devil tries to get at us.  If we can identify his evil habits then we can turn to Jesus and ask him to defend us so that our hearts are never won over by the devil and his destructive ways. We belong to God and to God alone. It is He who has given us life and it is to Him that we shall return at the end of time to be judged.  Make sure that judgement has a happy ending.  Don't let the devil have his way.  He wants you to fail so that you will be damned for all eternity.  Remember, you have Jesus on your side!  He is the only one who can save you from the devil's evil clutches. 
Keep your eyes fixed on Jesus and ignore the subtle temptations of the evil one.  Keep your heart fixed on Jesus and make sure that your destiny is Heaven, to be reunited with your Father who loves you more than you can ever imagine.
/