Shopping Cart
Your Cart is Empty
There was an error with PayPal
Click here to try again
Thank you for your business!
You should be receiving an order confirmation from Paypal shortly.
Exit Shopping Cart
Calling Scotland's 841,000 Catholics to unite as one voice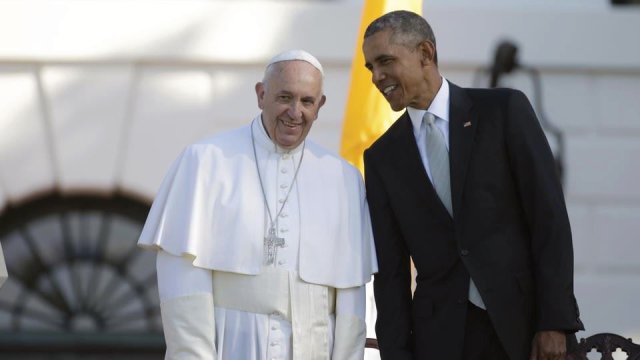 The first few days of Pope Francis' visit to the United States have been fascinating, not least because of his clever tactics in putting US President Barack Obama firmly, yet politely, in his place.
The depth of Obama's hypocrisy on religious freedom simply cannot be underestimated following his welcome speech to the pope on the south lawn of the White House. Obama, ever the impressive statesman, spoke of how "here in the United States, we cherish religious liberty" and promised the pope that "we stand with you in defence of religious freedom and interfaith dialogue, knowing that people everywhere must be able to live out their faith free from fear and intimidation."
It does actually sound very good, but the reality is this man is head of perhaps the most anti-religious administration ever seen in the United States; a fact not lost on the Holy Father.  Consider the pope's response to the president: "Mr President, together with their fellow citizens, American Catholics are committed to building a society which is truly tolerant and inclusive, to safeguarding the rights of individuals and communities, and to rejecting every form of unjust discrimination. With countless other people of goodwill, they are likewise concerned that efforts to build a just and wisely ordered society respect their deepest concerns and their right to religious liberty. That freedom remains one of America's most precious possessions. And, as my brothers, the United States Bishops, have reminded us, all are called to be vigilant, precisely as good citizens, to preserve and defend that freedom from everything that would threaten or compromise it."
The pope's final words suggest that while President Obama is confident that his country respects the rights of religious people, the pope doesn't necessarily share his view. 
But here is the best part. Shortly after meeting Mr Obama, the pope decided to make an unscheduled stop to the convent of the Little Sisters of the Poor.  The significance of this? The Little Sisters are currently pursuing an action against the Obama administration for forcing them to comply with the HHS Mandate (also knows as 'Obamacare'), a Mandate which forces companies and groups (including the Little Sisters) to provide contraception through employee insurance plans. And let's not forget that President Obama and the wider Democratic community recently vowed not to make it a crime for a person to kill a baby born following a failed abortion  This, brothers and sisters, is Obama's idea of a country that cherishes "religious liberty."
The pope, who told Bishops yesterday that nobody can turn away from the evil of abortion, is already making some shrewd moves in the States. But then, we shouldn't be surprised, even when we are faced with the quiet exterior of this humble little man from Argentina. He is a man who burns with the fire of his Catholic faith, and he is undoubtedly a man with a plan.  Perhaps it hasn't yet dawned on President Obama that he is up against the successor to Peter and Vicar of Christ.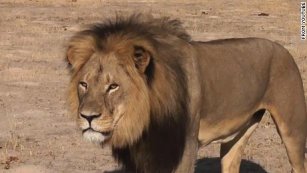 Cecil the lion.  He has been in the headlines quite a lot over the last few days and I suppose it is useful coverage for those who are against unnecessary animal cruelty.  Indeed I myself am very much against the unnecessary suffering of animals and think it should be avoided as much as possible.  It isn't nice for animals to suffer.  They are God's creation after all and although we have dominion over them we must still afford them a certain degree of respect for the part they play in our earthly dwelling.
Let us just consider the scene for a moment….Cecil was happy with his lot, just going with the flow of everyday life and enjoying another day in his comfortable surroundings.  He would no doubt be looking forward to whatever food he would receive that day, giving him the nourishment he needs to grow and become stronger.  Yet this day was different, very different.  Somewhere nearby there was a person who had very different thoughts on how Cecil's day was going to pan out.  As Cecil moved around in his cosy surroundings, little did he know someone was plotting his untimely death.  That day Cecil's life was brought to an abrupt end as he basked in the comfort of his familiar surroundings.  In fact, Cecil would have thought he was very safe in a place he knew well; he might even have thought it was the safest place in the world.  But sadly it became the most dangerous place for him that particular day.  Cecil's home became his grave.  Nobody heard Cecil's cries, or if they did, nobody seemed to care.  The decision had been made that Cecil must die.  Cecil had no say in the matter.  His rights it seems held no sway whatsoever.  He just had to accept his fate and within seconds the numerous possibilities that Cecil's life once held were extinguished, never to resurface again.  Cecil was gone.  Yes, it was that quick.  One second Cecil was alive, the next he was gone.
Pretty heartbreaking isn't it?  Now, repeating the above paragraph, take the word Cecil and replace it with the term 'the unborn baby'.
….
Pretty heartbreaking isn't it?  Yet there are essential differences with the public reaction to this story depending on the victim.  With Cecil the lion's death there is a massive public outcry and a media scrum of the highest order.  With the unborn baby's death there is nothing.  With Cecil the lion there is widespread condemnation for such an unnecessary death.  The unborn baby's death attracts no such condemnation.  With Cecil the lion there is horror and disgust.  The unborn baby's death is afforded no such reaction.  With Cecil the lion the public, at large, seems to care.  For the unborn baby the public, at large, is more concerned about Cecil the lion to care for his plight.
Please, speak up for the little ones.  Let's end abortion.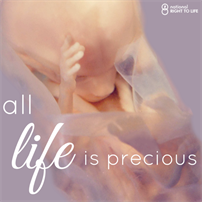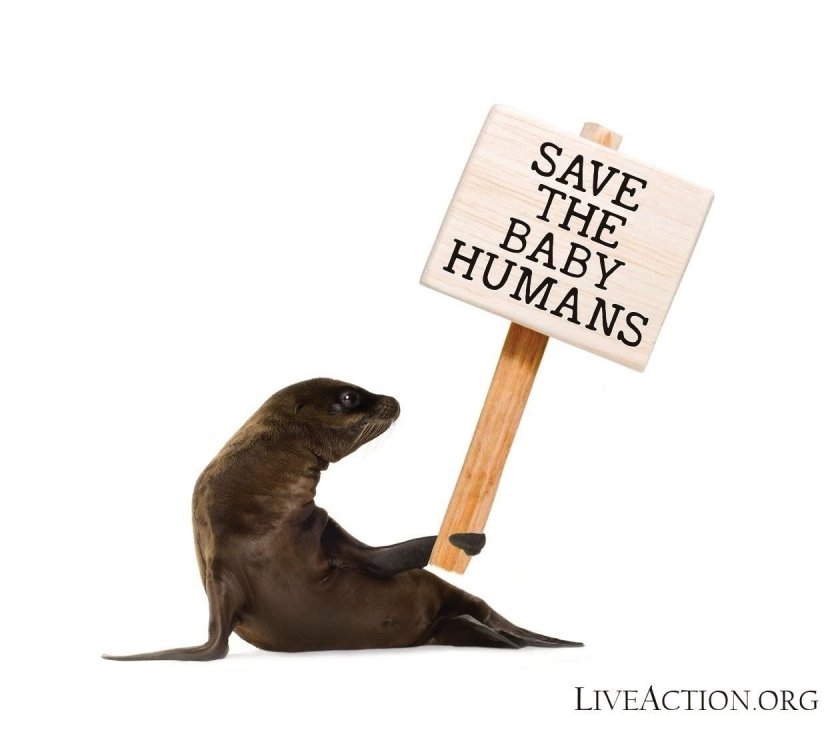 We are rightly abhorred when we read of cruelty to dogs and cats, or the unnecessary slaughter of whales, or the needless clubbing of seals.  These creatures are all part of God's creation after all.
But they are not human beings. They do not have that special place in God's plan which sets humanity apart from the rest.
It is undoubtedly easier in today's secular relativist world to cry foul on behalf of little innocent animals, but not so when it comes to tiny innocent human beings.
They need our voice. They need our voice more than the dogs, the cats, the whales and the seals. They are being slaughtered day after day after day by the callous society we have created.
Our task is simple....speak up for them.  Defend them.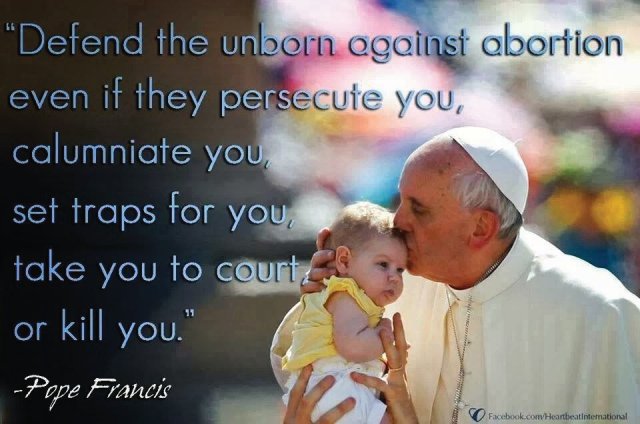 Sunday's First Reading (Wisdom 1:13-15, 2:23-24):
'Death was not God's doing,
he takes no pleasure in the extinction of the living.
To be – for this he created all;
the world's created things have health in them,
in them no fatal poison can be found,
and Hades holds no power on earth;
for virtue is undying.
Yet God did make man imperishable,
he made him in the image of his own nature;
it was the devil's envy that brought death into the world,
as those who are his partners will discover.'
Let's focus on the first two lines of this scripture passage.  Read them again and think about our world today. Consider the unnecessary death of the innocent in the womb, and the increased incidence of deaths among vulnerable and elderly people following the introduction of assisted suicide.  Consider the unnecessary deaths of people at times of war or at the hands of extremist groups like ISIS.  All of this death is unnecessary and God - as set out in today's passage - takes no pleasure in it.
And while God 'did make man imperishable', something which would become visible in the person of Jesus Christ when he rose from the dead on the third day, we are still called to protect life and protect the most vulnerable.
As death was not God's doing don't you think we should be fighting hard to ensure we don't allow unnecessary death to creep further and further into society? Our society generally makes the killing of another person illegal, and thankfully so.  Yet this is qualified.  For example, it is not illegal to kill an unborn child in the womb in certain circumstances.  And increasingly, particularly in parts of Europe, it is becoming legal to kill those who are said to want to end their own lives through the process of assisted suicide.  This, of course, is putting more and more pressure on elderly and vulnerable people to consider whether they too should die in order to alleviate the burden of those caring for them or indeed the burden supposedly carried by wider society.
But we must fight against this tide of death as best we can.  Death is not from God.  It is from Satan.  And that alone should be enough to want to give it our best shot.  Of course death will come to us all at one point, but do we really want to hasten it and let the devil win?  Do we really want to defy God who takes 'no pleasure' in such extinction and let the 'devil's envy' be victorious? 
Our role as Christians is to defend life and defend it from conception until its natural end.  As Cardinal Jorge Mario Bergoglio (now Pope Francis) once said: "Defend the unborn against abortion, even if they persecute you, calumniate you, set traps for you, take you to court, or kill you."
Yes, it's that important.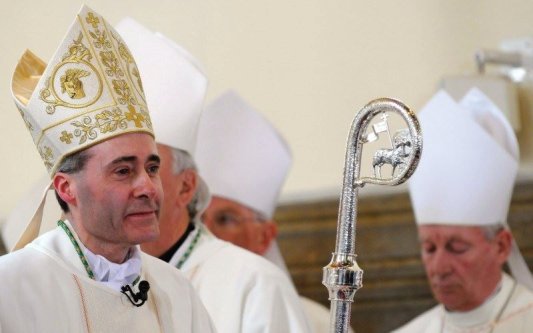 Bishop Mark Davies of Shrewsbury has spoken out against the disregard for human life we often witness in today's western society, comparing it to the human sacrifices offered up by the Aztec people.
Bishop Davies said that "We can see a resemblance with the declining civilisation of the western world which in similar ways sacrifices and discards the lives of millions of human beings in abortion; in embryo experimentation and fertility treatments; and now threatens the lives of those who pose the greatest financial burden – the sick and the aged in assisted suicides and euthanasia."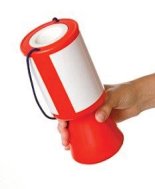 Comic Relief's support of abortion is well documented and has been an ongoing topic of concern for a number of years among pro-life advocates.  Another charity well known for its abortion links is, rather ironically, Save the Children.
But did you know that Barnardos recommends Marie Stopes on its 'links' page or that Childline promotes abortion as a 'legitimate choice'?  Did you know that the British Heart Foundation has assisted in raising £12m for stem cell research?  And did you know that UNICEF promotes chemical and surgical abortion and provides confidential sexual and reproductive health information and services to children from 10 years of age?
And while it would be fair to say that these charities provide much needed help and assistance in other areas of their work, there is very little doubt that some of what they do does not square with the pro-life view, a view that is non-negotiable if you are Catholic.
There is no need to deprive needy people because you value all life from the moment of conception until natural death.  You can politely decline to become involved in anything relating to anti-life charities or you can respectfully agree to take part in activities but say that money you raise will be going elsewhere.  The fact is, nobody needs to be deprived of your genrosity.  You have alternative options available to you.  It's just a case of knowing which charities to support and ensuring that, in your charitable giving, you continue to protect all life.
Please read the following text from John Deighan of the Catholic Parliamentary Office and please click the links to contact a House of Lords peer and also add your name to the petition. 
This proposed new legislation, along with abortion and euthanasia, will mean the eradication of disabled people from our society.  Such a process is completely wrong and is inequality at its evil best.
Here is what John Deighan has to say:
The promotion of three-parent embryos has been based on compassion for victims of genetic disorders. It involves creating embryos from the DNA of two women and one man.  Some women have defective mitochondrial in their cells and this is replaced by the healthy mitochondrial of another woman.  Efforts to overcome illness are obviously a crucial feature of a decent society but the genetic manipulation that is now proposed will not cure anyone.  It will instead be aimed at ensuring that disabled people are eradicated from society. 
Creating quality assurance procedures for manufacturing human embryos is a dangerous attack on the inherent dignity of human life.  It also involves making changes to human DNA which will be passed down through the generations even though the full implications of the changes are not understood. 
Countries around the world outlaw such genetic manipulation and international human rights laws prohibit it.  However Members of Parliament are defying these concerns and have approved the Human Fertilisation and Embryology (Mitochondrial Donation) Regulations 2015 which permit the procedure.  The House of Lords will now vote on the matter on 24 February 2015 and they have the opportunity to overturn the decision. 
You can help by contacting a member of the House of Lords (you can write to as many peers as you like!). This can be done easily at this link: 
www.stopgm3parentbabies.com
If you want to read a recent Scots Catholic article on Three Parent Babies,
click here
.
An all night prayer vigil will be held on Friday 13th March at the Tyburn Benedictine Convent in Largs in order to pray for the sanctity of human life.  The event will be from Friday at 8pm through to Saturday at 8am.
Please note that this event is men only (in accordance with convent rules), however, anyone interested in an all-female vigil can use the contact details, below, to express an interest.
Westminster has today voted to allow for three parent babies in the UK.  The vote, in the House of Commons, was by a majority of 382 to 182.
The matter will now go to the House of Lords where it will be further debated.
Keep praying that all life will be protected, including the most vulnerable in society.  It is the most vulnerable who appear to be at greatest risk, and who are being pushed further and further into the margins of society.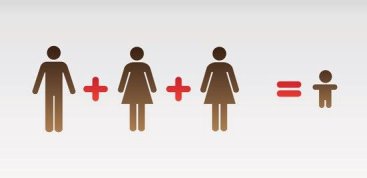 Later today, the UK Parliament will vote on whether to introduce laws to allow the creation of 'three parent babies'.  It is a move that must be resisted for a number of reasons and it is sincerely hoped that MP's will vote overwhelmingly against allowing the procedure.

 

While proponents argue that it will help root out certain conditions, including some disabilities, we should not be fooled into thinking this is a simple exercise in making the human race better.

 

Science is going into the unknown and we can in no way be certain of the consequences.  Further, there are weighty ethical arguments against such a procedure which many people have failed to consider.

 

Think about disabled people.  We are going down a road which may mean nobody is born with a disability.  Is this because we think there is something wrong with disabled people and that they have less value than others?  If we are going to eradicate disabled people through this procedure then the only logical explanation for allowing it is because those who are disabled are somehow of inferior value.  That, for me, simply is not right.

 

Our governments in the UK and Scotland are taking us down a dangerous road to what they perceive to be 'human perfection'.  Abortion already allows unwanted babies to be rooted out of society.  Assisted suicide, which is currently under consideration in Scotland, will allow for the rooting out of people with disabilities and serious ill health; people who supposedly have little to offer society.  Three parent babies is just the next step in that rooting out of the seemingly 'imperfect' among us.

 

I don't know about you, but I believe every single human being brought into existence has value.  And that's not necessarily anything to do with being religious.  Basic human perception should lead us to appreciate the value of every single human life.  This, for me, is what equality is all about.  After all, if we don't have equality in terms of the value of life, we simply cannot have equality.

 

 

0

/