Shopping Cart
Your Cart is Empty
There was an error with PayPal
Click here to try again
Thank you for your business!
You should be receiving an order confirmation from Paypal shortly.
Exit Shopping Cart
Calling Scotland's 841,000 Catholics to unite as one voice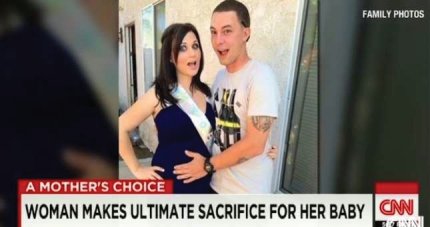 Ashley Caughey and partner Jonathan
A young pregnant American woman has shown incredible courage in the face of pain and adversity by continuing with her pregnancy and eventually giving birth to her baby daughter, despite being diagnosed with cancer.  For many, the potential for chemotherapy causing damage to the child would be enough for them to abort, but Ashley Caughey had different ideas.  Indeed Ashley decided that, rather than risk damage to her baby, she would delay cancer treatment until the baby was born.
Ashley says: 'It wasn't a choice to me. It was like this is what needs to be done. She's first. I'm not going to kill a healthy baby because I'm sick. There's nothing wrong with her. Her life is just as important as mine if not more important. I mean as a mother my job is to protect my kids.'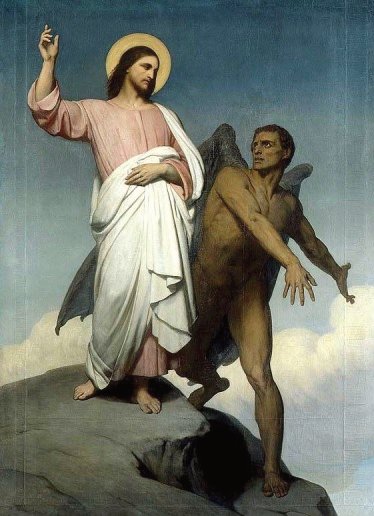 Sunday's Gospel (Mark 1:21-28):
'Jesus and his followers went as far as Capernaum, and as soon as the sabbath came he went to the synagogue and began to teach. And his teaching made a deep impression on them because, unlike the scribes, he taught them with authority.
In their synagogue just then there was a man possessed by an unclean spirit and it shouted, 'What do you want with us, Jesus of Nazareth? Have you come to destroy us? I know who you are: the Holy One of God.' But Jesus said sharply, 'Be quiet! Come out of him!' And the unclean spirit threw the man into convulsions and with a loud cry went out of him. The people were so astonished that they started asking each other what it all meant. 'Here is a teaching that is new' they said 'and with authority behind it: he gives orders even to unclean spirits and they obey him.' And his reputation rapidly spread everywhere, through all the surrounding Galilean countryside.'
It's not difficult to imagine evil in our world. It's all around us; wars, murder, violence, destruction.  Evil has enveloped our world and it can be experienced at almost every turn.  Yet,while it is easy to see evil and to experience it, do we really appreciate who is behind it?
While a willing human mind is perhaps necessary to carry out evil, it is the devil that is the source of evil; and he uses his power to force others to carry out his evil deeds in many different ways.  In today's Gospel passage he uses possession as a means to wreak havoc and to attack God.  In today's world possession by unclean spirits is still a reality and exorcisms occur throughout the world.  But the devil makes his presence felt in numerous other ways.  He destroys our love of life from the moment of conception until natural death by willing abortions and assisted suicide.  He chips away at the family by breaking it up and removing those critical elements of fatherhood and motherhood for every child.  He encourages gossip, cynicism, complaining and negativity among people.
The devil also comes to us in the most simple and innocent situations.  He encourages our laziness as we prepare for Mass on a Sunday; making us feel like the weekly trip to church is a chore rather than a joy.  He visits us in the evening just before we go to sleep and gently invites us to read another few pages of the latest thriller at the expense of our prayers.  He is not always forceful.  Indeed, his ways are often subtle and gentle; wooing us with a seeming beauty and elegance designed to capture our hearts and designed to thrill and excite.
The devil's intention is ultimately to come between us and God.  He is a fallen angel because he wanted to be God.  And given he cannot possibly be God he now wants to bring as much destruction to God's creation as he possibly can and the best way to do this is to turn God's own children against Him. 
However, he will never win as Christ has won the victory on the Cross.  Good has triumphed over evil and God can never be defeated.  But our hearts can still be won over by the devil and he is doing his very best to ensure that this happens to as many people as possible. As we prepare for our Lenten journey this year perhaps it would beuseful to try to discern the ways the devil tries to get at us.  If we can identify his evil habits then we can turn to Jesus and ask him to defend us so that our hearts are never won over by the devil and his destructive ways. We belong to God and to God alone. It is He who has given us life and it is to Him that we shall return at the end of time to be judged.  Make sure that judgement has a happy ending.  Don't let the devil have his way.  He wants you to fail so that you will be damned for all eternity.  Remember, you have Jesus on your side!  He is the only one who can save you from the devil's evil clutches. 
Keep your eyes fixed on Jesus and ignore the subtle temptations of the evil one.  Keep your heart fixed on Jesus and make sure that your destiny is Heaven, to be reunited with your Father who loves you more than you can ever imagine.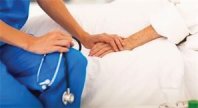 It's not as if we didn't know this was coming.  Belgium has, after all, already legalised the euthanizing of children.  But now the reality of assisted suicide for those who suffer from mental ill health and those who are disabled is becoming a reality, with increasing numbers of people using the option to take their own lives, and with considerable ease.
There are reported cases of a transgender man who struggled with mental illness from a childhood trauma and who was killed 'with dignity' as proponents of assisted suicide like to say.  There is the case of twins who were euthanized because they were going blind and because it was felt they had nothing to live for.  This is the reality of assisted suicide.
Life is being destroyed all around us.  It started with contraception and abortion and now we have people telling us that killing should be even more widely available. They suggest it should stretch to any vulnerable person who feels they would be better off dead.  The sense of caring and the responsibility to love one another has been consigned to the modern day secular dustbin.  Love, it seems, is a tired concept.  Survival of the fittest and the strongest would appear to have won the day in countries like Belgium. 
For Catholics, there simply is no way other than love.  Jesus calls on all of us to love our neighbour and to love life.  Our life is from the very moment of our conception until the day we die in accordance with the will of God.  We are not entitled to take control of our lives out of God's hands. We cannot play God.  Remember, the devil wanted to be God.  It does not pay to meddle with God-given life.  Please, please, if you haven't already done so, read our recent post on assisted suicide in Scotland and make sure you write to your MSP and sign the 'Care Not Killing' petition.  You can find everything you need by
clicking this link
.
This is a hugely significant battle, a battle which is, for some, a matter of life and death.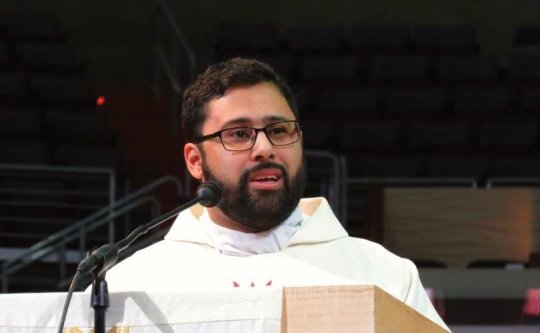 Father Mario Majano
Father Mario Majano, a 28 year old Catholic priest from Washington DC, recently brought a 15,000 strong crowd to its feet during the Verizon Centre Mass for Life event in the capital.  The Mass was a follow-on from last week's March for Life which attracted hundreds of thousands of people.
Father Majano's story is one which brought tears to many people in the huge audience, but it was the tears of one woman in particular which made the headlines.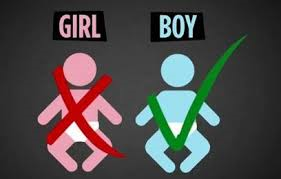 An amendment to the Serious Crime Bill has been tabled which will make sex-selective abortion illegal in the UK.  Please click the link, below, to email your MP urging them to support the amendment (it's a pre-filled form and is very simple to do and literally takes seconds!).
While we will continue to pray and fight for an end to all abortions, we must ensure that abortion in our country isn't taken to the next level whereby a child is killed in the womb simply because of their gender.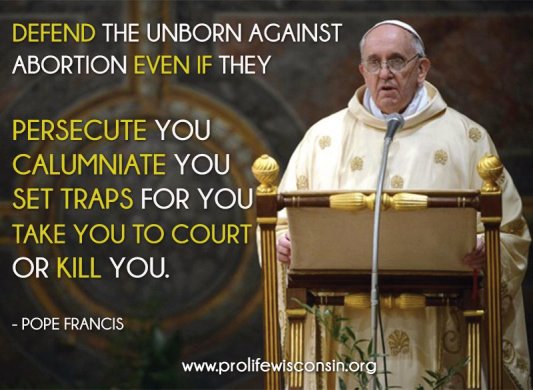 Pope Francis has once again spoken about the need to protect all life
Pope Francis has urged all Catholic people to "protect the beauty and truth of the family" and to "be a support and example for other families" as he delivered a discourse at the Mall of Asia Arena in the Philippines.
The pope said: "The pressures on family life today are many. Here in the Philippines, countless families are still suffering from the effects of natural disasters. The economic situation has caused families to be separated by migration and the search for employment, and financial problems strain many households. While all too many people live in dire poverty, others are caught up in materialism and lifestyles which are destructive of family life and the most basic demands of Christian morality. The family is also threatened by growing efforts on the part of some to redefine the very institution of marriage, by relativism, by the culture of the ephemeral, by a lack of openness to life.
He continued: "Our world needs good and strong families to overcome these threats! The Philippines needs holy and loving families to protect the beauty and truth of the family in God's plan and to be a support and example for other families. Every threat to the family is a threat to society itself. The future of humanity, as Saint John Paul II often said, passes through the family (cf. Familiaris Consortio, 85)."
The Pope then urged the Catholic faithful to protect families, and to protect life from the moment of conception until natural death.  He said: "So protect your families! See in them your country's greatest treasure and nourish them always by prayer and the grace of the sacraments. Families will always have their trials, but may you never add to them! Instead, be living examples of love, forgiveness and care. Be sanctuaries of respect for life, proclaiming the sacredness of every human life from conception to natural death. What a gift this would be to society, if every Christian family lived fully its noble vocation! So rise with Jesus and Mary, and set out on the path the Lord traces for each of you."
The Pope then encouraged Catholic people to be prophetic voices in the midst of their communities as he said: "The Gospel we have heard reminds us of our Christian duty to be prophetic voices in the midst of our communities. Joseph listened to the angel of the Lord and responded to God's call to care for Jesus and Mary. In this way he played his part in God's plan, and became a blessing not only for the Holy Family, but a blessing for all of humanity. With Mary, Joseph served as a model for the boy Jesus as he grew in wisdom, age and grace (cf. Lk 2:52). When families bring children into the world, train them in faith and sound values, and teach them to contribute to society, they become a blessing in our world. God's love becomes present and active by the way we love and by the good works that we do. We extend Christ's kingdom in this world. And in doing this, we prove faithful to the prophetic mission which we have received in baptism."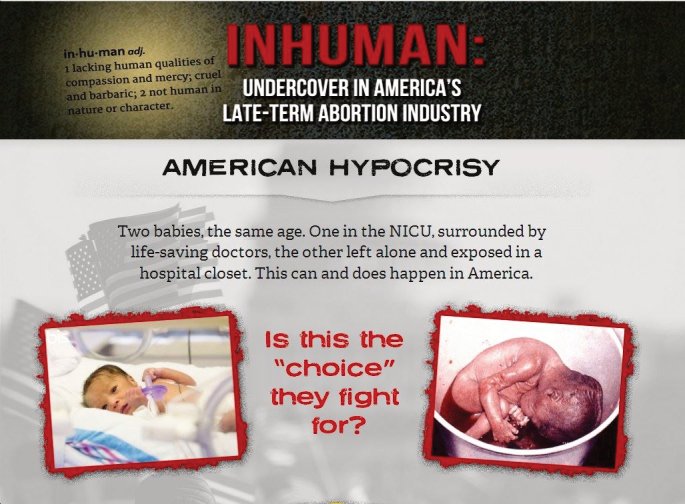 The reality of late-term abortion in the United States has been exposed in this undercover video by Live Action.
Their production, titled 'Inhuman', has gone viral and is changing hearts and minds across the world as it brings home the reality of abortion.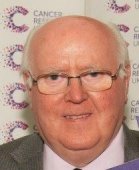 The MP for Coatbridge and Chryston Tom Clarke has vowed to 'fight as hard as he can' for better protections for freedom of conscience when Parliament reconvenes in the New Year.
Mr Clarke says he will be calling 'on the coalition government to clarify the interpretation of peoples legal and human rights' in the wake of the Glasgow midwives case where two midwives were told that they could not conscientiously object to the supervision of abortions.
Mr Clarke also said: "I cannot accept that even given recent attempts to introduce secularism where it was never meant to be that we are seeking to impose upon individuals an instruction to carry out actions that are in terrible conflict with their conscience and their long held convictions."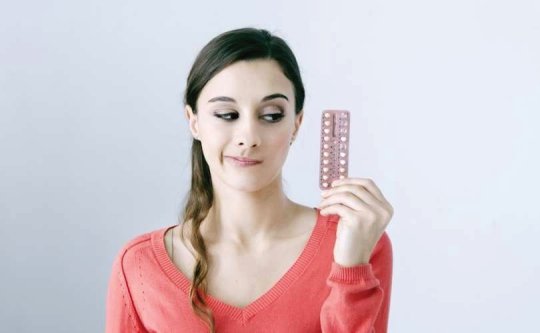 In the first of a three part series, pro-life advocate Abby Johnson challenges pro-lifers on the use of hormonal contraception and states that those who believe that life begins at conception 'MUST unequivocally oppose hormonal contraception.'

 

Abby explains that hormonal contraception does not always prevent ovulation and, as a result, hormonal methods have a backup plan which ensures the lining of the uterine wall is thinnned so that any newly conceived human being cannot implant on the wall.  The result?  The young life is spontaneously aborted.

 

In order to prove this point, Abby provides screenshots from the manufacturers of hormonal contraceptives.

 

Essentially, there is a risk that any woman using these methods of contraception is aborting their baby at each cycle because of the methods employed by the hormonal contraceptive.

 

For a pro-life woman this is simply not acceptable.  However, we do thankfully have natural family planning, a method of family planning which is actually accepted by the Catholic Church and which involves no drugs.  In fact, it uses the natural cycle and signs of a woman's reproductive system to allow for sensible planning. 

 

Sadly, it is more than likely you won't have heard much about natural family planning as it doesn't involve drugs.  This of course means that it doesn't pour millions of pounds into the coffers of those with an interest in contraception such as the big drug companies.  No, it's entirely free and 100% natural. 

 

If you want to learn more about natural family planing then

click here

.

 

 

 

 

0

/