Shopping Cart
Your Cart is Empty
There was an error with PayPal
Click here to try again
Thank you for your business!
You should be receiving an order confirmation from Paypal shortly.
Exit Shopping Cart
Calling Scotland's 841,000 Catholics to unite as one voice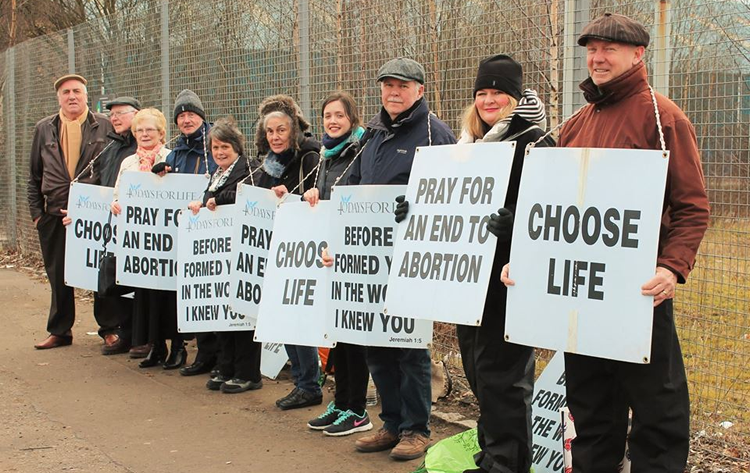 During the season of Lent, a number of people will gather outside four hospitals in Scotland in quiet, prayerful vigil to stand up for the inherent dignity and value of human life. The 40 Days for Life vigils will be held outside the grounds of the Queen Elizabeth University Hospital in Glasgow, the Royal Infirmaries in Edinburgh and Aberdeen, and Ninewells in Dundee. It is peaceful, it is calm, and there is certainly no aggression or scare tactics adopted, despite what the mainstream media try to portray.
For those who claim that the 40 Days for Life event is anything but peaceful and prayerful, I urge them to attend the event and to see for themselves precisely the manner in which this so called 'protest' is undertaken by those involved. There is no desire to harass anyone, and there is certainly no desire to be abusive. It is better to witness first hand the reality of the situation, rather than buy the lies of those who would prefer that this vigil was something that it clearly isn't.
There will, of course, be times when someone has recently undergone an abortion or suffered a miscarriage and, in coming across the vigil, they experience distress and upset. I don't think anyone attending the event would feel anything but sympathy and compassion for those in such a situation. The pro-life movement would not be in keeping with its belief that all human life is precious if it did not feel for those who suffer and did not offer them support and consolation. The question is then whether or not, given these instances of distress, the vigil is appropriate. We can put forward a number of arguments for and against, and this will tend to be guided by which side of the abortion debate we sit on. But the reality is this…science is almost entirely settled on the fact that a distinct new human being with their own DNA comes into existence from the moment of conception. This human being is alive and is growing. The baby's brain, spinal cord, heart and other organs begin to form a mere 2/3 weeks following conception. This is why people participate in the 40 Days for Life vigils. They genuinely do not think that it is acceptable for the state to allow for the untimely death of an innocent, defenceless human being at its most vulnerable stage in life.
These vigils are peaceful and the only desire of participants is to see that all human life is given a chance. A chance to be someone: to see their very first sun rise; to feel the first snowflake on their hand; to experience the nervous excitement of that first day in school; to get behind the wheel of their first car; to find the love of their life; to perhaps even have children of their own. They may even be lucky enough to grow old and enjoy the perfect smiles of their grandchildren at Christmas time. This is life and this is what we seek to protect.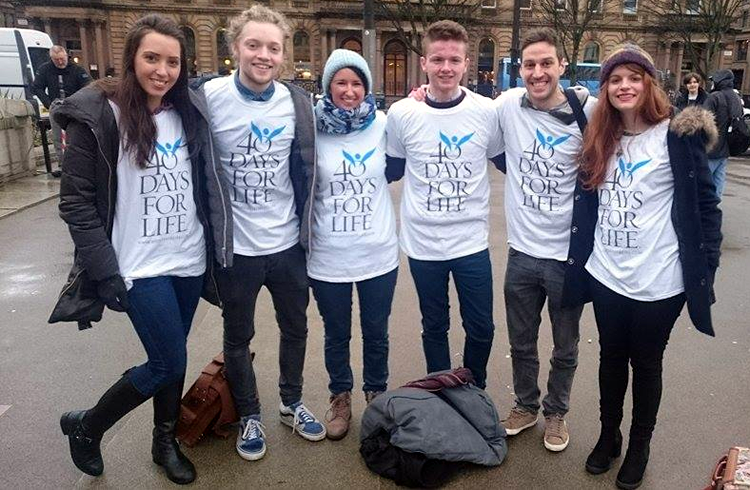 Because the state supports the killing of unwanted children in the womb, 8.7 million human beings in the UK never got the chance to experience these simple, yet poignant moments in life. No matter how much we try to deny or distance ourselves from that reality, we can never hide from the truth that abortion extinguishes the life of a beautiful, precious little human being who simply wants to be loved.
The 40 Days for Life is a worldwide movement and it will take place at the four Scottish hospitals throughout Lent from 1 March until 9 April. There will also be official opening and closing events, including one in George Square, Glasgow on 25 February. Click
here
for full details.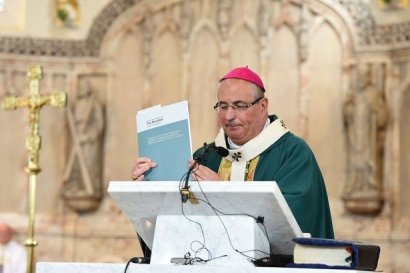 The Church will implement all recommendations
from the McLellan Report

Peter Kearney, Director of the Scottish Catholic Media Office, has called for fairness by the media in reporting the issue of child abuse in the Catholic Church. 
Mr Kearney suggests that official figures show that the problem in the Church is tiny compared to the problem as a whole across Scotland.  Indeed, it is believed that only 0.3% of abuse complaints over the past ten years were against Catholic clergy and volunteers.  Yet, despite this figure, the media appear determined to castigate the Church as offender in chief when it comes to the awful reality of child abuse.
As Peter Kearney says, the "robust attention" of the media around this issue is to be "welcomed" as it "serves to strengthen the resolve of those working within the Church to be as transparent and accountable as possible.  Survivors deserve that."  But there appears to be a disproportionate focus on the Church, especially when you consider the figures quoted.
As we have said before, the Catholic Church in Scotland should now be the safest place for children given the work it is doing to ensure that deplorable mistakes from the past are not repeated.  Following the McLellan Commission's report last year the Church accepted all eight recommendations of the Commission in relation to the safeguarding of children and vulnerable persons and expects all eight to be fully implemented by the end of 2017.   
Perhaps one of the biggest moves by the Church has been to release an annual audit of all abuse allegations against its clergy and volunteers.  This is made public thus ensuring transparency and easy access to the figures for the media and the general public, all of whom have a vested interest in this issue.  Sadly, such transparency is not forthcoming from other churches in Scotland.  Indeed, no other organised church in Scotland releases data in this way.  And they are not alone.  The NHS, Police Scotland, local authorities and national youth and voluntary groups have thus far failed to step up to the plate and release audits of abuse allegations.
As Peter Kearney says, "All abuse is utterly wrong and must always be condemned", but "narratives suggesting the Catholic Church has a disproportionate problem and wider society hasn't, is a terrible deception.  Survivors deserve better."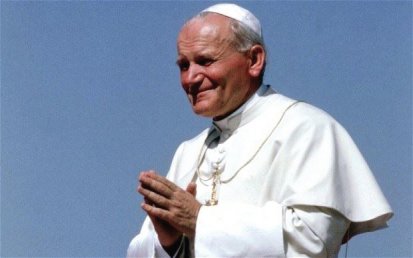 I was surprised to see a story about St John Paul the Great high up the BBC headline charts when I looked at the their news website this morning.  The headline read 'Intense John Paul II Letters Revealed'.  I thought for a moment that the BBC had gone soft by perhaps agreeing to reveal some letters written by the pope on matters of faith and his work in the Church.  But then I clicked on the headline and it all became very clear.
The full title of the 'story' is 'John Paul letters reveal 'intense' friendship with woman'.  Throughout the report, the BBC tries to make assertions that the pope had overstepped the mark and was somehow too intimately involved with his friend, Polish-born American philosopher Anna-Teresa Tymieniecka.  This despite the report clearly stating that there is 'no suggestion that the pope broke his vow of celibacy', which I expect is very much the case.
The report, which originates from an investigation by the BBC's Panorama programme, also states that then Cardinal Wojtyla 'had a number of female friends, including Wanda Poltawska, a psychiatrist with whom he also corresponded for decades.'   This, of course, isn't at all surprising as Catholic people, including priests, bishops and popes do tend to have female friends.  But the writer continues: 'But his letters to Ms Tymieniecka are at times more intensely emotional, sometimes wrestling with the meaning of their relationship.'  It is then suggested that Miss Tymieniecka fell in love with the pope at an early stage in their relationship.  This, of course, could be true.  It may also be all too typical BBC sensationalism.  Either way, there is most likely no harm in it.
This, it appears, is just another example of the devil's most treasured weapon, the media, trying to create trouble for the Church where there is no trouble to be had.  There is even a suggestion later in the article that if these letters had been available to the Vatican at the time John Paul was made a saint, they may have made a different decision.  Why?  Because the pope had a close relationship with a woman whom he clearly loved?  Here's something for you BBC, we Catholic people are called to love everyone.  It's one of the great Commandments of our Lord Jesus Christ. 
This TV production and article are, in all respects, pure mischief-making on the part of an organisation that is well known for its distaste of all things Catholic.  It would be best to avoid at all costs this pointless piece of TV drivel which seeks to discredit the life of a truly great man who is now one with the Father in Heaven.    
The BBC has for a long time tried to discredit the Catholic Church with sensationalist nonsense.  But perhaps this truly desperate and pitifully low-blow non-story is the last straw.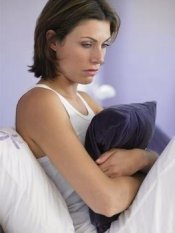 The Church recognises the tragedy of abortion
Pope Francis has asked priests not to withhold God's mercy to women who have had abortions and who seek forgiveness for it during the Church's upcoming Year of Mercy.
The pope, in a letter addressed to Archbishop Rino Fisichella, Archbishop of the Pontifical Council for the Promotion of the New Evangelisation, said that: "I have decided, notwithstanding anything to the contrary, to concede to all priests for the Jubilee Year the discretion to absolve of the sin of abortion those who have procured it and who, with contrite heart, seek forgiveness for it."
The pope also said: "May priests fulfil this great task by expressing words of genuine welcome combined with a reflection that explains the gravity of the sin committed, besides indicating a path of authentic conversion by which to obtain the true and generous forgiveness of the Father who renews all with his presence."
But is this really the headline grabbing story some are suggesting it is?  Not quite.  So what has changed, if anything?  Well, the big (and only!) change comes in the shape of who can forgive a woman who has procured an abortion.  Normally this is a matter for the local Bishop but the pope, in his letter, is allowing priests to do this.  That's the change heralded in the pope's letter.  Nothing more.  Indeed it's an even more insignificant change when you consider that Bishops already have the power to delegate such a power to priests in their diocese.  The net effect of the change is that absolution may be given on the spot in the confessional without the need for the priest to approach the Bishop about the matter.
Church teaching on abortion has not, and will not, change.  The Church believes that all human life, from the moment of conception until natural death, must be protected.  Since the very beginning the Church has denounced abortion as a moral evil, a teaching it states in the Catechism is 'unchangeable'. The Church teaches that abortion willed either as an end or a means is gravely contrary to the moral law.  It also states that formal cooperation in an abortion 'constitutes a grave offence'. 
In terms of the consequences of procuring abortion the Church is clear that such an offence 'incurs excommunication latae sententiae' (immediately on commission of the offence), yet it is the text that follows which is of most interest.  The Catechism states that 'the Church does not thereby intend to restrict the scope of mercy.  Rather, she makes clear the gravity of the crime committed, the irreparable harm done to the innocent who is put to death, as well as to the parents and the whole of society'.
In essence, the Church is open to the possibility of forgiveness for someone who has procured abortion, subject always to the Code of Canon Law which sets out the circumstances when a person cannot be guilty of a grave offence or who is guilty but with diminished responsibility for their actions.  An example of this would be a person who is unaware (through no fault of their own) of the Code of Canon Law or who was forced to commit the grave offence through fear. 
This actually fits in perfectly with something else the pope said in his letter to Archbishop Fisichella (the bit the mainstream media are leaving out): "The tragedy of abortion is experienced by some with a superficial awareness, as if not realizing the extreme harm that such an act entails. Many others, on the other hand, although experiencing this moment as a defeat, believe they have no other option. I think in particular of all the women who have resorted to abortion. I am well aware of the pressure that has led them to this decision. I know that it is an existential and moral ordeal. I have met so many women who bear in their heart the scar of this agonizing and painful decision. What has happened is profoundly unjust; yet only understanding the truth of it can enable one not to lose hope. The forgiveness of God cannot be denied to one who has repented, especially when that person approaches the Sacrament of Confession with a sincere heart in order to obtain reconciliation with the Father."
The Church has, and always will, provide those involved in abortion with the opportunity to confess their sins and have those sins forgiven.  This will always be the case and it is not true that the Church is suddenly offering women the chance of forgiveness for abortion during a one year 'window of opportunity', as has been reported by some media outlets.  The Church's doors are always open to those seeking God's forgiveness.  In that sense what the pope is doing is nothing radical.  However, his timing is interesting, getting the world talking about abortion at the same time as the Planned Parenthood scandal.  
It is also worth noting that, contrary to popular misconception, excommunication is, along with the other two censures of the Church (suspension and interdict), not so much a punishment but a medicine for the wellbeing of the soul.  It is ordered to help the person, not punish them.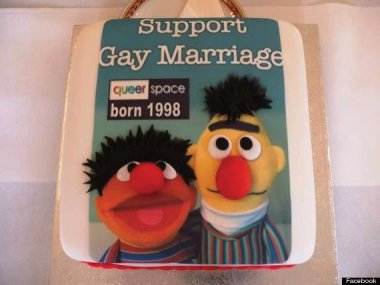 The cake Ashers refused to bake
While the law doesn't tend to agree, I still firmly believe that a business owner should have the right to decide not to provide a service which would be contrary to their devoutly held beliefs.  And this, for me, is key to the whole debate around Ashers bakery and the 'gay cake' furore in Northern Ireland. 
The bakery was told today that it discriminated against a homosexual customer for refusing to bake a cake with a slogan supporting homosexual marriage. 
Yet, despite the media spin, this is not about being homophobic.  And it is not about rejecting a person because they are homosexual.  This is about the desire of a bakery business not to create a cake which carries a message which is contrary to their strongly held beliefs.  Before this row erupted a homosexual man or woman could easily walk into Ashers bakery and order whatever they liked.  The difference with respect to this case is that Ashers were asked to create something which contained a message they just couldn't agree with.  Their response would have been the same had a heterosexual man or woman entered their shop and asked for the same cake.
And with this in mind, I do feel for Ashers.  They believe in something and they feel the need to live this out in every aspect of their life.  Indeed, as Christians, Christ compels them to do this. 
Yet the law won't have it. The law tells us that our personal belief and personal freedom means nothing as the state will ultimately dictate to us to what extent we can live out our Christian beliefs.  And such state dictatorship is not without its potential pitfalls.  For example, will Catholic Churches be forced to allow abortion providers to hold information days in their parish halls?  Will this website be shut down if it refuses the request by an abortion provider to advertise on its pages?  Will gay bars be forced to entertain concerts, rallies and fundraising events promoting traditional marriage?  Will bakeries run by homosexual people be expected to bake cakes containing slogans in support of traditional marriage between one man and woman?  With respect to this last question you would think yes, homosexual bakeries would be expected to bake cakes like this and that they would have no hesitation in doing so.  Yet this wasn't the experience of American Theodore Shoebat when he contacted thirteen homosexual-owned or pro-homosexual bakeries to order a cake with a slogan supporting traditional marriage and stating that 'gay marriage is wrong'.  Each bakery rejected his order and one even complained that the slogan 'went against their beliefs'.    
But it is important through all of this to remember that the desire for those opposed to homosexual marriage to be able to run their businesses in accordance with their beliefs is not a declaration of war on homosexuality.  This is the message sections of the media and certain secular groups want to put out there.  They want to draw a big line of division between homosexuals on one side and the so called 'homophobes' on the other.  Secularist groups in particular want this to be a nail in the coffin of religion.  It is, rather ironically, sheer intolerance on their part.
We as Christians must ensure that we do not get sucked into the hatred generated by the mainstream media and other groups intent on making capital from stories such as this.  This is not homophobia.  This is about whether an individual, or indeed a business, has the right to decline to create something or provide a service which is completely contrary to their own beliefs.  I believe that, while the law generally exists to protect, it is now at the stage where it is eroding the personal freedom of people to the point where their ability to make an honest living is compromised.  That cannot be right.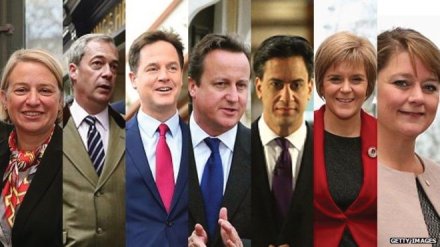 These people need our love and prayers too
It's not often you hear people standing up for politicians but that is precisely what I am about to do!  As the dust settles on last week's UK General Election the usual lampooning of political figures and parties has started up once again as we embark on another five year cycle of ridicule and abuse in the direction of those elected to lead our country.
As Christians our call is simple: to love one another and to keep God's Commandments.  Indeed, this was the call at Mass last Sunday for those blessed enough to be there to hear the Word of God. 
So, in light of this calling, is it okay to ridicule our politicians?  Is it okay to speak ill of them and to make fun of them?  Is it okay to abuse them?  The answer is quite simply no.  Of course it isn't okay to ridicule politicians; to speak ill of them; or abuse them.  We are called to love them!  God expects us to love our political leaders just as much as we love our own families. That's what brotherly and sisterly love 'God-style' is all about!  There are no exceptions. 
Yet this does not mean we cannot question our politicians and call them to account.  That is all part of the democratic process and indeed we, as Catholics, are expected to participate in that process in order to ensure God's Commandments are upheld in our country.  But we must be careful not to cross the line into the territory of abusing our politicians.  We shouldn't even be gossiping about them (remember Pope Francis' call to refrain from gossiping applies to all God's children, even those in political office).
So as we embark on this latest cycle of government with those newly elected and those elected to serve another term, let us pray hard for our political representatives, that they will serve the people of the United Kingdom with love, mercy, and compassion; and with justice at the heart of their policies.  They have a very difficult job and that job is made all the more difficult by a media constantly trying to undermine them and make mischief from their every move. Let us pray that our politicians will not be swayed by the traps set for them by the evil one and let us hope that moved by the Holy Spirit they will appreciate the importance of God's Commandments and that they will draw inspiration from the loving example of Jesus Christ as they lead our country.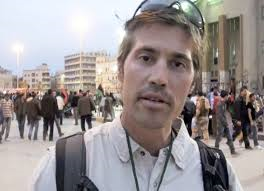 James Foley
The Catholic mother of murdered journalist James Foley has said that she forgives Mohammed Emwazi (known as 'Jihadi John') who is believed to have killed her son.  Diane Foley told the Times: "It saddens me, his [Jihadi John's] continued hatred.  He felt wronged, now we hate him – now that just prolongs the hatred.  We need to end it.  As a mum I forgive him.  The whole thing is an ongoing tragedy."
If ever there was faith in action in our modern world, this is it.  The courage and strength of faith of this woman to forgive the man who murdered her innocent child is something the majority of us could only imagine.  As human beings we aren't inclined to forgive in the face of such evil, and you can understand why.  Yet Christ calls us to a higher place.  He calls us to be great, to be the best, and to show mercy to all people.  This poor woman, who still mourns the passing of her child, is an example to all of how to be merciful in the face of real adversity and how to respond to Christ's call to holiness.  She is true Christianity in action. 
Let us pray that the souls of all those who have died will rest in eternal peace.  And let us also try to forgive those who have committed these terrible crimes and pray that their hearts will be changed so that they will value all life, for each life is a gift from God.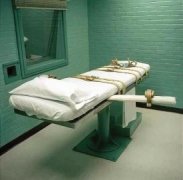 The Pope wants scenes like this to be a thing of the past
Pope Francis has urged those in authority to reconsider use of the death penalty and the imposition of life imprisonment. 
The Pope expressed his disbelief that states "cannot make use of another means than capital punishment to defend peoples' lives from an unjust aggressor." 
He also stated that: "All Christians and people of good will are thus called today to struggle not only for abolition of the death penalty, whether it be legal or illegal and in all its forms, but also to improve prison conditions, out of respect for the human dignity of persons deprived of their liberty. And this, I connect with life imprisonment," he said. "Life imprisonment is a hidden death penalty."
The Pope also expressed disquiet towards politicians and the media when he said that they promote "violence and revenge, public and private, not only against those responsible for crimes, but also against those under suspicion, justified or not."
/