Shopping Cart
Your Cart is Empty
There was an error with PayPal
Click here to try again
Thank you for your business!
You should be receiving an order confirmation from Paypal shortly.
Exit Shopping Cart
Calling Scotland's 841,000 Catholics to unite as one voice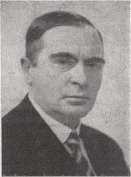 If only there were more Dr Halliday Sutherlands today.  Perhaps he would have the courage to stand up for the rights of those who are under threat from the increasing prevalence of assisted suicide in our world.  Perhaps he would have the courage to stand up for the rights of the preborn child under threat of death by abortion.
Dr Halliday Sutherland, born in Glasgow in 1882, was a man who stood up for the people society felt unworthy of life.  He lived in a time when the middle and upper classes of Britain fought for the legal right to sterilise the poor and the seemingly unworthy.  The rich felt more and more threatened by the higher birth rate among the poorer classes compared to their deteriorating birth rate.  They also felt threatened by the seeming prevalence of tuberculosis among the poor.  There was even talk of using a lethal chamber at one stage.
According to
this article
, Sutherland was "appalled by the popularity of eugenics among Britain's middle and upper classes" and set about fighting for the rights of the vulnerable.  He argued with the Professor of Eugenics at London University who claimed that tuberculosis was primarily caused by heredity and argued that the disease be cured by breeding out those considered to be at risk (the poor).  In a speech made in 1917, Sutherland called Britain's eugenists "race breeders with the souls of cattle breeders" and argued that "in preventing disease you are not preserving the weak but conserving the strong." 
Sutherland also decried the actions of a eugenist who, in 1921, began dispensing 'pro-race' contraceptives to women in poorer parts of London.  Sutherland described this as a social "experiment" that would lead to a "servile state".  He also argued that 'if ordinary Britons were legally prevented from having children, they would have no societal role other than to work.'
Marie Stopes was also criticised by Sutherland after she revealed her eugenic vision for society in 1921.  She revealed details of her "ardent dream" of "human stock represented only by well-formed, desired and well-endowed beautiful men and women."  The dangers of this frightening and callous point of view are obvious.
Halliday Sutherland would be appalled at the direction of travel of western society today.  Not only have we cow-towed to the contraceptive mentality, completely ignoring any notion of the true meaning of our sexuality, but we now routinely kill our own preborn children through abortion and threaten the vulnerable with a premature death by way of assisted suicide.
We need more Halliday Sutherlands in our world today.  We need more people to stand up for the poor, the marginalised, and the vulnerable.  Dr Sutherland was a Catholic and it is important that we as a Church follow his example and be absolutely clear on the wrongs of abortion and assisted suicide.  Not only that, but we must also resist the assumption that contraception is a simple and harmless solution that allows people to have sexual relations without the 'threat' of new life.  As a Catholic people we value life from the very moment it starts right up until its natural conclusion on death.  Contraception interrupts the natural process by killing off new life.  It also encourages people to use others as objects of desire, their sole purpose being to satisfy their own selfish cravings devoid of the threat of responsibility for a new life.   
We have lost the true meaning of the sexual encounter and we have lost the meaning of the value of life.  Our world needs to hear that there is an alternative to the throwaway culture of death; an alternative that values all life and that gives the sexual act the respect it truly deserves.  Dr Halliday Sutherland would be willing to speak up for these values.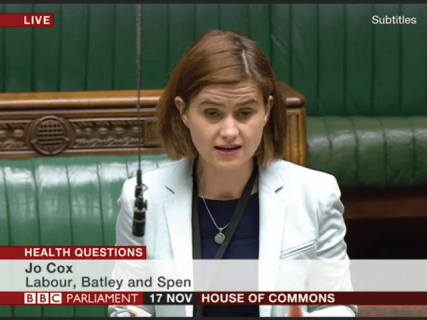 Jo Cox in the House of Commons
The death of Labour MP Jo Cox has shocked not only the world of politics in which she worked, but also the British nation as a whole.  The horror of what happened in the town of Birstall last Thursday will be a permanent scar for the MP's family and is something they will have to live with for the rest of their lives.
But what does it mean for the relationship between MPs and the general public?  Scottish Secretary David Mundell, who has himself received death threats, lamented the influence of social media in relations between the public and MPs, criticising the "vitriol" that is often expressed towards politicians.  I for one agree with him.  Whilst our elected representatives' role in public life is such that they are very much open to criticism, that criticism should be constructive and measured, and it should be expressed with politeness.  It should not be unjust or whimsical, and it should not be expressed with any degree of hatred or be threatening in any way.  Politicians have the right to do their job in safety and without abuse.  Isn't that the legal right of every worker?  Why should politicians be any different? 
Very few politicians are actually in the job to make people worse off or to act selfishly.  They are in politics because they genuinely want to make a difference.  Yes, there will be bad apples in there; just like there is in any walk of life.  But as with any bad apple, we need to pray for them and we need to trust that our peaceful system of democracy will ultimately win the day.
The hate directed at poor Jo Cox as she walked through her constituency last week was of the worst kind.   It took her life and has thus caused immeasurable pain to her family, friends and colleagues.  But underneath all of that is an unhealthy undercurrent of hate and cynicism which exists throughout our country and is often directed at many in officialdom, including politicians.  This is especially the case on social media, where the abuse and hatred spewed forth has the potential to fuel the anger in certain individuals predisposed to dangerous actions. 
Jesus Christ called us to love all people; even those that we perceive to be our enemies.  Our politicians need our support and prayers.  They work in an incredibly testing environment in which they are under increasing fear for their own safety and wellbeing. 
May the sad and unnecessary passing of Jo Cox herald a change in attitude across our nation so that we come together as one, and in a spirit of brotherly love may we work with and support our politicians in striving for peace, equality, tolerance and prosperity for all people.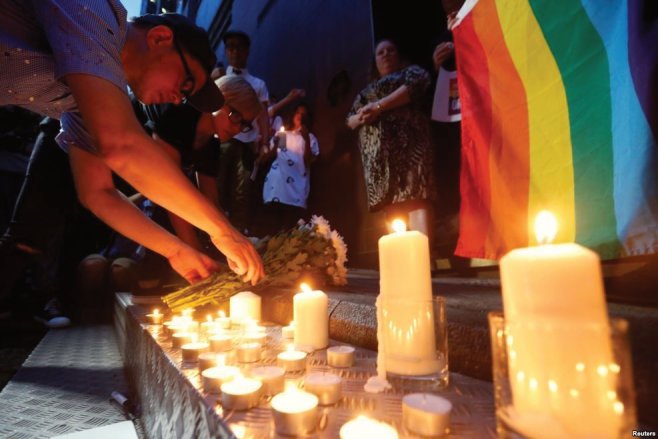 People gather to mourn the dead

The tragic events in Orlando provide yet another glaring example of man's inhumanity to man.  Very few of us can even begin to imagine what was going through the minds of the hundreds of young partygoers in Pulse nightclub as the horrid truth about what was unfolding became clear.  It wasn't a case of exuberant pyrotechnics or sophisticated indoor fireworks.  It was the crackling of gunfire and the flash of bullets as one hate-filled individual felt compelled to walk into the club and shoot dead 49 innocent people and injure many others.
Islamic State militants have claimed that Omar Mateen acted on their instruction.  Whether he did or not is perhaps not important because, at the end of the day, both Islamic State and Omar Mateen are callous murderers, with no consideration for their fellow man and woman, and little thought to the pain and hurt that their actions cause.
The cries of parents, siblings, and friends have rung out from the devastated city of Orlando ever since Mateen decided to walk into the Pulse nightclub early on Sunday morning and shoot unashamedly at his unsuspecting victims.  The world has joined them in mourning their precious loved ones who have been taken so suddenly and without warning.  Little did they know that when they waved the young revellers off on Saturday night, it would be the last time they would see them alive.  It is truly horrific.
At this time of great uncertainty with no little hate flowing through our world it is important that we Christians stand firm with all people of goodwill to continue to promote peace.  There is no life that isn't precious in God's eye.  This is our fundamental belief and we must fight hard to promote the sanctity of human life, be it the unborn child, the frail old woman, or the young lad enjoying quality time with his friends in a nightclub.  All life is precious and worthy of protection.
We pray for the peaceful repose of the souls of the dead, and we pray for their families that they will find some comfort in knowing that their loved ones are at the mercy of a loving Father. 
We also pray for those who are inclined to such violence, that their hearts be changed to see the inherent value of all people, even if some of them do not conform to their own beliefs.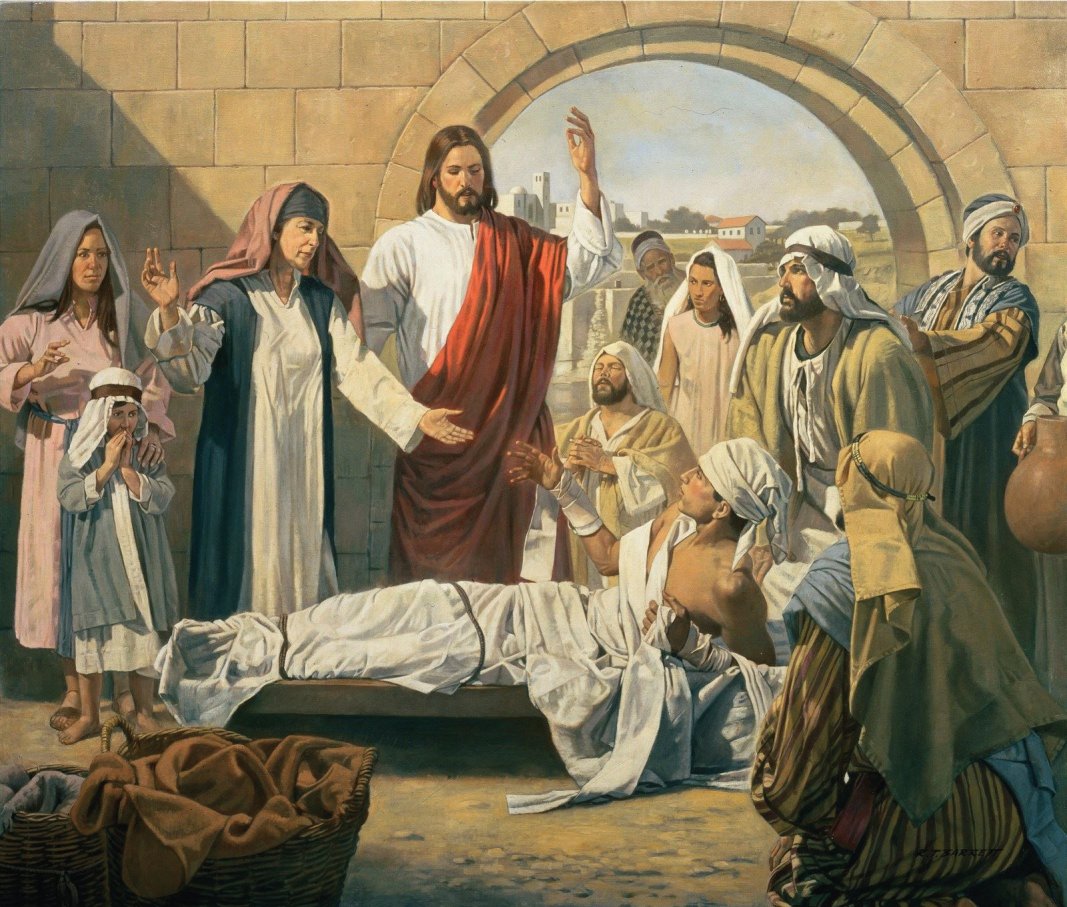 Sunday's Gospel (Luke 7:1-17):
'Jesus went to a town called Nain, accompanied by his disciples and a great number of people. When he was near the gate of the town it happened that a dead man was being carried out for burial, the only son of his mother, and she was a widow. And a considerable number of the townspeople were with her. When the Lord saw her he felt sorry for her. 'Do not cry' he said. Then he went up and put his hand on the bier and the bearers stood still, and he said, 'Young man, I tell you to get up.' And the dead man sat up and began to talk, and Jesus gave him to his mother. Everyone was filled with awe and praised God saying, 'A great prophet has appeared among us; God has visited his people.' And this opinion of him spread throughout Judaea and all over the countryside.'
The miracle performed by Jesus in this Gospel passage is one of great hope.  The woman, a widow, had lost her only son.  Can you imagine the grief and sorrow that this woman must have been experiencing?  Can you imagine how alone she must have felt watching her only family being carried away for burial?  She must have felt that nothing could take away the extreme pain that was now drilling through her heart.  Yet moments later she would witness the resurrection of her son from the dead.  Just when all had seemed to be lost, along came Jesus. 
We must never lose hope when death comes knocking at our door.  Whilst it is perfectly natural for us to grieve and to feel sorrow when a loved one dies, we must always have confidence in the one who makes all things new.  Jesus' death on the Cross was not a pointless exercise.  It was necessary so that our sins could be wiped away and we could have eternal life. 
When your loved one dies, remember that Jesus is there.  He has come down from the Cross and is standing ready at the gates of Paradise, waiting to put his hand on your loved one, waiting to bring them back to life.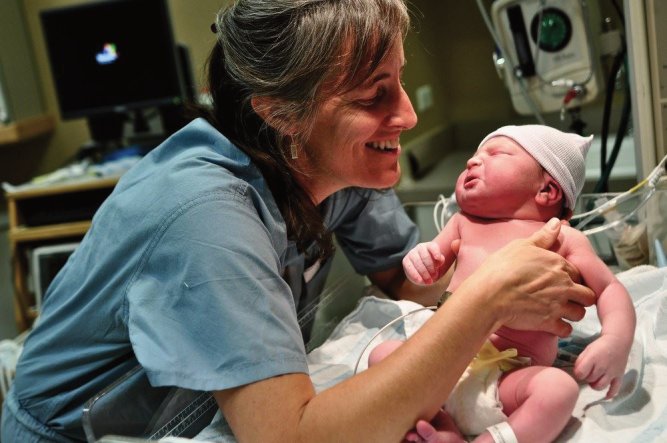 Children should be safe in the hands of midwives
The Chief Executive of the Royal College of Midwives (RCM) is facing calls to resign after announcing that the organisation supported the removal of the 24 week time limit for abortions in the UK.  Cathy Marwick has caused consternation among RCM members, many of whom have signed an online petition seeking to distance themselves from the RCM's stance.  They have also accused her of failing to consult on the issue. 
Marwick, who is the chair of the UK's biggest abortion provider BPAS (British Pregnancy Advisory Service), has not surprisingly been accused of a conflict of interest given her two roles.  One midwife from Northern Ireland said: 'Anyone advocating allowing abortion up to birth, I think is so sad and tragic, but to have my own representative body coming out in support of this extreme view is very disappointing. I know she's our chief, but there is clearly a conflict of interest. On something as big as this, she should have consulted us.'
Dr Peter Saunders, head of the Christian Medical Fellowship, said: 'It is bitterly ironic that the RCM, the supposed champion of safe childbirth and antenatal care, should be backing a campaign seeking to legalise the killing of unborn children up until birth. It is even more extraordinary that their chief executive, who also chairs BPAS, should be spearheading this initiative without apparently even consulting her membership. It is an extraordinary abuse of power.'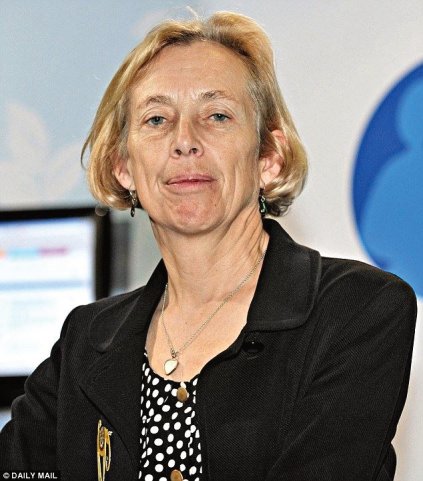 Cathy Marwick
Democratic Unionist MP, Jim Shannon, has vowed to raise the matter in Parliament this week.  He said: 'I will ask the Secretary of State for Health what discussions he has had, or will have, with the RCM and BPAS. My concern is that scrapping the 24-week cut-off would be absolutely disgraceful. I would have thought the RCM should be protecting unborn life. Its chief executive has this dual position and many people would say you can't have that.'
It is deeply disturbing that the very people who have for hundreds of years facilitated the safe passage of new life into our world are now being encouraged to compromise that ethos and be prepared to kill off that life.  Indeed, medical advances are strongly indicating that the abortion time limit should be reduced as a result of the increased survival rate of babies before the 24 week mark.  There is absolutely no indication that the abortion time limit should be increased, never mind scrapped altogether.  Any attempt to increase or abolish the 24 week limit flies in the face of scientific and medical fact, and it once again raises the question as to whether the wilful destruction of innocent human life by abortion should be allowed at all.
Our smallest, youngest, most vulnerable children should be safe in the hands of our midwives.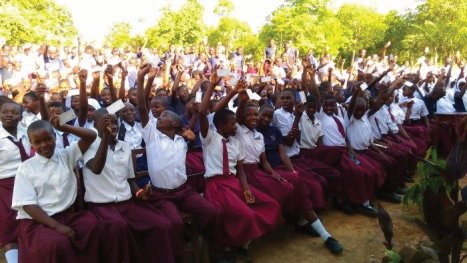 These youngsters have taken the chastity pledge
The World Health Organisation has, in its latest report, confirmed that 25% of worldwide pregnancies ended in abortion between 2010 and 2014. The report also states that "around 22 million unsafe abortions are estimated to take place worldwide each year, almost all in developing countries."
While this news must be greeted with great sadness at the millions of lives lost in an incredibly short period of time, the WHO has a solution.  It states that: "Almost every abortion death and disability could be prevented through sexuality education, use of effective contraception, provision of safe, legal induced abortion, and timely care for complications." 
It's interesting that the WHO avoids any talk of chastity or abstinence in their report.  This, as we know, is the most effective means by which to prevent a pregnancy if indeed that is what someone desires.  Contraception has been heralded as the saviour when it comes to having sexual relations without the 'nuisance' of a child.  But, in reality, contraception has merely become a 'get out of jail free card' for individuals - mostly men - who simply want to use and abuse a member of the opposite sex for their own selfish desires.  Contraception encourages people to engage in the most intimate manner with another human being and then to discard them once the deed is done.  There is no account for feelings, no account for wellbeing.  It is simply the act of using another for selfish desires.  And while not all people can be accused of using another individual through the use of contraception, there is no denying that in using contraception a person is not giving themselves entirely to the other.  It is a way of saying "I love you, but I'm not giving you 100% of my love".  Is this the kind of love we want for our children?
While it is natural for secular organisations like the WHO to raise unsafe abortion as an issue, the distinction between safe and unsafe abortions is inherently flawed.  This is because it is only concerned with the wellbeing of one party in order to distinguish whether an abortion is safe or unsafe.  Abortion, as we know and as science affirms, involves two distinct human beings.  When abortion results in the injury or death of one of those human beings it must be considered unsafe.  Therefore all abortions are unsafe.  There is no such thing as safe abortion.
While more must be done to ensure people are educated on sexual matters there is a real need to ensure that such education is not simply a pandering to the increasingly wayward sexual revolution and the deep pockets of huge, influential pharmaceutical companies.  Increased availability of 'safe' abortion is not the answer.  Nor is the increased availability of contraception.  These remedies simply take us down another road of self-destruction in our society and they quite clearly fail to solve the big issue, which is the widely held view that sex is a basic right to be enjoyed by anyone, with anyone and without the very natural consequence that is another human being.
In many African countries there is a growing movement (University Chastity Education or UCE Missionaries of Chastity) among young adults where they sign a pledge card, pledging a vow of chastity until they meet that special someone and marry them.  This is not the stuff of fairy-tales.  This is real life.  Isn't this a much more appropriate, measured, and natural solution to the pregnancy 'problem' than those proposed by the World Health Organisation?  Doesn't this solution encourage the kind of love you desire for your son or daughter?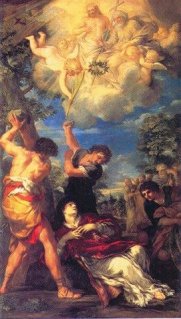 Sunday's First Reading (Acts 7: 55-60)
'Stephen, filled with the Holy Spirit, gazed into heaven and saw the glory of God, and Jesus standing at God's right hand. 'I can see heaven thrown open' he said 'and the Son of Man standing at the right hand of God.' At this all the members of the council shouted out and stopped their ears with their hands; then they all rushed at him, sent him out of the city and stoned him. The witnesses put down their clothes at the feet of a young man called Saul. As they were stoning him, Stephen said in invocation, 'Lord Jesus, receive my spirit.' Then he knelt down and said aloud, 'Lord, do not hold this sin against them'; and with these words he fell asleep.'
While sitting at my desk at work earlier this week a conversation about religion was struck up among my colleagues.  Religious chat is generally taboo these days and where it does exist it tends to take the form of an attack on whatever religion happens to be in the spotlight.  This time it was the Catholic faith; my faith.  I was asked to explain the Catholic Church's belief in the Eucharist.  No easy task in a very secular environment I can assure you.  But I tried my best to explain it in terms acceptable to the ears of my audience.
My colleagues listened to what I had to say and once I had finished a stony silence followed.  This was followed soon thereafter by a change of subject, diverting away from the ridiculous notion that a piece of bread and a cup of wine could be turned into the body and blood of a two thousand year old Jew.  The truth is, my colleagues probably felt not only confused but also a little uncomfortable by all the body and blood chat.  And I can assure you that I most certainly felt uncomfortable with having to explain it to a cynical crowd. 
Yet our discomfort at explaining our faith can never match the discomfort that must have been experienced by the Christian martyrs.  In today's first reading St Stephen shows incredible courage as he stands before a cynical crowd and tells them that he has seen 'heaven thrown open' and that he has also seen 'the Son of Man sitting at the right hand of God'.  Despite knowing that such words would likely lead to his death he was still not afraid to speak them.  And he even echoed the words of Christ on the Cross when he begged God to forgive those who were killing him.  Like any human being in that situation he would have been absolutely terrified, but he never once denied his faith in order to save his earthly life.
It's not easy to talk about our faith to others.  We can feel embarrassed, afraid, and even silly.  But thankfully the UK is not like the world St Stephen lived in.  It is a place where, despite some arguments to the contrary, people are generally free to talk openly about their faith.  We must not be afraid to use this freedom, but to do it sensibly and proportionately.  Our world needs a message of love, mercy and peace; a message that was so profoundly illustrated in the words and actions of St Stephen just before his death.  We can give the world hope with our message; a message that comes in the shape of one man….Jesus Christ.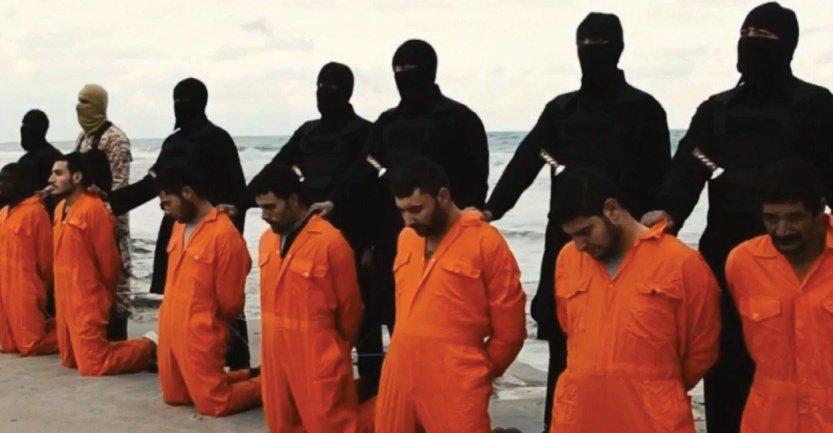 I am astonished and no less disappointed to see that few of the major UK news outlets have covered yesterday's House of Commons vote, when MPs voted 278 – 0 in favour of declaring ISIS/Daesh atrocities against Christians and Yazidis as genocide. 
If the Holocaust were to occur today, would the media recognise the atrocity and label it as genocide?  If the massacre of Srebrenica were to occur today, would the media recognise the suffering people of the city and label it as genocide?  And what about Rwanda in 1994?  Would today's media be prepared to state that this is genocide?
As I write I see that the Guardian, the Telegraph and Reuters are all at least now covering the story.  But still no BBC, no ITV, and no Sky News coverage among many others.  These outlets are no better than the Conservative government which has to date epically failed to declare the murder and violence wrought by ISIS as genocide.
Is it fear?  Is it an anti-Christian mentality?  Who knows?  But one thing is certain, if genocide isn't news we might as well all pack up and head for the hills.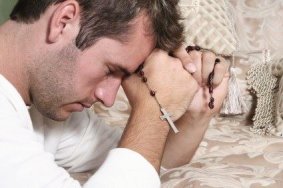 A call to Catholic men to right the wrongs of a broken society
Here's a question for Catholic men: did you know that you have the power to mend our broken society?  All the sadness and despair, the lies and deceit, the selfishness and infidelity; you have the answer to all of these problems.  The future of our world; a future of beauty, goodness and truth is in your hands! 
Confused?  Don't be.  Consider for a moment when the perfect world God created changed.  It was in the Garden of Eden, when Eve was tempted by the serpent to eat the fruit from the tree of the knowledge of good and evil, and both she and Adam ate the fruit.  This is the moment everything started to go wrong.  This is the moment sin and death entered into our world.  But what if you could help to right the wrong? 
Jesus, through his passion and Resurrection, redeemed that fatal mistake made by our forefathers in Eden, yet too many in the world reject the redemption Jesus offers them; preferring to ignore it and to continue buying into the relativist culture that tells them anything goes.  A culture that encourages selfishness for the sake of one's own wants and desires.
So is there something we Catholic men can do to bring people to accept Christ's redemption on the Cross?  How can we play a part in helping to heal the wounds of the single biggest mistake made by humanity?  A good starting point is to identify Adam's first mistake.  If we take ourselves back to the Garden of Eden, at the very moment the serpent persuades Eve to eat the fruit and she obliges.  Where is Adam at this point?  Why is he not protecting his wife from the cunning serpent and telling her to do as God instructed and not eat the fruit from the tree? 
This example of Adam failing to protect and care for his wife is all too prevalent in our world today.  And such a failure has serious repercussions.  Adam, after eating the fruit, suddenly realised that he and his wife were naked and he no longer saw her as God intended him to see her.  Rather, it was her body alone that he could see.  His eyes could no longer appreciate Eve's purity in her soul, that part of her which is the very core of her being.  Instead he looked upon her as an object for pleasure and gratification.  Does this ring any bells?  Is this not an accurate reflection of how many men view women in our world today?  Adam, created to have dominion over all the animals of the world and to be protector-in-chief of God's creation, including his wife, had gone from a soldier for God to a man of weakness; a wretch with no backbone.
And so it is with us men today.  Instead of protecting our wives and ensuring their safety and security in this world of sin, we have let them become the object of our own selfish desires and gratification.  We, like Adam, have taken our eye off the ball and have failed our women.  We have failed them badly.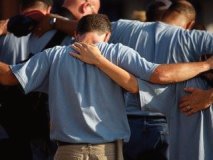 Catholic men can rebuild our broken society
Everywhere we turn there is infidelity, adultery, divorce, pornography, selfishness, violence, hate and intolerance.  The world is in ruins because of relativist ideals, especially those borne out of the sexual revolution.  But we Catholic men have been charged with making something out of those ruins; to take them and to build a pillar of love for the whole world to see.  We are called to succeed where Adam failed.  We have a duty to carry out God's original plan for His Creation; that is to serve, protect and defend all that God has entrusted to our care, especially our wives and children.
We must see our wives as God intended; with a perfect love.  That is, the same perfect love we witness when we see Christ hanging from the Cross.  This, brothers, is the love we are called to show our wives.  It is not lustful, it is not selfish.  It is pure sacrifice.  We, like Christ, must be prepared to lay down our lives for our wives and our children, putting their needs before our own.  Only in living out this kind of love will we be able to repair the wounds in our society; a society that is broken, having lost all sense of what it really means to be in love. 
Our world today is full of love built on sand.  We have love built on lies, we have love built on selfish desires, we have love built on one night stands, and we have love built on adultery.  The result of this is broken relationships, broken families, and ultimately broken children who have never experienced the love they need in order to thrive.  Society needs strong leaders in love.  It needs an authentic, unselfish and unconditional love that is free from the horrid pain of selfishness and lies.  The sexual revolution encourages people to dip in and out of relationships as and when they please.  There is no attempt to encourage staying power, no attempt to encourage true fidelity.  It is every man and woman for themselves.  Yet as Catholic men we are called to be much better than this, much better!  We are called to be soldiers for God, bringing His perfect love to the world by living it out in our homes and in our everyday lives, setting an example for our broken society.  God is looking down at the earth and asking "Where have all my Catholic men gone?  Where are my soldiers?  Where are the men my Son died for?"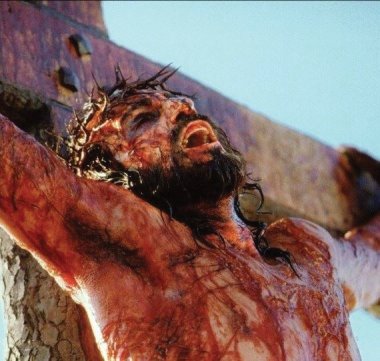 Christ's broken body is the example we are called to follow 
Brothers, let us be true.  True to God, true to our wives, true to our children, and true to our world.  Let us use our call to greatness, our call to be saints, to make a real difference to our world.  Let us never tire of striving to show the kind of love that Christ showed on the Cross, when he gave everything he had, shedding every last drop of blood for his people.  We too are called to give everything we have.  So, with a deep sense of prayer and trust in the Holy Spirit, let us go forth and be true protectors of God's creation.  Let us be sure to love our wives and families with that perfect love so unselfishly evidenced by the broken body of Jesus Christ hanging on the Cross.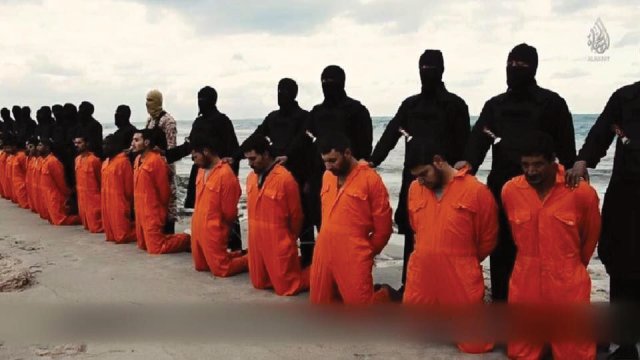 When will the West listen?




A motion is to be put before the UK Parliament next week calling on the House to recognise that Christians and other minority groups in the Middle East are facing genocide.







The terror being wrought by ISIS is well known to all, though the fact that it is mainly targeted towards Christians is not so well documented in the West.







This is an opportunity for the UK government to take a stand against ISIS by declaring their actions to be a genocide against Christians, Yazidis and other religious minorities.  As Pope Francis said: "It is wrong to look the other way, and remain silent."  We all know the situation in the Middle East, and now is our chance to act and to speak up.







Please, please contact your MP today and encourage them to take part in this debate which will take place in Parliament next Wednesday 20th April.  Aid to the Church in Need UK has helpfully drafted up a letter and included a link to obtain the contact details of your MP.  You can find it all by clicking

here

.







We can no longer allow innocent blood to flow under our feet while we do nothing.  We need to act to stop this murder.  Please, help the helpless and write to your MP today. 





0

/