Shopping Cart
Your Cart is Empty
There was an error with PayPal
Click here to try again
Thank you for your business!
You should be receiving an order confirmation from Paypal shortly.
Exit Shopping Cart
Calling Scotland's 841,000 Catholics to unite as one voice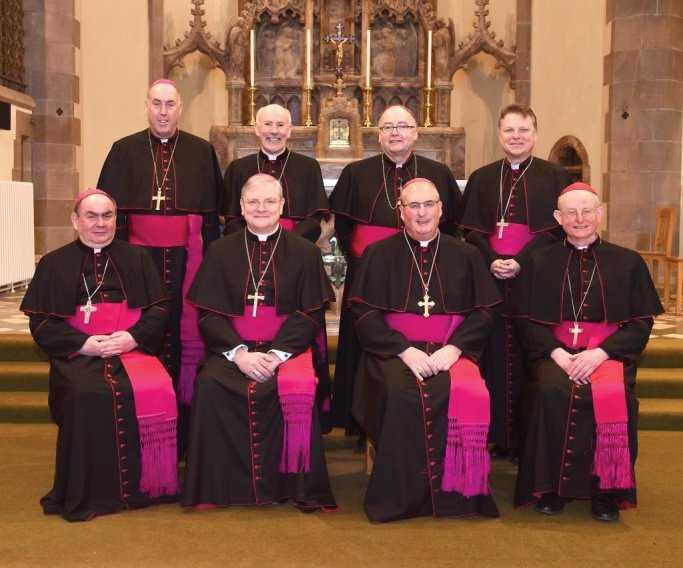 The eight Catholic Bishops of Scotland
Statement of the Catholic Bishops of Scotland on nuclear weapons:
The Bishops of Scotland have for a long time pointed out the immorality of the use of strategic nuclear weapons due to the indiscriminate destruction of innocent human life that their use would cause.
The renewal of Trident is questioned not just by those concerned with the morality of nuclear weapons themselves but also by those concerned about the use of scarce financial resources.
Lives are being lost now because money that could be spent on the needy and the poor is tied up in nuclear arsenals. We endorse the words of Pope Francis: "Spending on nuclear weapons squanders the wealth of nations".
The United Kingdom, permanent member of the UN Security Council and declared nuclear power, signed the Nuclear Non-Proliferation Treaty in 1968. That treaty binds signatories who do not have nuclear weapons not to acquire them, but it also binds those who do have nuclear weapons to work towards the disposing and elimination of all nuclear weapons. Britain should take more decisive and courageous steps to revive that aspect of the treaty and not seek to prolong the status quo.
Signed
+ Philip Tartaglia, President of the Bishops' Conference of Scotland, Archbishop of Glasgow+ Joseph Toal, Vice-President, Bishop of Motherwell+ Hugh Gilbert, Episcopal Secretary, Bishop of Aberdeen+ Leo Cushley, Archbishop of St Andrews and Edinburgh+ Stephen Robson, Bishop of Dunkeld+ John Keenan, Bishop of Paisley+ William Nolan, Bishop of Galloway+ Brian McGee, Bishop of Argyll and The Isles
It has been reported that a group of Muslims protected Christians by refusing to allow themselves to be split up into groups when their bus was ambushed by gunmen.
The incident happened in the village of El Wak in Kenya, near to the country's border with Somalia.
This as an extremely brave gesture and we commend those who stood strong in the face of violence. We are all God's children and we must resist such despicable and unnecessary violence.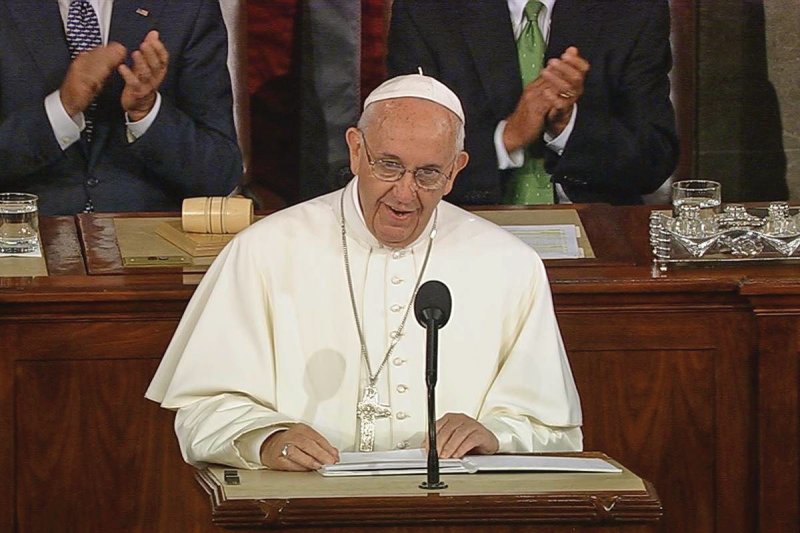 The pope received several standing ovations in Congress
Pope Francis, in his historic address to US Congress, has urged the world to follow Christ's Commandment of love.  The pope used the opportunity to tackle critical issues such as the dignity of human life, the death penalty and the refugee crisis.  He also addressed recent attacks on marriage and family life, and his concerns that the very basis of the family and marriage is being called into question. 
Here are the main quotes from the pope's address to USC ongress this afternoon:
Pope Francis on the golden rule:
"Let us remember the golden rule: do unto others as you would have them do unto you."
On the dignity of human life:
We must "protect by means of the law, the image and likeness fashioned by God in every human life."
We must recognise the "transcendent dignity of the human being".
"The golden rule [to do unto others as you would have done unto you] also reminds us of our responsibility to protect and defend human life at every stage of its development."
On the family:
"The family should be a recurrent theme….how essential the family has been to the building of this country.  I cannot hide my concern for the family which is threatened, perhaps as never before from within and without.  The very basis of the family and marriage is being called into question."
"I can only reiterate the importance and, above all, the richness and the beauty of family life."
"I would like to call attention to those family members who are most vulnerable, the young.  Their problems are our problems.  Our young people are precious."
"We live in a culture that threatens young people not to start a family."
On the death penalty:
"Let's abolish the death penalty here and everywhere. No punishment should exclude hope or the possibility of conversion."
On politics and society:
"Preserve and defend the dignity of your fellow citizens in pursuit of the common good."
"We are all worried by the disturbing social and political situation of the world today."
"It can be no more us vs them. We must confront every kind of polarisation. Our response must be hope and healing, peace and justice."
"Safeguard religious freedom, intellectual freedom, and individual freedom.  We must be specially attentive to every type of fundamentalism."
"Politics must be used to build the common good."
"It's my duty to build bridges and help all men and women to do the same."
"We have to ask ourselves: why are deadly weapons being sold to those who plan to inflict untold suffering on individuals and society?"
"It is our duty to confront the problem and stop the arms trade."
On the elderly:
The elderly are the "storehouse of wisdom".
On the refugee crisis:
"We must view them as persons, seeing their faces, listening to their stories, and try to respond as best we can."
On poverty:
"The fight against poverty and hunger must be fought constantly and on many fronts, especially in its causes."
On business:
"Business is a noble vocation, especially in its creation of jobs to the common good."
On the environment:
"I'm convinced that we can make a difference, I'm sure."
"We have an obligation to our future generations. The time is now."
A migrant crawls along a Spanish beach in front of holidaymakers
The most senior Catholic in England and Wales has urged the UK to be more "generous" in the way it deals with the current refugee crisis in Europe. Cardinal Vincent Nichols, speaking to ITV News said that the British public had told him "it was a disgrace that we were letting people die and seeing bodies on the beaches when together Europe is such a wealthy place." 
The Cardinal continued: "It's people who are desperate for the sake of their families, their elderly, their youngsters, their children, and the more we see that the more the opportunity for a political response that's a bit more generous is growing.  What is screaming out is the human tragedy of this problem."
The Cardinal's comments are most welcome and I completely agree with him that our response to this must be more generous.  We are, in many respects, a wealthy country, and we are blessed by not having to cope with the fear of wars and widespread violence. 
Our parish was blessed recently with the presence of a Nigerian priest who covered our parish while our own priest was on pilgrimage and on holiday.  I recall that in one of his homilies he spoke about the great joy he and his people would feel when they woke up in the morning, simply because they were still alive. Their country is beset by violent clashes and the threat of Boko Haram is an ongoing fear for all, especially Christians.
In Syria and in North Africa there is the threat of ISIS who are persecuting Christians and driving people from their homes.  And now, in Europe, we are starting to see the sad consequences of these wars as people arrive on our shores desperate for safety and to give their children a chance. And this, I feel, is the nub of it. Can we really deny people a place of safety?  Can we really deny little children a chance to live?
The horrific reality of this crisis
Our own resources are finite and we must try to ensure our country remains financially stable.  We get this.  But greater than this, much greater than this, is our call to love our neighbour. Our brothers and sisters are in dire need of our comfort and love.  They beg us to give them a place of safety.  They are on their knees, in the frozen waters of our shores, desperately pleading to each and every one of us to give them even just a little of what we have.
I sincerely hope the words of Cardinal Nichols will be heard and taken seriously by our governors (both in the UK and across all of Europe) and indeed by each one of us.  I hope we all find it in our hearts to be more generous and to give more people a chance. We have the power and we have the resources.  Now all we need is the will.
Here are four ways we can help:
And of course, pray. Please pray for all refugees, perhaps by saying one Hail Mary and asking Our Blessed Mother to intercede with the Father on their behalf.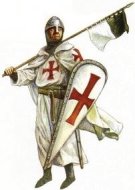 In this latest Catholic Answers article, Steve Weidenkopf explores the reality of the Crusades in order to refute common modern myths suggesting the Church is culpable for unnecessary death and destruction.
There is a lot of confusion about the Crusades and who is at fault, and this article certainly brings considerable clarity to the matter, citing Islamic invasions of Christian lands as the catalyst for a just Christian response.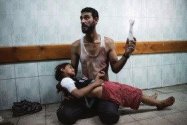 A Palestinian man holds an injured child after her school came under attack
SCIAF has launched an emergency appeal to help the people of Gaza.  They are hoping to raise funds in order to pass it to their sister charity Caritas Jerusalem so that they can provide urgent medical care, food and blankets, and other basic essentials to those affected by the ongoing conflict.
Please consider a donation. 
/