Shopping Cart
Your Cart is Empty
There was an error with PayPal
Click here to try again
Thank you for your business!
You should be receiving an order confirmation from Paypal shortly.
Exit Shopping Cart
Calling Scotland's 841,000 Catholics to unite as one voice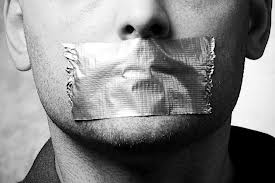 From Sunday's Gospel:

"But before all this happens, men will seize you and persecute you; they will hand you over to the synagogues and to imprisonment, and bring you before kings and governors because of my name – and that will be your opportunity to bear witness. Keep this carefully in mind: you are not to prepare your defence, because I myself shall give you an eloquence and a wisdom that none of your opponents will be able to resist or contradict. You will be betrayed even by parents and brothers, relations and friends; and some of you will be put to death. You will be hated by all men on account of my name, but not a hair of your head will be lost. Your endurance will win you your lives"
Jesus warns us time and again through the gospels that we will be persecuted for believing in him.  We are perhaps tempted to brush over this, given the relative comfort and freedom we enjoy as Catholics in the Western world of the 21 Century.  And indeed it is unlikely that any of us will be martyred for the faith, imprisoned or seized and brought before governors and kings.  So can we happily skip these passages of scriptures, confident that they are not relevant to us, needed perhaps for another time and place, but not now?  I would suggest that we would do this at our peril.  Christians remain the most persecuted people in the world today. But even in our apparently "tolerant" society, Christian beliefs are scoffed at and looked upon scornfully. 
It is worth meditating upon in prayer: in what ways does your Christian faith disadvantage you in the world?  Do colleagues laugh or look at you askance when you mention you went to Mass at the weekend?  Do family members dismiss some of your views, as they are based on faith and therefore are somehow less important?  Do disbelieving friends aggressively try to engage you in debate to point out the flaws in your theology?  Do people stare if you say grace in a restaurant before meals? To help us to consider this further, it is perhaps worth pondering the times when we fail to stand up for Jesus for fear of ridicule.  Do we stay quiet when others discuss 'hot topics' like abortion or same-sex marriage?  Do we bite our tongue when we overhear someone taking the Lord's name in vain?  Do we agree with the relativist position "that's true for you but not for me" when challenged? 
These might seem like small points, compared to the crown of martyrdom.  But these are the persecutions of our time, put in our path to lead us to holiness.  These are the "opportunities" talked about in today's gospel passage.  We must "keep this carefully in mind" and pray about these things, asking Jesus to give us the grace to be bold and confident in his love and help.  And we must look on any ridicule or challenge as a blessing, ever keeping our eye on the prize of eternal life.  In staying true in these small persecutions, our souls will be prepared, with God's grace, for martyrdom, should we ever be called to that.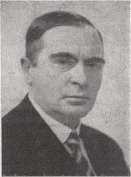 If only there were more Dr Halliday Sutherlands today.  Perhaps he would have the courage to stand up for the rights of those who are under threat from the increasing prevalence of assisted suicide in our world.  Perhaps he would have the courage to stand up for the rights of the preborn child under threat of death by abortion.
Dr Halliday Sutherland, born in Glasgow in 1882, was a man who stood up for the people society felt unworthy of life.  He lived in a time when the middle and upper classes of Britain fought for the legal right to sterilise the poor and the seemingly unworthy.  The rich felt more and more threatened by the higher birth rate among the poorer classes compared to their deteriorating birth rate.  They also felt threatened by the seeming prevalence of tuberculosis among the poor.  There was even talk of using a lethal chamber at one stage.
According to
this article
, Sutherland was "appalled by the popularity of eugenics among Britain's middle and upper classes" and set about fighting for the rights of the vulnerable.  He argued with the Professor of Eugenics at London University who claimed that tuberculosis was primarily caused by heredity and argued that the disease be cured by breeding out those considered to be at risk (the poor).  In a speech made in 1917, Sutherland called Britain's eugenists "race breeders with the souls of cattle breeders" and argued that "in preventing disease you are not preserving the weak but conserving the strong." 
Sutherland also decried the actions of a eugenist who, in 1921, began dispensing 'pro-race' contraceptives to women in poorer parts of London.  Sutherland described this as a social "experiment" that would lead to a "servile state".  He also argued that 'if ordinary Britons were legally prevented from having children, they would have no societal role other than to work.'
Marie Stopes was also criticised by Sutherland after she revealed her eugenic vision for society in 1921.  She revealed details of her "ardent dream" of "human stock represented only by well-formed, desired and well-endowed beautiful men and women."  The dangers of this frightening and callous point of view are obvious.
Halliday Sutherland would be appalled at the direction of travel of western society today.  Not only have we cow-towed to the contraceptive mentality, completely ignoring any notion of the true meaning of our sexuality, but we now routinely kill our own preborn children through abortion and threaten the vulnerable with a premature death by way of assisted suicide.
We need more Halliday Sutherlands in our world today.  We need more people to stand up for the poor, the marginalised, and the vulnerable.  Dr Sutherland was a Catholic and it is important that we as a Church follow his example and be absolutely clear on the wrongs of abortion and assisted suicide.  Not only that, but we must also resist the assumption that contraception is a simple and harmless solution that allows people to have sexual relations without the 'threat' of new life.  As a Catholic people we value life from the very moment it starts right up until its natural conclusion on death.  Contraception interrupts the natural process by killing off new life.  It also encourages people to use others as objects of desire, their sole purpose being to satisfy their own selfish cravings devoid of the threat of responsibility for a new life.   
We have lost the true meaning of the sexual encounter and we have lost the meaning of the value of life.  Our world needs to hear that there is an alternative to the throwaway culture of death; an alternative that values all life and that gives the sexual act the respect it truly deserves.  Dr Halliday Sutherland would be willing to speak up for these values.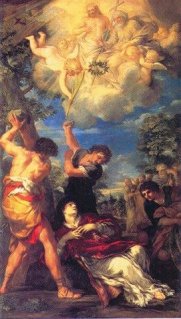 Sunday's First Reading (Acts 7: 55-60)
'Stephen, filled with the Holy Spirit, gazed into heaven and saw the glory of God, and Jesus standing at God's right hand. 'I can see heaven thrown open' he said 'and the Son of Man standing at the right hand of God.' At this all the members of the council shouted out and stopped their ears with their hands; then they all rushed at him, sent him out of the city and stoned him. The witnesses put down their clothes at the feet of a young man called Saul. As they were stoning him, Stephen said in invocation, 'Lord Jesus, receive my spirit.' Then he knelt down and said aloud, 'Lord, do not hold this sin against them'; and with these words he fell asleep.'
While sitting at my desk at work earlier this week a conversation about religion was struck up among my colleagues.  Religious chat is generally taboo these days and where it does exist it tends to take the form of an attack on whatever religion happens to be in the spotlight.  This time it was the Catholic faith; my faith.  I was asked to explain the Catholic Church's belief in the Eucharist.  No easy task in a very secular environment I can assure you.  But I tried my best to explain it in terms acceptable to the ears of my audience.
My colleagues listened to what I had to say and once I had finished a stony silence followed.  This was followed soon thereafter by a change of subject, diverting away from the ridiculous notion that a piece of bread and a cup of wine could be turned into the body and blood of a two thousand year old Jew.  The truth is, my colleagues probably felt not only confused but also a little uncomfortable by all the body and blood chat.  And I can assure you that I most certainly felt uncomfortable with having to explain it to a cynical crowd. 
Yet our discomfort at explaining our faith can never match the discomfort that must have been experienced by the Christian martyrs.  In today's first reading St Stephen shows incredible courage as he stands before a cynical crowd and tells them that he has seen 'heaven thrown open' and that he has also seen 'the Son of Man sitting at the right hand of God'.  Despite knowing that such words would likely lead to his death he was still not afraid to speak them.  And he even echoed the words of Christ on the Cross when he begged God to forgive those who were killing him.  Like any human being in that situation he would have been absolutely terrified, but he never once denied his faith in order to save his earthly life.
It's not easy to talk about our faith to others.  We can feel embarrassed, afraid, and even silly.  But thankfully the UK is not like the world St Stephen lived in.  It is a place where, despite some arguments to the contrary, people are generally free to talk openly about their faith.  We must not be afraid to use this freedom, but to do it sensibly and proportionately.  Our world needs a message of love, mercy and peace; a message that was so profoundly illustrated in the words and actions of St Stephen just before his death.  We can give the world hope with our message; a message that comes in the shape of one man….Jesus Christ.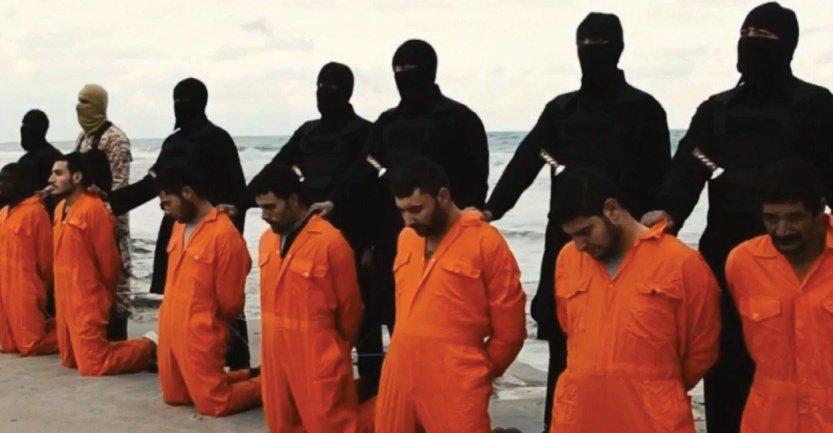 I am astonished and no less disappointed to see that few of the major UK news outlets have covered yesterday's House of Commons vote, when MPs voted 278 – 0 in favour of declaring ISIS/Daesh atrocities against Christians and Yazidis as genocide. 
If the Holocaust were to occur today, would the media recognise the atrocity and label it as genocide?  If the massacre of Srebrenica were to occur today, would the media recognise the suffering people of the city and label it as genocide?  And what about Rwanda in 1994?  Would today's media be prepared to state that this is genocide?
As I write I see that the Guardian, the Telegraph and Reuters are all at least now covering the story.  But still no BBC, no ITV, and no Sky News coverage among many others.  These outlets are no better than the Conservative government which has to date epically failed to declare the murder and violence wrought by ISIS as genocide.
Is it fear?  Is it an anti-Christian mentality?  Who knows?  But one thing is certain, if genocide isn't news we might as well all pack up and head for the hills.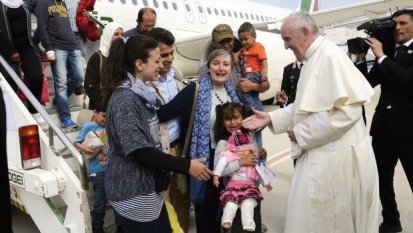 Pope Francis welcomes some of the migrants to Rome
Pope Francis has once again thrust the Catholic Church into the spotlight; this time by bringing a group of twelve Syrian migrants from the island of Lesbos to live in Rome.  The families travelled with the pope back to Italy after he made a visit to the small Greek island last weekend.  It is understood the three families, all Muslim, were fully prepped for the move ahead of the pope's visit.
The finer details of how all of this will pan out remain to be seen, but the gesture itself is one of great love and generosity on the part of Francis.  It is dynamic, reactive, and challenging.  In many respects it bears the hallmarks of Christ himself.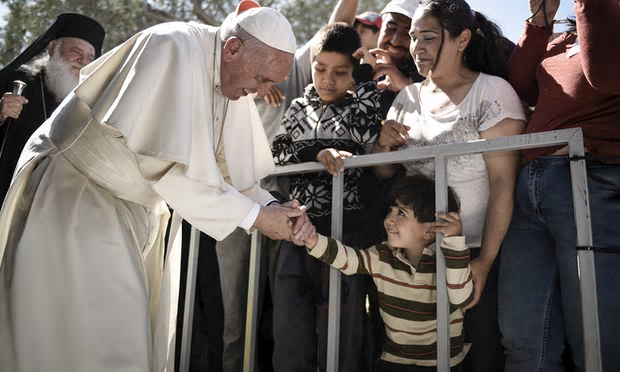 And while he had to leave huge numbers of migrants behind in Lesbos, Francis left them in no doubt that he loves each and every one of them as he told them: "you are not alone".  He later followed this up with a call to Western leaders to do more to accommodate the migrants.   
Yet the challenge set down by the pope is not just for political leaders.  Each one of us is called to rise to his challenge and to show similar love and compassion to the poor and needy in our communities.  So before we criticise others for their failure to act, we need to think about what we ourselves are doing for the good of humanity.  It might only be small gestures of love or kindness, but remember, each little gesture creates another building block for the Kingdom of God.
For all of the criticism Pope Francis attracts, particularly from his own household, he has the knack of showing great love to all people, especially to those in great need.  In all honesty, I wish I could have even a tiny percentage of the compassion, mercy and humility that this man clearly has in abundance.  He is, in many respects, a world leader in love.  Isn't that precisely what God's representative on earth should be?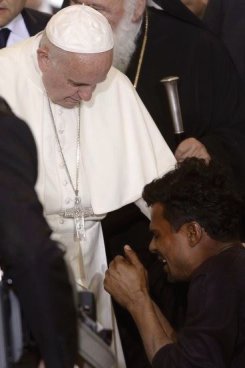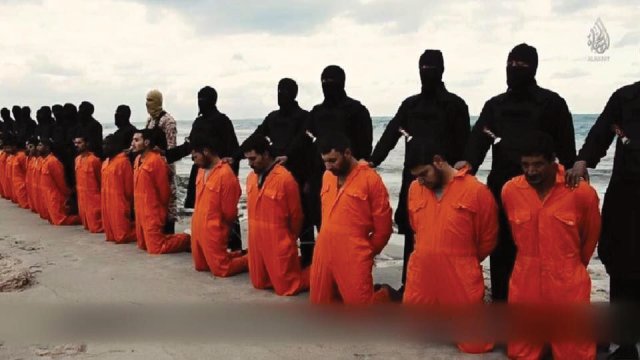 When will the West listen?
A motion is to be put before the UK Parliament next week calling on the House to recognise that Christians and other minority groups in the Middle East are facing genocide.
The terror being wrought by ISIS is well known to all, though the fact that it is mainly targeted towards Christians is not so well documented in the West.
This is an opportunity for the UK government to take a stand against ISIS by declaring their actions to be a genocide against Christians, Yazidis and other religious minorities.  As Pope Francis said: "It is wrong to look the other way, and remain silent."  We all know the situation in the Middle East, and now is our chance to act and to speak up.
Please, please contact your MP today and encourage them to take part in this debate which will take place in Parliament next Wednesday 20th April.  Aid to the Church in Need UK has helpfully drafted up a letter and included a link to obtain the contact details of your MP.  You can find it all by clicking
here
.
We can no longer allow innocent blood to flow under our feet while we do nothing.  We need to act to stop this murder.  Please, help the helpless and write to your MP today. 

It has been reported that a group of Muslims protected Christians by refusing to allow themselves to be split up into groups when their bus was ambushed by gunmen.
The incident happened in the village of El Wak in Kenya, near to the country's border with Somalia.
This as an extremely brave gesture and we commend those who stood strong in the face of violence. We are all God's children and we must resist such despicable and unnecessary violence.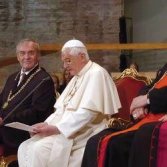 Pope Benedict at the University of Regensburg
When Pope Benedict started speaking at the University of Regensburg in 2006 there was little clue as to the controversy that was about to unfold.  The pope would use the lecture to respond sternly to increasing instances of violence by Islamic extremists across the globe, a move that many westerners felt most uncomfortable with.
While I would not wish to delve into the intricacies of Pope Benedict's lecture, his fundamental message with regard to Islam is that, unlike Christianity, Islam (or at least some of its members) does not appear to link God to reason.  This, Pope Benedict suggested, could lead to fundamentalism. He was quick to state that he was not saying the Muslim God is insane or irrational but, rather, that he is not bound by a reason accessible to human beings.
The pope, in an attempt to make sense of what he was teaching, used a late 14th century quotation from the Byzantine Emperor Manuel II Paleologus: "Show me just what Mohammed brought that was new, and there you will find things only evil and inhuman, such as his command to spread by the sword the faith he preached."
It's quite a quote!  But fast forward to this very day, in the wake of the horrific attacks in the city of Paris, and you begin to see what Pope Benedict was getting at.  Like so many popes before him, including Paul VI, John XXIII and John Paul II, Pope Benedict was not afraid to tackle the big issues head on and ultimately get it right. 
Of course, this isn't the whole story.  While the mainstream media were frantically thinking up headlines to make the pope look like some kind of anti-Islamic barbarian, he gave some crucial context to his use of the quote when he added more words of the Emperor Manuel.  He said: "The emperor goes on to explain in detail the reasons why spreading the faith through violence is something unreasonable….violence is incompatible with the nature of God and the nature of the soul." He then added: "God is not pleased by blood, and not acting reasonably is contrary to God's nature. Faith is born of the soul, not the body. Whoever would lead someone to faith needs the ability to speak well and to reason properly, without violence and threats. ... To convince a reasonable soul, one does not need a strong arm or weapons of any kind or any other means of threatening a person with death ..."
It is important to clarify, as Pope Benedict did, that the roots of such extremist violence come from a perversion of the Islamic faith and not from Islam's authentic theology.
And while so many in the western world cringed at the words of Pope Benedict, more than 100 Muslim scholars from around the world signed an open letter wherein they respectfully took on board the comments made in the pope's Regensburg lecture.  Perhaps even more remarkable is that King Abdullah of Saudi Arabia would visit Pope Benedict in Rome a year later and he would, in 2008, organise an interfaith conference to which he invited Christians, Muslims, Jews, Buddhists and Hindus in an effort to tackle religious extremism.
As Pope Benedict suggested in his lecture, the first victims of Islamic extremism are Muslim people themselves.  It then spreads to other peoples, other religions and other countries, and before we know it, every part of the world is on edge fearing the next attack.
No religion can justify the use of such violence as that being wrought by Islamic State at present, be it in Paris, Syria or Africa, where so much damage is done on a daily basis with little coverage from the western mainstream media.  We need strong leadership from religious leaders as well as from political leaders. We also need strong religion from those who profess their faith in a peaceful way, be they Muslim, Christian, Jewish, Buddhist, and also those of no faith who live by peaceful means. 
As Christians, we need to show the world what living a life of faith is really about.  For us, it is about praising God by loving Him and by loving all of our brothers and sisters with whom we share our planet.  And while we may often fail in that regard, we must never forget that this is what Christianity teaches us and that is the message we must take to the ends of the earth.  There is no place for violence in our religion.  Pope Benedict, despite being ridiculed and derided by many in the western world, wasn't afraid to stand up for peace by speaking out against violence. We should be similarly brave in our approach.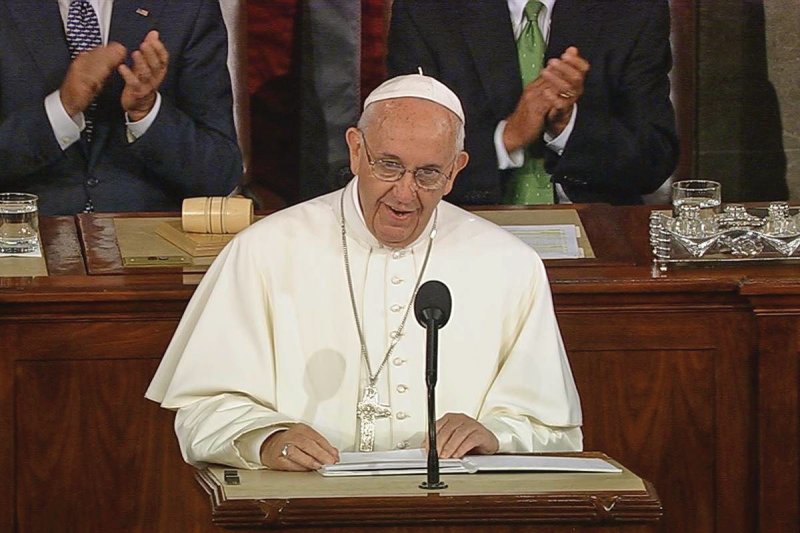 The pope received several standing ovations in Congress
Pope Francis, in his historic address to US Congress, has urged the world to follow Christ's Commandment of love.  The pope used the opportunity to tackle critical issues such as the dignity of human life, the death penalty and the refugee crisis.  He also addressed recent attacks on marriage and family life, and his concerns that the very basis of the family and marriage is being called into question. 
Here are the main quotes from the pope's address to USC ongress this afternoon:
Pope Francis on the golden rule:
"Let us remember the golden rule: do unto others as you would have them do unto you."
On the dignity of human life:
We must "protect by means of the law, the image and likeness fashioned by God in every human life."
We must recognise the "transcendent dignity of the human being".
"The golden rule [to do unto others as you would have done unto you] also reminds us of our responsibility to protect and defend human life at every stage of its development."
On the family:
"The family should be a recurrent theme….how essential the family has been to the building of this country.  I cannot hide my concern for the family which is threatened, perhaps as never before from within and without.  The very basis of the family and marriage is being called into question."
"I can only reiterate the importance and, above all, the richness and the beauty of family life."
"I would like to call attention to those family members who are most vulnerable, the young.  Their problems are our problems.  Our young people are precious."
"We live in a culture that threatens young people not to start a family."
On the death penalty:
"Let's abolish the death penalty here and everywhere. No punishment should exclude hope or the possibility of conversion."
On politics and society:
"Preserve and defend the dignity of your fellow citizens in pursuit of the common good."
"We are all worried by the disturbing social and political situation of the world today."
"It can be no more us vs them. We must confront every kind of polarisation. Our response must be hope and healing, peace and justice."
"Safeguard religious freedom, intellectual freedom, and individual freedom.  We must be specially attentive to every type of fundamentalism."
"Politics must be used to build the common good."
"It's my duty to build bridges and help all men and women to do the same."
"We have to ask ourselves: why are deadly weapons being sold to those who plan to inflict untold suffering on individuals and society?"
"It is our duty to confront the problem and stop the arms trade."
On the elderly:
The elderly are the "storehouse of wisdom".
On the refugee crisis:
"We must view them as persons, seeing their faces, listening to their stories, and try to respond as best we can."
On poverty:
"The fight against poverty and hunger must be fought constantly and on many fronts, especially in its causes."
On business:
"Business is a noble vocation, especially in its creation of jobs to the common good."
On the environment:
"I'm convinced that we can make a difference, I'm sure."
"We have an obligation to our future generations. The time is now."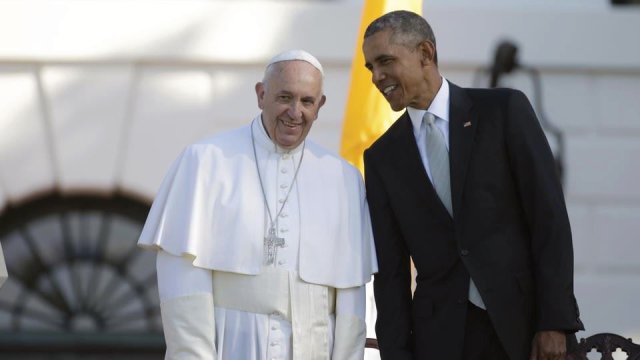 The first few days of Pope Francis' visit to the United States have been fascinating, not least because of his clever tactics in putting US President Barack Obama firmly, yet politely, in his place.
The depth of Obama's hypocrisy on religious freedom simply cannot be underestimated following his welcome speech to the pope on the south lawn of the White House. Obama, ever the impressive statesman, spoke of how "here in the United States, we cherish religious liberty" and promised the pope that "we stand with you in defence of religious freedom and interfaith dialogue, knowing that people everywhere must be able to live out their faith free from fear and intimidation."
It does actually sound very good, but the reality is this man is head of perhaps the most anti-religious administration ever seen in the United States; a fact not lost on the Holy Father.  Consider the pope's response to the president: "Mr President, together with their fellow citizens, American Catholics are committed to building a society which is truly tolerant and inclusive, to safeguarding the rights of individuals and communities, and to rejecting every form of unjust discrimination. With countless other people of goodwill, they are likewise concerned that efforts to build a just and wisely ordered society respect their deepest concerns and their right to religious liberty. That freedom remains one of America's most precious possessions. And, as my brothers, the United States Bishops, have reminded us, all are called to be vigilant, precisely as good citizens, to preserve and defend that freedom from everything that would threaten or compromise it."
The pope's final words suggest that while President Obama is confident that his country respects the rights of religious people, the pope doesn't necessarily share his view. 
But here is the best part. Shortly after meeting Mr Obama, the pope decided to make an unscheduled stop to the convent of the Little Sisters of the Poor.  The significance of this? The Little Sisters are currently pursuing an action against the Obama administration for forcing them to comply with the HHS Mandate (also knows as 'Obamacare'), a Mandate which forces companies and groups (including the Little Sisters) to provide contraception through employee insurance plans. And let's not forget that President Obama and the wider Democratic community recently vowed not to make it a crime for a person to kill a baby born following a failed abortion  This, brothers and sisters, is Obama's idea of a country that cherishes "religious liberty."
The pope, who told Bishops yesterday that nobody can turn away from the evil of abortion, is already making some shrewd moves in the States. But then, we shouldn't be surprised, even when we are faced with the quiet exterior of this humble little man from Argentina. He is a man who burns with the fire of his Catholic faith, and he is undoubtedly a man with a plan.  Perhaps it hasn't yet dawned on President Obama that he is up against the successor to Peter and Vicar of Christ.
/