Shopping Cart
Your Cart is Empty
There was an error with PayPal
Click here to try again
Thank you for your business!
You should be receiving an order confirmation from Paypal shortly.
Exit Shopping Cart
Calling Scotland's 841,000 Catholics to unite as one voice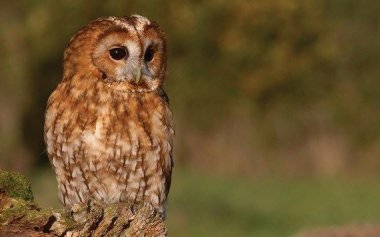 The owl: undeniably beautiful, but not human
Walking through the centre of Edinburgh last week I was struck by a large crowd gathered on the pavement.  As I approached I noticed that the crowd, made up mostly of tourists, were gawping at a rather large, impressive owl that was perched on its keeper's arm. 
The crowd pointed, smiled, laughed and took a vast amount of photographs with their mobile phones and state-of-the-art digital cameras.  It was all very pleasing to the owl's keeper who must have been licking his lips at the prospect of a bumper pay day should even a fraction of those gathered be brave enough to get up close and personal with the beautiful feathered creature and let it sit on their arm. 
And as I got closer to the scene I noticed that there was something else sitting in the corner, propped up against the wall of one of the buildings.  It sat just to the left of the man holding the owl.  It was nothing remarkable; at least it was unremarkable in the sense that the crowd didn't seem particularly bothered by it.  It just sat there, motionless.  That 'it' was a beggar.
I was amazed at how helpless this man looked set against this excited and comparatively wealthy crowd of people straining to catch a glimpse of an owl.  He sought and drew no attention whatsoever and he may as well have been invisible for all the owl mob cared.  But for my own respect for the gentleman beggar I would have been tempted to take a photograph of the scene to highlight just how preposterous it all looked.
It's a sad day when an owl is deemed more interesting, more important and more deserving than a poor, helpless human being stuck in the gutter.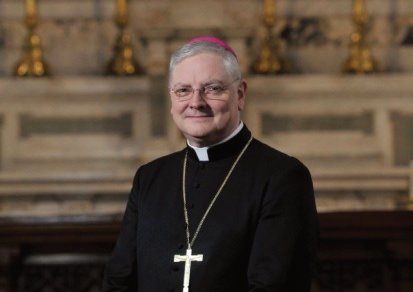 Archbishop of St Andrews and Edinburgh Leo Cushley celebrates the 125 anniversary of Pope Leo XIII's landmark encyclical 'Rerum Novarum'
Archbishop Leo Cushley has marked the 125 anniversary of the papal encyclical Rerum Novarum by re-proposing its social teaching for the common good of Scottish society.  The encyclical by Pope Leo XIII is arguably the Church's most important when it comes to social justice and the Archbishop can clearly see positives in once again bringing it to the forefront of our minds.
Writing in today's Scotsman Archbishop Cushley said: "At the foundation of Pope Leo's vision is an unshakeable belief in the intrinsic value of every man, woman and child.  The degree to which it threatened or enhanced the life and dignity of the human person", he says, "is the measure of any political, moral or economic order".  It is clear, therefore, that the encyclical has at its very core the belief that human life must be at the centre of all decisions made by authority.  It is about standing shoulder to shoulder with the most vulnerable in society, including the poor, the sick, the elderly, and the unborn.
Pope Leo, who rejected unbridled capitalism as well as state socialism, argued that neither central government nor larger society should substitute itself for the initiative and responsibility of individuals and intermediary bodies within civil society.  Archbishop Cushley cited the example of Fife, which has gone from having 82 councils in 1930 to just one today, to illustrate the renewed appetite to revisit the issue of local empowerment.
The Archbishop also referred to the importance of the family in society.  He said: "The twofold purpose of this [the family] micro-community is traditionally defined as the good of the spouses and the procreation and education of children.  For this reason, nearly all societies – not just those informed by Christianity – have founded family life upon marriage.  Even now, the best sociological evidence tends to suggest that children generally do best in life when they grow up with a mum and a dad who are married to each other.  The married family, if you like, is the first, best and cheapest department of health, welfare and education."  He then quoted Pope John Paul II as he tried to encapsulate the effect of the erosion of a marriage-based culture: "As the family goes, so goes the nation, and so goes the whole world in which we live."
However, the Archbishop also referred to Pope Francis' call to appreciate those people for whom the ideal family is not possible, saying that these people "achieve remarkable things in the most difficult of circumstances".  He then reiterated Pope Francis' call to sympathise with and support those in difficult circumstances.
In a world fraught with significant challenges to the family as we know it, the Archbishop's consideration of one of the great social encyclicals is timely.  As he said: "The Church does not seek to impose its social teaching upon Scottish society.  We can only propose it as our vision to anybody seeking new paths towards the common good."
Archbishop Cushley has proposed what he feels is the fundamental consideration for the common good of society and offered it to the people of Scotland.  It is now up to us lay Catholics to do the same.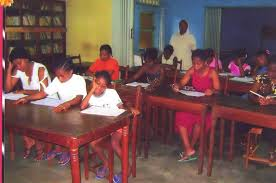 Madagascar is a country riddled with debt, where the basic right of a child to an education is far down the list of government priorities and public expenditure on children is a paltry £31 per year, leaving very little for a basic, let alone decent, education.
The situation is especially grim for girls who are often denied any form of education so as to allow male siblings to benefit from the opportunity to learn.  Boys, it seems, are best placed to go to school to learn.  Girls, it seems, are better off at home.
Thankfully, Missio Scotland, the official mission aid agency of the Catholic Church, is doing what it can to help girls in Madagascar obtain some form of education.  Missio has supported the Catholic Home for Girls in Ambanja, run by the Franciscan Sisters of Mary, since 2004.  The home accommodates around 40 poor and orphaned girls at any given time and is a place where the girls can be educated and allow their faith to flourish in a safe, loving environment.
Sister Suzanne Mahavita, who manages the home, says: "Our girls are from poor families where there's no money for school fees.  Even if there was money, boys get educated at the expense of their sisters.  Girls usually stay at home, caring for younger siblings and do household chores until they are of an age when they can marry.  In this sense female illiteracy far exceeds that of males.  But our local families do support the ideal of education for girls.  Our intention is to bring education to as many of the disadvantaged as we can.  We strongly believe it is every child's right to be literate and numerate."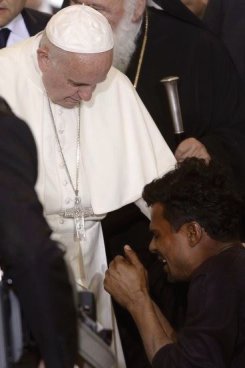 Pope Francis, during his weekly general audience, has slated those who turn their backs on the poor, suggesting that their ignorance means that they despise God.
The pope stressed that in the poor "we find Jesus himself: whatever you did to the least brothers of mine, you did to me".
The message is clear: we are called to wake up to the plight of the poor and to make sure we never ignore them.  I recall one of Pope Francis' early comments on the poor.  He said that we must get close to them as Jesus did, and touch their wounds.  Touch their wounds!  It sounds strange that we would put ourselves in a position to touch the cuts or sores, or even the diseased body of a stranger.  We may wince at the idea of shaking the hand of a homeless person, knowing full well that those hands could be carrying all sorts of germs that could make us ill.  But that is what we are called to do!  We are called to get close, because by getting close to the poor and the needy we are getting close to Jesus.  And we all know that Jesus will not cause us any harm or give us anything we cannot deal with by his grace.
It is also worth remembering that when Pope Francis refers to the poor he is not just talking about the homeless or the financially impoverished.  He is also talking about the poor in spirit; those who have perhaps lost their way in faith or who fail to recognise the Goodness of God.  We are also called to accompany these people, as well as those who suffer a more typical form of poverty.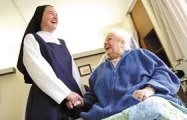 In the first of our new series of Catholic Love in the Community we pick up the story of a group of Dominican nuns caring for the terminally ill in New York.
The New York Times has this week published a beautiful story about a group of Dominican nuns who care for the dying at their Rosary Hill nursing home situated in the small town of Hawthorne on the outskirts of New York City.
The home, which is essentially a hospice, was founded in 1901, 'long before the mainstream medical community embraced hospice care and during a time when some doctors still thought cancer was contagious.'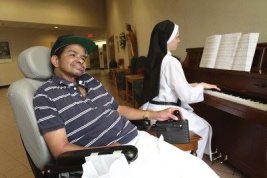 The nuns care for people of all faiths and none and abide by the words of its founder Rose Hawthorne Lathrop: "We cannot cure our patients, but we can assure the dignity and value of their final days, and keep them comfortable and free of pain."
Their work is highly thought of in the area and Gillian Laub - whose mother-in-law was cared for at the home after her family discovered that insurance could not cover the care she required – said that she was 'struck by their [the nuns] tenderness with the dying, how they painted women's fingernails and combed their hair, changed them into fresh nightgowns and arranged flowers in their rooms.'  Laub suggested that "this is how dying should be."
Please pray for these nuns and for all who work to care for the poor and needy in our society.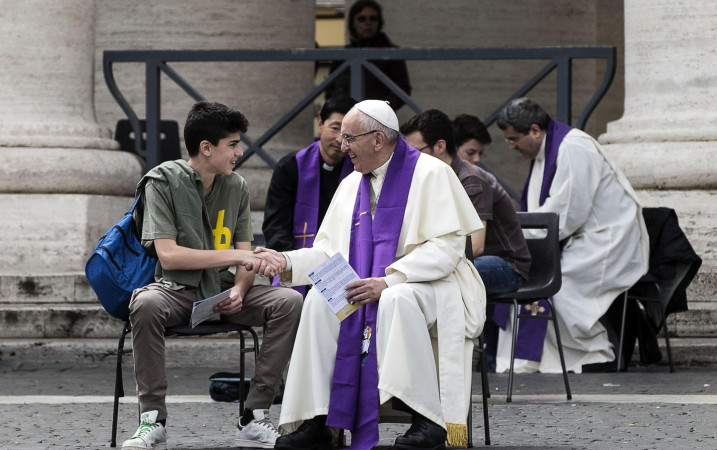 Pope Francis heard Confessions in the days leading up to the Mass
Pope Francis has given a lesson in love and freedom during his homily at the Jubilee Mass for Young People in Rome.
The Pope, speaking to thousands of youth in St Peter's Square, said that Jesus himself declared that Christians would be known "by the way they love one another."  The Pope continued saying, "love, in other words, is the Christian's identity card."
The Pope then tackled the meaning of love, stating that love is something you give.  He also added: "it [love] is caring for others, respecting them, protecting them, and waiting for them."
Francis then challenged the young people on the true meaning of freedom, stating that "freedom is not the ability to simply do what I want.  This makes us self-centred and aloof."
"Freedom" he said "is the gift of being able to choose the good: this is true freedom. The free person is the one who chooses what is good, what is pleasing to God, even if it requires effort, even if it is not easy."
He then called on the young people to grow in love and told them how they could do this: "the secret, once again, is the Lord: Jesus gives us himself in the Mass, he offers us forgiveness and peace in Confession."
The Pope's call to the young people can be summed up nicely in the term 'free love'.  He wants Christians to give themselves freely to others in love, and he wants us to choose to do this as it is pleasing to God.  He then tells us that the nourishment we need for this task can be found in the Holy Mass and in the Sacrament of Confession. 
Let us be under no illusions.  Our mission as Christians is to spread the love of Christ throughout the world.  We must let his Truth be known to all people and we must deliver this Truth in a spirit of love; a love that is freely given and that always has the other person's best interests at its core.  This message is not just for our young, but for all Christian people. 
The Christian message is one of great hope, mercy and peace for all people.  But, above all, it is a message of love.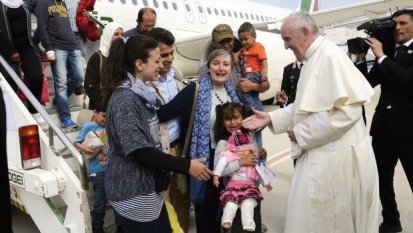 Pope Francis welcomes some of the migrants to Rome
Pope Francis has once again thrust the Catholic Church into the spotlight; this time by bringing a group of twelve Syrian migrants from the island of Lesbos to live in Rome.  The families travelled with the pope back to Italy after he made a visit to the small Greek island last weekend.  It is understood the three families, all Muslim, were fully prepped for the move ahead of the pope's visit.
The finer details of how all of this will pan out remain to be seen, but the gesture itself is one of great love and generosity on the part of Francis.  It is dynamic, reactive, and challenging.  In many respects it bears the hallmarks of Christ himself.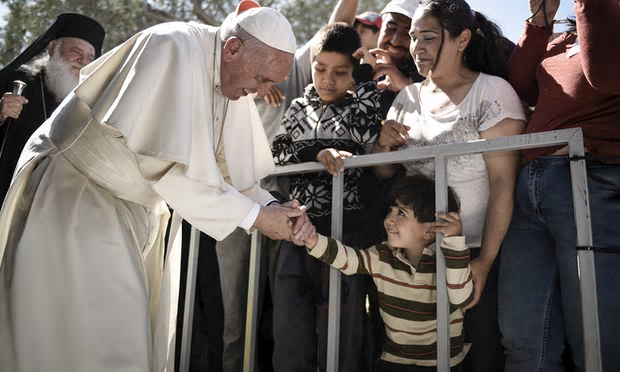 And while he had to leave huge numbers of migrants behind in Lesbos, Francis left them in no doubt that he loves each and every one of them as he told them: "you are not alone".  He later followed this up with a call to Western leaders to do more to accommodate the migrants.   
Yet the challenge set down by the pope is not just for political leaders.  Each one of us is called to rise to his challenge and to show similar love and compassion to the poor and needy in our communities.  So before we criticise others for their failure to act, we need to think about what we ourselves are doing for the good of humanity.  It might only be small gestures of love or kindness, but remember, each little gesture creates another building block for the Kingdom of God.
For all of the criticism Pope Francis attracts, particularly from his own household, he has the knack of showing great love to all people, especially to those in great need.  In all honesty, I wish I could have even a tiny percentage of the compassion, mercy and humility that this man clearly has in abundance.  He is, in many respects, a world leader in love.  Isn't that precisely what God's representative on earth should be?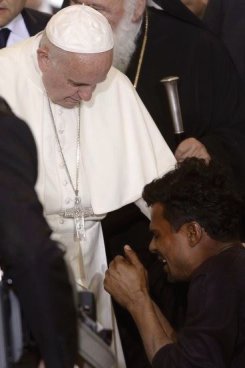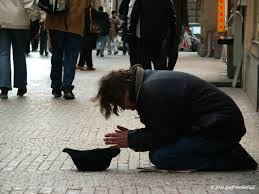 The posters erected around Nottingham City Centre urging people not to give to beggars is quite concerning.  Is poverty so abhorrent that it is to be brushed out altogether from our streets?  Is it really appropriate to punish the poor and homeless even more by encouraging the public to refrain from giving them a few pounds that we are able to spare?  One of the posters features a man smoking and urges people not to "watch your money go up in smoke".
It would be fair to say that there may be some beggars who are not necessarily homeless or financially unsound.  Indeed, many of them may have no need whatsoever to beg on the streets.  But is it fair to encourage a blanket ban on giving to the poor in order to deprive the fraudsters?
The governors at Nottingham City Council clearly feel the need to combat what they term "aggressive" begging in their city.  True, it isn't pleasant if a beggar harasses you to hand over your hard earned cash.  But is this really our experience when we walk through our city streets?  Are they really so aggressive that we feel threatened?  Or is it the case that we simply cannot be bothered with the inconvenience as we go about our daily business?  Sure, maybe it is inconvenient for some.  But is it as inconvenient as having to sit on a cold, hard concrete surface for hours at a time?  Is it as inconvenient as having to beg other human beings for assistance just so that you can buy some food to keep you going?  Is it as inconvenient as having to find a suitable place beneath a motorway bridge or a quiet lane to rest up for the night?  Is it as inconvenient as having to experience the stare of hate as people look down at you with repulsion?  The answer to all of these questions is a resounding no.
Sure, nobody should need to put up with aggression from anyone as they go about their daily routine.  But we must be careful not to demonise those who really are in need of our generosity.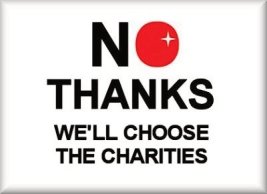 Comic Relief and its spin off Sport Relief certainly do get the nation's charitable juices flowing at this time of year.  It also causes much debate among Catholics as to whether or not we should be contributing to such a charity and allowing our schools and children to participate in the fund raising frenzy.  It seems that every year we face the same dilemma, yet the goalposts haven't moved for years.  Comic Relief (and Sport Relief) is a charity that gives great cause for concern when it comes to Catholic morality.
Firstly, Comic Relief is a bucket fund.  This means that the organisation's hierarchy decides how the money raised is spent, including which charitable organisations and causes it wishes to give cash to.  We can never be certain where our cash will go and this itself creates a significant degree of risk for those who would rather their donation went to a specific cause or charity.  Secondly, Comic Relief has been known to pass on funds to charities involved in the provision of abortion services.  Consider its grant of £374,694 to the International Planned Parenthood Federation (IPPF) in January 2011 for work in Swaziland, Ethiopia and Mozambique.  IPPF's own report confirmed that they had carried out over 1.5 million abortion procedures that same year.  Money donated to Comic Relief may very well have been used to provide those abortion services.
Another charity known for its abortion links is, rather ironically, Save the Children, which also promotes the use of contraception.  Did you know that Barnardo's recommends abortion provider Marie Stopes on its 'links' page and provides free condoms to youngsters, or that Childline promotes abortion as a 'legitimate choice'?  Did you know that the British Heart Foundation has assisted in raising £12m for stem cell research involving human embryos?  And did you know that UNICEF promotes chemical and surgical abortion and provides confidential sexual and reproductive health information and services to children from 10 years of age?
Thankfully there are a number of charities out there that are not bucket funds and so are clear on the charitable activities they undertake.  They are also in line with Catholic moral teaching. 
A list can be found here
.
Please do give serious consideration to all of the charities you donate to and explore precisely where your money will go and whether this compromises basic principles such as the right to life.  Remember, there are always charities out there that will not spend your money on contraception, abortion, the destruction of human embryos, and other immoral activities. 

/