Shopping Cart
Your Cart is Empty
There was an error with PayPal
Click here to try again
Thank you for your business!
You should be receiving an order confirmation from Paypal shortly.
Exit Shopping Cart
Calling Scotland's 841,000 Catholics to unite as one voice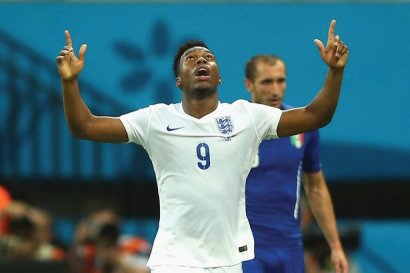 Daniel Sturridge praises God
While the World Cup, with all its colour and atmosphere, provided an exciting spectacle of football for the many millions of people glued to their TV screens over the last month or so, there was more than just football on show.
Once again, at a major football event, the faith of participants was very much in evidence.  You would run out of fingers and move onto your toes if you wanted to count the number of players blessing themselves as they entered the field at the start of your average World Cup game. 
If you believed the hype of secular organisations and the increasingly secular press you would be astonished to see this incredible show of faith; for it is their belief that the Christian faith is dying.  Yet the World Cup suggests a very different world from the one the secular protagonists portray.
Not only do we have numerous instances of players blessing themselves but we even have individual moments of intense prayer and witness to faith.  Consider Mexico's Javier Hernandez as he kneels on the turf immediately before kick off, his arms outstretched, palms in the air, speaking softly to God and perhaps offering up his efforts for the Father's Greater Good.
Also consider England's Daniel Sturridge, as he wheeled away to celebrate his goal against Italy, stretching his arms upward and uttering the words 'I love you Jesus, I bless you Father'. 
And then of course you have the great Lionel Messi, who will always give thanks to the Father after every goal he scores.

These are just three examples of faith by participants in this year's great football competition.  Add to that the many more examples of footballers giving glory to the Father through their work and you start to think that maybe there is a lesson in there for the rest of us.
While some people may be critical of sportsmen and women putting their faith in front of the cameras in such an obvious manner, we should take a step back and consider whether there is a little more to it than simply 'showing off' one's faith.
Yes, humility is important in faith and Jesus was clear that we shouldn't seek the praise of others as we pray and that we should say our prayers in secret where the Father will see us and hear us.  Yet we must also bear in mind the need to be a witness to our faith and to show others how much joy our faith gives us.
Pope Francis recently encouraged people to be witnesses to the love of Christ in all that they do, including their work.  In truth, he could have excluded many professional footballers from this call, as they already appear to be providing a very obvious witness as they go about their day job!  Perhaps these guys have it right and it is the rest of us who should look in the mirror and consider 'in what way am I witness to my Catholic faith before others?'
There will undoubtedly be footballers who, while their religious beliefs are blatantly obvious, don't behave in a manner befitting their faith.  But then, are we any better?  Do we sin any less? 
Perhaps we should consider taking a leaf out of the book of professional sports people like Javier Hernandez, Daniel Sturridge and Lionel Messi as we go about our own day jobs.  They seem to have a knack for remembering the most important things in life as they go about their work.  Why shouldn't we?
/