Shopping Cart
Your Cart is Empty
There was an error with PayPal
Click here to try again
Thank you for your business!
You should be receiving an order confirmation from Paypal shortly.
Exit Shopping Cart
Calling Scotland's 841,000 Catholics to unite as one voice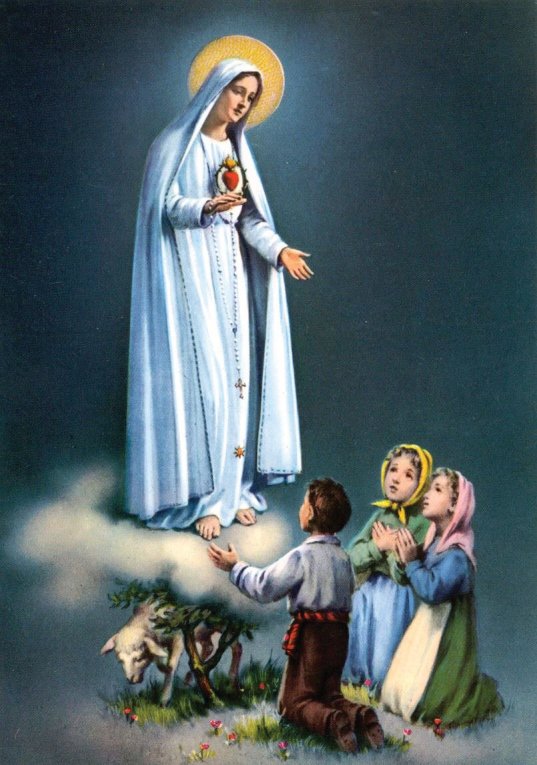 During Wednesday's General Audience Pope Francis reminded the gathered that Friday 13 May is the memorial of Our Lady of Fatima, stressing the importance of paying heed to Mary's words not to offend God any more than we already have and to focus our hearts and minds on abandoning ourselves to God's love and mercy.
The pope said: "In this apparition, Mary invites us once again to prayer, penitence and conversion. She asks us to offend God no more….She warns all humanity of the need to abandon itself to God, the wellspring of love and mercy. Following the example of St. John Paul II, a great devotee of Our Lady of Fatima, let us listen carefully to the Mother of God, and implore peace for the world."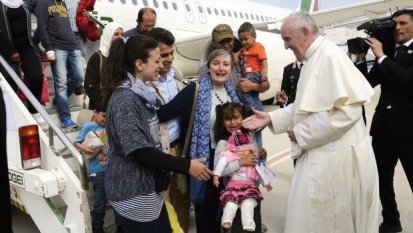 Pope Francis welcomes some of the migrants to Rome
Pope Francis has once again thrust the Catholic Church into the spotlight; this time by bringing a group of twelve Syrian migrants from the island of Lesbos to live in Rome.  The families travelled with the pope back to Italy after he made a visit to the small Greek island last weekend.  It is understood the three families, all Muslim, were fully prepped for the move ahead of the pope's visit.
The finer details of how all of this will pan out remain to be seen, but the gesture itself is one of great love and generosity on the part of Francis.  It is dynamic, reactive, and challenging.  In many respects it bears the hallmarks of Christ himself.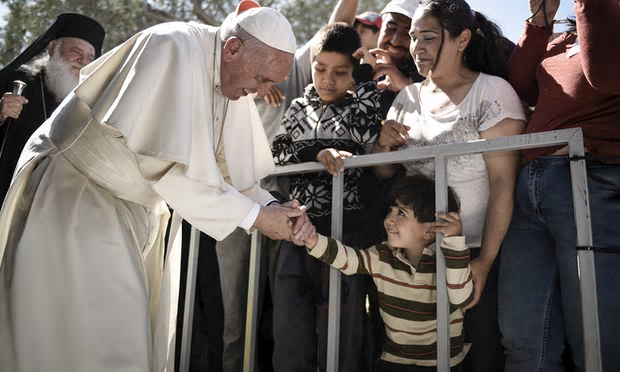 And while he had to leave huge numbers of migrants behind in Lesbos, Francis left them in no doubt that he loves each and every one of them as he told them: "you are not alone".  He later followed this up with a call to Western leaders to do more to accommodate the migrants.   
Yet the challenge set down by the pope is not just for political leaders.  Each one of us is called to rise to his challenge and to show similar love and compassion to the poor and needy in our communities.  So before we criticise others for their failure to act, we need to think about what we ourselves are doing for the good of humanity.  It might only be small gestures of love or kindness, but remember, each little gesture creates another building block for the Kingdom of God.
For all of the criticism Pope Francis attracts, particularly from his own household, he has the knack of showing great love to all people, especially to those in great need.  In all honesty, I wish I could have even a tiny percentage of the compassion, mercy and humility that this man clearly has in abundance.  He is, in many respects, a world leader in love.  Isn't that precisely what God's representative on earth should be?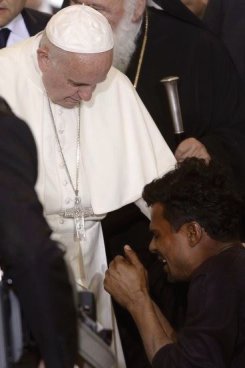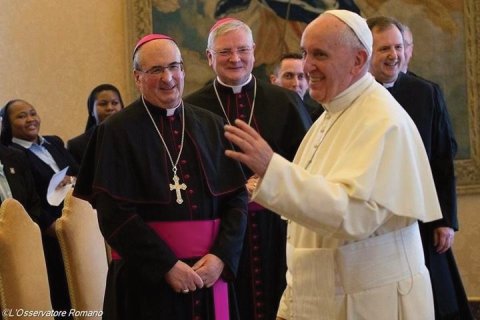 Pope Francis has addressed the members of the Scots College in Rome on the 400 anniversary of the college's founding.  Addressing the gathered, including Archbishop Philip Tartaglia and Archbishop Leo Cushley, the pope urged the seminarians to "have the same selfless spirit of their [martyr] predecessors".  He then urged the men to give themselves generously to their priestly formation so that "your years in Rome may prepare you to return to Scotland and to offer your lives completely".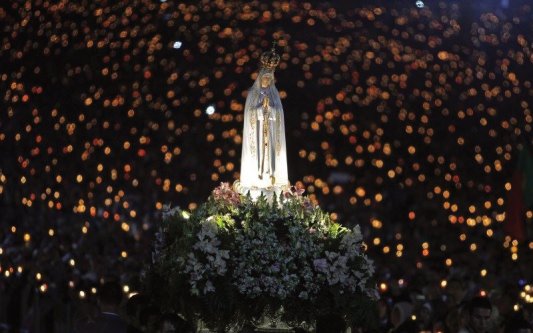 This, brothers and sisters, is our faith. 
These images from Fatima show the world what it means to be Catholic.  Why not share them with others and show them the deep sense of unity and love that exists in the Church; a Church that is open to all.
And as the month of Mary approaches, why not consider joining in the First Saturday Devotion to the Immaculate Heart of Mary?  You can find out more by clicking
here
.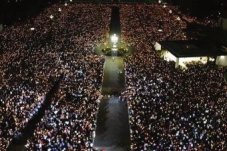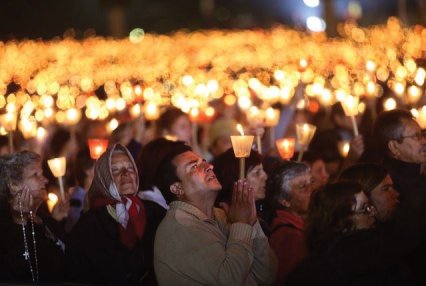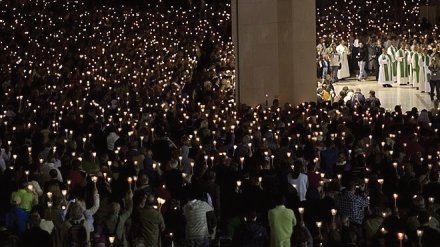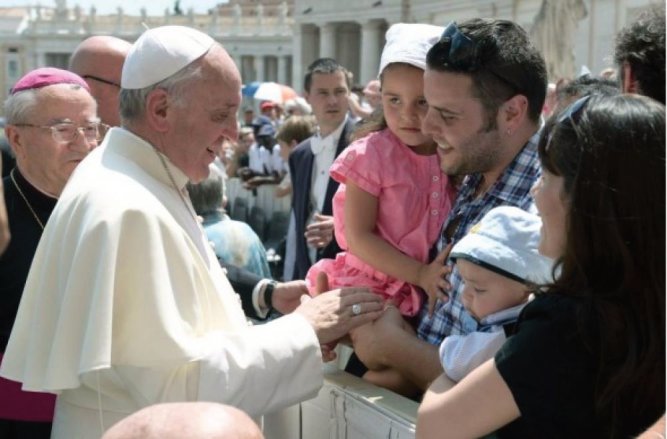 In his new exhortation,
Amoris Laetitia (The Joy of Love),
 Pope Francis has expressed the need to view the family unit as an opportunity rather than a problem, and has encouraged the Church to be more understanding and compassionate towards those who experience difficulties in family life.  There is a real sense of challenge in the document; a challenge to a deeper, less self-centred love towards all people, coupled with a deeper sense of humility.
The document, which runs to 264 pages, also speaks highly of the value of children and the need for married couples to be open to the prospect of new life.  It emphasises the need to see the family unit as a church and provides insight into the various reasons that have contributed to the breakdown of the family in our world today.  He was also critical of those who are narcissistic and irresponsible in relationships saying: "We treat affective relationships the way we treat material objects and the environment: everything is disposable; everyone uses and throws away, takes and breaks, exploits and squeezes to the last drop. Then, goodbye. Narcissism makes people incapable of looking beyond themselves, beyond their own desires and needs. Yet sooner or later, those who use others end up being used themselves, manipulated and discarded by that same mind-set."
As expected, the pope has not made any moves to change Church teaching and matters such as contraception, same-sex marriage, abortion and holy communion for the divorced and remarried have not been given the liberal treatment that many media outlets had hoped for.  This, of course, was never in doubt. 
However, Francis has encouraged the Church to give consideration to how it can best serve those who do not live in accordance with Church teaching, especially when it comes to reconciling them to God.  Bishops, priests and Catholic lay people are all being challenged to be the merciful face of Christ to those in difficult situations, while ensuring that the beautiful teaching of the Church is preserved.  There is also a challenge to be more positive about Church doctrine, to present it in a way that reveals its true beauty and goodness.
While we are not yet in a position to go into detail on the exhortation we will be posting a number of related content on our Facebook and Twitter feeds over the coming days.  We also expect to publish more posts here on our blog so please do check it regularly.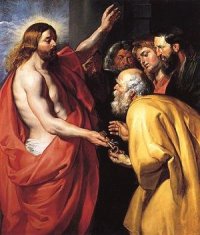 Today's Gospel (Matthew 16:13-19):
'When Jesus came to the region of Caesarea Philippi he put this question to his disciples, 'Who do people say the Son of Man is?' And they said, 'Some say he is John the Baptist, some Elijah, and others Jeremiah or one of the prophets.' 'But you,' he said 'who do you say I am?' Then Simon Peter spoke up, 'You are the Christ,' he said 'the Son of the living God.' Jesus replied, 'Simon son of Jonah, you are a happy man! Because it was not flesh and blood that revealed this to you but my Father in heaven. So I now say to you: You are Peter and on this rock I will build my Church. And the gates of the underworld can never hold out against it. I will give you the keys of the kingdom of heaven: whatever you bind on earth shall be considered bound in heaven; whatever you loose on earth shall be considered loosed in heaven.''
In 1870, Vatican I declared that this Gospel passage was clear biblical support for the primacy of Peter and successive popes.  The Council's interpretation touches on the following five points of doctrine:
The Magisterium built upon Peter is instituted by Jesus Christ;
Peter is given a unique role as chief teacher and ruler over the Church;
Peter is the visible head of the Church;
Peter's authority is passed on through successors; and
through Peter, Christ himself assures the infallible preservation of the gospel in the Church.
While it may sometimes be tough to be Catholic, especially in today's secular relativist world which seeks to discredit the Church at every turn, we still have every reason to be joyful.  Why?  Because this is a Church that was established by the saviour of the world, Jesus Christ!  Indeed, it is the only church established by Jesus Christ. 
But Jesus didn't leave it at that.  In addition to establishing a church he knew that the Church needed help from above to protect it from evil and to ensure its ongoing safety and wellbeing in protecting the gospel with which it is entrusted.  So he promised the Church that he will always be with it, ensuring that the gates of death, deception and destruction will never overcome it.  He then proceeds to give his close disciple Simon Peter the authority to make binding decisions with respect to the Church and gives him the keys to the kingdom of heaven.
Jesus, in just a few short sentences, establishes the Catholic Church, promises to sustain it, and even gives a mere mortal being the authority to be its chief teacher and chief administrator on earth.  So we can say with confidence that through the authority of Peter (often referred to as the 'Chair of Peter') and his successors, heaven governs the Church on earth. 
So be confident and joyful in your Church, and trust her authority always, for she is being guided by Christ who ensures her safe passage through time to that moment when he will come again on the clouds to be fully united with her.  And it is at that moment that our Lord will gather in his chosen people to take them to Paradise to be with him forever. 
The keys to Heaven are in the hands of the Church where they have been for the last 2000 years, from the moment Jesus entrusted them to Peter.  No matter how tough or testing it may sometimes feel to be part of the Catholic Church there is no denying that she is the surest way to Heaven and to Jesus.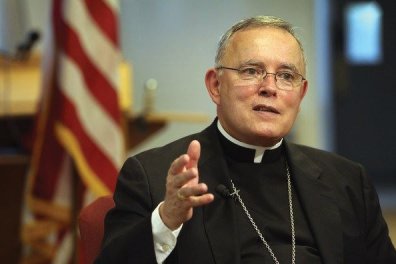 Archbishop Charles J Chaput
Archbishop Charles J Chaput speaking about the Synod on the Family:
"Truth without love is bitter and can drive the wounded away; and love without truth isn't love at all, but a comfortable form of lying.
"There can be no real mercy, since mercy is an expression of love, without first grounding it in the truth about God's will for humanity.  His will includes marriage and the family.  And the source for understanding his truth in God's own Word and the Chuch his Son founded."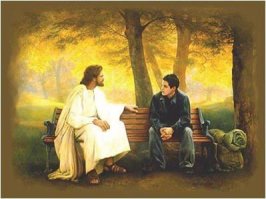 We need to listen to Jesus
From Sunday's Gospel (Mark 10:17-30):
'Jesus was setting out on a journey when a man ran up, knelt before him and put this question to him, 'Good master, what must I do to inherit eternal life?' Jesus said to him, 'Why do you call me good? No one is good but God alone. You know the commandments: You must not kill; You must not commit adultery; You must not steal; You must not bring false witness; You must not defraud; Honour your father and mother.''
It's always difficult to listen to someone telling you what to do and to do so with an open mind and an open heart.  Goodness knows I have struggled with it many times in my life!  But what if that person was Jesus?  Would it change your attitude?  
In this Gospel Jesus reminds us of some of the Commandments as he tries to steer a man towards the Kingdom of Heaven and eternal life.  He speaks with great clarity and no little authority as he tells us not to kill, not to commit adultery, not to steal, not to lie, not to deceive, and to honour our parents.
As the Synod on the Family in Rome closes its first week of meetings and discussions, we are called to remind ourselves of these words of Christ, especially when we think about hot topics like abortion, contraception, marriage and, of course, the family.  While people may surmise the potential for change or reform in the Church, the Church fathers will always turn to the one who knows best….Jesus.
There is a need for all of us to get back to basics on issues such as abortion, contraception and marriage.  That's why we need to listen to Jesus and take in what he is telling us.  Only then, with the Truth embedded in our hearts and minds, can we build a better world.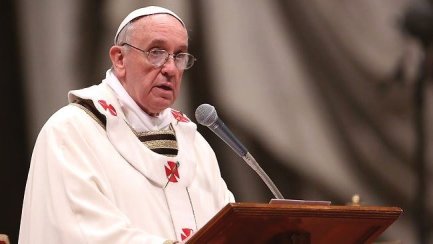 You may not have heard it on the news, but Pope Francis this weekend reaffirmed the truth of marriage as being between one man and one woman.  He also reaffirmed his conviction that all life is worthy of protection.

 

 

It's the kind of chat that will dampen the spirits of those who see so called 'progression' on these fundamental areas of Catholic doctrine.  It's also the kind of chat that will delight Catholics who hold true to their faith and who value marriage between one man and one woman as decreed by God Himself, and who value the sanctity of life from its very beginning.

 

 

It's too easy to read the mainstream media headlines and stories about Pope Francis and ignore the sources that really matter.  The Pope's affirmation of Catholic teaching on marriage and abortion outlined above didn't come on some flight aboard the papal plane or at a grandiose meeting with a political heavyweight but from the sanctuary during his homily at the Mass which heralded the opening of the secondpart of the Synod on the Family.

 

 

All too often we fail to listen when it really matters.

 

0

/