Shopping Cart
Your Cart is Empty
There was an error with PayPal
Click here to try again
Thank you for your business!
You should be receiving an order confirmation from Paypal shortly.
Exit Shopping Cart
Calling Scotland's 841,000 Catholics to unite as one voice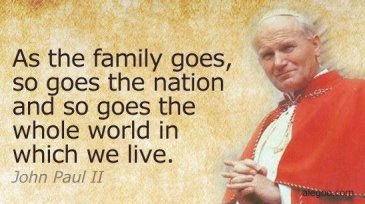 The prophetic words of John Paul II
It's a real wake up call. Jesus is losing his influence in Europe. Christianity is dying out.
We've known for some time now that Christianity is on the decline in Europe, but recent data released by the
Pew Research Center
reveals just how stark that decline is.
Indeed, it is the only decline in any religion in any part of the world between 2010 and 2015. But for Christianity's decline in Europe, every religion across all continents witnessed an increase in numbers, including Christianity itself, which is growing rapidly in Sub-Saharan Africa and Latin America. Islam is also growing rapidly in Sub-Saharan Africa as well as Asia Pacific.
But it is in Europe where the real story lies. An astonishing drop of 5.6 million Christian births to deaths has seen the religion plummet across the continent. There are many reasons for this, not least a much greater prevalence of lukewarm Christianity and an increasingly secular culture.
Across the world Islam will continue to grow in greater numbers than Christianity, with a fertility rate of 2.9 compared to 2.6 for Christians. Islam also has the youngest median age in terms of adherents to the faith, at just 24. Hindus are at 27 with Christians at 30.
We have known for some time that Islam would eventually catch up with Christianity in terms of numbers, and within twenty years births to women of Islamic faith will outnumber Christian births. But it is in Europe where there must be deep concern for Christians. Why is the faith struggling so much in that continent?
For European Christians there is undoubtedly a crisis when it comes to the family. Europe's secular influence, with its liberal laws around contraception, abortion and marriage, has chipped away at the hearts and minds of the faithful, giving them an excuse to focus on the self and to set aside the call of Christ to first and foremost love God and neighbour. Families now come in all different shapes and sizes; their constitution often based on the ideological whim of selfish individuals. The idea that a young man and a young woman can look lovingly into one another's eyes, establish a firm and beautiful friendship that leads to the great sacrament of marriage and the bearing of fruit through the birth of new life is dumbed down by the culture of want. And we have all bought into it. It is a sad reflection on our lack of faith.
As Pope John Paul II said, "As the family goes, so goes the nation and so goes the whole world in which we live."
We Christians have let down the family, and Europe is the nation Pope John Paul refers to. It is going and if we don't reclaim it the world will eventually go with it.

Europe, to coin a famous song, is most definitely losing its religion and losing Christ. If it is to recover, radical change in attitude is required. Starting with the family.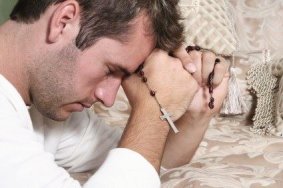 A call to Catholic men to right the wrongs of a broken society
Here's a question for Catholic men: did you know that you have the power to mend our broken society?  All the sadness and despair, the lies and deceit, the selfishness and infidelity; you have the answer to all of these problems.  The future of our world; a future of beauty, goodness and truth is in your hands! 
Confused?  Don't be.  Consider for a moment when the perfect world God created changed.  It was in the Garden of Eden, when Eve was tempted by the serpent to eat the fruit from the tree of the knowledge of good and evil, and both she and Adam ate the fruit.  This is the moment everything started to go wrong.  This is the moment sin and death entered into our world.  But what if you could help to right the wrong? 
Jesus, through his passion and Resurrection, redeemed that fatal mistake made by our forefathers in Eden, yet too many in the world reject the redemption Jesus offers them; preferring to ignore it and to continue buying into the relativist culture that tells them anything goes.  A culture that encourages selfishness for the sake of one's own wants and desires.
So is there something we Catholic men can do to bring people to accept Christ's redemption on the Cross?  How can we play a part in helping to heal the wounds of the single biggest mistake made by humanity?  A good starting point is to identify Adam's first mistake.  If we take ourselves back to the Garden of Eden, at the very moment the serpent persuades Eve to eat the fruit and she obliges.  Where is Adam at this point?  Why is he not protecting his wife from the cunning serpent and telling her to do as God instructed and not eat the fruit from the tree? 
This example of Adam failing to protect and care for his wife is all too prevalent in our world today.  And such a failure has serious repercussions.  Adam, after eating the fruit, suddenly realised that he and his wife were naked and he no longer saw her as God intended him to see her.  Rather, it was her body alone that he could see.  His eyes could no longer appreciate Eve's purity in her soul, that part of her which is the very core of her being.  Instead he looked upon her as an object for pleasure and gratification.  Does this ring any bells?  Is this not an accurate reflection of how many men view women in our world today?  Adam, created to have dominion over all the animals of the world and to be protector-in-chief of God's creation, including his wife, had gone from a soldier for God to a man of weakness; a wretch with no backbone.
And so it is with us men today.  Instead of protecting our wives and ensuring their safety and security in this world of sin, we have let them become the object of our own selfish desires and gratification.  We, like Adam, have taken our eye off the ball and have failed our women.  We have failed them badly.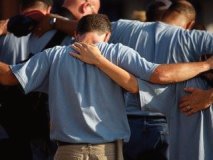 Catholic men can rebuild our broken society
Everywhere we turn there is infidelity, adultery, divorce, pornography, selfishness, violence, hate and intolerance.  The world is in ruins because of relativist ideals, especially those borne out of the sexual revolution.  But we Catholic men have been charged with making something out of those ruins; to take them and to build a pillar of love for the whole world to see.  We are called to succeed where Adam failed.  We have a duty to carry out God's original plan for His Creation; that is to serve, protect and defend all that God has entrusted to our care, especially our wives and children.
We must see our wives as God intended; with a perfect love.  That is, the same perfect love we witness when we see Christ hanging from the Cross.  This, brothers, is the love we are called to show our wives.  It is not lustful, it is not selfish.  It is pure sacrifice.  We, like Christ, must be prepared to lay down our lives for our wives and our children, putting their needs before our own.  Only in living out this kind of love will we be able to repair the wounds in our society; a society that is broken, having lost all sense of what it really means to be in love. 
Our world today is full of love built on sand.  We have love built on lies, we have love built on selfish desires, we have love built on one night stands, and we have love built on adultery.  The result of this is broken relationships, broken families, and ultimately broken children who have never experienced the love they need in order to thrive.  Society needs strong leaders in love.  It needs an authentic, unselfish and unconditional love that is free from the horrid pain of selfishness and lies.  The sexual revolution encourages people to dip in and out of relationships as and when they please.  There is no attempt to encourage staying power, no attempt to encourage true fidelity.  It is every man and woman for themselves.  Yet as Catholic men we are called to be much better than this, much better!  We are called to be soldiers for God, bringing His perfect love to the world by living it out in our homes and in our everyday lives, setting an example for our broken society.  God is looking down at the earth and asking "Where have all my Catholic men gone?  Where are my soldiers?  Where are the men my Son died for?"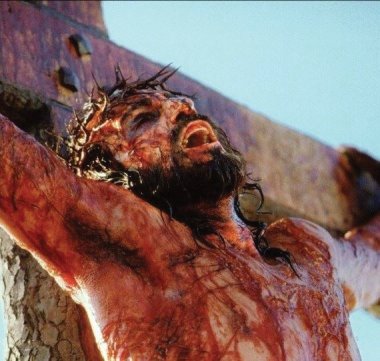 Christ's broken body is the example we are called to follow 
Brothers, let us be true.  True to God, true to our wives, true to our children, and true to our world.  Let us use our call to greatness, our call to be saints, to make a real difference to our world.  Let us never tire of striving to show the kind of love that Christ showed on the Cross, when he gave everything he had, shedding every last drop of blood for his people.  We too are called to give everything we have.  So, with a deep sense of prayer and trust in the Holy Spirit, let us go forth and be true protectors of God's creation.  Let us be sure to love our wives and families with that perfect love so unselfishly evidenced by the broken body of Jesus Christ hanging on the Cross.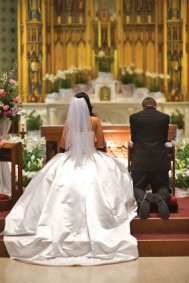 In this time of persistent and often radical sexual revolution it is hard to know where to look for some semblance of normality and a more authentic love.  In her latest Catholic Answers article, Jennifer Roback Morse encourages all people to look to the Catholic Church in these difficult times, even those who don't identify as Catholic.
As Jennifer says: "What the Catholic Church does is important to everyone, no matter their faith. The Catholic Church is the largest institution still standing against the ideological fraud known as the sexual revolution. Everyone who is trying to deal with the fallout from this massive social upheaval has a stake in what the Catholic Church says and does."
Pope Francis, through his recent Exhortation
Amoris Laetitia
, is asking the whole of humanity to trust in the teaching of Christ and his Church for our future.  He wants all people to experience an authentic love, particularly through the Sacrament of Marriage, and to find out for themselves that the sexual revolution does not satisfy our longings.  Rather, it inhibits us and restricts our freedom; enslaving us in an endless cycle of pain, misery and hurt. 
But the Church offers us hope, and by writing this Exhortation Pope Francis is building the foundations of a solid response to the sexual revolution.  It is a response that invites all people to an encounter with Christ and his Church in order to experience the true meaning of a real, authentic and free love. 
The Church has the answer, we just need to believe in it.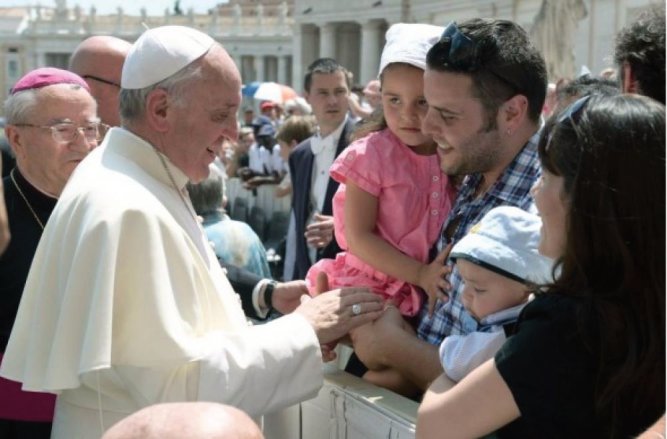 In his new exhortation,
Amoris Laetitia (The Joy of Love),
 Pope Francis has expressed the need to view the family unit as an opportunity rather than a problem, and has encouraged the Church to be more understanding and compassionate towards those who experience difficulties in family life.  There is a real sense of challenge in the document; a challenge to a deeper, less self-centred love towards all people, coupled with a deeper sense of humility.
The document, which runs to 264 pages, also speaks highly of the value of children and the need for married couples to be open to the prospect of new life.  It emphasises the need to see the family unit as a church and provides insight into the various reasons that have contributed to the breakdown of the family in our world today.  He was also critical of those who are narcissistic and irresponsible in relationships saying: "We treat affective relationships the way we treat material objects and the environment: everything is disposable; everyone uses and throws away, takes and breaks, exploits and squeezes to the last drop. Then, goodbye. Narcissism makes people incapable of looking beyond themselves, beyond their own desires and needs. Yet sooner or later, those who use others end up being used themselves, manipulated and discarded by that same mind-set."
As expected, the pope has not made any moves to change Church teaching and matters such as contraception, same-sex marriage, abortion and holy communion for the divorced and remarried have not been given the liberal treatment that many media outlets had hoped for.  This, of course, was never in doubt. 
However, Francis has encouraged the Church to give consideration to how it can best serve those who do not live in accordance with Church teaching, especially when it comes to reconciling them to God.  Bishops, priests and Catholic lay people are all being challenged to be the merciful face of Christ to those in difficult situations, while ensuring that the beautiful teaching of the Church is preserved.  There is also a challenge to be more positive about Church doctrine, to present it in a way that reveals its true beauty and goodness.
While we are not yet in a position to go into detail on the exhortation we will be posting a number of related content on our Facebook and Twitter feeds over the coming days.  We also expect to publish more posts here on our blog so please do check it regularly.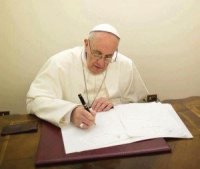 The pope has today announced changes to the procedures for those seeking annulments, making the process easier, more simplified and less expensive.
There is no longer a requirement for a twofold process in coming to a decision on marital nullity. The first decision, which is the responsibility of the Diocesan Bishop, shall be considered sufficient and binding and there will no longer be a second stage (known as 'automatic appeal') in the decision making process.  The outcome of the decision may still be appealed but it will not be automatic and there will be new rules built around the appeals process to ensure a party doesn't simply use it as a delaying tactic.
It isn't reform on a grand scale and it does not remove or water down the Church's teaching on the indissolubility of marriage, but it is a small change which will make the process easier for people seeking annulments in the future.  It is important to note that the changes don't necessarily mean that more annulments will be granted.
Here is the full report from the Vatican News website:
Pope Francis issued two Apostolic Letters motu proprio on Tuesday, by which he introduced reforms to the legal structures of the Church, which deal with questions of marital nullity. One of the Letters motu proprio, known by its Latin title, Mitis Iudex Dominus Iesus – or "The Lord Jesus, Clement Judge" – reforms the Code of Canon Law (CIC) governing the Latin Church, while the other, Mitis et misericorsIesus or "Clement and merciful Jesus" – reforms the Code of Canon Law for Oriental Churches (CCEO).
According to the prefatory remarks attached to both Letters, the reforms are the result of an expert group appointed to study the current state of law and practice in the Church as far as marriage law is concerned. The Holy Father goes on in the preface to explain that the reforms are guided by seven specific criteria, ample excerpts of which Vatican Radio offers below in its own unofficial English translation:
That there be only one sentence in favor of executive nullity – It appeared opportune, in the first place, that there no longer be required a twofold decision in favor of marital nullity, in order that the parties be admitted to new canonically valid marriages: the moral certainty reached by the first judge according to law should be sufficient.
A single judge under the responsibility of the Bishop – The constitution of a single judge in the first instance, who shall always be a cleric, is placed under the responsibility of the Bishop, who, in the pastoral exercise of his own proper judicial power shall guarantee that no laxity be indulged in this matter.
The Bishop is judge – In order that the teaching of the II Vatican Council be finally translated into practice in an area of great importance, the decision was made to make evident the fact that the Bishop is, in his Church – of which he is constituted pastor and head – is by that same constitution judge among the faithful entrusted to him. It is desired that, in Dioceses both great and small, the Bishop himself should offer a sign of the conversion of ecclesiastical structures, and not leave the judicial function completely delegated to the offices of the diocesan curia, as far as matters pertaining to marriage are concerned.
Increased brevity in the legal process – In fact, beyond making the marriage annulment process more agile, a briefer form of trying nullity cases has been designed – in addition to the documentary process already approved and in use – which is to be applied in cases in which the accusation of marital nullity is supported by particularly evident arguments. In any case, the extent to which an abbreviated process of judgment might put the principle of the indissolubility of marriage at risk, did not escape me [writes Pope Francis – ed.]: thus, I have desired that, in such cases the Bishop himself shall be constituted judge, who, by force of his pastoral office is with Peter the greatest guarantor of Catholic unity in faith and in discipline.
Appeal to the Metropolitan See – It is fitting that the appeal to the Metropolitan See be re-introduced, since that office of headship of an Ecclesiastical province, stably in place through the centuries, is a distinctive sign of the synodality of the Church.
The proper role of the Bishops' Conferences – The Bishops' Conferences, which must be driven above all by the anxious apostolic desire to reach the far-off faithful, should formally recognize the duty to share the aforesaid conversion, and respect absolutely the right of the Bishops to organize judicial power each within his own particular Church.
The re-establishment of vicinity between the judge and the faithful, in fact, shall not be successful if the stimulus does not come from the Conferences to the single Bishops, along with the necessary assistance, to put into practice the reform of the marital nullity process.
Appeal to the Apostolic See – It is fitting that the appeal to the ordinary Tribunal of the Apostolic See, i.e. the Roman Rota, be maintained: this, in respect of a most ancient juridical principle, so that the bond between the See of Peter and the particular Churches be reinforced – having care, in any case, in the discipline of the use of said appeal, to contain any and all abuse of right, in order that the salvation of souls be given no cause for harm.
Indeed, the prefatory remarks make clear from the very start, that thesingle most important principle guiding the Holy Father's action and the workof reform undertaken, is that of salus animarum – the salvation of souls– which is the suprema Ecclesiae lex – the supreme law of the Church.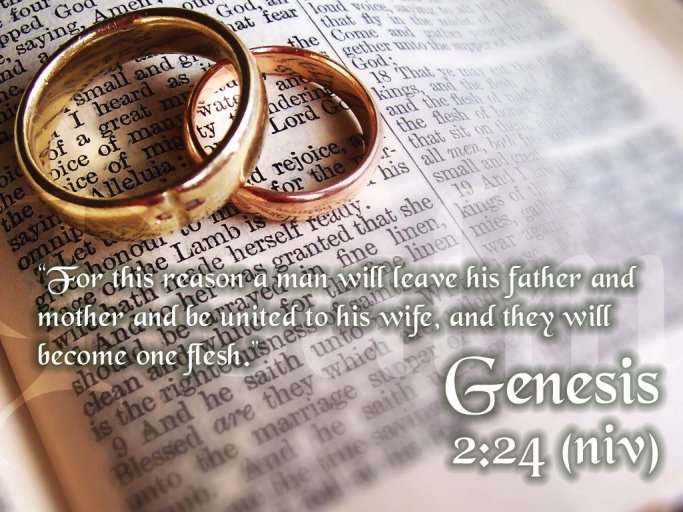 The issue of divorce is a subject of much discussion among members of the Catholic Church and its detractors. 
So what is thr truth of our teaching?  And did Jesus really allow divorce?
While Mosaic law did allow divorce and remarriage among the Israelites Jesus had a very different point of view when confronted by the Pharisees on the topic.  Jesus said: "Have you not read that he who made them from the beginning made them male and female, and said, 'For this reason a man shall leave his father and mother and be joined to his wife, and the two shall become one flesh'? So they are no longer two but one flesh. What therefore God has joined together, let not man put asunder."
The Pharisees tested Jesus yet further when they asked "Why then did Moses command one to give a certificate of divorce, and to put her away?"  Jesus' response: "For your hardness of heart Moses allowed you to divorce your wives, but from the beginning it was not so."
It is a clear and decisive teaching of Christ that sacramental marriage is forever and that divorce is not allowed.
So does the Church simply refuse to recognise any form of civil divorce or even separation?  Not quite.  The Church understands that sometimes such action is necessary where it is for reasons of abuse for example.  Provided there is no intention to end the sacramental aspect of the marriage then this is allowed but it cannot simply be done to free up individuals to marry others. 
The Catechism of the Catholic Church states: 'The separation of spouses while maintaining the marriage bond can be legitimate in certain cases provided for by canon law. If civil divorce remains the only possible way of ensuring certain legal rights, the care of the children, or the protection of inheritance, it can be tolerated and does not constitute a moral offense.'
So we have covered sacramental marriages i.e. marriages between two consenting Catholic people.  What about marriages between baptised Christians and other types of marriage?  Following the teachings of St Paul the Church has stated the following: 'A marriage entered into by two non-baptized persons is dissolved by means of the Pauline privilege in favor of the faith of the party who has received baptism by the very fact that a new marriage is contracted by the same party, provided that the non-baptized party departs.'  Therefore, there is scope for certain types of marriage to be dissolved so that an individual is free to marry again.
Another consideration with respect to marriage is the process of annulment.  This is where the Catholic Church, following thorough investigation, declares that a marriage never existed in the first place.  Some reasons for this are lack of capacity, failure to adequately consent, and violation of canonical form.
While there may be limited scope for non-sacramental marriages to be dissolved (and it is very limited) there is no doubt that valid sacramental marriages are forever and that divorce is not an option.  And this is all in accordance with the teachings of Jesus Christ.
And while this is generally regarded as a bad thing, there are some people who think it is okay for children to be increasingly sexualised at a young age.  But let's be clear, it is one thing for a child of reason to know the beauty of the human body; it is another thing entirely for them to see that body being abused. 
Pornography is an increasing problem in our society.  It is abuse of the human form and a danger to our children and we are exposed to it on so many fronts; on television, in the movies, in magazines, on the internet, and on social media sites like Facebook and Twitter.  They are all forums on which pornography is given a platform for the benefit of those willing to entertain it. 
Pornography is also destroying families with a reported 56% of divorce cases in the United States involving one party having "an obsessive interest in pornographic websites".
It is a real problem and we need to do more to help people who find themselves caught in the downward spiral of pornographic addiction, and this includes children.  As parents it is hard to monitor your kids' every move but what we can do is get back to basics.  We should never shy away from the beauty of the human form.  It is God's creation and it is truly stunning!  We should love our bodies.  But we must also respect our body and I think that this is the key message that is being lost.  Too many people no longer respect their physical self anymore and are prepared to go to any lengths to abuse their body for a momentary high.  They are even prepared to abuse the bodies of others.
Many people criticise the Catholic Church for outdated views.  But there can be no doubt that the disintegration of the human person and the family, as predicted around 50 years ago by Pope Paul VI, is unfolding before our very eyes.  People are now seen as commodities; objects of pleasure for the gratification of self and of others.  There is no respect for one another any more.  But then is this a surprise in a world of widespread contraception, abortion, and euthanasia? 
The sexual act is cherished by the Catholic Church for being an act of unconditional love from one to another. It is the complete giving and sacrificing of one's self for the other coupled with an openness to new life.  It is simple and it is beautiful.  There is no selfishness.  There is no hidden agenda.  There is no desire to abuse the other.  It is pure love.  It is pure sacrifice.
As we consider how to tackle the increased incidence of pornography among the young of our society, we would do well to look at ourselves and see what kind of example we are setting.  Are we letting ourselves be fooled by secular liberal and relativist values where anything goes and its up to the individual to decide what they want to do with their own body?  Do we continue subscribing to this view and watch the family decline even further into the gutter?  Or do we get back to basics and see the human body for what it really is, a thing of real and true beauty and deserving of protection?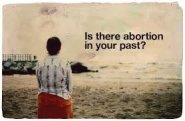 There are some fascinating facts about pregnancy which, if more widely known, could provide help and healing for countless people affected by abortion.
Fetal cell microchimerism is not particularly well known yet it is a medically accepted biological process.  Essentially, it means that a mother carries cells from every child she ever conceives.  Therefore, a mother has biological knowledge of every one of her children, even if they are aborted or miscarried.
Research also shows that cells from aborted or miscarried children also pass to other offspring.
This little known biological process is only just starting to become more widely known, despite having been accepted by medics for some time.  The Scientific American carried an article on it in 2008 (Your Cells Are My Cells by J Lee Nelson).
Project Rachel founder Vicki Thorn has looked into the process in great detail and, in a recent appearance on the 
Catholic Answers
podcast, Vicki explained how she has used it to bring healing to people affected by abortion.  The hope is that mothers and fathers will draw comfort from the fact that  a part of their child lives on and that this will help them in their healing process and also make the memory of that child more real.
Vicki has also tackled the idea of society downplaying the role of fathers and reports that 80% of men experience what is known as 'courade' in the presence of their pregnant partner.  This means that the father experiences symptoms of pregnancy along with his partner, and may even mean the father becomes aware of the pregnancy before the mother.  Therefore, the father is more attached to the pregnancy process than many may think and he too is greatly affected by abortion.
Vicki also speaks about the affect abortion has on the various parties involved; commenting that only 30% of marital relationships survive an abortion loss.  The principal reason for this would appear to be a loss of trust, mostly because there are fears that another pregnancy may lead to another abortion.
Men and women who have suffered abortion losses often have difficulties in subsequent pregnancies and a British study has found that women with an abortion loss were 33% more likely to give birth prematurely with an even greater chance of extreme prematurity. 
We can only hope and pray that one day every person in our world will hold true the intrinsic value of every human life.  However, while this is not the case, we must do what we can to bring comfort to those who have been affected by abortion and let them know that all is not lost.  Fetal cell microchimerism ensures that all is not lost and that every child lives on with their mother, father, sisters and brothers.  No family ever forgets its children.
Please also visit our own page on abortion which details places where you can seek help if you have been affected by abortion or are considering having an abortion. 
Click here to visit the page
.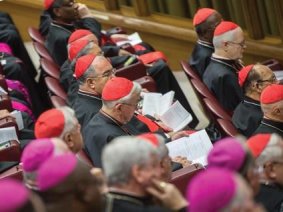 If I could sum up in one sentence what is contained in the Synod on Family Life's mid-term report - as presented by the Synod's General Reporter Cardinal Erdo - I would say: 'Imitating the loving gaze of Christ to appreciate the difficulties experienced by many people and recognising the need to offer them companionship, in the hope that together we may experience the joy of the Gospel of the family.'
There are numerous reports circulating about the document, many of which are suggesting a significant change in tone with the possibility of changes in Church doctrine.  While there is no real possibility of the latter it is fair to say that there is a change in tone.  The tone is definitely more understanding with a focus on healing rather than condemnation, all the while adhering to traditional Church teaching.
Perhaps we should firstly set out the context of this report.  To give it its proper title, relation post disceptationem, the document seeks to summarise the discussions held at the Synod thus far.  The document will be agreed by the Synod in the days ahead and the intention is then that the document, which contains a number of reflections on the discussions, will be used to 'raise questions and indicate perspectives that will have to be matured and made clearer by the reflection of the local Churches' in the year between now and the Ordinary General Assembly of the Synod of Bishops which will take place in October 2015.
The document covers many interesting topics around the central consideration of the synod; that of the family.  Divorce, homosexuality and contraception are but a few of the issues discussed and there are interesting reflections on all of these topics.  In this article we will consider the main points arising from the mid-term report and try to make sense of what is actually being said rather than going down the road of an over excitable tabloid reporter with the sole of intention of producing a headline grabbing story suggesting a sea change in Church doctrine.
Not to Condemn, but to Heal
In fleshing out the general theme of greater understanding, we can perhaps start with Cardinal Erdo's opening comment when he spoke of how Jesus Christ, 'the Truth, became incarnate in human fragility not to condemn it, but to heal it.'  He used the example of how Jesus taught that marriage was indissoluble but still showed understanding of those who didn't live up to this ideal.  The crux of this is that we must work to help others to be healed and accompany them on their journey with the hope that they will come to full appreciation and acceptance of the Gospel of the family.
Indeed, one outcome of the first week's discussions is to urgently address the need to more effectively proclaim the Gospel of the family.  The report states that the 'Church has to carry this out with the tenderness of a mother and the clarity of a teacher' and always bearing in mind the mercy of Christ.  It encourages all the faithful to spread this Good News stating 'Evangelising is the shared responsibility of all God's people, each according to his or her own ministry or charism.  Without the joyous testimonies of spouses and families, the announcement [of the Good News], even if correct, risks being misunderstood or submerged by the ocean of words that is a characteristic of our society.'
The report makes it clear that in proclaiming the Gospel of the family we must make known that it is a 'joy that fills the hearts and lives, because in Christ we are set free from sin, sorrow, inner emptiness, and loneliness'.  We are also encouraged to proclaim in a language that is meaningful and avoid simply 'presenting a set of regulations'.  Rather, we are invited to put forward values that will address people's real problems.
The Threat of Individualism
A significant threat expressed in the report is the threat of 'exasperated individualism' which the Synod suggests 'distorts family bonds'.  This, according to the Synod, leads to isolation of the various components which make up the family unit which in turn leads to the 'prevalence of an idea of the subject formed according to his or her own wishes, which are assumed as absolute'.  In a nutshell, there is a significant threat posed by narcissism and the modern ideal of individualism and selfishness.  This, the Synod suggests, is central to the modern day break up of the family unit.
In order to tackle this problem the Church, through this report, suggests a two pronged approach in supporting people in their search for God.  Firstly, it suggests making the teachings of the Church better known.  And secondly, this teaching should be accompanied by mercy.  In making this point the report refers to Jesus who 'looked upon the women and the men he met with love and tenderness, accompanying their steps with patience and mercy, in proclaiming the demands of the Kingdom of God'. 
To be fair, this direction isn't out of sync with current Church teaching though the benefit of reemphasising it at this time is obvious.
Marriage between One Man and One Woman
In turning to marriage the report refers to Jesus' reaffirmation of the indissoluble union between a man and a woman.  It then states 'God consecrates love between spouses and confirms its indissolubility, offering them help in living in fidelity and openness to life.  Therefore, the gaze of the Church turns not only to the couple, but to the family'.  Here we see the important link between marriage and the family.
The Synod did, however, acknowledge that new forms of union exist in our world and while the Church expresses 'the value and consistency of natural marriage' some members of the Synod have raised the possibility of 'recognising positive elements in the imperfect forms' of other unions.  For those who are in other forms of union, such as civil marriage or cohabitation, the report states that 'the Church turns respectfully to those who participate in her life in an incomplete and imperfect way, appreciating the positive values they contain rather than their limitations and shortcomings'.  So, while Church doctrine on Christian marriage between one man and one woman isn't going to change, the Church must increase its understanding of alternative forms of union and seek to find positives from them.  Indeed the Synod goes further to state that the Church must 'accept the reality of civil marriage and also cohabitation' while taking into account due differences between them and natural marriage.  However, this acceptance and understanding is always accompanied with the goal to bring such unions to the sacrament of marriage in the Church. 
The report states: 'Indeed, when a union reaches a notable level of stability through a public bond, is characterised by deep affection, responsibility with regard to offspring, and capacity to withstand tests, it may be seen as a germ to be accompanied in development towards the sacrament of marriage'. 
So, while the Church will likely continue to recognise only one form of union, the faithful must appreciate those other forms of union where the qualities of stability, deep affection, strength in unity, and a responsible attitude with regard to children are present.
Marriage and Cohabitation
In considering the importance of marriage, the Synod focused on the Church becoming more deeply involved in Christian marriages, especially those in their infancy.  It suggests a greater involvement of the whole Christian community with respect to marriage preparation, including pastoral accompaniment in the form of more experienced couples.  It also suggests the importance of couples being 'encouraged towards a fundamental welcome of the great gift of children' and the importance of 'family spirituality and prayer'. 
Further, the report suggests a move (where it doesn't already exist) toward more 'meaningful liturgies, devotional practices and the Eucharist celebrated for families'. 
While cohabitation remains an issue for the Church, the report sets out a clear understanding of the difficulties faced by couples such as financial difficulties.  While many couples simply reject the idea of Christian marriage, others wish for it but simply cannot afford to have it for one reason or another.  The Synod suggests pastoral accompaniment for such couples must start with the positive aspect that they desire a Christian marriage.
Separation and Divorce
Another significant issue is the separated, divorced, and the divorced who have remarried.  Firstly, the Synod has set out that 'Each damaged family first of all should be listened to with respect and love, becoming companions on the journey as Christ did with the disciples on the road to Emmaus'.  It suggests such accompaniment must be at a steady and reassuring pace which reflects our 'closeness and our compassionate gaze which also heals, liberates and encourages growth in the Christian life'.  It also states reassuringly that 'What needs to be respected above all is the suffering of those who have endured separation and divorce unjustly' and emphasises the need to avoid children becoming an 'object' to be fought over.
With respect to nullity a number of propositions were put forward by members of the Synod.  Among those put forward was the suggestion that the administrative responsibility for annulments could be under Diocesan Bishops and a proposed 'summary process' in the case of clear nullity.  All proposals will, of course, be considered in the months ahead but the report did state that in all cases with respect to annulment, the principal consideration is 'ascertaining the truth over the validity of the obstacle'. 
The report states that 'Divorced people who have not remarried should be invited to find in the Eucharist the nourishment they need to sustain them in their state'.  It then goes on to consider those who have been through divorce and remarried, saying such a situation 'demands a careful discernment and an accompaniment full of respect, avoiding any language or behaviour that might make them feel discriminated against'.  In a reassurance to Catholic tradition the report then states: 'For the Christian community looking after them [those who are divorced and remarried] is not a weakening of its faith and its testimony to the indissolubility of marriage, but rather it expresses precisely its charity in its caring'.  The suggestion here is that Church doctrine will not change on this issue but there is an undoubted call for the Church to provide respectful accompaniment and care to those affected.
In terms of divorced and remarried people sharing in the sacraments, the Synod members were in disagreement with a number of views being put forward.  However, the report suggests that 'fruit of discernment' could be applied on a case-by-case basis 'according to the law of gradualness, that takes into consideration the distinction between state of sin, state of grace and the attenuating circumstances'.  The aim here would appear to be to provide the support necessary to allow divorced and remarried faithful to grow in holiness over time with the possibility of future participation in the sacraments.  This, however, is not set in stone and the report suggests that a greater theological study may be undertaken to consider this issue in more detail.
Homosexuality
Homosexuality is a subject well known to the Catholic Church, particularly in recent times with the advent of same-sex marriage.  However, before we set out the views of the Synod on this topic it is important to note that the Church has not given (nor will it give) any indication that doctrine is about to change on this issue.  Indeed the Synod has stated that 'The Church furthermore affirms that unions between people of the same sex cannot be considered on the same footing as matrimony between man and woman'.  However, the report does state that 'Homosexuals have gifts and qualities to offer to the Christian community' and begs a number of questions to the Catholic faithful about how welcoming we are to people with same-sex attraction without compromising Catholic doctrine on the family and matrimony.  The report also seeks to take positives from same-sex unions while clearly stating there are moral problems connected to such unions.  It states: 'Without denying the moral problems connected to homosexual unions it has to be noted that there are cases in which mutual aid to the point of sacrifice constitutes a precious support in the life of the partners'. 
The Synod's discussions on homosexuality are perhaps worthy of the largest slice of our attention.  While there is no movement away from Church doctrine which states homosexuality as being 'disordered', there is a clear attempt to accentuate the potential positives which could be brought to bear by same-sex unions.  While it does not condone homosexual acts (as such acts close the sexual act to the gift of life), the Church appears to be acknowledging the support through sacrifice given by one partner to the other in same-sex unions.    
Perhaps this is a useful juncture to reinforce the Church's views on homosexuality.  While homosexual acts are sinful there is no sin in same-sex attraction. The Church believes such tendencies towards same-sex attraction are a trial in the same way a single person lives a trial by being called to live a chaste life. 
The report then tackles the matter of children living with same-sex couples, stating that 'The Church pays special attention to the children who live with couples of the same sex, emphasising that the needs and rights of the little ones must always be given priority'.  This is perhaps a suggestion that the sacraments will not be denied to children who live with same-sex couples.
Contraception
Contraception is a matter of great significance to the Church as the Church teaches that 'being open to life is an intrinsic requirement of married love'.  Contraception in any form is therefore deemed to be contrary to the Will of God as it closes off the possibility of receiving God-given life.  With this in mind the Synod suggests that 'what is required is a realistic language that is able to start from listening to people and acknowledging the beauty and truth of an unconditional opening to life as that which human life requires to be lived to its fullest'.  The report then continues, 'it is on this base that we can rest an appropriate teaching regarding natural methods'.  The Synod then reinforces the message of Paul VI in his encyclical Humanae Vitae which 'underlines the need to respect the dignity of the person in the moral evaluation of the methods of birth control'.
Sadly, I have already witnessed a considerable degree of misreporting on this section of the report.  It must be clear that the dignity of the person refers to humanity.  In this sense, the person we are speaking about is a potential new life.  So, birth control must be morally evaluated with the ideal of openness to new life at the core of any considerations.  It is not, as some media outlets have suggested, a call for the Church to respect the dignity of individuals using forms of birth control.  Contraception, in all its forms, will continue to be rejected by the Church.  The Church does, however, allow for Natural Family Planning as this method does not close off the possibility of life.  While it allows a couple to plan for pregnancy (and the Church allows for a certain degree of sensible planning with respect to the creation of new life) it is a method which is always open to the possibility of a child.  It never closes off that possibility and that is why the Synod has suggested that it should be taught more widely.
And so there we have it; the mid-term report of the Synod of Bishops on Family Life 2014.  The Synod will continue for a few more days and will then leave the issues raised to be considered by local Churches and faithful ahead of the Ordinary General Assembly of the Synod of Bishops which will take place in October 2015.
While we need to take these matters into our hearts and minds and ponder them, no decisions will be made until October of next year at the earliest.  There is, therefore, a lot of work still to be done and the initial excitement surrounding this report must be balanced with patience and appreciation for the long process being embarked upon.  However, that does not mean we cannot start to implement the spirit of understanding which runs throughout the report.  This spirit of understanding must fuel our work in the months ahead and, while we must continue to adhere to the beautiful teachings of the Church, our desire to enlighten the world to Truth should be accompanied by a tone of mercy and compassion. 
As the report concludes: 'the guidance of the Holy Spirit will lead us to find roads of truth and mercy for all'.  Amen.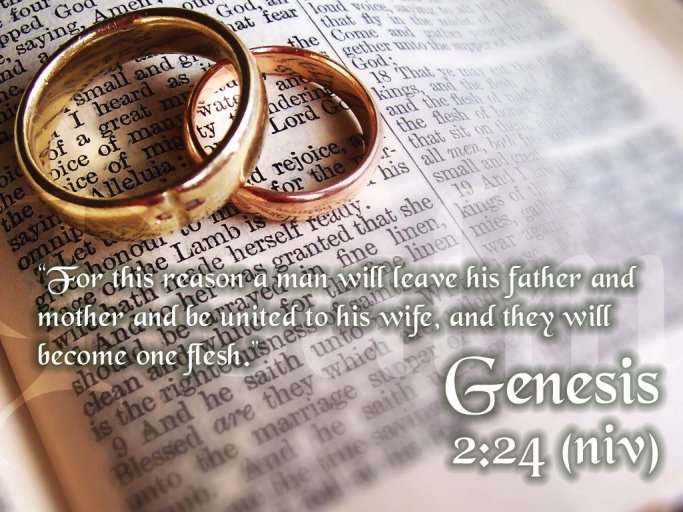 What are the essential elements of Christian marriage?
(1) Unity: Marriage is a covenant that by its very nature brings about bodily, intellectual, and spiritual union between a man and a woman;
(2) Indissolubility: Marriage lasts "until death do us part";
(3) Openness to offspring: Every marriage must be open to children;
(4) Commitment to the spouse's welfare.
If one of the two spouses deliberately excludes one of the four points listed above at the time of their wedding, the sacrament of Matrimony does not take place.
What significance does the sexual encounter have within marriage?
According to God's will, husband and wife should encounter each other in bodily union so as to be united ever more deeply with one another in love and to allow children to proceed from their love. In Christianity, the body, pleasure, and erotic joy enjoy a high status: "Christianity ... believes that matter is good, that God Himself once took on a human body, that some kind of body is going to be given to us even in Heaven and is going to be an essential part of our happiness, our beauty and our energy. Christianity has glorified marriage more than any other religion: and nearly all the greatest love poetry in the world has been produced by Christians. If anyone says that sex, in itself, is bad, Christianity contradicts him at once" (C. S. Lewis). Pleasure, of course, is not an end in itself. When the pleasure of a couple becomes self-enclosed and is not open to the new life that could result from it, it no longer corresponds to the nature of love.
(From the Catholic Youth Catechism)
Next week we will look in more detail at the role of children in Christian marriage...
/