Shopping Cart
Your Cart is Empty
There was an error with PayPal
Click here to try again
Thank you for your business!
You should be receiving an order confirmation from Paypal shortly.
Exit Shopping Cart
Calling Scotland's 841,000 Catholics to unite as one voice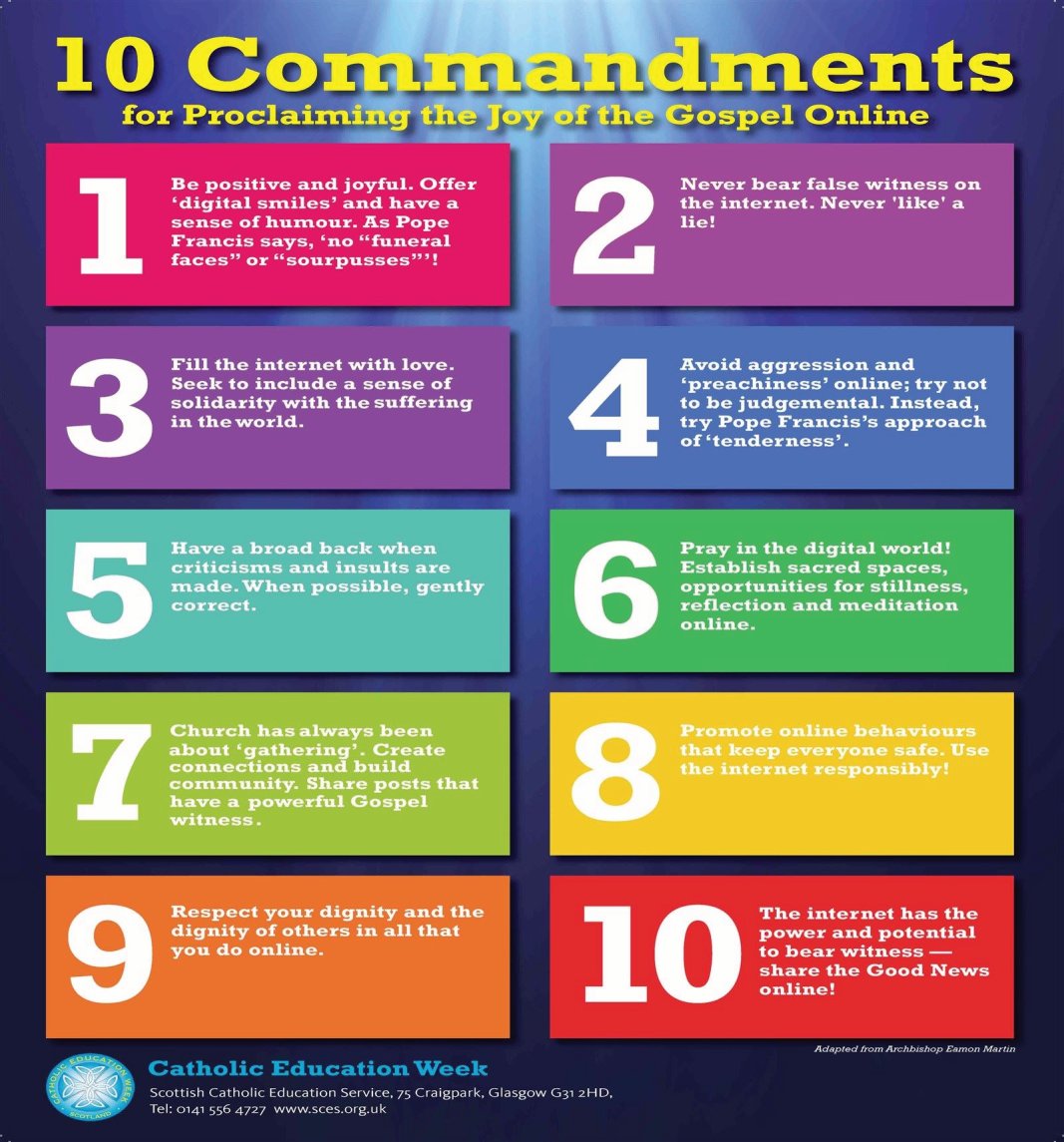 The Scottish Catholic Education Service (SCES) has produced a new poster detailing the "10 Commandments for Proclaiming theJoy of the Gospel on-line".  In what appears to be a spin-off from Pope Francis encyclical letter, Evangelii Gaudium (the Joy of the Gospel),SCES is encouraging young people to behave responsibly, and in a manner befitting of their Catholic faith, whilst they use the internet and social media. The poster will be officially launched during Catholic Education Week in February.
The SCES website states: 'To encourage responsible and respectful use of the Internet for "Proclaiming the Joy of the Gospel", the Scottish Catholic Education Service (SCES) has produced a poster to illustrate the "10 Commandments for Proclaiming the Joy of the Gospel on-line". It is hoped that these will encourage both young people and adults to use the opportunity provided by social media to tell the 'Good News' of Christ.''
The commandments, produced by Martin McMahon of Taylor High School in Motherwell, are as follows:
1.      Be positive and joyful.  Offer 'digital smiles' and have a sense of humour.  As Pope Francis says, no funeral faces or sourpusses.
2.      Never bear false witness on the internet. Never 'like' a lie.
3.      Fill the internet with love.  Seek to include a sense of solidarity with others in the world.
4.      Avoid aggression and 'preachiness' online.  Try not to be judgmental.  Instead try Pope Francis's approach of tenderness.
5.      Have a broad back when criticisms and insults are made.  When possible, gently correct.
6.      Pray in the digital world!  Establish sacred spaces, opportunities for stillness, reflection and meditation online.
7.      The Church has always been about gathering.  Create connections and build community.  Share posts that have a powerful Gospel witness.
8.      Promote online behaviours that keep everyone safe.  Use the internet responsibly.
9.      Respect your dignity and the dignity of others in all that you do online.
10.  The internet has the power and the potential to bear witness – share the Good News online.
While the Ten Commandments given to us by God can never be replaced nor replicated, these commandments for appropriate online behaviour should definitely be encouraged among our young people.  And while SCES should be applauded for their efforts to promote these online commandments, it will ultimately be down to parents and families of young people to make sure that these commandments are followed. 
Perhaps it would be useful for us to all consider having a copy of these commandments alongside the Ten Commandments of God somewhere in our home to remind our children, and indeed ourselves, of how we should behave on the internet and social media as well as how we should make best use of it.
Interesting article from the Integrated Catholic Life website considering how we, as Catholic parents, can develop a more balanced lifestyle where faith is the centre of an increasingly technological age.
Click here to read the article:
/