Shopping Cart
Your Cart is Empty
There was an error with PayPal
Click here to try again
Thank you for your business!
You should be receiving an order confirmation from Paypal shortly.
Exit Shopping Cart
Calling Scotland's 841,000 Catholics to unite as one voice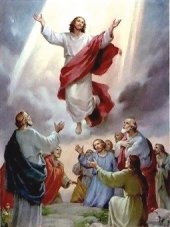 From today's Gospel (Matthew 28:16-20):
'Go, therefore, and make disciples of all the nations; baptise them in the name of the Father and of the Son and of the Holy Spirit, and teach them to observe all the commands I gave you.  And know that I am with you always; yes, to the end of time.'
These words of Jesus must have been a great comfort to the disciples.  Not only does he give them specific instructions to convert all people and nations to the Christian faith, he also tells them that he will be with them to the end of time.  
Think of the disciples not only as a group of individual men, but as a body.  Together, they are a body.  Together, they are the Church!  And in this short passage, Jesus tells us that he will be with the Church until the end of time.
Through trials and tribulations, and through dark times, we must always remember that Jesus is with us, he is with his Church and he will never abandon it.  On this day of the Ascension, a Holy Day of obligation where all Catholic people must attend Holy Mass, take some time to ponder these words of Jesus.  And if you aren't sure about whether or not you are really going to go to Mass today remember that where the Church is, Jesus is.
/