Shopping Cart
Your Cart is Empty
There was an error with PayPal
Click here to try again
Thank you for your business!
You should be receiving an order confirmation from Paypal shortly.
Exit Shopping Cart
Calling Scotland's 841,000 Catholics to unite as one voice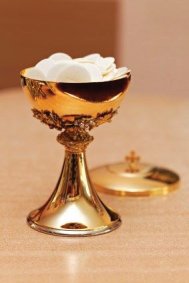 Sunday's Gospel (John 6: 1-15):
'Jesus went off to the other side of the Sea of Galilee – or of Tiberias – and a large crowd followed him, impressed by the signs he gave by curing the sick. Jesus climbed the hillside, and sat down there with his disciples. It was shortly before the Jewish feast of Passover.
Looking up, Jesus saw the crowds approaching and said to Philip, 'Where can we buy some bread for these people to eat?' He only said this to test Philip; he himself knew exactly what he was going to do. Philip answered, 'Two hundred denarii would only buy enough to give them a small piece each.' One of his disciples, Andrew, Simon Peter's brother, said, 'There is a small boy here with five barley loaves and two fish; but what is that between so many?' Jesus said to them, 'Make the people sit down.' There was plenty of grass there, and as many as five thousand men sat down. Then Jesus took the loaves, gave thanks, and gave them out to all who were sitting ready; he then did the same with the fish, giving out as much as was wanted. When they had eaten enough he said to the disciples, 'Pick up the pieces left over, so that nothing gets wasted.' So they picked them up, and filled twelve hampers with scraps left over from the meal of five barley loaves. The people, seeing this sign that he had given, said, 'This really is the prophet who is to come into the world.' Jesus, who could see they were about to come and take him by force and make him king, escaped back to the hills by himself.'
Did you know that a barley loaf was considered to be the bread of the poor?  God chose the food of the poor in order to satisfy the hunger of His created people.  He could have chosen to feed them with a grand banquet fit for a king but no, he chose a simple loaf of bread.
Yet this simple loaf represents something truly great; something more satisfying than a grand banquet.  It is the means by which God has chosen to come to us and to develop His relationship with us. 
Through a simple piece of bread God shows His great love for us and showers us with graces.  Why He decided to do this is a great mystery and it is a mystery that may well be revealed to us one day.  But the intricacies of this mystery is not something we need concern ourselves with right now.  Our concern must be the bread with which He feeds us….the Eucharist.  It is through the Eucharist, given to us in Holy Mass, that we are truly satisfied.  It is through the Eucharist that we receive the graces we need to live our daily lives. It is through the Eucharist that God comes to us in love, inviting us to an ever deeper relationship with Him, and encouraging us to never tire of trusting in Him.  And it is through the Eucharist that we will be saved; saved by the blood of Christ who sacrificed himself on a Cross so that we may live forever.
Yet even though we receive this great gift from God, there are still many basketfulls left over.  Our job, brothers and sisters, is to go out to the world and find a home for this bread.  God doesn't just want a few willing participants to come to Him and receive Him in the Eucharist.  He wants all of His created people to take part!  There are so many basketfulls of bread left over after we receive the Eucharist!  Let us find more homes for God to shine His great light in our world.  Let us be open to speaking highly of this great gift of God so that others may come to share in it.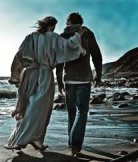 Sunday's Gospel (John 17:11-19):

'Jesus raised his eyes to heaven and said:

'Holy Father,
keep those you have given me true to your name,
so that they may be one like us.
While I was with them,
I kept those you had given me true to your name.
I have watched over them
and not one is lost
except the one who chose to be lost,
and this was to fulfil the scriptures.
But now I am coming to you
and while still in the world I say these things
to share my joy with them to the full.
I passed your word on to them,
and the world hated them,
because they belong to the world
no more than I belong to the world.
I am not asking you to remove them from the world,
but to protect them from the evil one.
They do not belong to the world
any more than I belong to the world.
Consecrate them in the truth;
your word is truth.
As you sent me into the world,
I have sent them into the world,
and for their sake I consecrate myself
so that they too may be consecrated in truth.''



Do you feel lost?  Do you sometimes feel that Jesus isn't there?
These are common feelings experienced by all human beings, even those who have a deep and vibrant faith.


Yet Jesus tells us that we needn't feel lost.  As Jesus says in this Gospel - by using the example of Judas - the only reason we become lost is because we choose to be lost.  Being lost is turning our backs on Jesus; being lost is denying him; being lost is not trusting in him and his love.  It is our decision to be lost.  It is not Jesus' decision.  It is our own. 
And sometimes the reasons for feeling lost are completely genuine.  We may have lost a close relative to a horrific disease or illness.  We may have lost our best friend in a car accident.  We may even have suffered the loss of a little child at the very beginning of their life.


Yet whatever troubles we may have, Jesus tells us that we need not be lost.  He encourages us to seek him out and to put all of our troubles on him.  Remember, Jesus has already carried all of your troubles on his back.  Every anxiety, every tear, every ounce of pain you feel in your life was borne two thousand years ago by Jesus as he carried the Cross through the streets of Jerusalem.  He then took that suffering of yours and mine with him as he was nailed to the Cross and offered it up to the Father.  And what happened next?  Our suffering died with Jesus on the Cross.  And while Jesus rose again, our suffering did not. 
Brothers and Sisters, Jesus has personally felt our pain and suffering.  He acknowledges our anguish because it was he who carried it and it was he who banished it.
As human beings we will continue to shed tears, feel pain, anxiety, distress and anguish.  It's in our nature.  But never forget that Jesus is there for you.  He completely understands your suffering because he has already suffered it for you.  If you do one thing this day, try to surrender a little more to Jesus.  Keep close to him by talking to him and letting him know your thoughts.  Pray to him and become more and more obsessed with him.  That way you will never stray from his side.  That way you will never be lost.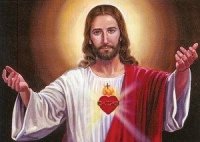 Only this man has the power to save us
Sunday's First Reading (Acts 4:8-12):
Filled with the Holy Spirit, Peter said: 'Rulers of the people, and elders! If you are questioning us today about an act of kindness to a cripple, and asking us how he was healed, then I am glad to tell you all, and would indeed be glad to tell the whole people of Israel, that it was by the name of Jesus Christ the Nazarene, the one you crucified, whom God raised from the dead, by this name and by no other that this man is able to stand up perfectly healthy, here in your presence, today. This is the stone rejected by you the builders, but which has proved to be the keystone. For of all the names in the world given to men, this is the only one by which we can be saved.'
Only Jesus Christ can save us.  Only Jesus Christ can save us. Only Jesus Christ can save us. Only Jesus Christ can save us…. 
Has it sunk in yet?? It's quite incredible to think that each one of us can be saved from sin and death and brought to eternal life.  It's even more incredible to think that all this is achieved through one man!  Can you imagine being that one man?  Can you imagine if you were the key to Heaven; the key to eternal life?  Wouldn't it be quite a responsibility?  It certainly would; but it would be worth all of that responsibility to see wave after wave of people coming back to you because they trust in you and because they believe in you and believe in the Church you founded. Yet conversely, wouldn't it be so sad to know that not all of your created people are coming back to you?  Wouldn't it be sad to be rejected by your very own creation?  Rejected despite coming to earth to spread the message of a perfect love; rejected despite performing miracle after miracle to help the poor and the needy; rejected despite suffering greatly at the hands of your oppressors who humiliated you and abused you before nailing you to a cross; rejected despite rising from the dead and revealing yourself to those close to you who then took that great news to the ends of the earth.  After all of that and still you are rejected!  How breathtakingly sad must that be for Jesus? 
It would seem that no matter how often we are told Christ is the only way to God and the only way to salvation, we still don't quite take it in.  Even Jesus himself told us that he was the way, the truth and the life and that nobody can get to the Father except through him; yet many still doubt.  So here is St Peter, the rock upon which Christ's Church is built, telling us once more that Christ is the only one who can save us. 
So, are we prepared to really let this sink in?  And even more importantly, are we prepared to take this message to the ends of the earth no matter what?  You see, we can't possibly just keep this to ourselves or within the confines of our families and close friends.  An increasingly aggressive secularism tells you to keep it to yourself, but Jesus tells you to take it to the ends of the earth!  So let's get out there and tell the world that Jesus is the only way!  It is Jesus Christ, the most perfect, most beautiful, most glorious, most incredible man who ever walked this earth who can give us the gift of eternal life.  It is the most precious Jesus, that man who took on unbearable pain on our behalf, who is the key to our salvation.  Trust him, love him and surrender to him.  And encourage others to do the same.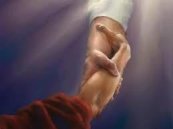 The next few days are simply fascinating!  The future of every human being has already been affected by what is about to unfold as our Lenten journey comes to an end and we find ourselves immersed in the incredible reality of Christ's Passion, death and Resurrection. 
With the exception of reading this article, stop whatever you are doing right now.  Take a moment to ponder the reality of what you are about to read and let it really sink in....
Around two thousand years ago a man was brutally beaten and killed.  He died before numerous witnesses, including his own mother and friends.  He was taken from the cross on which he limply hung and buried.  It was just another death followed by just another burial.  Except that several hours later this man woke up and walked out of his burial place.  That's right, he simply got up and he walked.  
Just think about that for a moment....
My dear friends, Jesus is the man who can give us eternal life.  He even said himself that he was "the way, the truth and the life".  And how can we argue with him?  We can't!  We just can't argue with a man who gets up and walks out of his own burial place!  
When all seemed to be lost and when a dark shadow hung over the reality of yet another poor soul lost to the ground this man did the impossible and got up!  Not only that, he went on to live forever!  
And if you think that's special it ain't half as special as him wanting us to join him!  He wants you and me to rise again just as he did!  Isn't that really something?  Isn't that the greatest piece of news you could ever wish to hear?  
Of course it is!  So let's rejoice in it!  Let's delight in this reality and follow Christ and his Commandments!  And let's tell others about this wonderful story of our salvation!  This is the kind of good news you won't find in the newspapers or on the news bulletins.  No, this is the kind of good news you hear on the streets; from people who are willing to share the news of our salvation with others so that they too may find joy in it.  It's not something we should keep to ourselves.  That's what secular society tells us to do.  But Jesus challenges us to share the reality of his Resurrection with everyone!    
Jesus died and rose again so that we too may rise after we die.  My brothers and sisters, death is not the end.  Jesus is offering us his outstretched hand of love with a promise of eternal life.  We just need to accept it and then be prepared to go out and encourage others to do the same.    
This is the Passion, death and Resurrection of Christ as you've never seen it before.  While depicting this earth shattering event using Lego may, on the face of it, seem inappropriate, this is certainly not the case.
Indeed this is a very useful way to show children the story of the Passion.  You may even want to watch it with your children now.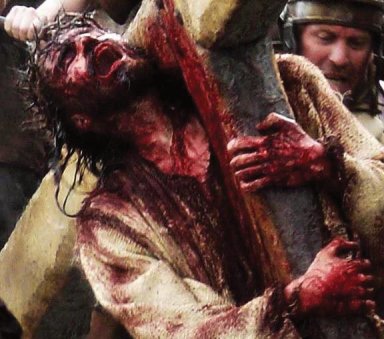 'I'm doing this for you, and all because I love you'
This Sunday is Palm Sunday.  A day when we commemorate Christ's journey into Jerusalem, where the very same people who were to betray him just days later, welcomed him with great joy and excitement.
And it is also the occasion when we are asked to listen to a more lengthy Gospel passage, recounting the story of Jesus' passion and death.
For some people this day is a difficult one.  I have heard complaints first hand from people when it comes to having to endure listening to the last hours of Jesus' life.  They are all for Jesus being our Saviour and all that, but do we really need to stand and listen to the Word of God for that long??    
I suppose the answer is no, you don't need to.  So we then need to ask ourselves...do I want to stand and listen to this reading?  Do I want to hear once again that two thousand years ago a man was ridiculed, abused, spat on and hung from a cross, all because he loved me?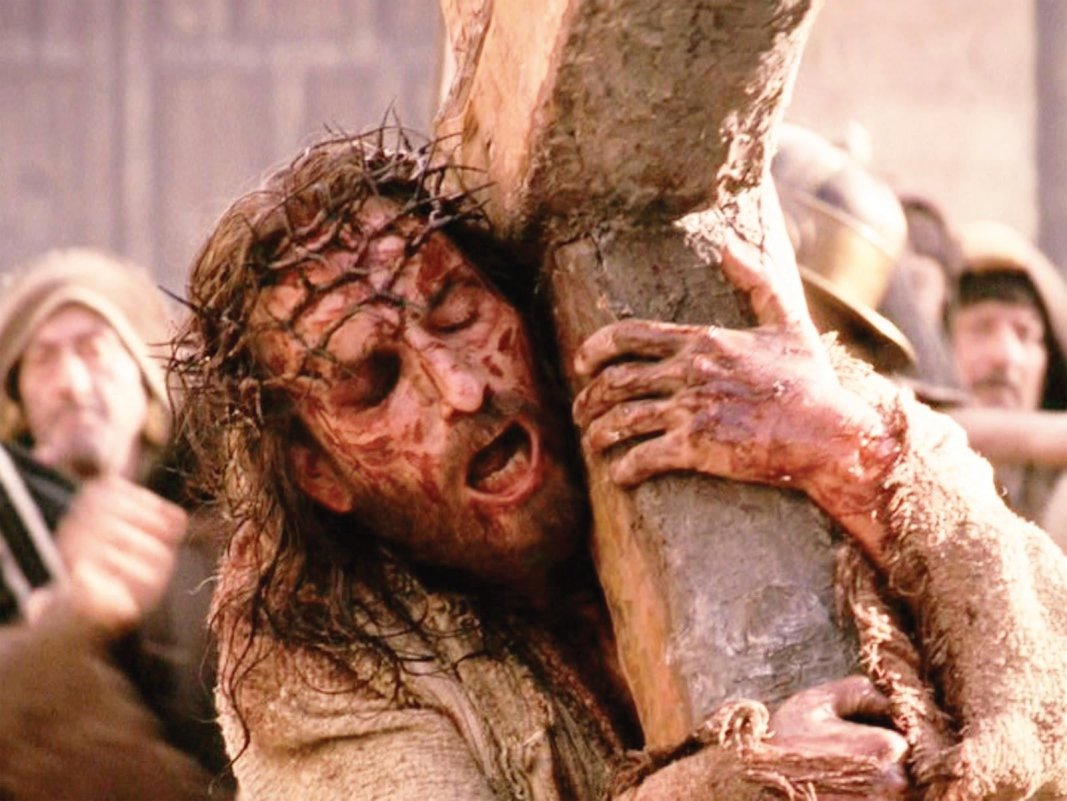 Jesus Christ: truly heroic
Sunday's First Reading (Genesis 22:1-2,9-13,15-18):
'God put Abraham to the test. 'Abraham, Abraham' he called. 'Here I am' he replied. 'Take your son,' God said 'your only child Isaac, whom you love, and go to the land of Moriah. There you shall offer him as a burnt offering, on a mountain I will point out to you.'
When they arrived at the place God had pointed out to him, Abraham built an altar there, and arranged the wood. Then he bound his son Isaac and put him on the altar on top of the wood. Abraham stretched out his hand and seized the knife to kill his son.
But the angel of the Lord called to him from heaven. 'Abraham, Abraham' he said. 'I am here' he replied. 'Do not raise your hand against the boy' the angel said. 'Do not harm him, for now I know you fear God. You have not refused me your son, your only son.' Then looking up, Abraham saw a ram caught by its horns in a bush. Abraham took the ram and offered it as a burnt-offering in place of his son.
The angel of the Lord called Abraham a second time from heaven. 'I swear by my own self – it is the Lord who speaks – because you have done this, because you have not refused me your son, your only son, I will shower blessings on you, I will make your descendants as many as the stars of heaven and the grains of sand on the seashore. Your descendants shall gain possession of the gates of their enemies. All the nations of the earth shall bless themselves by your descendants, as a reward for your obedience.''
This is perhaps one of the most difficult passages in scripture for us to understand.  Can you imagine if you picked up the paper to read that a man took his son up a mountain to sacrifice him for God??  To say there would be an outcry would be a huge understatement.  Thankfully God didn't want Abraham to actually sacrifice Isaac; rather, God wanted to see if he was prepared to do it.  And he was.  Out of fear and respect Abraham was prepared to do whatever God asked of him.
So how can we align this to today and our own lives?  Can we class ourselves as an Abraham, willing to entrust our children to God?  Perhaps the first thing to do is to think about who our children really are.  Do we consider our children to be gifts from God, entrusted to us by their true Father in Heaven?  And in response to this great gift from the Father do we praise and glorify Him and teach our children to do the same?  If the answer is yes to both of these questions then you are on your way to being a modern day Abraham!  You accept that your children belong to God and you delight that He has chosen you to look after his little ones! 
But there's more; and while the following is relevant to all parents, perhaps it is most relevant to the fathers among us.  As Catholic fathers we are all called to be Abraham.  We must always remember that God created our children and it is to Him that they will hopefully one day return.  God wants His children returned to Him and He has entrusted you with the task of shaping His child and developing that child into a tabernacle in which the Holy Spirit can flourish for all eternity.  You aren't just raising your child so that they have a nice life, visit lots of places, experience lots of thrills and die at a respectable 80 or 90 years of age.  You are raising your child so that they will live forever in Paradise!  What responsibility!  And while western society is making a very good job of trying to dispense with the need for fathers in our world, nobody can deny that every child has one.  So, can you be like Abraham and do whatever God tells you to do?  Can you be the ultimate father to your child?   
Jesus, when he died on the Cross, was the sacrifice God was preparing the world for when he sent Abraham up the mountain to sacrifice Isaac.  God, in His love for us, didn't hesitate to spare Isaac when he realised what faith Abraham had in Him.  But years later, and on another mountain (Calvary), it was God's own son who would be sacrificed.  And it would be the sacrifice to end all sacrifices; a sacrifice to bring an end to death itself and open the gates to eternal life in Heaven.  And while many may criticise God for having done this to His own son, He did it out of love for all of His children; that is, every human being who has ever lived and is to live. 
God doesn't want you to take your child up a mountain so that you can offer them up as a human sacrifice.  But He does want you to respond to His call to raise that child to be like His own son, Jesus Christ.  He wants your child to share in the perfect life of Jesus and to make Jesus the ultimate role model.  No footballers, no movie stars, no musicians.  Jesus. And the first step to ensuring Christ is the role model of choice for our children?  We must make him our role model too.
So let us all accept the great gift of children from the Father and let us put in the effort to give them the best chance of eternal life.  And may all of us, especially the dads, make Jesus our role model so that our children will know that following Jesus is the best way to live their life. Remember, Jesus is 'the way, the truth, and the life'.  He is the only way to the Father.  While Lionel Messi and Cristiano Ronaldo may provide you with great goals, and Johnny Depp may deliver a flawless big screen performance, none of them can possibly give you eternal life. By all means enjoy what talents these guys have to offer; they are, after all, gifts from God.  But when your child asks you who your role model is and who they should aspire to be, only one name should fall from your lips: the name of Jesus Christ, the Saviour of the world.  So man up all you fathers out there, and don't be afraid to tell your kids who the real hero is!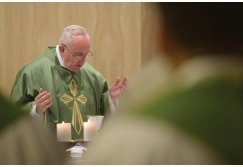 Pope Francis has said that a fear of God is leading people to find excuses not to go to Him which in turn leads them down the path of selfishness.
In another powerful warning about modern day attitudes to faith, the Pope suggests that some people want to be Catholic, but not too Catholic; and some want to trust in the Lord, but not too much.  The Pope suggests that this kind of attitude 'belittles us'.
In encouraging people to go to God and to trust in Him completely the Pope, in referring to today's Gospel, said we must look to the crucifix as it is on the crucifix where everything is paid for.  Therefore, we should accept God's invitation to the banquet and accept His kindness.  There is nothing to be afraid of.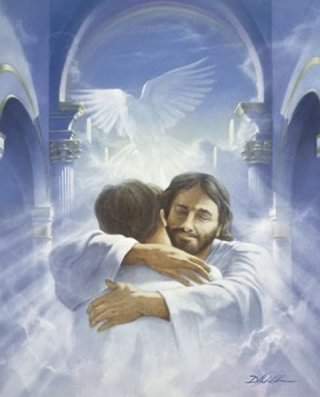 Christ brings forgiveness and freedom
The Catholic Church, as Pope Francis has declared on many occasions, is a Church of mission and we Catholic people are all called to carry the Good News to the ends of the earth and to share it with all people.  And this mission, we are encouraged, must be without condition and without restriction.  Our mission is to share it with all people and to pray that the Holy Spirit will use our efforts to penetrate the hearts of those who hear it. 
But what will I say?  Where do I start in sharing the Good News?  These are relevant questions and there is no easy answer, but perhaps we should consider starting with forgiveness.  Jesus, by his death on the Cross, died for all people.  Not just the people of Jesus' time and not just Christian people.  No, Jesus died for ALL people. 
Yet, why did he die?  Well, he died to take away our sins.  Everything we do wrong in our life, every bad decision which results in us hurting someone, anything that isn't good, all of it is forgiven by Christ hanging on the Cross.  And this, I suggest, has to be our starting point.
Many people are afraid of God and afraid of Christianity because they think it brings judgement and condemnation.  They think Christianity frowns upon every tiny wrong move in life; that it brings too much expectation, too much pressure.  Yet, the opposite is true.  Christianity does not judge and does not condemn.  Rather, Christianity brings understanding and compassion.  Christianity brings a man, bruised and beaten, nailed to a Cross and dying.  Dying for you, dying for me.
And yes, this is very hard to accept.  Of course it is!  Could you imagine if Jesus was around today?  He would be called a fool and ridiculed.    
Jesus was ridiculed beyond compare.  Yet he kept going.  He was abused beyond compare.  Yet he kept going.  He had his hands and feet nailed to pieces of wood.  Yet he kept going.  
Why did Jesus keep going?  Simple.  Because he loves.  He loves us!  He even loved so much that he forgave all of those people who ridiculed him and abused him.  He even forgave those who put him to death.
Jesus understood that we are all sinful because he witnessed man's inhumanity to man at first hand.  Yet he had compassion for them.  This is why Christianity brings understanding.  This is why Christianity brings compassion. 
And while people feel Christianity expects too much of people, I would argue that Christianity, drilled right down, only expects one thing; to acknowledge that we do wrong.  And by acknowledging this, we turn to Christ to ask him to pour out some of that forgiveness he bought for us  on the Cross.
There is nothing Christ is not prepared to forgive; nothing.  And that must be central to our evangelisation.  It must be central to our sharing our faith with others.  And when Christ rose from the dead three days after his crucifixion, he paved the way for us to rise from the ashes of our wrongdoings and failings.  His suffering on the Cross is our suffering in sin; our suffering because of the bad things we do.  Yet we, like Christ, can rise from this suffering. 
Christ, through the Church and through the priest, can resurrect our lives by forgiving us in the sacrament of Confession.  He can drag us out of the darkness and bring us into the light.  When we go to Confession, our slate is wiped completely clean.  Completely clean!  We have no weight on our shoulders, no burden to carry.  We are completely free!
Money can buy us all the material goods and possessions we crave, and that may bring us happiness for a while.  But money cannot buy us true forgiveness.  It cannot wipe our slate clean.  Jesus, however, has the power to do this.  It is Jesus who makes all things new.  
And remember this, Jesus never ever holds a grudge.  If you tell him you did wrong he will forgive you and he will immediately forget all about it.  That is why we can confidently say our slate is wiped clean with Confession.  Everything we confess is wiped from the record.  It no longer exists.  We are free.
This, I would suggest, is the message we must take to the world.  A message of forgiveness and freedom.  Tell people that they are loved beyond compare and that there is nothing they have done that Christ isn't prepared to forgive.  
This is our mission.  
To read more on the sacrament of Confession and what it involves, please
click here
.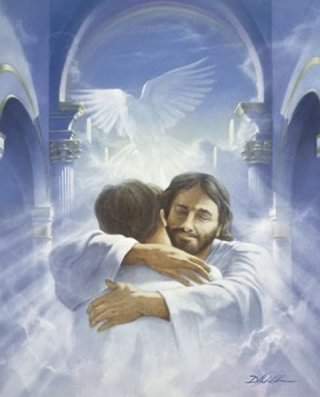 From Sunday's second reading (Romans 8:18-23):
'I think that what we suffer in this life can never be compared to the glory, as yet unrevealed, which is waiting for us.'
All neatly wrapped up in a little bundle by the ever wise and Spirit infused St Paul these words quite beautifully sum up our faith.
Our faith is one of great joy as we anticipate the glory and splendour of unity with the Father in Heaven.  Yes, there will be difficult times and there will inevitably be suffering.  But this suffering will not be without reward.  Our Lord Jesus Christ didn't die on the Cross so that we may have an easy life free from the trials of the world.  No, he died on the Cross so that we may share in the glory of the Father's Kingdom. 
Jesus, by his Cross and Resurrection, has raised us to new life; to a life of great joy where suffering will be a thing of the past.
Our mission as people of God must be to bring this joyful message to the world.
Jesus loves us so much that he had nails driven into his body just so that the gates of Paradise and eternal life could be opened up for you and me!  How great is that love!
/