Shopping Cart
Your Cart is Empty
There was an error with PayPal
Click here to try again
Thank you for your business!
You should be receiving an order confirmation from Paypal shortly.
Exit Shopping Cart
Calling Scotland's 841,000 Catholics to unite as one voice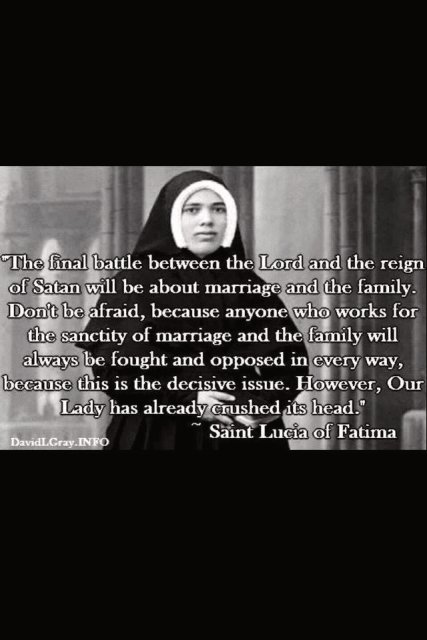 Sister Lucia dos Santos
As we approach the second and final part of the Synod on Marriage and Family Life it is important for us to remember these words of Sister Lucia of Fatima, one of three children who were visited by Our Blessed Mother Mary during the twentieth century.
Lucia describes how the final battle between the Lord and Satan will be about marriage and the family, but that anyone who stands for the sanctity of marriage and the family should not fear as "Our Lady has already crushed its head".
It should be no surprise to us to hear that there is an ongoing battle with the father of lies over marriage and family life.  Just consider contraception, abortion and the redefinition of marriage and you can see precisely where the devil is attacking God's divine plan for mankind. 
We are, in all respects, in the battlefield for the very last battle between the devil and the Lord.  But which side are we on?  Are we with the world; a world that is increasingly subject to the contol of the devil with all his lies and attacks on our faith?  Or are we with Christ and his Church, standing firm to the Truth and God's divine plan with which comes the promise eternal salvation?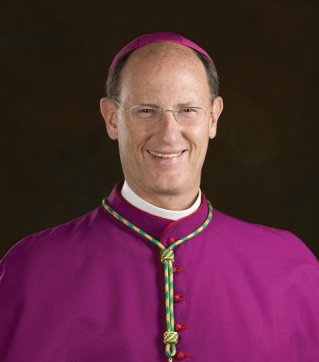 Bishop James Conley
Five American Bishops have responded to the recent Planned Parenthood videos which show the company dealing in the body parts of aborted babies.
Cardinal O'Malley and Bishops Paprocki, Vasa, Tobin and Conley all express their own personal view on the tragedy.
Perhaps my favourite quote is from Bishop Conley.  He said: "Anyone who can casually discuss tearing children to shreds while having lunch and a good cabernet is a victim of the father of lies."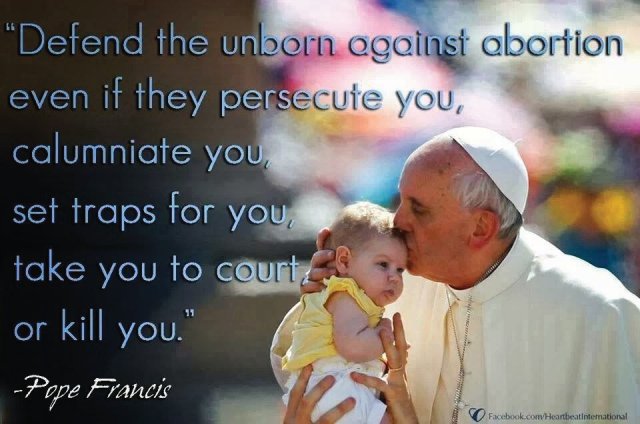 Sunday's First Reading (Wisdom 1:13-15, 2:23-24):
'Death was not God's doing,
he takes no pleasure in the extinction of the living.
To be – for this he created all;
the world's created things have health in them,
in them no fatal poison can be found,
and Hades holds no power on earth;
for virtue is undying.
Yet God did make man imperishable,
he made him in the image of his own nature;
it was the devil's envy that brought death into the world,
as those who are his partners will discover.'
Let's focus on the first two lines of this scripture passage.  Read them again and think about our world today. Consider the unnecessary death of the innocent in the womb, and the increased incidence of deaths among vulnerable and elderly people following the introduction of assisted suicide.  Consider the unnecessary deaths of people at times of war or at the hands of extremist groups like ISIS.  All of this death is unnecessary and God - as set out in today's passage - takes no pleasure in it.
And while God 'did make man imperishable', something which would become visible in the person of Jesus Christ when he rose from the dead on the third day, we are still called to protect life and protect the most vulnerable.
As death was not God's doing don't you think we should be fighting hard to ensure we don't allow unnecessary death to creep further and further into society? Our society generally makes the killing of another person illegal, and thankfully so.  Yet this is qualified.  For example, it is not illegal to kill an unborn child in the womb in certain circumstances.  And increasingly, particularly in parts of Europe, it is becoming legal to kill those who are said to want to end their own lives through the process of assisted suicide.  This, of course, is putting more and more pressure on elderly and vulnerable people to consider whether they too should die in order to alleviate the burden of those caring for them or indeed the burden supposedly carried by wider society.
But we must fight against this tide of death as best we can.  Death is not from God.  It is from Satan.  And that alone should be enough to want to give it our best shot.  Of course death will come to us all at one point, but do we really want to hasten it and let the devil win?  Do we really want to defy God who takes 'no pleasure' in such extinction and let the 'devil's envy' be victorious? 
Our role as Christians is to defend life and defend it from conception until its natural end.  As Cardinal Jorge Mario Bergoglio (now Pope Francis) once said: "Defend the unborn against abortion, even if they persecute you, calumniate you, set traps for you, take you to court, or kill you."
Yes, it's that important.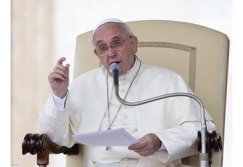 Pope Francis has condemned gossip on numerous occasions
"I tell you, on the day of judgement you will have to give an account for every careless word you utter; for by your words you will be justified and by your words you will be condemned"
Matthew 12: 36
More than any other Pope in the past, Pope Francis warns us frequently to guard against gossip.  He has talked of how gossip is a powerful tool of the devil and has even admitted to being tempted to gossip himself.  He states: "It begins this way, discreetly, like a trickle of water.  It grows by infecting others and in the end it justifies itself."
So what exactly is gossip?  And why does the Holy Father have such an issue with it?  Surely it is just harmless talk and can even strengthen bonds between us and those we are talking to?  It is important that we are clear on what we mean by 'gossip' so we can easily spot it discreetly working its way into our hearts.  And it is also important to be sure of what it is lest we become overscrupulous and falsely accuse ourselves of being a gossip.
As always, it serves us well to turn to the Catechism of the Catholic Church for answers and, regarding conversation, it states:
Respect for the reputation of persons forbids every attitude and word likely to cause them unjust injury. He becomes guilty:
· of rash judgement who, even tacitly, assumes as true, without sufficient foundation, the moral fault of a neighbour;
· of detraction who, without objectively valid reasons, discloses another's faults and failings to persons who did not know them;
· of calumny who, by remarks contrary to the truth, harms the reputation of others and gives occasion for false judgements concerning them.
Gossip therefore can be harmless if it does not disrespect another's reputation and if it does not keep you from attending to your other responsibilities.  But it can become harmful when it leads you to rashly judge your neighbour, or damage their reputation among people who don't know them (even if what you are saying is true), or when you spread lies about them.  It places us on the seat of judgement, causing us to overlook the plank in our own eye and does other untold damage that we might never fully realise.
Our culture is bathed in gossip.  We need only to look at a gossip magazine or tabloid newspaper to appreciate how prevalent it is in society.  We should remember that celebrities are people too.  And I would suggest soap operas and other television programmes, although not technically gossip as of course the characters aren't real, may predispose us and lead us into the habit of this particular sin.
So perhaps in our examination of conscience we could consider the following points when thinking of a time we talked about someone; What was my reason for talking about them?  Was what I said true or was I rashly judging them?  Did I negatively colour the opinion of that person when talking about them to other people?  How would the person feel if they overheard what I said?  How would my comments reflect upon me if they were somehow recorded or published?  Did what I say bring me to a better understanding of the person and call me and others to love them more, or did it bring division?
May we pray for God's mercy for the times we have failed to uphold our neighbour's reputation and for His strength to resist all forms of gossip, as we say the words of St Francis of Assisi:
O Divine Master grant that I may not so much seek to be consoled as to console; to be understood as to understand; to be loved as to love.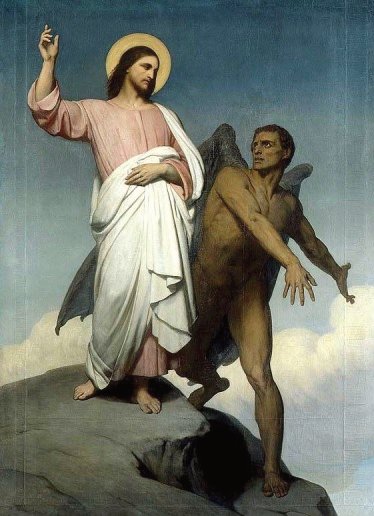 Sunday's Gospel (Mark 1:21-28):
'Jesus and his followers went as far as Capernaum, and as soon as the sabbath came he went to the synagogue and began to teach. And his teaching made a deep impression on them because, unlike the scribes, he taught them with authority.
In their synagogue just then there was a man possessed by an unclean spirit and it shouted, 'What do you want with us, Jesus of Nazareth? Have you come to destroy us? I know who you are: the Holy One of God.' But Jesus said sharply, 'Be quiet! Come out of him!' And the unclean spirit threw the man into convulsions and with a loud cry went out of him. The people were so astonished that they started asking each other what it all meant. 'Here is a teaching that is new' they said 'and with authority behind it: he gives orders even to unclean spirits and they obey him.' And his reputation rapidly spread everywhere, through all the surrounding Galilean countryside.'
It's not difficult to imagine evil in our world. It's all around us; wars, murder, violence, destruction.  Evil has enveloped our world and it can be experienced at almost every turn.  Yet,while it is easy to see evil and to experience it, do we really appreciate who is behind it?
While a willing human mind is perhaps necessary to carry out evil, it is the devil that is the source of evil; and he uses his power to force others to carry out his evil deeds in many different ways.  In today's Gospel passage he uses possession as a means to wreak havoc and to attack God.  In today's world possession by unclean spirits is still a reality and exorcisms occur throughout the world.  But the devil makes his presence felt in numerous other ways.  He destroys our love of life from the moment of conception until natural death by willing abortions and assisted suicide.  He chips away at the family by breaking it up and removing those critical elements of fatherhood and motherhood for every child.  He encourages gossip, cynicism, complaining and negativity among people.
The devil also comes to us in the most simple and innocent situations.  He encourages our laziness as we prepare for Mass on a Sunday; making us feel like the weekly trip to church is a chore rather than a joy.  He visits us in the evening just before we go to sleep and gently invites us to read another few pages of the latest thriller at the expense of our prayers.  He is not always forceful.  Indeed, his ways are often subtle and gentle; wooing us with a seeming beauty and elegance designed to capture our hearts and designed to thrill and excite.
The devil's intention is ultimately to come between us and God.  He is a fallen angel because he wanted to be God.  And given he cannot possibly be God he now wants to bring as much destruction to God's creation as he possibly can and the best way to do this is to turn God's own children against Him. 
However, he will never win as Christ has won the victory on the Cross.  Good has triumphed over evil and God can never be defeated.  But our hearts can still be won over by the devil and he is doing his very best to ensure that this happens to as many people as possible. As we prepare for our Lenten journey this year perhaps it would beuseful to try to discern the ways the devil tries to get at us.  If we can identify his evil habits then we can turn to Jesus and ask him to defend us so that our hearts are never won over by the devil and his destructive ways. We belong to God and to God alone. It is He who has given us life and it is to Him that we shall return at the end of time to be judged.  Make sure that judgement has a happy ending.  Don't let the devil have his way.  He wants you to fail so that you will be damned for all eternity.  Remember, you have Jesus on your side!  He is the only one who can save you from the devil's evil clutches. 
Keep your eyes fixed on Jesus and ignore the subtle temptations of the evil one.  Keep your heart fixed on Jesus and make sure that your destiny is Heaven, to be reunited with your Father who loves you more than you can ever imagine.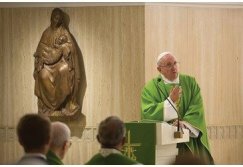 Pope Francis often talks about the devil.  Indeed, some argue that he talks about the devil more than any other recent pope!  Yet, many people won't be aware of this because the mainstream media tend to ignore anything the Church or the Pope says about critical issues such as satan.  Now, I wonder why the media doesn't like to report anything the pope says about the devil.  Why on earth would the media not reflect on this crucial aspect of Church teaching?  Was CS Lewis right when he suggested the devil actually uses the media as a tool to get to the faithful and turn them against God?  I think he was right on the money! 
Anyway, returning to the Pope and his reflection on the ongoing battle with the devil.  Here is what the Pope had to say in his homily on Thursday:
"From whom do I have to defend myself? What must I do?  Pauls tells us to put on God's full armour, meaning that God acts as a defence, helping us to resist Satan's temptations.  Is this clear?  No spiritual life, no Christian life is possible without resisting temptations, without  putting on God's armour which gives us strength and protects us."
"But in this generation, like so many others, people have been led to believe that the devil is a myth, a figure, an idea, the idea of evil. But the devil exists and we must fight against him.  Paul tells us this, it's not me saying it! The Word of God is telling us this.  But we're not all convinced of this.  And then Paul describes God's armour and which are the different types that make up this great armour of God.  And he says: 'So stand your ground,  with truth a belt around your waist.'  The truth is God's armour."
"Life is a military endeavour.  Christian life is a battle, a beautiful battle, because when God emerges victorious in every step of our life, this gives us joy, a great happiness: the joy that the Lord is the victor within us, with his free gift of salvation.  But we're all a bit lazy, aren't we, in this battle and we allow ourselves to get carried away by our passions, by various temptations. That's because we're sinners, all of us!  But don't get discouraged.  Have courage and strength because the Lord is with us."
Amen papa!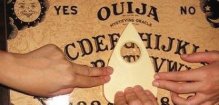 Hector Molina, Catholic apologist, talks about the dangers of divination (the practice of seeking knowledge of future events or hidden (occult) things from supernatural sources) in this great article from Catholic Answers.
Divination includes practices such as ouija boards, horoscopes, tarot cards, fortune telling and even tea leaf reading!
As Hector says, divination 'seeks to circumvent God's plan and obtain answers to our questions by consulting spirits, which are in fact demonic and sinister spirits hell-bent on deceiving and harming us.'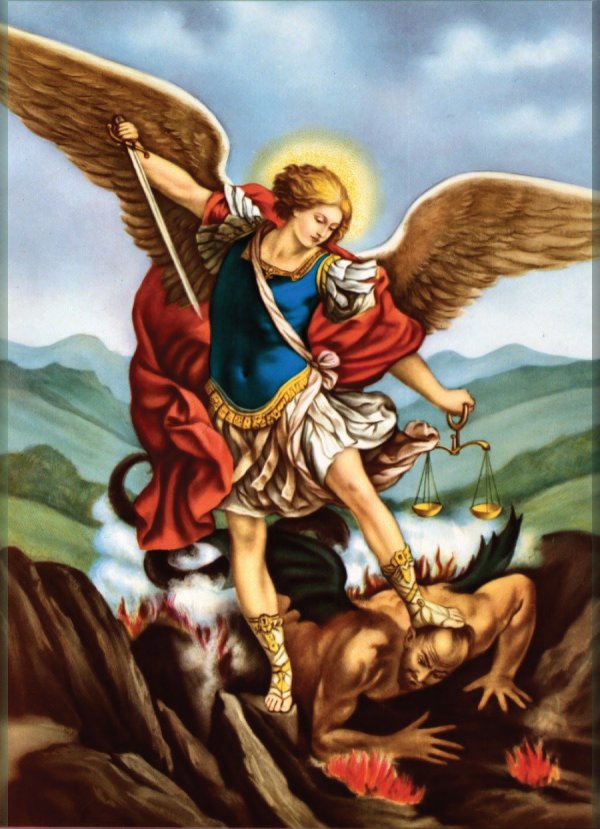 Image of St Michael standing on Satan
This is an interesting quote from a book on exorcism that I am currently reading...
"Sometimes he (the devil) shows himself, strangely, but also in cases of possession.  But he's much more dangerous where he doesn't let himself be seen, where he can't be done away with through exorcism."
Father Pedro Barrajon (December 2005)
/