Shopping Cart
Your Cart is Empty
There was an error with PayPal
Click here to try again
Thank you for your business!
You should be receiving an order confirmation from Paypal shortly.
Exit Shopping Cart
Calling Scotland's 841,000 Catholics to unite as one voice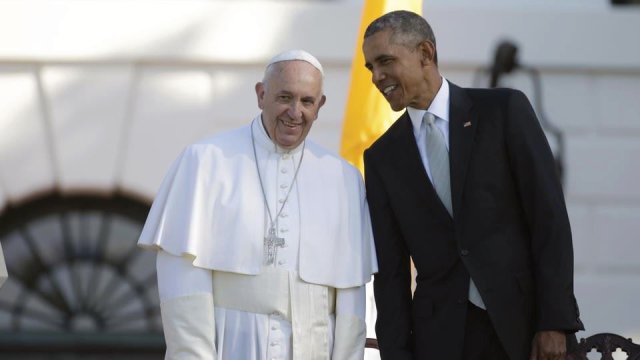 The first few days of Pope Francis' visit to the United States have been fascinating, not least because of his clever tactics in putting US President Barack Obama firmly, yet politely, in his place.
The depth of Obama's hypocrisy on religious freedom simply cannot be underestimated following his welcome speech to the pope on the south lawn of the White House. Obama, ever the impressive statesman, spoke of how "here in the United States, we cherish religious liberty" and promised the pope that "we stand with you in defence of religious freedom and interfaith dialogue, knowing that people everywhere must be able to live out their faith free from fear and intimidation."
It does actually sound very good, but the reality is this man is head of perhaps the most anti-religious administration ever seen in the United States; a fact not lost on the Holy Father.  Consider the pope's response to the president: "Mr President, together with their fellow citizens, American Catholics are committed to building a society which is truly tolerant and inclusive, to safeguarding the rights of individuals and communities, and to rejecting every form of unjust discrimination. With countless other people of goodwill, they are likewise concerned that efforts to build a just and wisely ordered society respect their deepest concerns and their right to religious liberty. That freedom remains one of America's most precious possessions. And, as my brothers, the United States Bishops, have reminded us, all are called to be vigilant, precisely as good citizens, to preserve and defend that freedom from everything that would threaten or compromise it."
The pope's final words suggest that while President Obama is confident that his country respects the rights of religious people, the pope doesn't necessarily share his view. 
But here is the best part. Shortly after meeting Mr Obama, the pope decided to make an unscheduled stop to the convent of the Little Sisters of the Poor.  The significance of this? The Little Sisters are currently pursuing an action against the Obama administration for forcing them to comply with the HHS Mandate (also knows as 'Obamacare'), a Mandate which forces companies and groups (including the Little Sisters) to provide contraception through employee insurance plans. And let's not forget that President Obama and the wider Democratic community recently vowed not to make it a crime for a person to kill a baby born following a failed abortion  This, brothers and sisters, is Obama's idea of a country that cherishes "religious liberty."
The pope, who told Bishops yesterday that nobody can turn away from the evil of abortion, is already making some shrewd moves in the States. But then, we shouldn't be surprised, even when we are faced with the quiet exterior of this humble little man from Argentina. He is a man who burns with the fire of his Catholic faith, and he is undoubtedly a man with a plan.  Perhaps it hasn't yet dawned on President Obama that he is up against the successor to Peter and Vicar of Christ.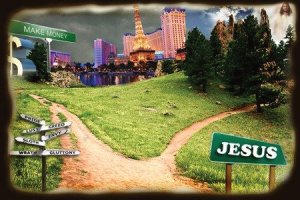 We must take the narrow path to Christ
Today's First Reading (1 Timothy 6:2-12):
'This is what you are to teach the brothers to believe and persuade them to do. Anyone who teaches anything different, and does not keep to the sound teaching which is that of our Lord Jesus Christ, the doctrine which is in accordance with true religion, is simply ignorant and must be full of self-conceit – with a craze for questioning everything and arguing about words. All that can come of this is jealousy, contention, abuse and wicked mistrust of one another; and unending disputes by people who are neither rational nor informed and imagine that religion is a way of making a profit. Religion, of course, does bring large profits, but only to those who are content with what they have. We brought nothing into the world, and we can take nothing out of it; but as long as we have food and clothing, let us be content with that. People who long to be rich are a prey to temptation; they get trapped into all sorts of foolish and dangerous ambitions which eventually plunge them into ruin and destruction. 'The love of money is the root of all evils' and there are some who, pursuing it, have wandered away from the faith, and so given their souls any number of fatal wounds.
But, as a man dedicated to God, you must avoid all that. You must aim to be saintly and religious, filled with faith and love, patient and gentle. Fight the good fight of the faith and win for yourself the eternal life to which you were called when you made your profession and spoke up for the truth in front of many witnesses.'
It's hard for Catholic people to remain true to Jesus Christ and the Traditions of the Catholic Church, especially in this day and age when religion is often frowned upon for one reason or another.  Yet that doesn't make it any less true or relevant.
St Paul's letter to Timothy encourages us to remain true to Christ and his teaching and to remain true to the teaching of the Church he himself founded; the Roman Catholic Church which continues to exist to this very day.
St Paul warns us about those who stray from this teaching, and in true St Paul style, he doesn't mince his words!  He says that those who do things differently to that taught by Christ and his Church are "simply ignorant and must be full of self-conceit – with a craze for questioning everything and arguing about words."  Isn't it interesting that St Paul should specifically refer to arguments about words?  Consider the abortion debate and how pro-choice activists often try to use words and phrases to argue that abortion is okay. They use (albeit wrongly) terms such as 'embryo', 'foetus', 'collection of cells' and 'personhood' to try to make their point. Consider how Pope Francis' words are so often used against him by those who misinterpret him or those who fail to understand his bigger message.  Other examples of this can be found in debates around contraception and the redefinition of marriage.
The tragedy of all this is that Catholic people, including myself, continually stray from Christ's teaching and the teaching of his Church.  I fall into the traps of the secular relativist society and I become that ignorant person full of self-conceit that St Paul is referring to. But thankfully Christ and his Church give me the Sacrament of Reconciliation where I can go and be forgiven for straying from the Truth.
At the end of the day, there will be many times in our lives when we will stray from the right path. But the key is to turn back, as the prodigal son did, into the loving arms of the Father.  While we may turn our back on Him there will never be a time when He turns His back on us.  He is always standing there, watching and waiting for us to return; to return to the path of Truth which He himself created when He gave us His only Son and gave us His Church.
Brother and sisters, we must do as St Paul says and "Fight the good fight of the faith" by speaking up for the truth with love, patience and gentleness before all people, even when it makes us feel a little uncomfortable.  Remember, it is unlikely we will ever be made to feel as uncomfortable as the early disciples who suffered immeasurable pain, including death, in standing up for the Truth.   
And even though we may well feel a little uncomfortable we must remember that we were not made for this world; that our destiny is in Heaven to be one with the Father, with Christ our Saviour, our Blessed Mother Mary, and with all the Saints and Angels.  Surely that is worth fighting for?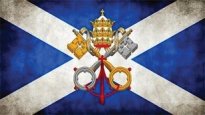 A year-long research project commissioned by Transforming Scotland has found that a majority of Scots have a positive view of the Christian faith. 
Despite the most recent Scottish Household Survey suggesting that a fairly large minority of 47.3% of Scottish people have no faith, the view of Christianity is broadly positive. Alan McWilliam of Transforming Scotland said: "The research has shown that a significant number of the Scottish public think the church is a good thing for a community, because it strengthens and cares for those within it, and acts as a positive influence for young people.  The fact that people still see the church as a positive contribution to society is hugely encouraging."
In the South of Scotland 67% of people had a favourable impression of Christianity.  In the Lothians this figure was 54% with 62% stating that they believe Christianity has good principles and good values.  In Glasgow 54% had a favourable impression of Christianity with 49% saying it was a faith they respect.
Bizarelly, in covering the outcome of this report the Herald saw fit to ask the Scottish Secular Society for its opinion. Knowing the Scottish Secular Society and what it stands for I'm amazed the Herald would stoop so low as to ask them for an opinion on this report.  They are an organisation which continually spews out deeply bigoted views, particularly in relation to Christianity, and most of what they produce on their website and social media pages is nothing short of hatred as they lay out attack after attack on all things Christian.  I'm now certain that they do not represent the views of most secular people in Scotland, something that this report seems to prove.  Indeed members of the group have recently discussed whether or not they need to change their ways in order to be more appealing.  We can but hope and pray that they will one day join the majority of our Scottish brothers and sisters in seeing Christianity as a positive thing for our country. 
Thankfully most of Scotland does appreciate what Christianity brings to the table and are willing to admit that this is the case.  Christianity is without doubt a cause for good and something incredibly positive. It is the light which can bring us all out of the darkness.  While Scotland may have said no to independence, it most certainly says yes to Christianity.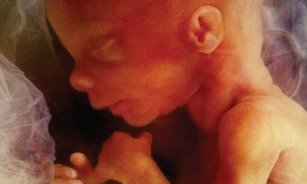 Why should we be afraid to speak up for this little one?
It was no surprise to see US President Barack Obama hogging the headlines yesterday in order to make his big pitch for a greener United States. This was, after all, the day on which the true evil of his great friend Planned Parenthood was debated in the Senate.
It was extremely sad, but at the same time fascinating, to watch the heated exchanges around the sale of baby body parts and the wider issue of abortion so passionately debated at this level for around three and a half hours.  The Republican side very much in favour of defunding Planned Parenthood; the Democrats preferring to retain the existing arrangement.  It made me a tad jealous when I think of the lack of passionate debate on the matter here in the UK.  While I firmly believe there are a number of pro-life politicians here in the UK, they appear too unwilling to stick their head above the parapet and speak up for the unborn.  Our country has become so secularised and so entrenched in a misplaced and misguided view of so called 'equality' that people are afraid to say even the slightest thing out of turn.  Not so in the US.  Their elected members are quite comfortable expressing their pro-life views and the views of the people they represent, even if it means speaking out against abortion in no-nonsense terms. 
Last year I wrote to former Scottish Labour leader Jim Murphy to express my deep disappointment at his claim to be a man of the Catholic faith yet also a man who believes in a woman's right to have an abortion.  The two don't go.  You cannot square being true to the ways of Jesus Christ and his Church at the same time as agreeing that another person should be entitled to make the decision that an unborn child should die.  Mr Murphy never responded to my letter.  But then, is this a surprise?  Of course it isn't.  Mr Murphy is just like so many others.  He simply doesn't have the guts to stand up for what is right. 
We have been fooled into thinking that it is not appropriate to tell people that we believe that human life begins from the moment of conception and that we believe all human life, including the unborn, should be protected.  We have also been fooled into thinking that being pro-life is simply a far right, conservative religious stance and is, therefore, of little worth to society at large. But this simply is not true. Consider the growing number of secular and atheist pro-life groups appearing on Twitter and Facebook. Indeed the entire pro-life case can be argued to great effect without any reference whatsoever to religion (consider Trent Horn's book Persuasive Pro-Life for proof of this).  So, should we be afraid to be open about our pro-life views?  Certainly not!  Consider this….is it really weird and unreasonable to hold the view that we believe all human life is deserving of the same protection, no matter how big or small that human life may be?  That is the basic argument we are putting forward.  Isn't it an incredibly reasonable proposition?
Yes, it would be fair to say that there are various ancillary arguments around the abortion debate such as an individual's right to choose and the consequences of bringing children into social deprivation, but the end game is always the same.  It boils down to 'what is the unborn'?  If the unborn is a human being then society is obliged to protect it as much as it protects born people.  If it isn't a human being (and presumably just a blob of tissue) then aborting it is no more serious than cutting off a toenail.  As Greg Koukl once wrote: "If the unborn is not a human person, no justification for abortion is necessary.  However, if the unborn is a human person, no justification for abortion is adequate."
In trying to figure out the answer to the question 'what is the unborn?' consider Steve Wagner's '10 second pro-life apologist' argument: if it's growing, isn't it alive?  If it has human parents, isn't it human?  And human beings like you and me are valuable, aren't we?.  It's very simple, but it does make a very important point.
Perhaps it's time for all of us, politicians included, to really think about the unborn and what they really are.  If they are human beings then surely we all have an obligation to protect them from day one and to stand up for them and their most fundamental right to life.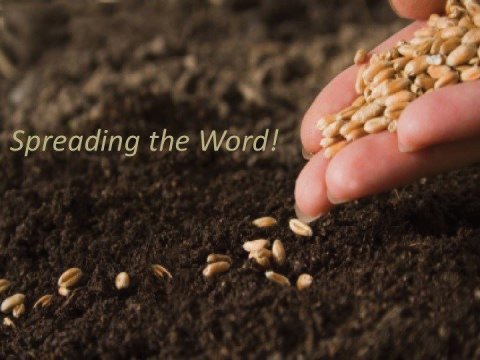 We are all obliged to spread the Word of God
Isn't it true that you often hear people saying things like 'Jesus would do this' and 'Jesus would do that'?  Indeed, such statements are often used by secularists to backup their argument that religion is intolerant, or by liberal Catholics who claim that a loving Jesus would allow for a departure from the Truth of Church teaching.
Yet isn't it rare to hear someone say 'Jesus would do this' or 'Jesus would do that' when it comes to spreading the Gospel or proclaiming the Truth of the Kingdom of God? 
For many people, including many Catholic people, the perception of Jesus has become relativised to the point that we pick and choose the Jesus who happens to suit our argument at any given point in time.  We forget that Jesus is not only this all-loving, all-forgiving God; but that he is also a God who expects something from us.
Jesus expects us to follow him.  And to follow Jesus means we put everything else to the side.  He expects us to put him first, others second, and ourselves third.  And he expects us to take his name to all people; to proclaim the truth and beauty of the Gospel everywhere we go.
These days there are too many 'fans' of Jesus and not enough 'disciples'.  There are not enough people working in the trenches trying to bring other souls to Christ.  Instead they satisfy themselves that they do enough and that anything else is either the job of someone else or that their failures will not be harshly judged by the Creator.  
We have lost our sense of true discipleship and our obligation to bring people to Jesus, putting our own souls in danger in the process.  Perhaps we think that discipleship is the job of our parish priest, that they are the real disciples of Jesus in today's world.  But this is simply not true.  Each and every one of us is called to be disciples and to take Christ and his message of love and mercy to the four corners of the earth.  We are all missionaries, called to sow the seed of Truth.
Let us spend a few moments today thinking about what we do to bring other people closer to Jesus.  Do we do enough?  Or are we often guilty of ignoring this obligation, focusing only on the qualities of Jesus that suit our own needs?  If we do then perhaps it's time for us to take some responsibility and be a bit more disciple like. 

The first details of subscribers to the adultery website Ashley Madison have been released following a successful hacking of the website at the weekend.  The hackers, referred to as the Impact Team, claim to have obtained details of all 37million members of the site and have threatened to release more members' details, including their so called 'fantasies'.
Some have claimed the reason for the hacking is to do with a claim by Ashley Madison that members' details will be permanently deleted if they pay a $19 fee.  The hackers apparently claim that this is not the case and that details are not permanently deleted, hence the attack and the Impact Team's desire to shut down the site.  But, whatever the reason for the hack, it is incredibly sad to hear that there are at least 37million willing adulterers out there in the western world.  Of course this is only a small portion of the total number of people inclined to infidelity in our world, but it is a huge number, and it shows the lengths people will go to look after their own self-interests and make sure it is kept secret from their nearest and dearest.
What has the world come to when we have a legitimate website claiming that 'life is too short, have an affair'?  What has the world come to with legitimate TV adverts advertising and encouraging adultery, such as the one containing photographs of a newlywed couple enjoying their wedding day only for little captions to appear on screen suggesting that the bride is about to sleep with her new husband's best friend?  This is the world of Ashley Madison.  This is our world.
Western society is often praised for being a pillar of democracy, freedom and tolerance.  Yet it is a society that believes in the right to kill the most vulnerable; a society that believes in greed at the expense of the poorest; and now, a society that believes in the right to adultery.  But hey, why not?  This is the new relativist world, right?  This is a world where 'live and let live' and 'who am I to judge' are phrases which are endlessly spewed out to prove our tolerance in this great new free and easy society.  The age of objective morality has passed.  That was then, this is now.  We don't need objective morality anymore.  We don't need to be told that 'thou shall not kill', 'thou shall not commit adultery' and so on.  That's the kind of stuff that belongs to the dark ages, to the religious people.  Our society is free from all that and we can do what we want. 
Well I say to hell with this new, free, tolerant society based on relativism.  Relativism is a dirty, selfish, thoughtless scam which destroys society and destroys lives.  We don't deserve it.  We, as human beings, deserve better than this.  We deserve a moral code which protects people from untimely death.  We deserve a moral code which looks after the poorest and encourages people to look after the needy.  We deserve a moral code which says adultery is wrong.
There are 37million lost souls out there seeking the fulfilment of some misguided fantasy and what are we doing about it?  Are we sitting on our hands doing nothing?  Have we really bought into this society of 'live and let live' so that we simply say nothing and let others get on with whatever they want to get on with?  Why?  What use is that to our world?  Our world needs witnesses to a true moral code; a code that stands the test of time and which encourages love, honesty and integrity between all people.  So let's get out there and be witnesses to this beautiful truth!  Let's speak out against the scandalous business of the likes of Ashley Madison and their profiting from infidelity.  Let's speak the truth about the wrong of adultery.  And let's speak openly about the genuine alternative to this disgusting behaviour; an alternative which encourages people to be open with each other and to help one another resolve difficulties in relationships. 
Relativism is not the answer.  All it does is encourage people to go and do their own thing, to be selfish and not give a second thought to those closest to them; their wife, husband, kids.  Relativism encourages a quick fix, a lustful encounter, a lie.  It reduces love to a simple feeling or emotion, removing any concept of self-giving and sacrifice.  That's why businesses like Ashley Madison make so much money. It encourages people to be selfish, to reject any notion of an objective moral code and to please themselves how they want, when they want.
And very often this catches up with people.  Indeed, 37million people are very much in panic mode right now as they wonder whether their details will ever be released, uncovering their deceit and infidelity.  And it's all because they bought into relativism.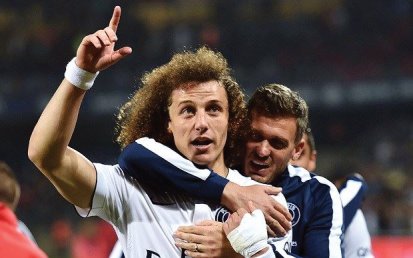 Paris St Germain and Brazil player David Luiz, aged 28, has gone against the popular tide and vowed to remain a virgin until he marries his girlfriend Sara Madeira.
The former Chelsea defender was recently baptized into a Pentecostal congregation and, similar to his Brazilian countryman Kaka, has decided to go public about the value of abstaining from sex until marriage.
Such witness to the value of marriage and indeed the sexual encounter is so vital in this world where sex is to be obtained at any cost, even when it means sacrificing the lives of innocent children.
Well done David for your powerful and courageous witness.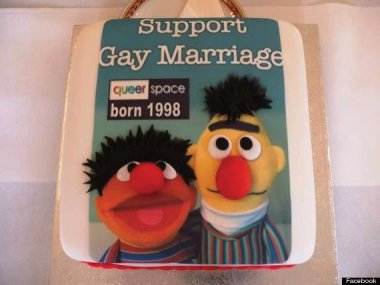 The cake Ashers refused to bake
While the law doesn't tend to agree, I still firmly believe that a business owner should have the right to decide not to provide a service which would be contrary to their devoutly held beliefs.  And this, for me, is key to the whole debate around Ashers bakery and the 'gay cake' furore in Northern Ireland. 
The bakery was told today that it discriminated against a homosexual customer for refusing to bake a cake with a slogan supporting homosexual marriage. 
Yet, despite the media spin, this is not about being homophobic.  And it is not about rejecting a person because they are homosexual.  This is about the desire of a bakery business not to create a cake which carries a message which is contrary to their strongly held beliefs.  Before this row erupted a homosexual man or woman could easily walk into Ashers bakery and order whatever they liked.  The difference with respect to this case is that Ashers were asked to create something which contained a message they just couldn't agree with.  Their response would have been the same had a heterosexual man or woman entered their shop and asked for the same cake.
And with this in mind, I do feel for Ashers.  They believe in something and they feel the need to live this out in every aspect of their life.  Indeed, as Christians, Christ compels them to do this. 
Yet the law won't have it. The law tells us that our personal belief and personal freedom means nothing as the state will ultimately dictate to us to what extent we can live out our Christian beliefs.  And such state dictatorship is not without its potential pitfalls.  For example, will Catholic Churches be forced to allow abortion providers to hold information days in their parish halls?  Will this website be shut down if it refuses the request by an abortion provider to advertise on its pages?  Will gay bars be forced to entertain concerts, rallies and fundraising events promoting traditional marriage?  Will bakeries run by homosexual people be expected to bake cakes containing slogans in support of traditional marriage between one man and woman?  With respect to this last question you would think yes, homosexual bakeries would be expected to bake cakes like this and that they would have no hesitation in doing so.  Yet this wasn't the experience of American Theodore Shoebat when he contacted thirteen homosexual-owned or pro-homosexual bakeries to order a cake with a slogan supporting traditional marriage and stating that 'gay marriage is wrong'.  Each bakery rejected his order and one even complained that the slogan 'went against their beliefs'.    
But it is important through all of this to remember that the desire for those opposed to homosexual marriage to be able to run their businesses in accordance with their beliefs is not a declaration of war on homosexuality.  This is the message sections of the media and certain secular groups want to put out there.  They want to draw a big line of division between homosexuals on one side and the so called 'homophobes' on the other.  Secularist groups in particular want this to be a nail in the coffin of religion.  It is, rather ironically, sheer intolerance on their part.
We as Christians must ensure that we do not get sucked into the hatred generated by the mainstream media and other groups intent on making capital from stories such as this.  This is not homophobia.  This is about whether an individual, or indeed a business, has the right to decline to create something or provide a service which is completely contrary to their own beliefs.  I believe that, while the law generally exists to protect, it is now at the stage where it is eroding the personal freedom of people to the point where their ability to make an honest living is compromised.  That cannot be right.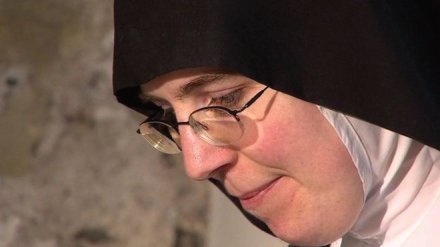 Picture: bbc.co.uk
This insteresting BBC article explores the recent increase in vocations to the religious life in England and Wales and considers why more and more women are becoming nuns.
A number of women who have recently joined various religious orders speak openly about their experiences in the article, though none more frankly than 29 year old Theodora Hawksley who recently joined the Congregation of Jesus in North London.
Theodora says: "If our society is obsessed with money, sex and power and the games people play with them, then vows of poverty, chastity and obedience represent a profound freedom.
That's what has drawn me to religious life.
It's not a fleeing from the world - it's a finding your place in it."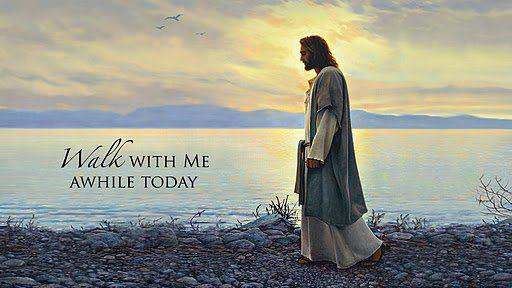 Sunday's Gospel (John 3:14-21):
'Jesus said to Nicodemus:
'The Son of Man must be lifted up
as Moses lifted up the serpent in the desert,
so that everyone who believes may have eternal life in him.
Yes, God loved the world so much that he gave his only Son,
so that everyone who believes in him may not be lost
but may have eternal life.
For God sent his Son into the world
not to condemn the world,
but so that through him the world might be saved.
No one who believes in him will be condemned;
but whoever refuses to believe is condemned already,
because he has refused to believe in the name of God's only Son.
On these grounds is sentence pronounced:
that though the light has come into the world
men have shown they prefer darkness to the light
because their deeds were evil.
And indeed, everybody who does wrong
hates the light and avoids it,
for fear his actions should be exposed;
but the man who lives by the truth comes out into the light,
so that it may be plainly seen that what he does is done in God.''
Perhaps it would be of benefit if we carved up this Gospel passage a little.  Perhaps we should boil it right down into a few snappy statements of fact, as declared by Jesus.  He says this:
God gave the world His only Son
Everyone who believes in the Son will not be lost but may have eternal life
God sent his Son not to condemn but to save
No person who believes in the Son will be condemned
Whoever refuses to believe in the Son is already condemned
It's hard hitting stuff!  How can we reconcile the fact that God is all loving and all merciful yet He is prepared to allow people to be condemned!  We are all God's creation, so how can He allow any of us to be lost? 
It's a conundrum alright and it's a stumbling block for many people.  But one thing that is absolutely certain is that what we are reading is the Word of God.  These are the words of Jesus Christ; the words of God made man.  There can be no dubiety about the reality of these words and their applicability to all people.  These words apply to everyone.  Yet sadly so many people aren't aware of them.  But hey, that's why you and I exist!  We have been given a special grace by God to have knowledge of His Word.  Not only that but we have been entrusted to take that Word to others! 
How do you think our faith spread back in the early days of the Church?  How do you think the Word of God found its way into the hearts and minds of so many people through the years?  Simple.  People used their mouths, their hands, and their feet to spread the Word!  There are millions of people out there who do not have the joy of God's Word and His Truth.  We are called to take His Word to all of those who have not yet heard. Wow!  God doesn't ask much of us does He??
And while we may have this huge responsibility on our shoulders, we needn't do it alone. No, Jesus is always with us.  And God sends His Holy Spirit to be our comforter and our guide as we try to bring the Truth to all people.  We are never ever alone.  That is why we must follow Jesus' example and take time out to sit in a quiet place and pray.  We must learn to take some time away from the crowd to clear our heads and to be in the presence of God, the Father who loves us and wants us to love Him back. 
This day, take some time to speak with Jesus and ask him for guidance on how you can be an instrument of God's work.  Ask him what you can do to take God's Word to other people.  Ask him if there is anything specific God wants you to do to bring His Truth to those who do not believe.
Remember the warnings of Christ when he speaks of those who refuse to believe.  He says that they are already condemned.  But this needn't be the case.  We can change this!  We can bring people to God and save their souls!  In today's world which has embraced the modern idea of new-age spirituality and religion it is widely accepted that each individual person is entitled to believe in what they want and do pretty much whatever pleases them. It is their life and 'who am I to interfere?' is the general consensus in a society with an increasing desire for relativism.  And while God's great gift of free will for all people makes this possible, sacred scripture is full of warnings about how we ought to live our lives.  Too often we hear the cry that 'Jesus wouldn't do this' and 'Jesus wouldn't do that'.  Who are we to decide what Jesus would and wouldn't do?  If we want to know what Jesus would and wouldn't do we just need to read the Word of God.  It's all there in black and white! 
The difficulty many people have is that they find it hard to accept some of the difficult teachings of Jesus.  They find it difficult to accept some of the harsh words he sometimes has to say.  But remember, this doesn't change the fact that he is pure love, pure gentleness, pure compassion, and pure mercy.  He is still all of those things.  It's just that some of his teachings challenge us. And there can be no greater challenge than to bring the condemned into new life in Christ!  That's the challenge Christ sets us is in this Gospel passage. God doesn't want anyone to be condemned. He wants everyone to love Him and to eventually be with Him in Heaven.  But sometimes we choose the wrong path.  But thankfully there is only one wrong path which makes it really easy for us to know when we and others around us are going the wrong way.  The wrong path is simply the path that Christ isn't walking along.  If we want to take the right path we need to follow Christ.  It is that path that will lead us to God.  Jesus himself said: "I am the way, the truth, and the life; no one can get to the Father except through me".  Jesus isn't lying here.  It's impossible for him to lie for he is all good.  No, Jesus is telling us in a very honest and frank manner that we need to follow him if we want to get to the Father.  Any other route to the Father simply will not work!  Why?  Because there is no other route to the Father!  Every other route is one of darkness.  Jesus is the only way.  It is Jesus who brings us into the light.
/