Shopping Cart
Your Cart is Empty
There was an error with PayPal
Click here to try again
Thank you for your business!
You should be receiving an order confirmation from Paypal shortly.
Exit Shopping Cart
Calling Scotland's 841,000 Catholics to unite as one voice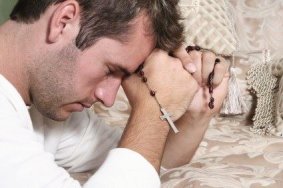 A call to Catholic men to right the wrongs of a broken society
Here's a question for Catholic men: did you know that you have the power to mend our broken society?  All the sadness and despair, the lies and deceit, the selfishness and infidelity; you have the answer to all of these problems.  The future of our world; a future of beauty, goodness and truth is in your hands! 
Confused?  Don't be.  Consider for a moment when the perfect world God created changed.  It was in the Garden of Eden, when Eve was tempted by the serpent to eat the fruit from the tree of the knowledge of good and evil, and both she and Adam ate the fruit.  This is the moment everything started to go wrong.  This is the moment sin and death entered into our world.  But what if you could help to right the wrong? 
Jesus, through his passion and Resurrection, redeemed that fatal mistake made by our forefathers in Eden, yet too many in the world reject the redemption Jesus offers them; preferring to ignore it and to continue buying into the relativist culture that tells them anything goes.  A culture that encourages selfishness for the sake of one's own wants and desires.
So is there something we Catholic men can do to bring people to accept Christ's redemption on the Cross?  How can we play a part in helping to heal the wounds of the single biggest mistake made by humanity?  A good starting point is to identify Adam's first mistake.  If we take ourselves back to the Garden of Eden, at the very moment the serpent persuades Eve to eat the fruit and she obliges.  Where is Adam at this point?  Why is he not protecting his wife from the cunning serpent and telling her to do as God instructed and not eat the fruit from the tree? 
This example of Adam failing to protect and care for his wife is all too prevalent in our world today.  And such a failure has serious repercussions.  Adam, after eating the fruit, suddenly realised that he and his wife were naked and he no longer saw her as God intended him to see her.  Rather, it was her body alone that he could see.  His eyes could no longer appreciate Eve's purity in her soul, that part of her which is the very core of her being.  Instead he looked upon her as an object for pleasure and gratification.  Does this ring any bells?  Is this not an accurate reflection of how many men view women in our world today?  Adam, created to have dominion over all the animals of the world and to be protector-in-chief of God's creation, including his wife, had gone from a soldier for God to a man of weakness; a wretch with no backbone.
And so it is with us men today.  Instead of protecting our wives and ensuring their safety and security in this world of sin, we have let them become the object of our own selfish desires and gratification.  We, like Adam, have taken our eye off the ball and have failed our women.  We have failed them badly.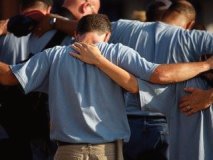 Catholic men can rebuild our broken society
Everywhere we turn there is infidelity, adultery, divorce, pornography, selfishness, violence, hate and intolerance.  The world is in ruins because of relativist ideals, especially those borne out of the sexual revolution.  But we Catholic men have been charged with making something out of those ruins; to take them and to build a pillar of love for the whole world to see.  We are called to succeed where Adam failed.  We have a duty to carry out God's original plan for His Creation; that is to serve, protect and defend all that God has entrusted to our care, especially our wives and children.
We must see our wives as God intended; with a perfect love.  That is, the same perfect love we witness when we see Christ hanging from the Cross.  This, brothers, is the love we are called to show our wives.  It is not lustful, it is not selfish.  It is pure sacrifice.  We, like Christ, must be prepared to lay down our lives for our wives and our children, putting their needs before our own.  Only in living out this kind of love will we be able to repair the wounds in our society; a society that is broken, having lost all sense of what it really means to be in love. 
Our world today is full of love built on sand.  We have love built on lies, we have love built on selfish desires, we have love built on one night stands, and we have love built on adultery.  The result of this is broken relationships, broken families, and ultimately broken children who have never experienced the love they need in order to thrive.  Society needs strong leaders in love.  It needs an authentic, unselfish and unconditional love that is free from the horrid pain of selfishness and lies.  The sexual revolution encourages people to dip in and out of relationships as and when they please.  There is no attempt to encourage staying power, no attempt to encourage true fidelity.  It is every man and woman for themselves.  Yet as Catholic men we are called to be much better than this, much better!  We are called to be soldiers for God, bringing His perfect love to the world by living it out in our homes and in our everyday lives, setting an example for our broken society.  God is looking down at the earth and asking "Where have all my Catholic men gone?  Where are my soldiers?  Where are the men my Son died for?"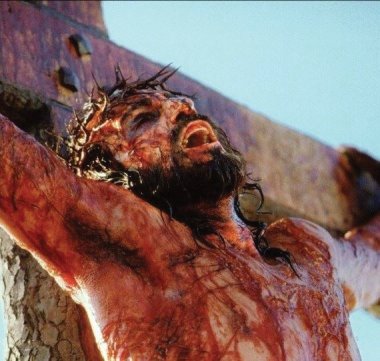 Christ's broken body is the example we are called to follow 
Brothers, let us be true.  True to God, true to our wives, true to our children, and true to our world.  Let us use our call to greatness, our call to be saints, to make a real difference to our world.  Let us never tire of striving to show the kind of love that Christ showed on the Cross, when he gave everything he had, shedding every last drop of blood for his people.  We too are called to give everything we have.  So, with a deep sense of prayer and trust in the Holy Spirit, let us go forth and be true protectors of God's creation.  Let us be sure to love our wives and families with that perfect love so unselfishly evidenced by the broken body of Jesus Christ hanging on the Cross.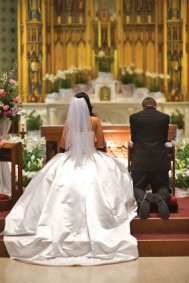 In this time of persistent and often radical sexual revolution it is hard to know where to look for some semblance of normality and a more authentic love.  In her latest Catholic Answers article, Jennifer Roback Morse encourages all people to look to the Catholic Church in these difficult times, even those who don't identify as Catholic.
As Jennifer says: "What the Catholic Church does is important to everyone, no matter their faith. The Catholic Church is the largest institution still standing against the ideological fraud known as the sexual revolution. Everyone who is trying to deal with the fallout from this massive social upheaval has a stake in what the Catholic Church says and does."
Pope Francis, through his recent Exhortation
Amoris Laetitia
, is asking the whole of humanity to trust in the teaching of Christ and his Church for our future.  He wants all people to experience an authentic love, particularly through the Sacrament of Marriage, and to find out for themselves that the sexual revolution does not satisfy our longings.  Rather, it inhibits us and restricts our freedom; enslaving us in an endless cycle of pain, misery and hurt. 
But the Church offers us hope, and by writing this Exhortation Pope Francis is building the foundations of a solid response to the sexual revolution.  It is a response that invites all people to an encounter with Christ and his Church in order to experience the true meaning of a real, authentic and free love. 
The Church has the answer, we just need to believe in it.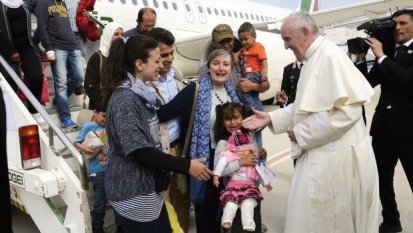 Pope Francis welcomes some of the migrants to Rome
Pope Francis has once again thrust the Catholic Church into the spotlight; this time by bringing a group of twelve Syrian migrants from the island of Lesbos to live in Rome.  The families travelled with the pope back to Italy after he made a visit to the small Greek island last weekend.  It is understood the three families, all Muslim, were fully prepped for the move ahead of the pope's visit.
The finer details of how all of this will pan out remain to be seen, but the gesture itself is one of great love and generosity on the part of Francis.  It is dynamic, reactive, and challenging.  In many respects it bears the hallmarks of Christ himself.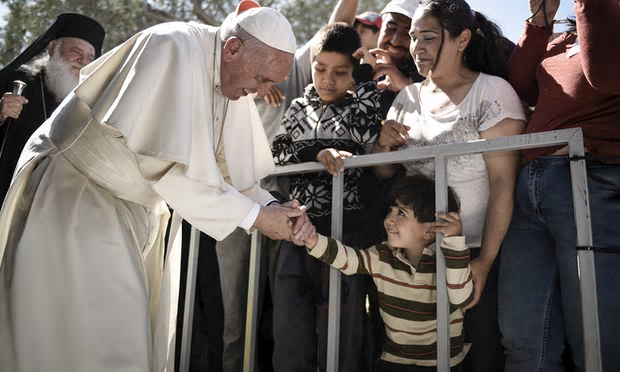 And while he had to leave huge numbers of migrants behind in Lesbos, Francis left them in no doubt that he loves each and every one of them as he told them: "you are not alone".  He later followed this up with a call to Western leaders to do more to accommodate the migrants.   
Yet the challenge set down by the pope is not just for political leaders.  Each one of us is called to rise to his challenge and to show similar love and compassion to the poor and needy in our communities.  So before we criticise others for their failure to act, we need to think about what we ourselves are doing for the good of humanity.  It might only be small gestures of love or kindness, but remember, each little gesture creates another building block for the Kingdom of God.
For all of the criticism Pope Francis attracts, particularly from his own household, he has the knack of showing great love to all people, especially to those in great need.  In all honesty, I wish I could have even a tiny percentage of the compassion, mercy and humility that this man clearly has in abundance.  He is, in many respects, a world leader in love.  Isn't that precisely what God's representative on earth should be?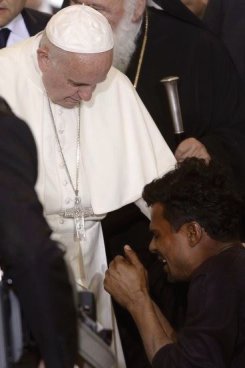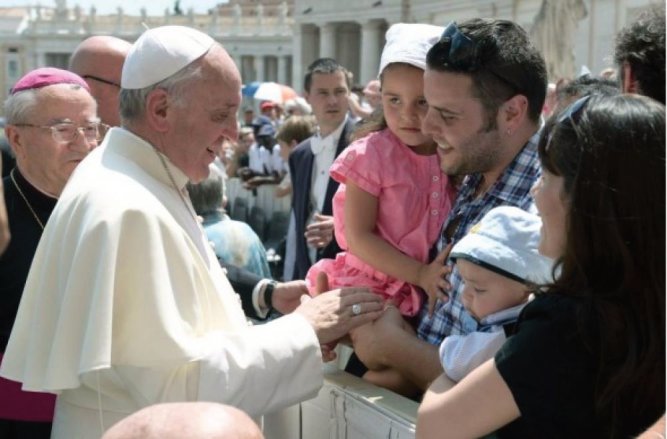 Tim Stanley, in his latest blog post, gets to the heart of post-Synod exhortation Amoris Laetitia, bypassing all the drama and criticism, and appreciating the document for what it truly is: 'a wise lecture on the meaning of love that is built entirely on Catholic teaching'.
He sums it up saying: 'there's an ideal family, there's a broken reality and the bridge between the two must be the Catholic Church'.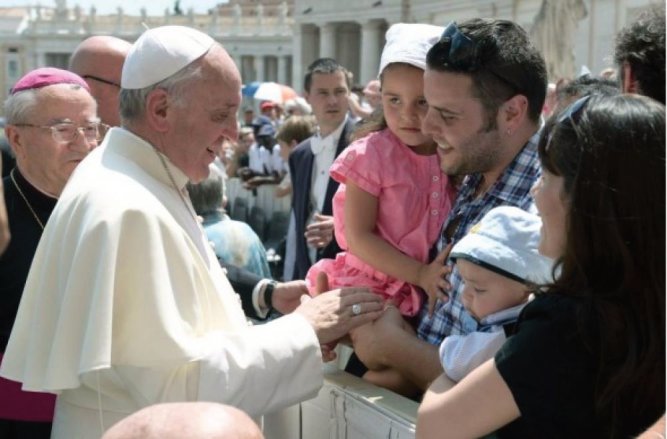 In his new exhortation,
Amoris Laetitia (The Joy of Love),
 Pope Francis has expressed the need to view the family unit as an opportunity rather than a problem, and has encouraged the Church to be more understanding and compassionate towards those who experience difficulties in family life.  There is a real sense of challenge in the document; a challenge to a deeper, less self-centred love towards all people, coupled with a deeper sense of humility.
The document, which runs to 264 pages, also speaks highly of the value of children and the need for married couples to be open to the prospect of new life.  It emphasises the need to see the family unit as a church and provides insight into the various reasons that have contributed to the breakdown of the family in our world today.  He was also critical of those who are narcissistic and irresponsible in relationships saying: "We treat affective relationships the way we treat material objects and the environment: everything is disposable; everyone uses and throws away, takes and breaks, exploits and squeezes to the last drop. Then, goodbye. Narcissism makes people incapable of looking beyond themselves, beyond their own desires and needs. Yet sooner or later, those who use others end up being used themselves, manipulated and discarded by that same mind-set."
As expected, the pope has not made any moves to change Church teaching and matters such as contraception, same-sex marriage, abortion and holy communion for the divorced and remarried have not been given the liberal treatment that many media outlets had hoped for.  This, of course, was never in doubt. 
However, Francis has encouraged the Church to give consideration to how it can best serve those who do not live in accordance with Church teaching, especially when it comes to reconciling them to God.  Bishops, priests and Catholic lay people are all being challenged to be the merciful face of Christ to those in difficult situations, while ensuring that the beautiful teaching of the Church is preserved.  There is also a challenge to be more positive about Church doctrine, to present it in a way that reveals its true beauty and goodness.
While we are not yet in a position to go into detail on the exhortation we will be posting a number of related content on our Facebook and Twitter feeds over the coming days.  We also expect to publish more posts here on our blog so please do check it regularly.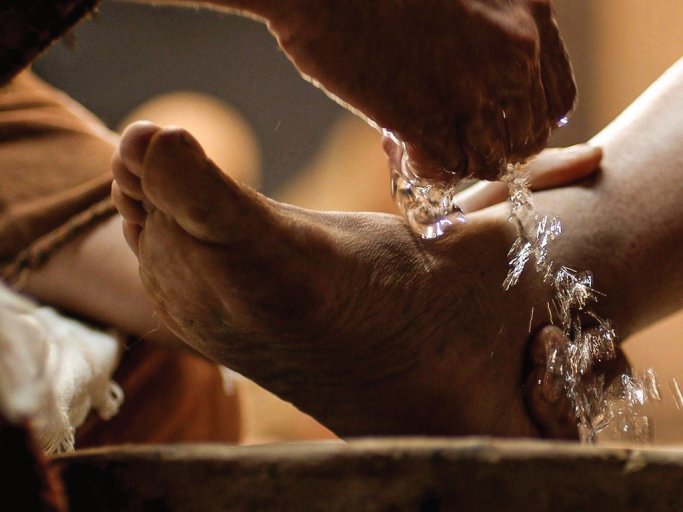 In today's Gospel we hear about the washing of the apostles' feet by Jesus.  Peter was very resistant to this as it seemed completely absurd to have Jesus do such a thing.  This was, after all, God made man, the Saviour of the world!  It should surely be the other way round would have been Peter's thinking.
Yet Jesus makes it clear that this is something he must do.  Firstly, he makes it clear that "unless I wash you, you will have no inheritance with me."  This is a clear link to our Baptism and its fundamental importance in our salvation.  It is also a link to the Sacrament of Reconciliation, where we are once again clothed in the white robe of our Baptism and brought to new life.  Our inheritance, it seems, is dependent on living in accordance with Christ's teaching, and this is achieved through our acceptance of and living in the Sacraments of his Church.
Christ's washing of the apostles' feet is also a sign that he is here to serve rather than be served.  It is also considered by many to be an important sign of the priesthood and its role in taking the love of God to all people.  And this is what I would like to focus on for a moment.  Despite being in the knowledge of the intolerable pain and suffering he was about to endure, Christ took time out to perform this simple but critical act of love.  And that is what we need to take from this special moment between Jesus and his apostles.  It was an act of selfless love; a visible sign of how man should treat man.  Jesus wanted to show this love to his apostles so that they would then do the same to others.
This Holy Week, are you prepared to wash the feet of those closest to you?  While we may participate in the washing of the feet during the Mass of the Lord's Supper we must also remember that our homes and families are small churches too.  So after tonight's Mass when you get home, consider washing the feet of your family and perhaps take turns doing so.  And while this is something that can be initiated by any member of the family, perhaps those of you who are fathers can take the lead.  Men are called to follow in the footsteps of Jesus and tend to their own flock in the same way that Jesus did.  And what better way to do this than to replicate Christ's actions and wash the feet of those closest to you?  While simple, this act of love carries with it an incredible power, the power of Christ who makes all things new.  And for those of you with children in your household, it will create a real sense of intrigue among them and they will no doubt want to learn more.  It's a great opportunity to explain to them, in simple terms and by action, just how much Jesus loves them and how much you love them too.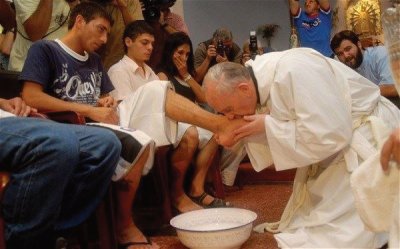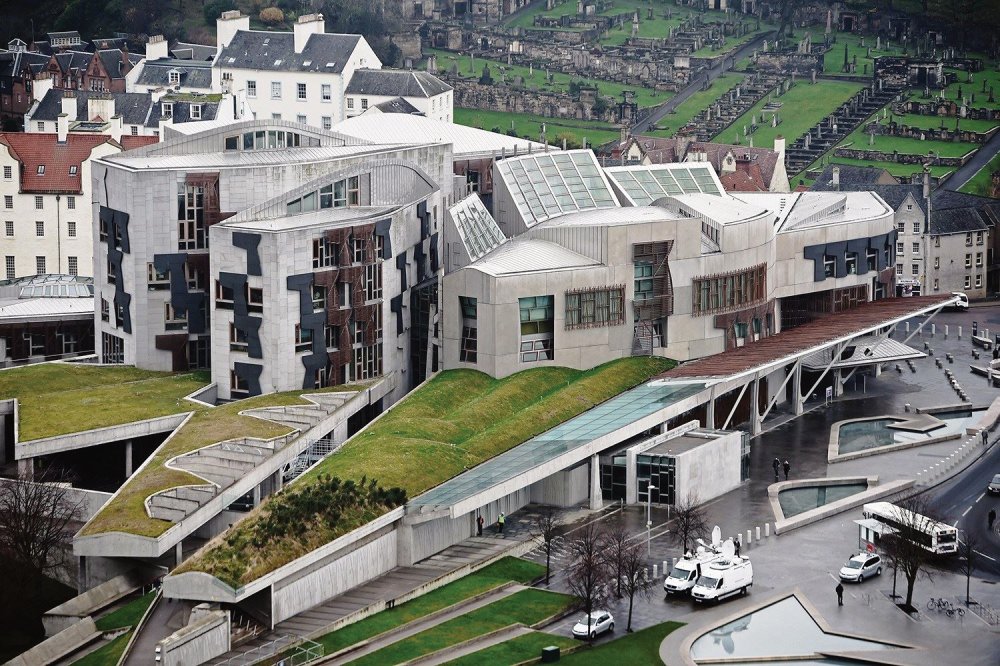 The petition will be debated in Holyrood
Scottish MSPs will today discuss a petition calling on the government to make incest legal between consenting adults over the age of 21. 
The petition, by Richard Morris, claims that the existing law is "inappropriate, unfair, ineffective and discriminatory" and suggests that public "prejudice and bigotry" about incest was caused by ignorance.  He has also apparently likened the issue to historical treatment of homosexuals.
The Catechism of the Catholic Church is clear on the matter of incest and states the following:
'2388Incest designates intimate relations between relatives or in-laws within a degree that prohibits marriage between them. St. Paul stigmatizes this especially grave offense: "It is actually reported that there is immorality among you . . . for a man is living with his father's wife. . . . In the name of the Lord Jesus . . . you are to deliver this man to Satan for the destruction of the flesh. . . . " Incest corrupts family relationships and marks a regression toward animality.'
We are left in no doubt by St Paul's words.  Incest is destruction of the flesh and is mortal sin.  Indeed all instances of sexual relations outside of marriage are sinful and must be avoided.  And look how St Paul uses the name of Jesus to hit home the severity of incest.  It is not in St Paul's name that an individual guilty of incest is to be delivered to the devil, but in the name of Jesus. 
It's interesting that the petitioner Mr Morris cites the treatment of homosexuals to support his case.  The Catholic Church's stance on homosexual acts is clear, and many people in the Church and indeed others who believe such acts to be wrong, have stated their concern that increased liberalism with respect to homosexuality will open wider the floodgates of a deeply disturbing and increasingly sickening new sexual revolution in our society.  I believe Mr Morris's petition is evidence of this.
Our Blessed Mother Mary, when she appeared to the children in Fatima in the early twentieth century, stated that more people go to hell for sins of the flesh than for any other sin.  That's the Mother of God speaking.  It's not the view of some radical religious nut, or priest, or bishop.  It's not even a pope speaking.  It's Mary, the Mother of our God and Queen of Heaven.
So let us pray that Mary's voice will be heard and that our MSPs decide to reject this petition and retain existing laws on incest in our country.

We are delighted to bring to you a new newsletter for families titled 'Handing on the Faith', produced by Dermot Grenham.
The newsletter considers the importance of handing on the Catholic faith to our children and explores the most effective ways of doing this within the family unit.  Relatively short and easy to understand, the text is full of excellent hints and tips for living a life of faith with those closest to us, suggesting that this can be the catalyst for family members to 'humanise' our world, bringing God's compassion and mercy to all. 
Please do read the article, especially if you have a young family.
You can access the article by clicking the pdf file, below:
Following on from Bishop Thomas Olmstead's exhortation document
Into the Breach
, a short film has been produced to encourage men to be real men, following in the footsteps of Christ and sacrificing everything for others.
/