Shopping Cart
Your Cart is Empty
There was an error with PayPal
Click here to try again
Thank you for your business!
You should be receiving an order confirmation from Paypal shortly.
Exit Shopping Cart
Calling Scotland's 841,000 Catholics to unite as one voice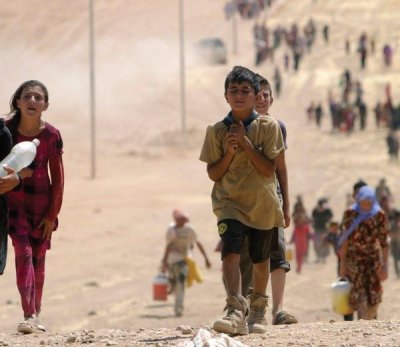 The Vatican has not minced its words in reacting to the crisis in Iraq, where thousands of Christians have been forced to flee from their homes under the threat of Islamic extemists.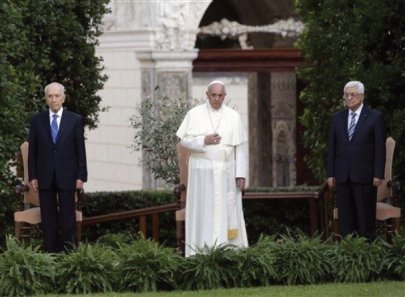 Pope Francis is flanked by President Peres (left) and President Abbas (right)
From today's Gospel (Mark 10:17-30):
'Jesus gazed at them. 'For men' he said 'it is impossible, but not for God: because everything is possible for God.''
This short Gospel passage brings to mind the great scenes from the Vatican yesterday as Pope Francis, and the universal Church, played host to President Shimon Peres of Israel and President Mahmoud Abbas of Palestine.  The three men gathered with the Ecumenical Patriarch Bartholomew to pray for peace in the Holy land, a land long crippled by war and division. 
And while the two presidents are no strangers to one another – they have met many times and in many forums to negotiate for peace – they would have been forgiven for thinking this was somewhat different to the peace talks they have become accustomed to.  This, Pope Francis stressed, was not the Vatican playing peacemaker.  Rather, it was an opportunity for the men to gather and pray. 
Prayer is not normally high on the agenda (if it is on the agenda at all) when these men meet to talk politics.  It's highly unlikely that prayer would fit comfortably in the middle of peace discussions in the White House or Downing Street.  Yet it was the focal point of yesterday's unique gathering, and you could tell that each man was entirely comfortable with the concept.  Each is, after all, a believer in one God. 
By focusing the meeting on prayer, Pope Francis pulled at the very heart strings of Peres and Abbas.  Their respect for God was evident and, although that respect may not have extended to the actions of their respective countries/territories over the years, there were encouraging signs that Pope Francis had been shrewd in putting God at the centre of the meeting.  Both Peres and Abbas spoke about their desire for peace and admitted that they need the help of God to achieve that peace.  This point is critical to long lasting peace in this most troubled land.  By recognising and openly admitting that the help of God is needed the men have acknowledged that they, and the many others who have tried to bring about peace, cannot do it by themselves.  Yes, it is they who will need to effect change and put significant effort into making it work.  But they need the grace of God to work through them and to change the hearts of those inclined to conflict.  That is why Jesus' words in today's Gospel are so apt.   
Pope Francis knows everything is possible for God.  So too do Presidents Abbas and Peres.  They have openly admitted their desire for peace and admitted their reliance on God to make it happen.  The focus in this troubled land has suddenly shifted.  God is now the central focus in the minds of those who govern and, in conjunction with those governors, we must pray to God for peace.  We must pray to Him to change the hearts of those who see no way other than conflict.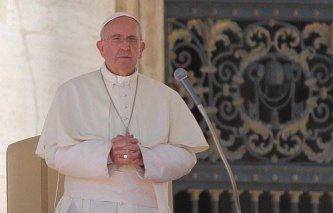 'We Christians should embrace with affection and respect Muslim immigrants to our countries in the same way that we hope and ask to be received and respected in countries of Islamic tradition.'
Pope Francis
Our relationship with the followers of Islam has taken on great importance, since they are now significantly present in many traditionally Christian countries, where they can freely worship and become fully a part of society. We must never forget that they "profess to hold the faith of Abraham, and together with us they adore the one, merciful God, who will judge humanity on the last day".198 The sacred writings of Islam have retained some Christian teachings; Jesus and Mary receive profound veneration and it is admirable to see how Muslims both young and old, men and women, make time for daily prayer and faithfully take part in religious services. Many of them also have a deep conviction that their life, in its entirety, is from God and for God. They also acknowledge the need to respond to God with an ethical commitment and with mercy towards those most in need.
We Christians should embrace with affection and respect Muslim immigrants to our countries in the same way that we hope and ask to be received and respected in countries of Islamic tradition. I ask and I humbly entreat those countries to grant Christians freedom to worship and to practice their faith, in light of the freedom which followers of Islam enjoy in Western countries! Faced with disconcerting episodes of violent fundamentalism, our respect for true followers of Islam should lead us to avoid hateful generalisations, for authentic Islam and the proper reading of the Koran are opposed to every form of violence.
/