Shopping Cart
Your Cart is Empty
There was an error with PayPal
Click here to try again
Thank you for your business!
You should be receiving an order confirmation from Paypal shortly.
Exit Shopping Cart
Calling Scotland's 841,000 Catholics to unite as one voice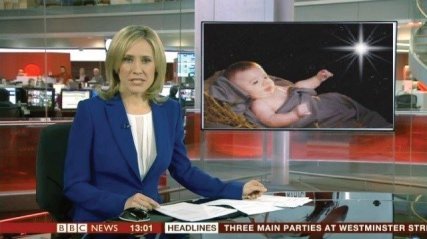 After Jesus had been born at Bethlehem in Judea during the reign of King Heron, some wise men came to Jerusalem from the east. "Where is the infant king of the Jews?" they asked. "We saw his star as it rose and have come to do him homage."
Today's Gospel (Matthew 2:1-12):
'After Jesus had been born at Bethlehem in Judaea during the reign of King Herod, some wise men came to Jerusalem from the east. 'Where is the infant king of the Jews?' they asked. 'We saw his star as it rose and have come to do him homage.' When King Herod heard this he was perturbed, and so was the whole of Jerusalem. He called together all the chief priests and the scribes of the people, and enquired of them where the Christ was to be born. 'At Bethlehem in Judaea,' they told him 'for this is what the prophet wrote:
And you, Bethlehem, in the land of Judah,
you are by no means least among the leaders of Judah,
for out of you will come a leader
who will shepherd my people Israel.'
Then Herod summoned the wise men to see him privately. He asked them the exact date on which the star had appeared, and sent them on to Bethlehem. 'Go and find out all about the child,' he said 'and when you have found him, let me know, so that I too may go and do him homage.' Having listened to what the king had to say, they set out. And there in front of them was the star they had seen rising; it went forward, and halted over the place where the child was. The sight of the star filled them with delight, and going into the house they saw the child with his mother Mary, and falling to their knees they did him homage. Then, opening their treasures, they offered him gifts of gold and frankincense and myrrh. But they were warned in a dream not to go back to Herod, and returned to their own country by a different way.'
In contrast to the wise men in today's Gospel, we live in a world of instant access to news.  Through television and the internet, we have access to the most up-to-date news of all genres 24 hours a day.  Indeed we are bombarded by news from across the world and it is difficult to disconnect from this stream even with concerted efforts.  The wise men were likely men of contemplation. Before setting out on a long and arduous journey, carrying with them precious belongings, they would have spent much time noticing and pondering the meaning of the star rising in the west.  They likely discussed this at length between them, having their own doubts and misgivings about their quest.  How puzzled would they have been to find their journey's end, not in a palace, but in a stable – had they got this right? And there, in the silence of the night, their efforts and faith were rewarded as they saw the wondrous sight.  They saw that which prophets had long foretold and nations sighed for.  The Lord at his birth.
What would we be willing to do or sacrifice to see this sight?  To us, Jesus' birth may seem like "old news".  Repeated re-enactments and a multitude of nativity images can numb us to the awe we should rightly feel when contemplating this scene.  We face different challenges from the magi in our time. Theirs was a time of quiet and contemplation, of expectation and hope.  They saw this wondrous sight for the first time, having no idea what they would see.  Our is a time of noise, instant gratification and cynicism. We have 'seen it all before'.  Plus Christmas is really over now isn't it? It's time to move on to a new year! But like the wise men we are asked in the readings today to search in the silence for signs of our Saviour's coming and to remain open minded about where and when we might encounter Jesus.  Taking the promptings of our innermost soul and no little share of faith, Jesus will guide us through uncertainty and darkness, to behold His face in all its glory.  It is worth spending time contemplating what the wise men saw and asking God to give us the grace to see this scene anew, so that we can honour and praise him with all our hearts as they did.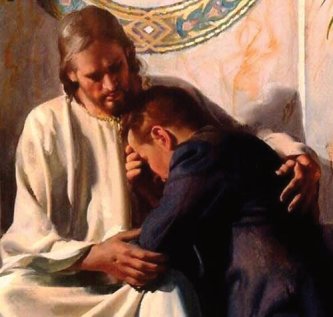 Jesus is waiting to embrace each and every one of us
"Come to me, all you who labour and are burdened, and I will give you rest" (Matthew 11:28).
It's often hard as human beings to admit we are tired or weary.  We have an in-built pride that means we often brush aside any notion of weakness and soldier on.  But sometimes we have to stop and appreciate that we do have limitations and that we do need help.
In the scripture passage above Jesus is giving us the option of going to him for that help.  You see, we all have the choice to go to the very top when we are feeling tired, weary, sad, upset, or lonely.  And it's an option that is free of judgement or hate, and full of love, mercy and compassion.  Nobody loves us like Jesus loves us.  And he is always there, waiting for us.
That's why we are so incredibly blessed this Christmas to have recently witnessed the start of the Jubilee Year of Mercy in the Catholic Church.  It presents an excellent opportunity for us to seek that offer of help from Jesus.  The Church doors are open and the Saviour is home.  He is waiting to spend time with each one of us, to hear our concerns, worries, anxieties and to pour out his mercy upon those who seek it.
This Christmas and beyond be sure to think about that invitation from Jesus.  Give it some consideration and decide if you want to take up his offer.  Unlike your new ipad, his love and mercy will never run dry.  It is eternal.  And it is completely free!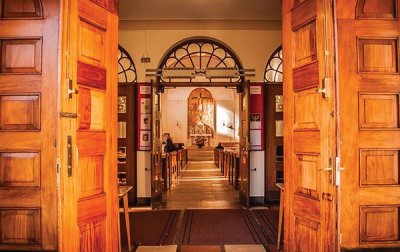 The door to God's house is open
For those of us who haven't entertained our faith for a while or who maybe aren't Christian perhaps this Christmas time is an opportunity to do something radical.  Maybe it's time to break free from the shackles of modern living, even just for an hour or so, and enter God's house where Jesus waits for us with open arms.  What have we to lose?  The truth is: we have absolutely nothing to lose and everything to gain.  And by everything we mean to feel valued, to feel special, to feel loved, and to feel part of something big.  Jesus can give us everything.  There is nothing he cannot do for us.  He can even give us eternal life!
This Christmas let's open ourselves up to the greatest present imaginable.  Let us receive the gift of the loving arms of Christ and the comfort of knowing that in him we will find our true home.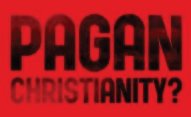 It's that time of year when we encounter the usual arguments over Christmas, in particular the argument over the origins of Christmas and its relation to pagan celebrations.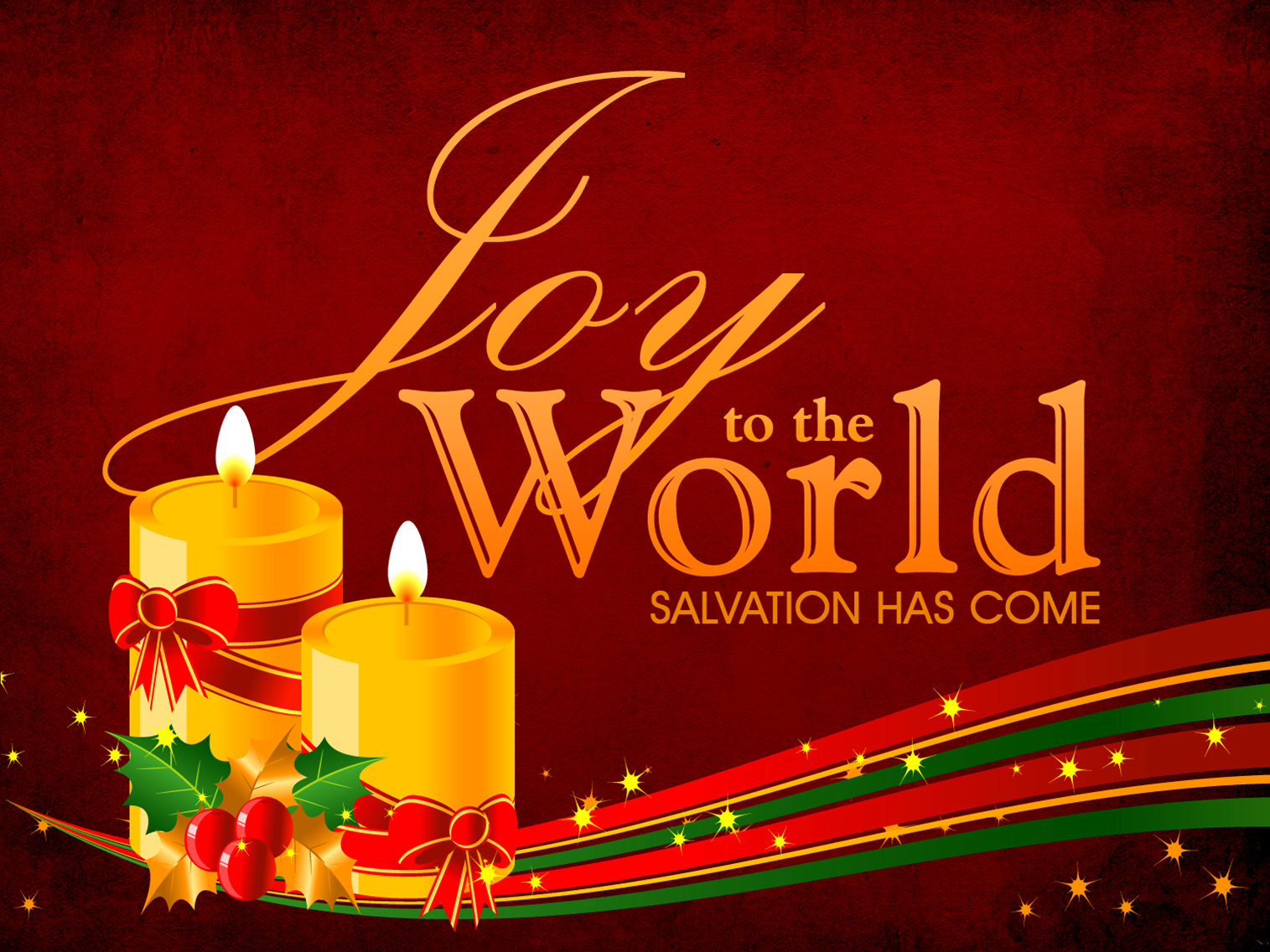 Midnight Mass Gospel (Luke 2:1-14):
'Caesar Augustus issued a decree for a census of the whole world to be taken. This census – the first – took place while Quirinius was governor of Syria, and everyone went to his own town to be registered. So Joseph set out from the town of Nazareth in Galilee and travelled up to Judaea, to the town of David called Bethlehem, since he was of David's House and line, in order to be registered together with Mary, his betrothed, who was with child. While they were there the time came for her to have her child, and she gave birth to a son, her first born. She wrapped him in swaddling clothes, and laid him in a manger because there was no room for them at the inn.
In the countryside close by there were shepherds who lived in the fields and took it in turns to watch their flocks during the night. The angel of the Lord appeared to them and the glory of the Lord shone round them. They were terrified, but the angel said, 'Do not be afraid. Listen, I bring you news of great joy, a joy to be shared by the whole people. Today in the town of David a saviour has been born to you; he is Christ the Lord. And here is a sign for you: you will find a baby wrapped in swaddling clothes and lying in a manger.' And suddenly with the angel there was a great throng of the heavenly host, praising God and singing:
'Glory to God in the highest heaven,
and peace to men who enjoy his favour.''
As humans we often find it difficult to accept a very simple message.  We naturally want to dig deeper to not only figure out the answer but also figure out why the answer is what it is!  We have a longing for knowledge and that is not a bad thing.  But sometimes just discovering the simple answer is all we need. 
At Christmas we celebrate the birth of Christ.  It is God incarnate, God made man.  It is the time when God became man to save the world.  An event that would change the world forever.  So, to suggest we simplify the meaning of such a significant event seems a bit harsh. 
But simplify it we will!  Because Christmas can be wrapped up in one word that encapsulates everything that this earth shattering event means for us.  That word?  Joy. 
It is joy that God wanted to bring to the world when He came to earth as a tiny baby, born of Mary.  What is the one thing every parent wants for their child?  It is happiness.  They want their child to experience joy throughout their whole life.  And this parental wish can be stretched right back through time and through all parents to the Father of Creation. 
God wants His children to be happy!  He wants us to be full of joy!  This is why He came to us.  He came to save us from sin so that we could live a life of perfect joy and ultimately unite with Him in Heaven at the end of time. 
This Christmas, think simply about what this event truly means for us.  Think joyful thoughts, say joyful words, do joyful things.  Your Father wants you to be happy.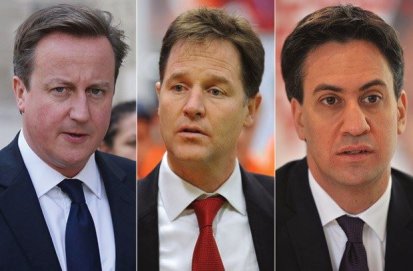 Prime Minister David Cameron, Deputy Prime Minister Nick Clegg and Labour leader Ed Miliband have spoken about the centrality of Christ and the importance of Christian values in the UK in their Christmas messages.
In a continuing theme of celebrating the UK's Christianity, David Cameron said that, "Among the joyous celebrations we will reflect on those very Christian values of giving, sharing and taking care of others."
He continued: "This Christmas I think we can be very proud as a country at how we honour these values through helping those in need at home and around the world.
"So this Christmas, as we celebrate the birth of Christ with friends, families and neighbours, let us think about those in need at home and overseas, and of those extraordinary professionals and volunteers who help them."
Ed Miliband, despite not believing in God, continued with the Christian theme, focusing on a truce by soldiers one hundred years ago on the Western front saying, "In the midst of a tragic conflict the generosity, hope and sense of human solidarity that is characteristic of the Christian faith and culture came to the fore. What an extraordinary and unexpected event.
"We need the same sense of compassion in the face of the suffering and hatred that afflicts parts of our world. I am proud that the Labour movement has such deep roots in the Christian tradition of social activism and solidarity in the United Kingdom."
Liberal Democrat leader Nick Clegg, who has admitted that he is not an "active believer", said that at the very heart of Christmas is "the birth of Jesus Christ, a time of joy and celebration for Christians around the world".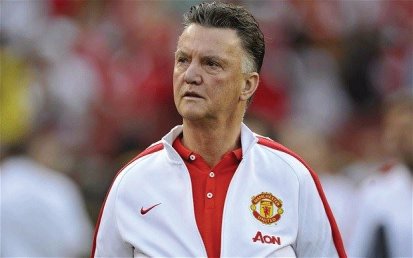 Manchester United manager Louis Van Gaal has questioned the hectic English Premier League schedule over Christmas and bemoaned the time he will need to take away from his family.
Van Gaal, whose full name is Aloysius Paulus Maria (or Aloysius Paul Mary), said: "I have a wife, kids and grandchildren, and I cannot see them at Christmas."
While the United boss later accepted that he needs to adapt to the way of life in the Premier League, his comments are quite refreshing in focusing on his family at this important time of year.  Sadly the festive fixture list has become a real barrier to a family Christmas for many involved in football in recent years.  While players and other staff do tend to avoid having to play games on Christmas day, they are often required to train on that day in preparation for boxing day fixtures.
Yesterday we touched on the modernisation of saints feast days and how they have lost their real meaning.  You can't help but feel the same is happening to Christmas.  First it was Christ himself who was erased out of the picture, and now it's the family.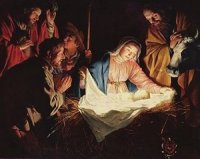 From today's Psalm (Psalm 88):
'I will sing forever of your love, O Lord'
Sing!  Rejoice!  Dance!  Because the Lord our Saviour, our hope and our light, is coming! 
Sin had made its way in the world, and people were becoming desperate.  Poverty and disease were rife.  Inequality spanned the globe and hatred stretched to the four corners of the earth.  Where honour was bestowed on one man, jealousy rose in another.  Where riches were left to one family, poverty was inevitably passed down to another.  The devil had been working hard in the world and humanity was not at one.
Yet, a star rises in the East.  A star to herald the coming of a little child; a child that is to be born to change the world!  Foretold by the prophets for hundreds of years, he comes to give hope to all. 
This is the story of the Nativity.  The coming of the Saviour, the Messiah!  Yet here he was, coming into the world like any other child.  Not many people expected this and they certainly didn't expect him to be born into such poverty!  Yet he was.  With no suitable accommodation available, the Saviour was born among animals in a stable.  And over two thousand years on we still celebrate this momentous occasion, the birth of a little baby boy in a stable. 
Sadly, however, not everyone feels the need to celebrate.  Yet this event was for everyone.  At that very moment Jesus was born, he was born for each and every person who has ever lived and who is yet to live.  Mary, in giving birth to Jesus, not only gave birth to the one who would save the world; she gave birth to the whole world.  The whole of humanity was already secure in the heart of that little child as it lay in the manger, wrapped in cloth, surrounded by animals and hay.  Not one person was forgotten. 
You see, this child was born to save.  He wasn't born to lead the kind of life many of us are blessed to have.  He, unlike us, was born to die.  This beautiful, innocent, little child cradled in his loving mother's arms and gazed upon by his doting step-father, will still have each and every one of us secure in his heart many years later when he is nailed to a cross on Calvary.  And on the third day, when he rises to Heaven, he takes each and every one of us with him in his heart to the Father.  This is no ordinary child.  This child was born for you, and this child died for you.  This child wants you to follow him to the Father; he wants you to follow him to the Kingdom of Heaven.  So, rejoice!  Join in the celebrations and let us praise Jesus and delight in his great gift of true freedom and eternal life for all!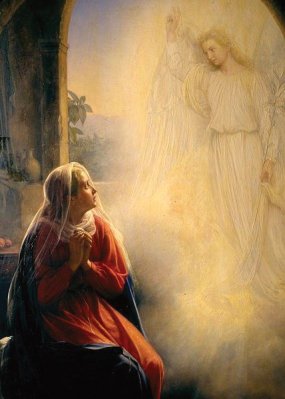 Today's Gospel (Luke 1:26-38):      
The angel Gabriel was sent by God to a town in Galilee called Nazareth, to a virgin betrothed to a man named Joseph, of the House of David; and the virgin's name was Mary. He went in and said to her, 'Rejoice, so highly favoured! The Lord is with you.' She was deeply disturbed by these words and asked herself what this greeting could mean, but the angel said to her, 'Mary, do not be afraid; you have won God's favour. Listen! You are to conceive and bear a son, and you must name him Jesus. He will be great and will be called Son of the Most High. The Lord God will give him the throne of his ancestor David; he will rule over the House of Jacob for ever and his reign will have no end.' Mary said to the angel, 'But how can this come about, since I am a virgin?' 'The Holy Spirit will come upon you' the angel answered 'and the power of the Most High will cover you with its shadow. And so the child will be holy and will be called Son of God. Know this too: your kinswoman Elizabeth has, in her old age, herself conceived a son, and she whom people called barren is now in her sixth month, for nothing is impossible to God' 'I am the handmaid of the Lord,' said Mary 'let what you have said be done to me.' And the angel left her.
The Annunciation: the 'yes' that saved the world.  Oh how grateful we must be to Mary our Mother for her 'yes' to God (also known as the fiat).  Without any kind of selfish thought Mary trusts completely in the Will of God and agrees to bear and give birth to the Saviour of the world.
Read the passage again and imagine the whole of Creation waiting to hear those words….'I am the handmaid of the Lord, let what you have said be done to me.'  Imagine the joyous scenes in Heaven as Mary says 'yes' to God…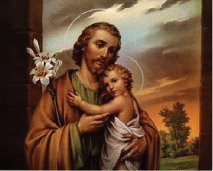 Today's Gospel (Matthew 1:18-24):
'This is how Jesus Christ came to be born. His mother Mary was betrothed to Joseph; but before they came to live together she was found to be with child through the Holy Spirit. Her husband Joseph; being a man of honour and wanting to spare her publicity, decided to divorce her informally. He had made up his mind to do this when the angel of the Lord appeared to him in a dream and said, 'Joseph son of David, do not be afraid to take Mary home as your wife, because she has conceived what is in her by the Holy Spirit. She will give birth to a son and you must name him Jesus, because he is the one who is to save his people from their sins.' Now all this took place to fulfil the words spoken by the Lord through the prophet:
The virgin will conceive and give birth to a son, and they will call him Emmanuel, a name which means 'God-is-with-us.'
When Joseph woke up he did what the angel of the Lord had told him to do: he took his wife to his home.'
To all the men out there: would you have acted as Joseph did in these circumstances?  Would you have trusted the angel in your dream?  Mary had taken a vow of perpetual virginity and here she was, pregnant.  It would have brought disgrace upon both Mary and Joseph for her to be with child given this vow.  And Joseph was aware of this; hence his decision to divorce Mary.
But, trusting completely in God, he listens to the angel in his dream and takes Mary home.  He does this despite the threat of public disgrace.  But Joseph has God on his side so there is no reason to fear!  He trusted the angel and knew that this was God's Will. 
So, what does this mean for us?  Well, are we open to messages from God, in whatever form they may come?  Are we prepared, like Joseph, to submit to the Will of God, knowing that whatever might happen to us He is on our side? 
In today's society the idea of knowing God is on your side is an important one.  We have been encouraged over the last year or so, first with Pope Benedict's Year of Faith and now Pope Francis' Evangelii Gaudium exhortation, to evangelise.  Are we doing this?  Are we living our faith openly so that others can see and hear the Good News?  If you aren't or if you struggle with the idea of evangelisation, remember, God is on your side and there is nothing that you and He together cannot face.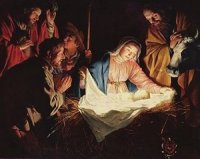 From today's Gospel (Matthew 1:1-17):
'A genealogy of Jesus Christ, son of David, son of Abraham:
Abraham was the father of Isaac, 
Isaac the father of Jacob….
....Matthan the father of Jacob;
and Jacob was the father of Joseph the husband of Mary;
of her was born Jesus who is called Christ.'
This isn't the whole genealogy of Jesus but it is the beginning and the end of it as detailed in Matthew's Gospel.  Nowadays everyone is fascinated by their family tree.  Many of us like to delve into our past to see where we came from.  Jesus was no different!  He had a family tree just like the rest of us.
Yet, each and every one of us comes from the same source….God.  And each and every one of us is on a journey back to that source.  That's the most important aspect of our family tree. 
/