Shopping Cart
Your Cart is Empty
There was an error with PayPal
Click here to try again
Thank you for your business!
You should be receiving an order confirmation from Paypal shortly.
Exit Shopping Cart
Calling Scotland's 841,000 Catholics to unite as one voice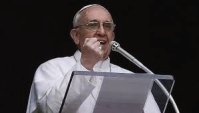 During his Angelus message on the Third Sunday of Advent Pope Francis spoke about the Church being a house of joy.  He said, "The Church is not a refuge for sad people, the Church is a house of joy."
The Pope, referring to the Gospel, said that this joy comes from knowing that we are all welcomed and loved by God and "with His help, we can start anew and overcome sadness and tears, we can "sing a new song". 
The Holy Father said that "Christian joy, like hope, is founded on the faithfulness of God, in the certainty that He always keeps His promises….Those who trust in God, experience a peacefulness in their hearts that nothing and no one can take away."  He said our joy is Christ and if a Christian becomes sad it can mean that he or she, in a way, has become distanced from Christ.  So, said the Pope, "we must pray for them, and make them feel the warmth of the community."
The Pope concluded the Angelus address with an appeal to our Blessed Mother to "help us hasten our steps to Bethlehem, in order to meet the Child that is born for us, for the salvation and joy of all."   And, in a special address to children he said, "Dear children, when you pray before your Nativity scenes, remember me too, as I remember you.  Thank you, and happy Christmas!"
/